Top Ten Retro Bikes
24th April 2018
If you want a bike which is full of up to date tech but which still rocks stylish retro looks then a retro naked might be for you. As with sporty nakeds storage and wind protection are sacrificed in order to make each model look like a work of art straight from the factory.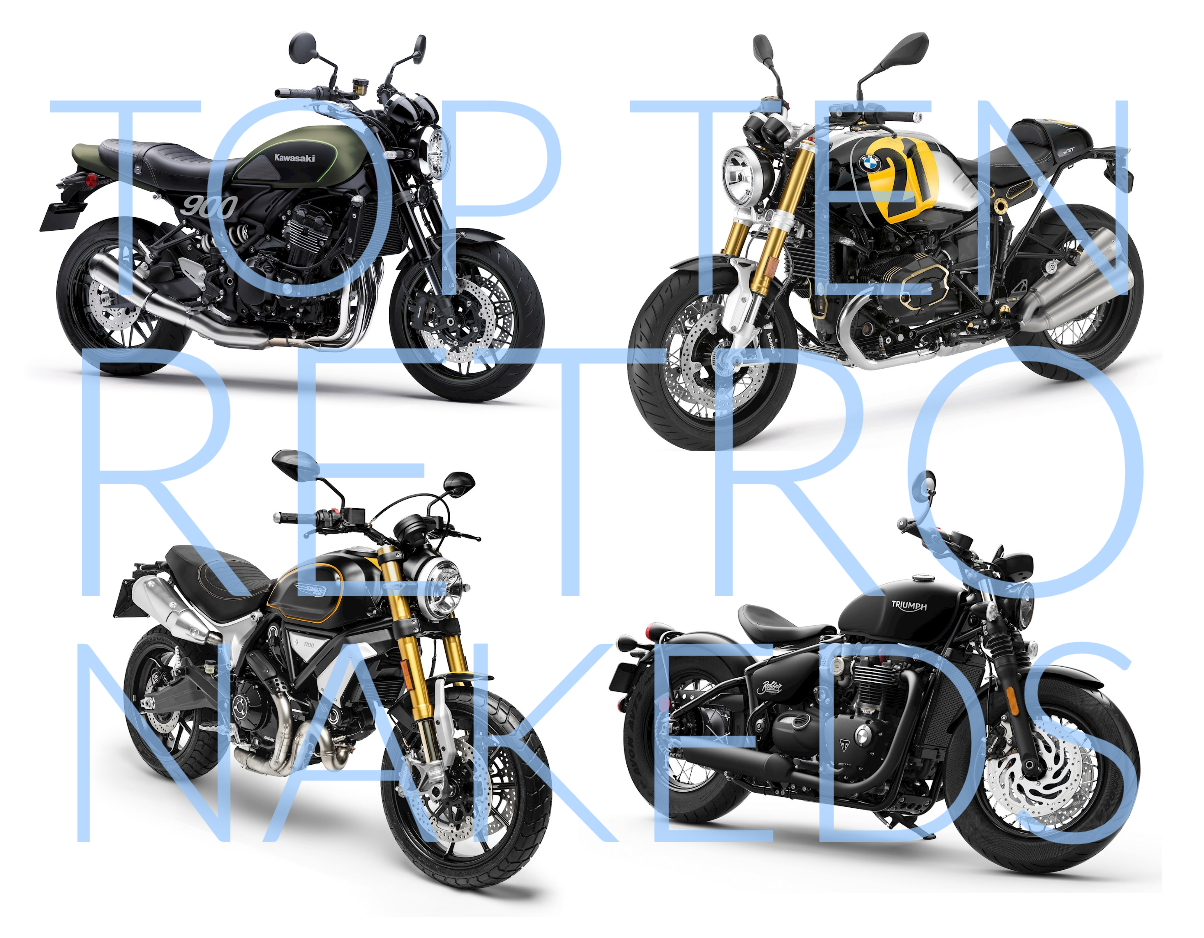 The Best Retro Bikes You Can Buy Right Now
What Is A Retro Bike? 
Most of the retro models you can buy today started life as a sporty naked bike which has been modified to look more traditional, but without sacrificing all the modern tech and riding experience you would expect from a new bike. They usually feature a single round headlight, simpler rounded clocks, stitched seats, more subtle colour schemes, rounded exhausts, loads of optional shiny bits and often wire spoked wheels or cast wheels designed to look a little bit like spokes from a distance.
Closely related are modern cafe racers which tend to start life as retro naked bikes but with the addition of low bars, a headlight fairing and pillion seat hump. They are bang on trend right now.
1. Kawasaki Z900RS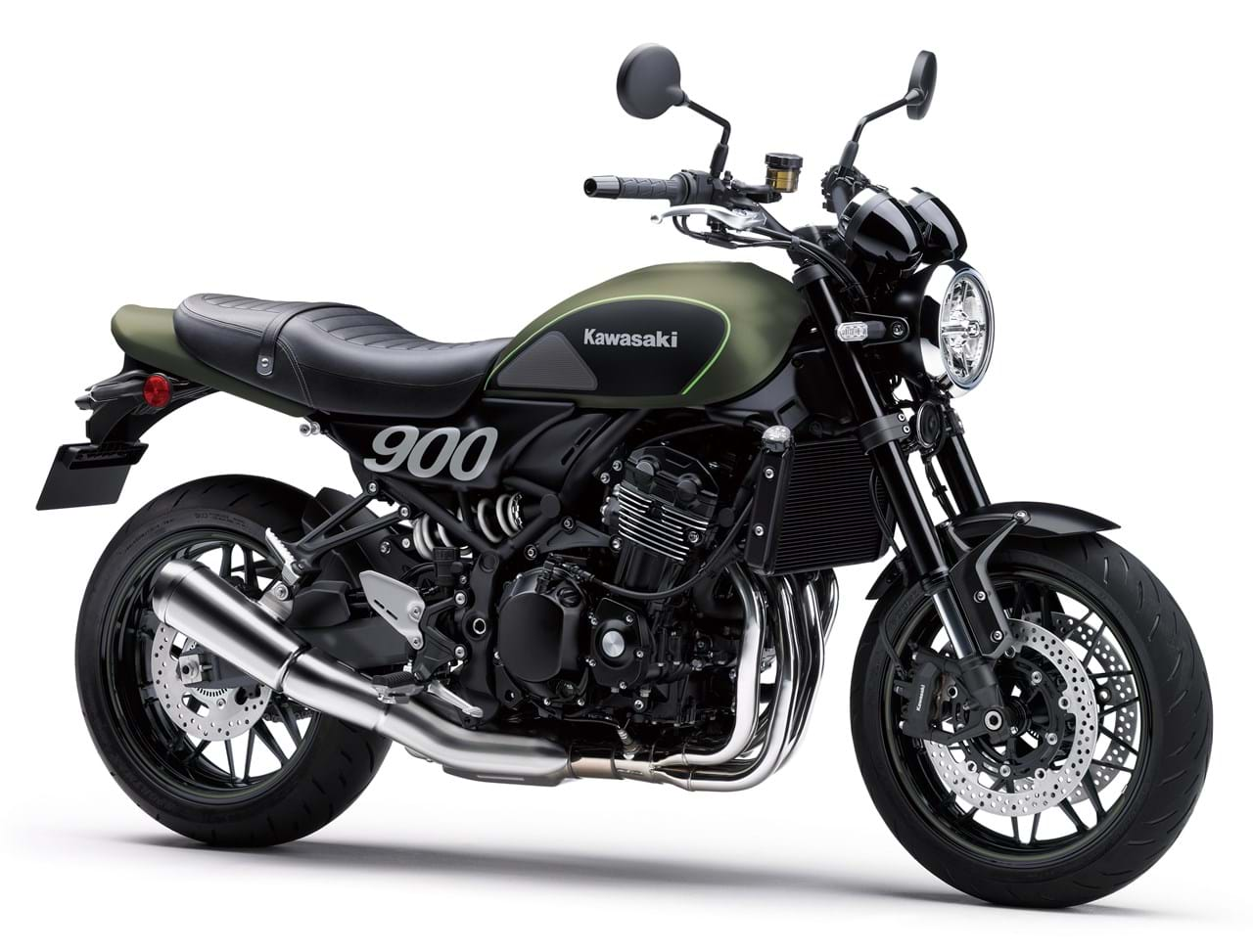 RRP: £9,900
Capacity: 948 cc
Engine: Inline 4 Cylinder

Power: 110 bhp
Seat Height: 835 mm
Wet Weight: 215 kg
The 2018 Kawasaki Z900RS is a bit of a game changer. It's based on the slightly more angry Z900 but has a de-tuned engine, wheels designed to look a bit like wire spokes, a retro style seat, modern LED headlight disguised as a traditional light and blacked out engine with machined mock engine cooling fins.
The details don't end there though because the dash is truly a work of art. At first glance it looks like a traditional pair of clocks but nestled between them is a modern inverted LCD dash with all the info you would expect from a modern bike. All in all it's a lot of bike for the money and there is also a cafe racer version available in the Z900RS Cafe.
2. Honda CB1000R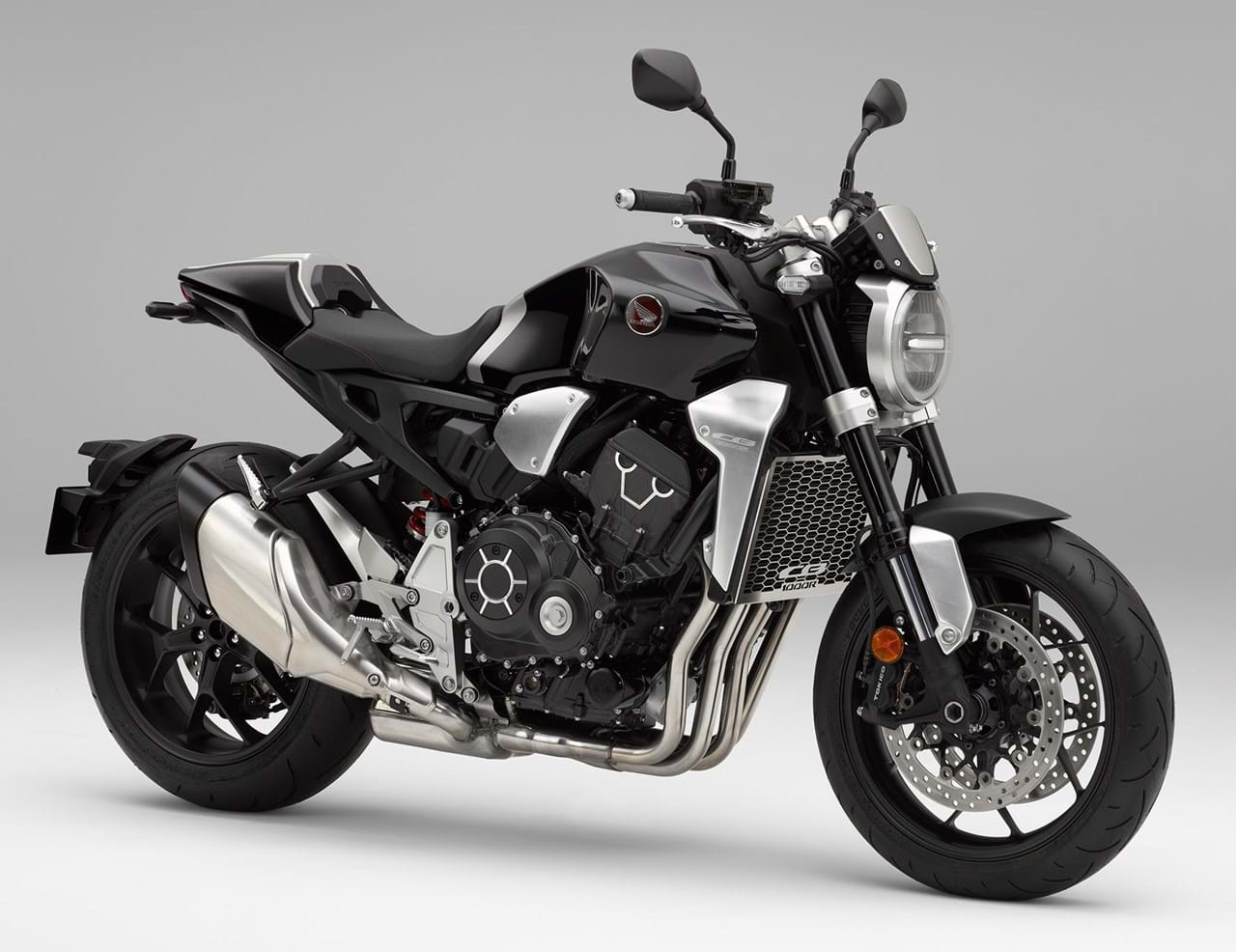 RRP: £11,230
Capacity: 998 cc
Engine: Inline 4 Cylinder

Power: 143 bhp
Seat Height: 830 mm
Wet Weight: 212 kg
Honda's 2018 CB1000R is perhaps the odd one out on this list both in power and looks. The previous generation de-tuned Fireblade engine produces way more power than you need for the road at 143bhp, combined with looks that are genuinely somewhere between a modern sporty bike and a modern retro bike. The optional radiator guard, mini fly screen and pillion seat cover finish off the look nicely.
There's plenty of modern technology on offer but this bike is really all about the visual details and virtually all metal construction. Honda have also carried the styling down to the CB300R and CB125R for learner licences.
3. BMW R nineT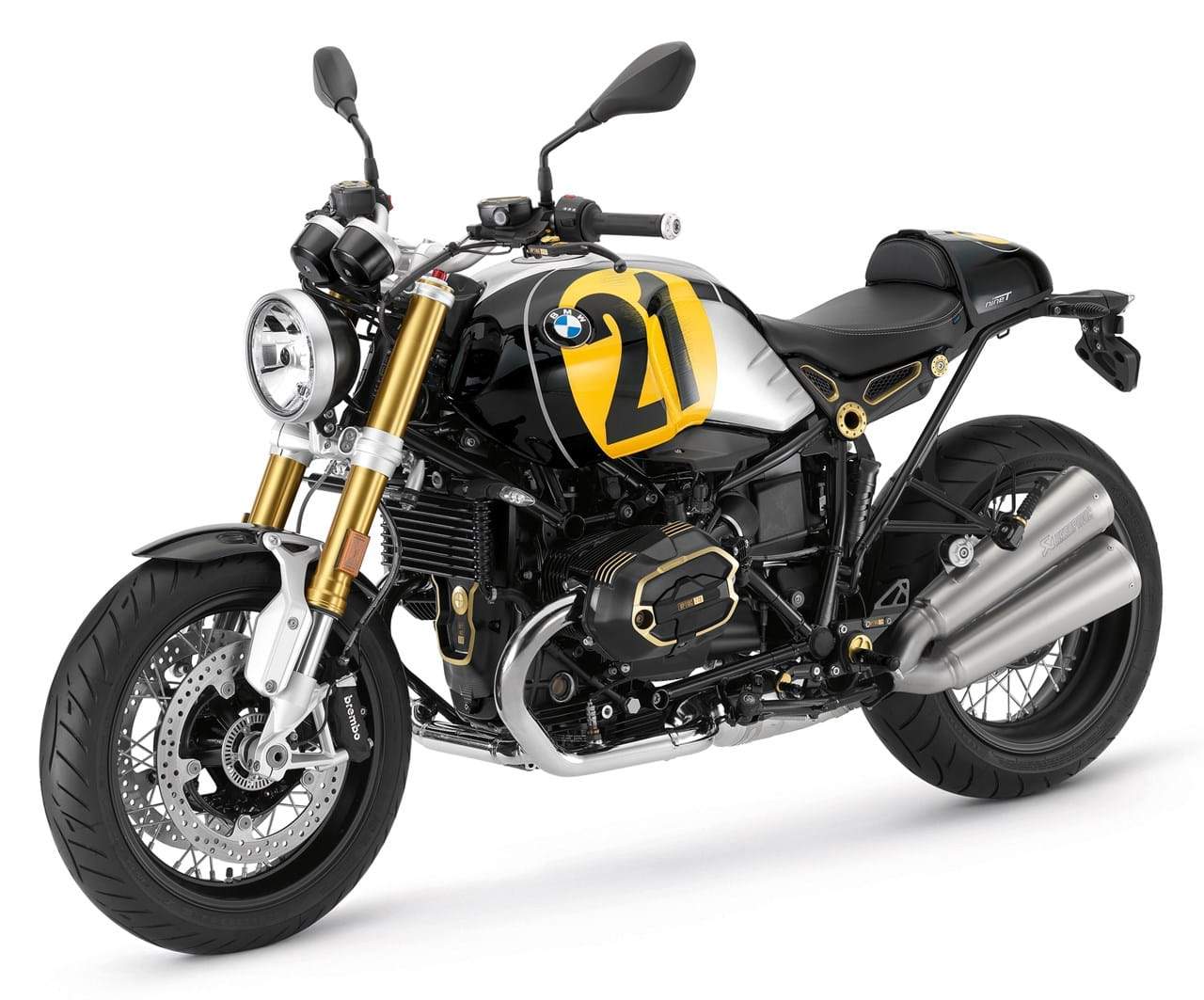 RRP: £12,300
Capacity: 1,170 cc
Engine: Boxer

Power: 110 bhp
Seat Height: 805 mm
Wet Weight: 222 kg
BMW's  2017 R nineT isn't cheap but looks great, makes a statement and oozes quality. The pillion frame is easily detachable for a solo look or you can opt for the pillion hump with hidden storage compartment.
The previous generation Boxer engine is tried and tested, with a design that keeps the weight low down. There's also a cheaper version available in the Pure and a cafe racer version or you can customise it in almost unlimited ways to create your dream bike.
4. Triumph Bobber Black
RRP: £11,650
Capacity: 1,200 cc
Engine: Parallel Twin

Power: 76 bhp
Seat Height: 690 mm
Dry Weight: 238 kg
Following the massive sales success of the original Triumph Bobber the 2018 Bobber Black was inevitable. It improves on the original with a LED headlight, cruise control, better suspension, dual discs up front and a smaller front wheel with a fatter tyre. The result is somehow more retro and cooler but it's one heavy bike at 238kg dry. The super low seat height should appeal to the shorter among us though and it can be massively customised from Triumph's huge parts catalogue.
5. Yamaha XSR900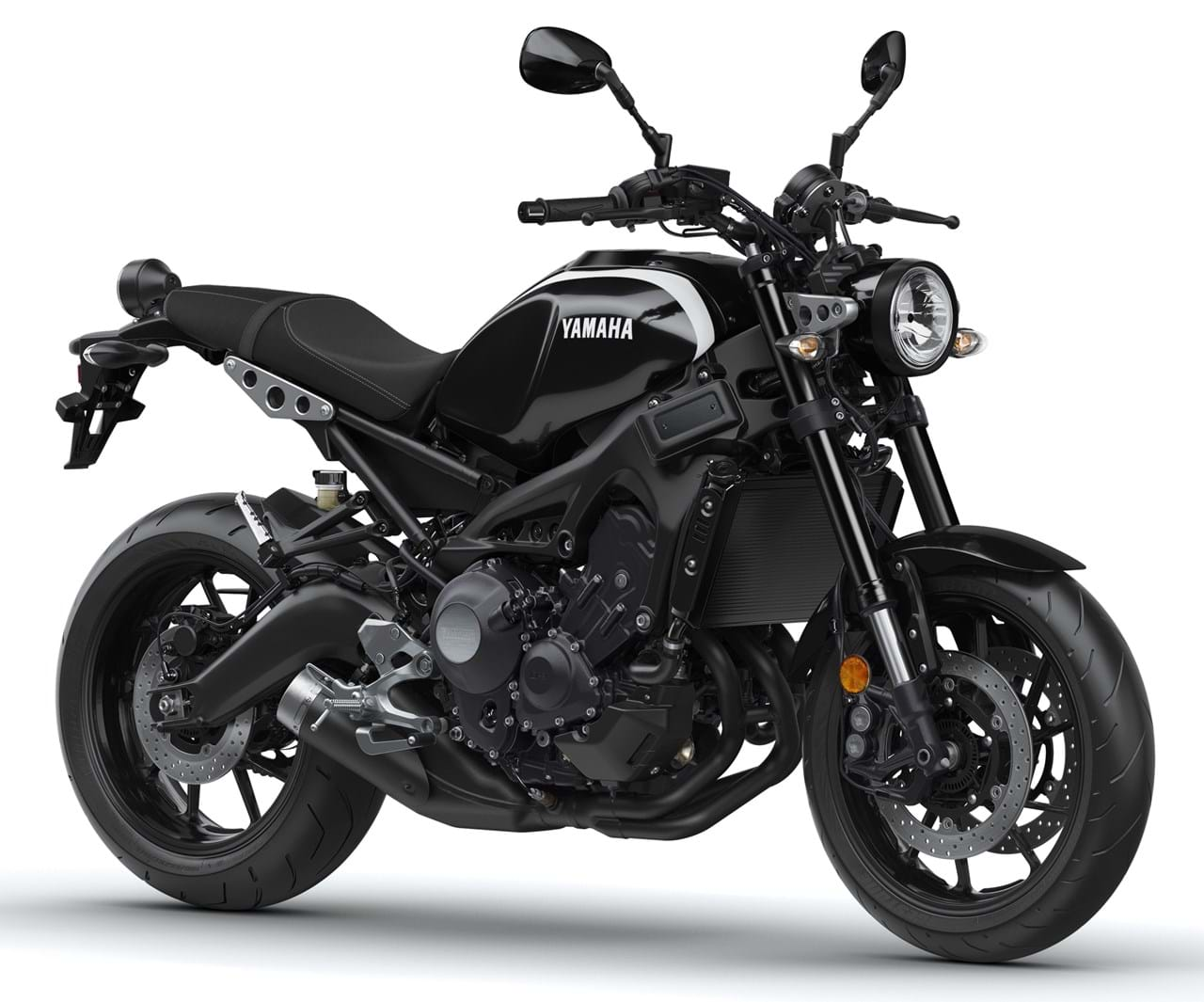 RRP: £8,700
Capacity: 847 cc
Engine: Triple

Power: 113 bhp
Seat Height: 830 mm
Wet Weight: 195 kg
Yamaha's XSR900 is essentially the best selling MT-09 with a few mods to make it look a bit retro, in the way of a round headlight/tail light, curvier tank and quite a few parts blacked out. That's a good thing though because the MT-09 is an excellent bike with nearly 50,000 sold in Europe before it received a small update for 2017. The 60th anniversary yellow and black Speed Block edition looks particularly good.
6. Ducati Scrambler 1100 Sport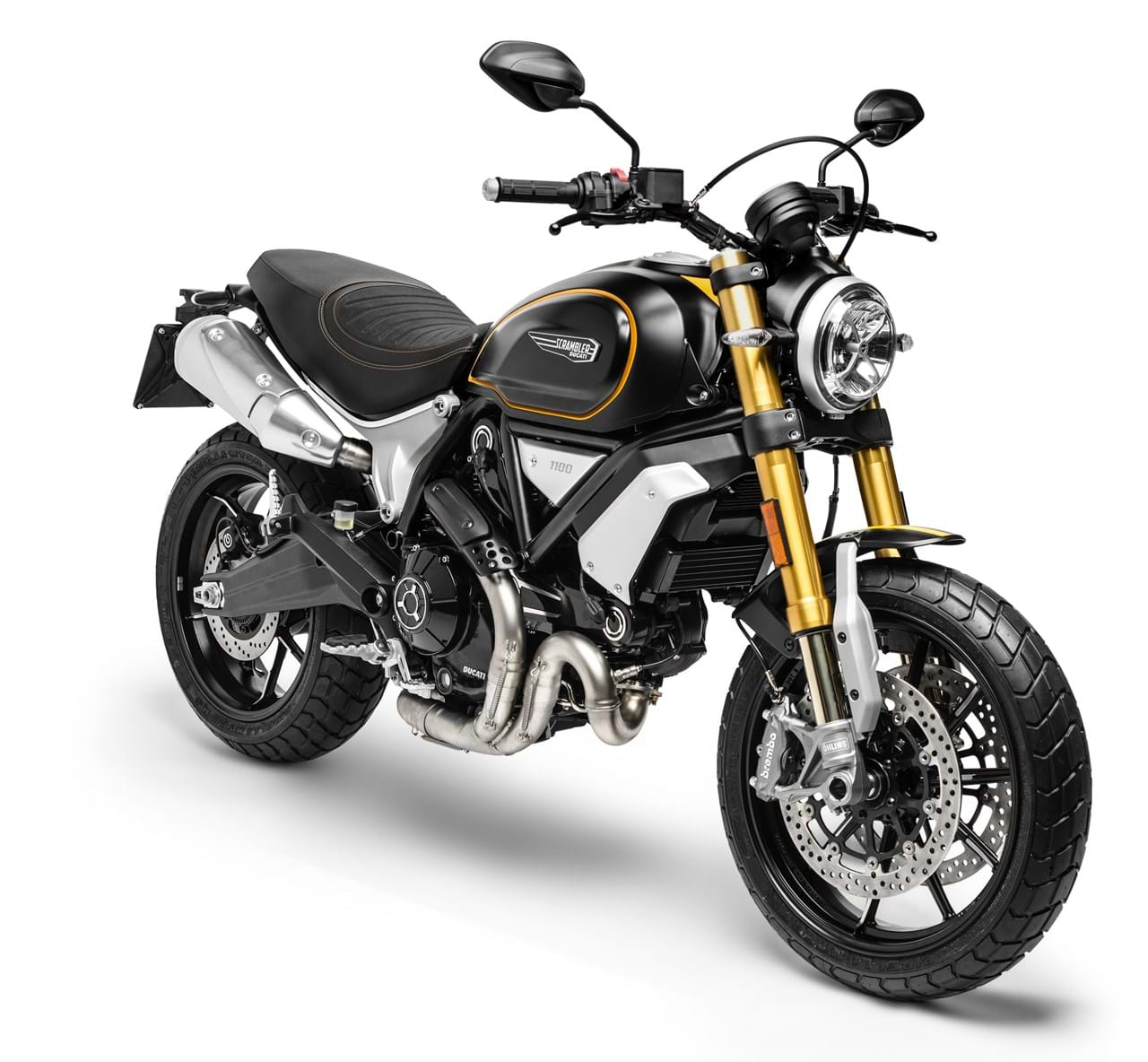 RRP: £12,300
Capacity: 1,079 cc
Engine: V-Twin

Power: 85 bhp
Seat Height: 810 mm
Wet Weight: 206 kg
The seemingly infinite flavours of the 803cc Scrambler were a sales success for Ducati so for 2018 they released three 1,079cc versions with 10bhp more, a bigger bike feel, cornering ABS, traction control and riding modes.
The Sport, pictured above, sits at the top of the range with Ohlins suspension and a few premium bits but there's also a base model and a Special with wire spoked wheels. We're not sure why the Sport doesn't have spoked wheels as well, given the retro appeal of these models, but they can be added via the options catalogue and Ducati will almost certainly release some more flavours of the 1100 in the next few years.
7. Honda CB1100 RS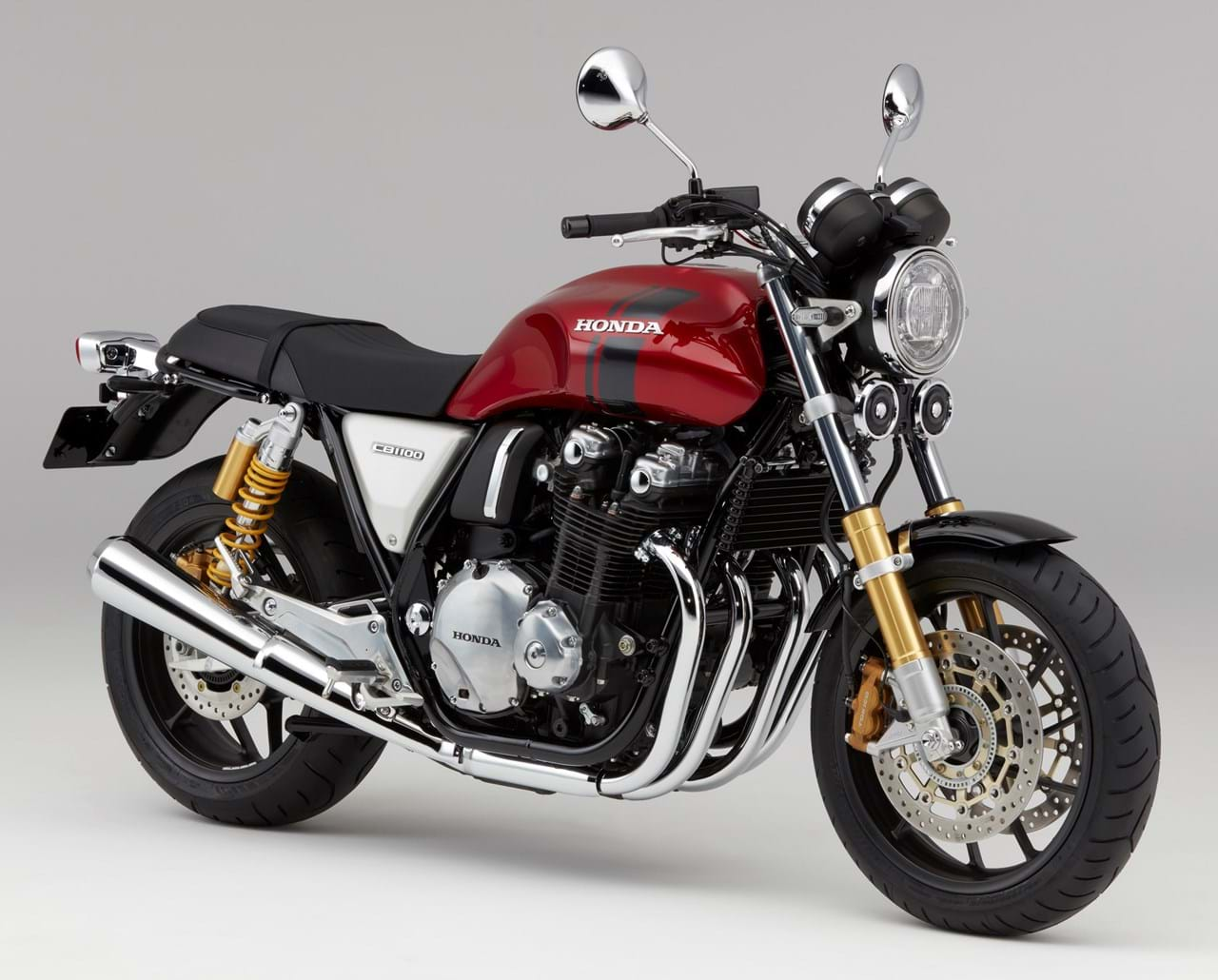 RRP: £11,140
Capacity: 1,140 cc
Engine: Inline 4 Cylinder

Power: 89 bhp
Seat Height: 795 mm
Wet Weight: 252 kg
Honda's 2017 CB1100 RS is the shiny version of the long running CB1100 EX, with premium Showa suspension and improved brakes. It only makes 89bhp from a huge 1,140cc engine but the torque is available really low down and although it's really very heavy there is no denying that it looks amazing.
8. Triumph Street Twin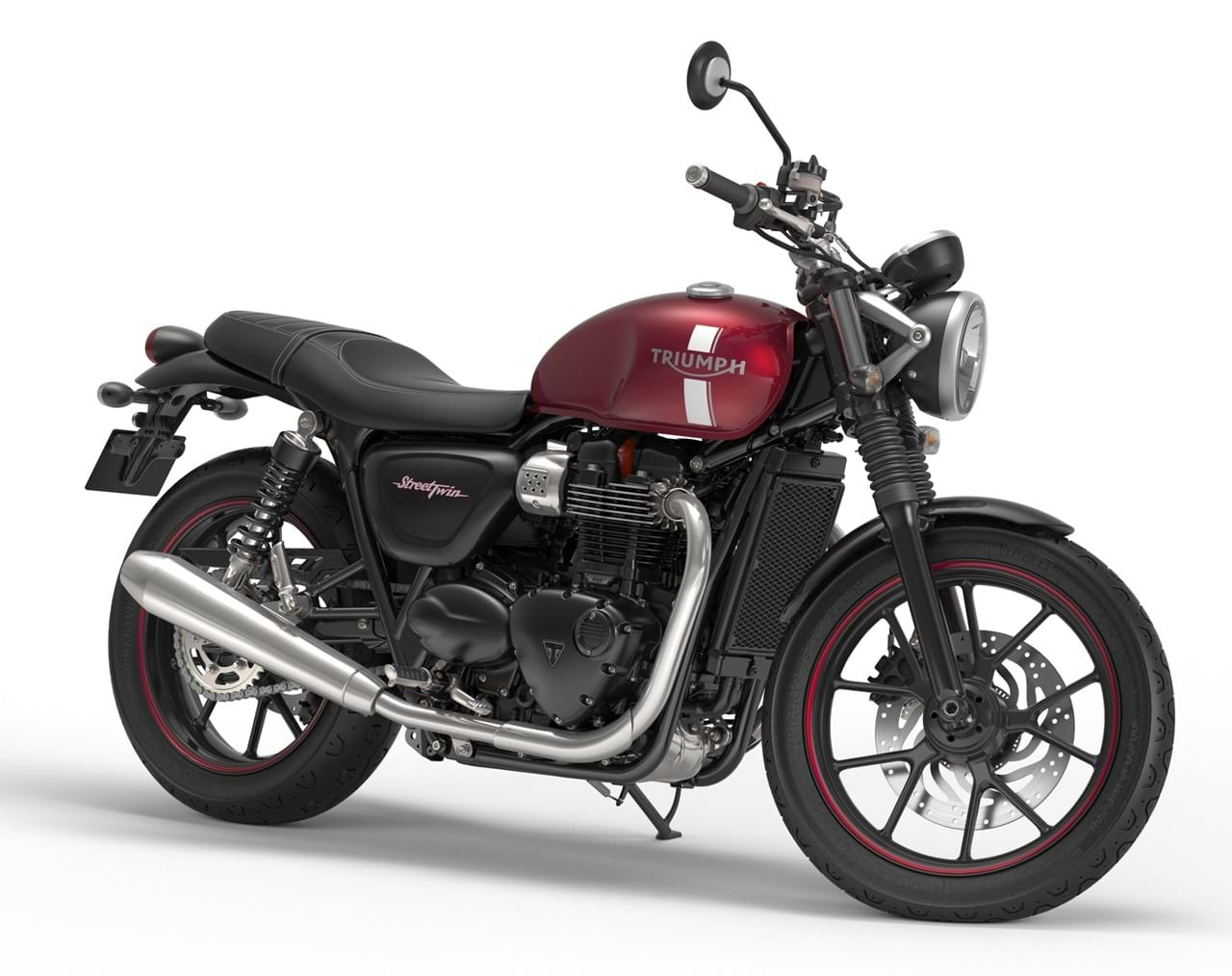 RRP: £7,925
Capacity: 900 cc
Engine: Parallel Twin

Power: 54 bhp
Seat Height: 750 mm
Dry Weight: 198 kg
The 2016 Triumph Street Twin has a really classic look and is super learner friendly with a low 750mm seat, although not the lightest bike out there. It should last a while though because it can be made A2 compliant with a restrictor and completely customised with Triumph's massive parts catalogue.
9. Yamaha XSR700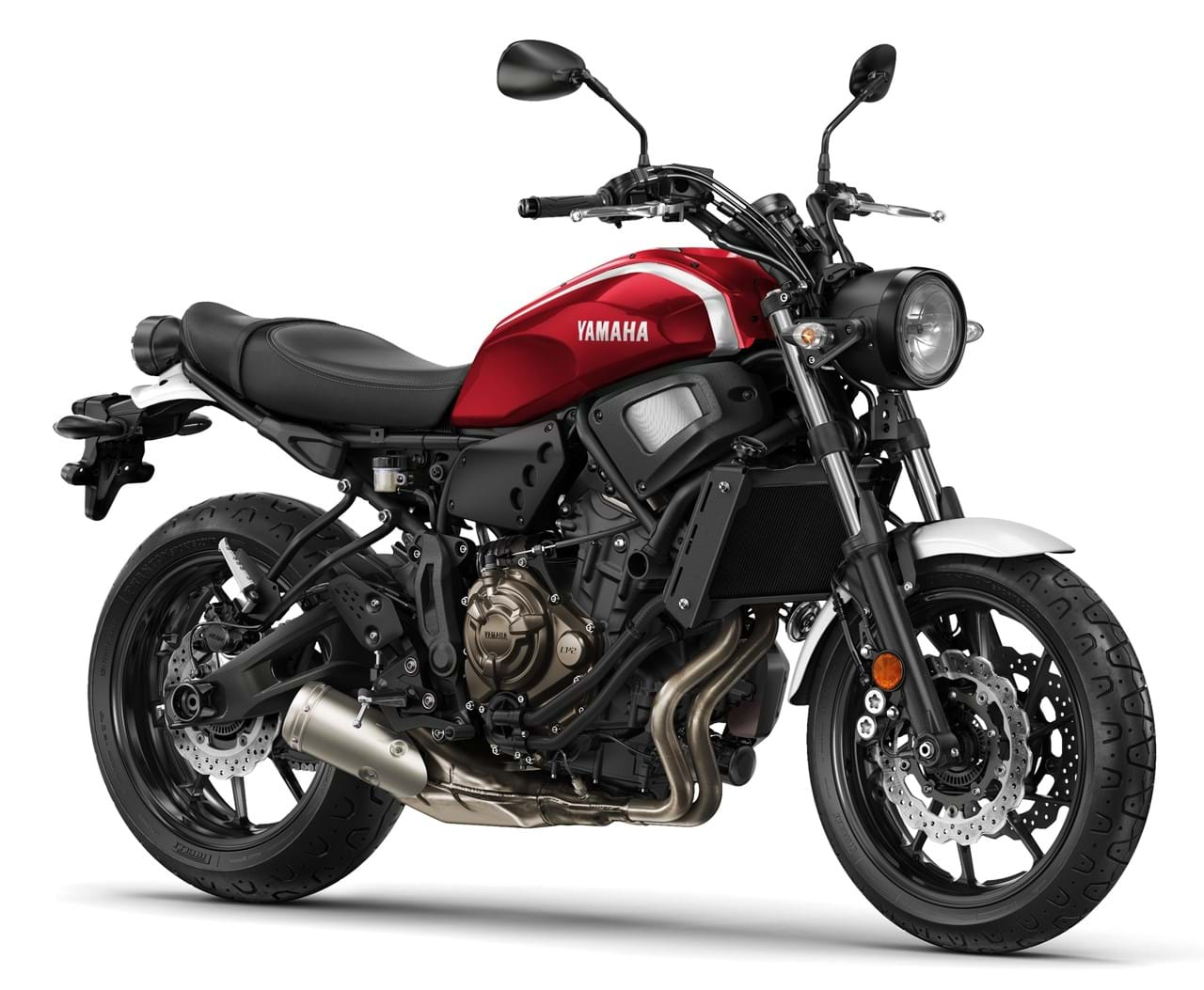 RRP: £6,850
Capacity: 689 cc
Engine: Parallel Twin

Power: 74 bhp
Seat Height: 815 mm
Wet Weight: 186 kg
Like it's bigger brother the XSR900, the Yamaha XSR700 is essentially an MT-07 with a few mods to make it look a bit more retro. That's a good thing though because Yamaha sold 80,000 of the MT-07s before the 2018 minor re-design and over 11,000 XSR700s as well.
10. Honda Monkey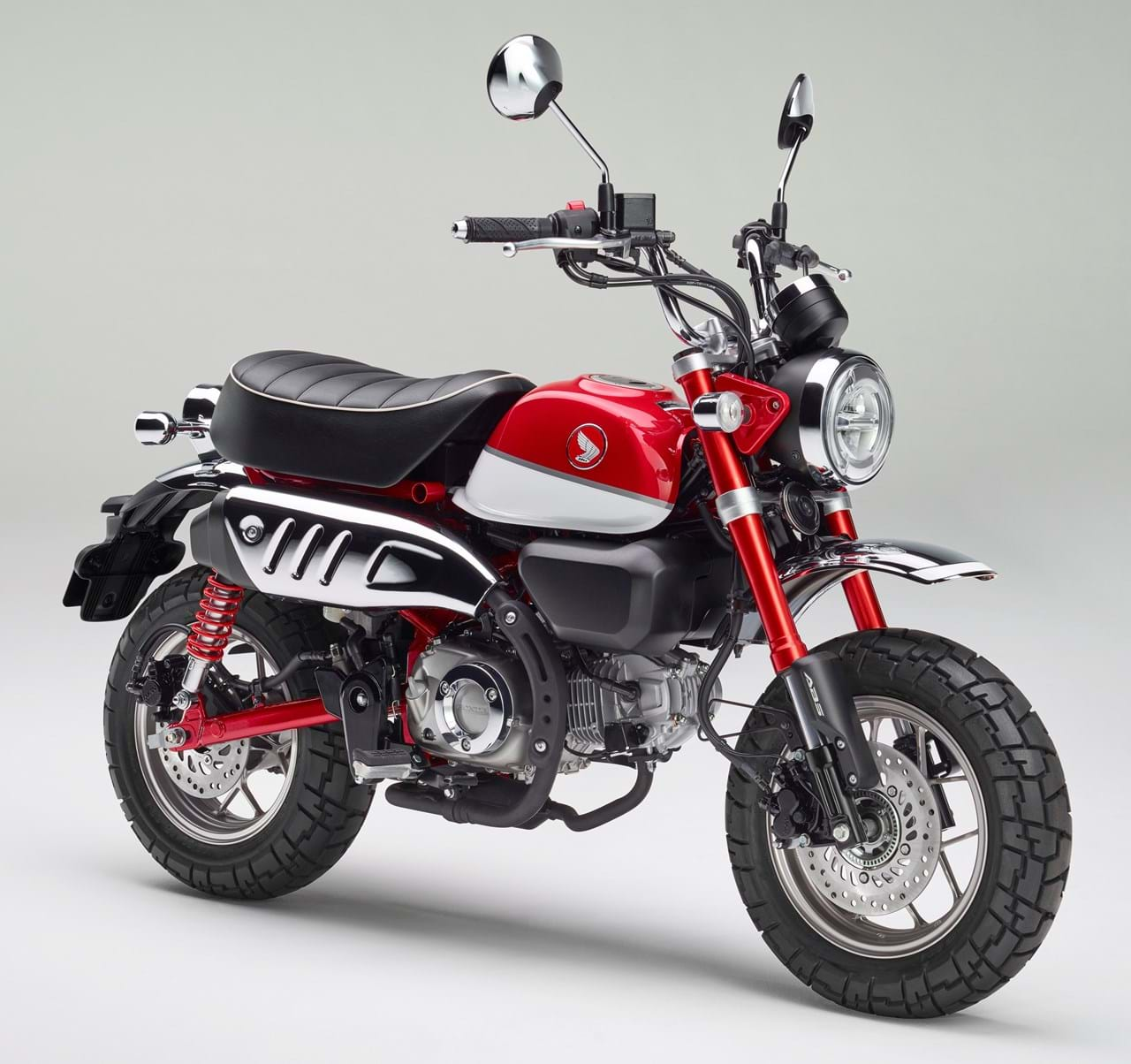 RRP: £TBC
Capacity: 125 cc
Engine: Single Cylinder

Power: 9.3 bhp
Seat Height: 776 mm
Wet Weight: 107 kg
Honda's Monkey is new for 2018 and channels the styling of the original Z50 monkey bikes. It's actually just a Honda Grom in disguise but that's no bad thing and it's super learner friendly with a really low wet weight, economical engine and low seat height.