Top Ten Step Through Scooters
6th May 2018
Scooters pretty much define cheap and fast transport, especially in cities where they can weave through traffic and beat most things away from the lights. Here we are looking at traditional step through scooters like the Honda SH125i.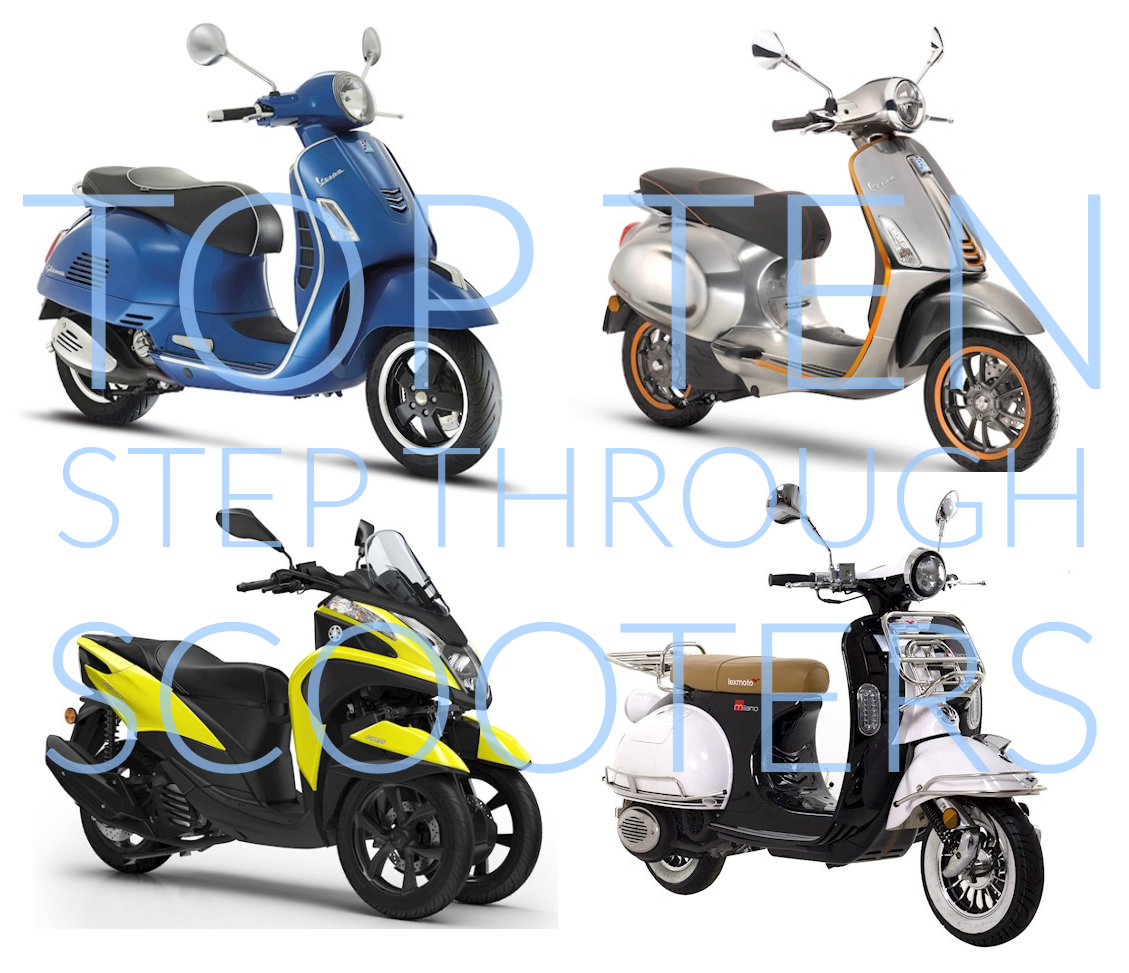 The Best Scooters You Can Buy Right Now
What Is A Step Through Scooter? 
Traditional scooters tend to have a flat floorboard for your feet and a clean empty space above it to easily "step through" the scooter when you get on it.
Maxi scooters on the other hand fill in much of this space, allowing more storage and generally more equipment to be packed into the machine. They also tend to be larger overall with a longer wheelbase, much better pillion provision, car style dashboards and better wind protection. Check out our top ten maxi scooters as well.

1. Honda SH300i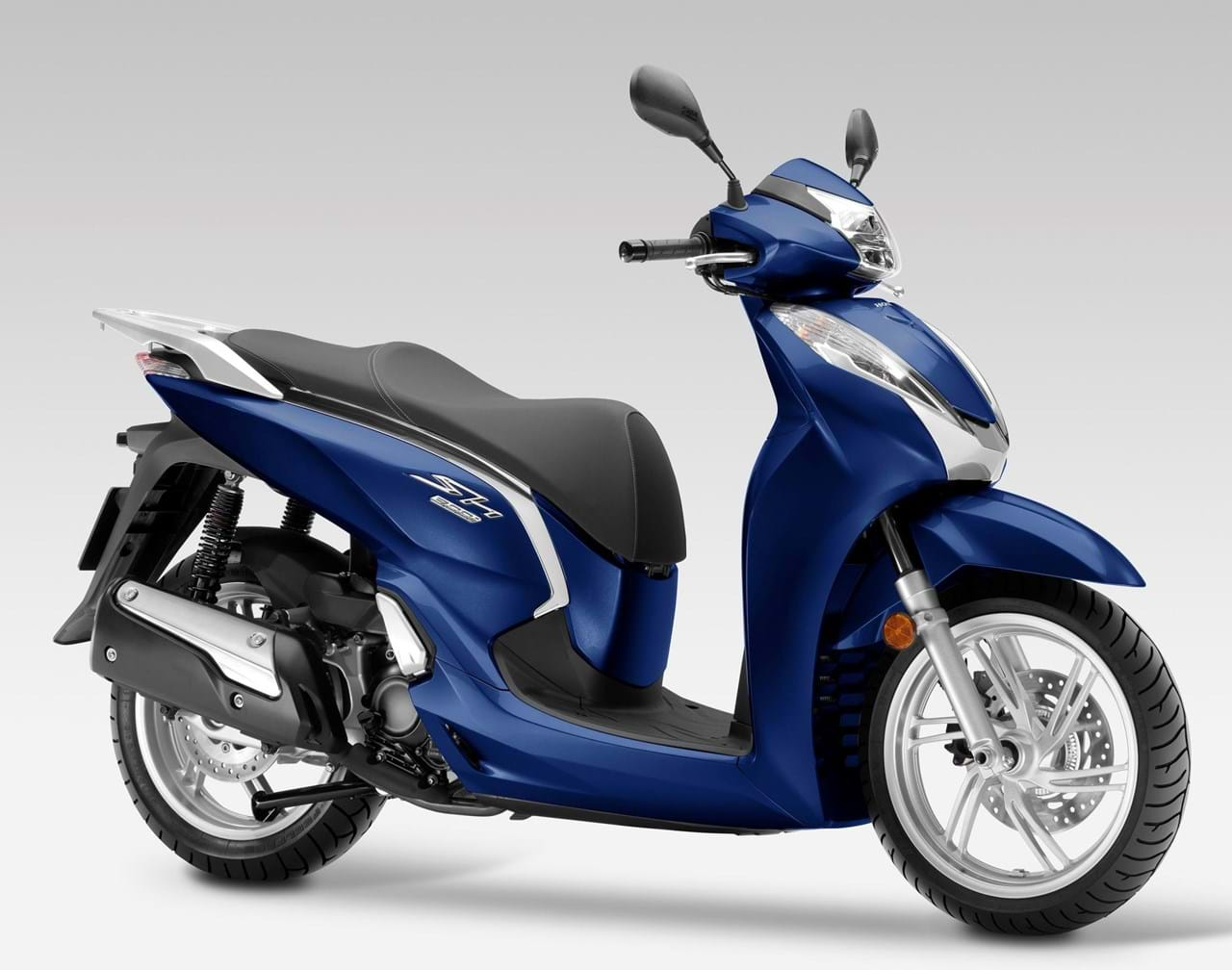 RRP: £4,800
Licence: A2
Engine: 280 cc

Power: 25 bhp
Seat Height: 805 mm
Wet Weight: 169 kg
Honda have been refining the SH300i since 2007 and the latest 2015 version boasts LED lighting, powerful brakes with ABS, full face helmet friendly storage under the seat, keyless ignition and large pothole friendly 16" wheels. It's highly capable in town and quite capable of motorways speeds.
2. Vespa GTS300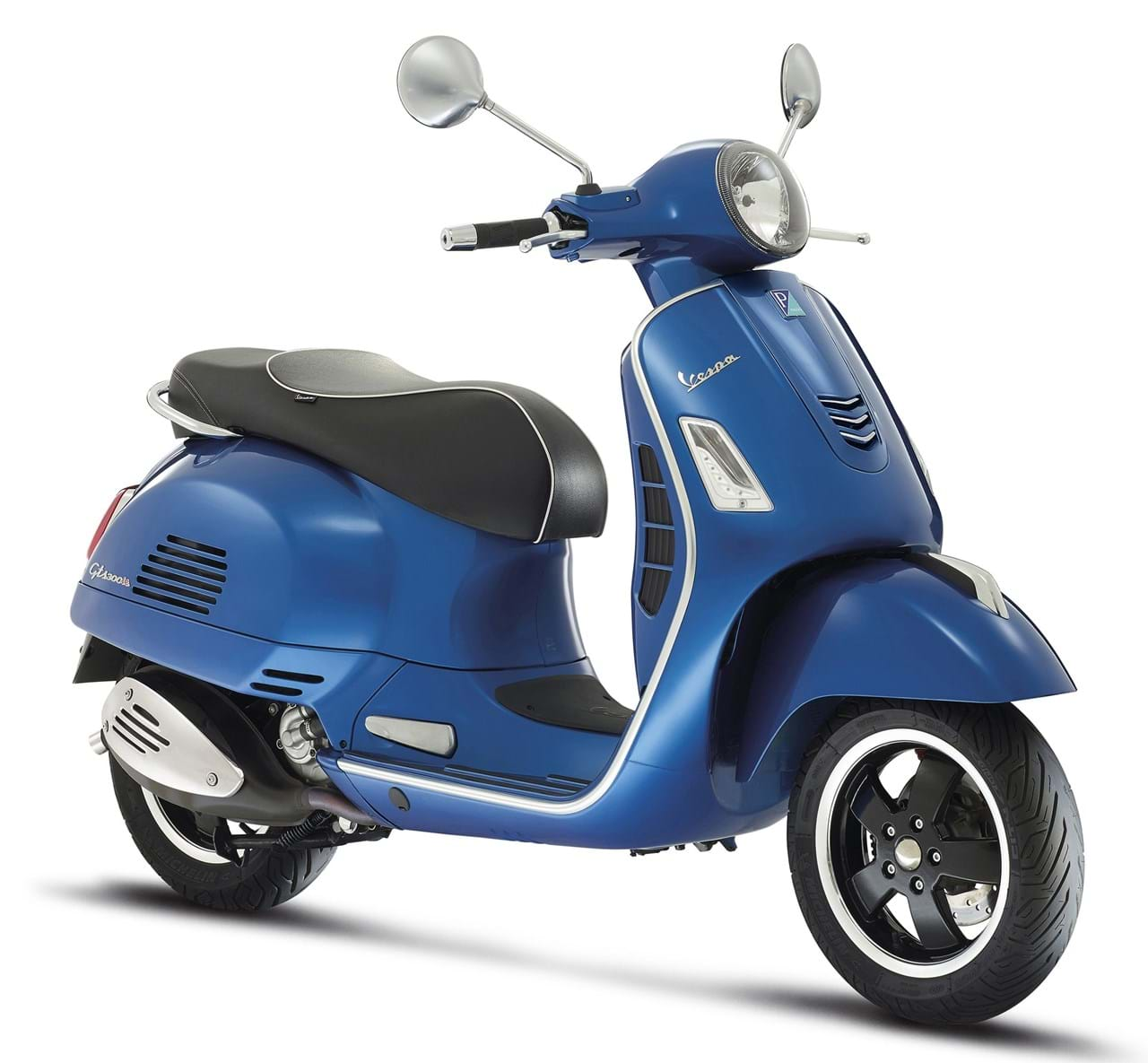 RRP: £5,400
Licence: A2
Engine: 278 cc

Power: 21 bhp
Seat Height: 790 mm
Wet Weight: 158 kg
Vespa's GTS300 has been around since 2008 but it received a decent update in 2015 with dual channel ABS, traction control, USB charger, a new dash with phone connectivity, LED running lights and a massive storage space under the seat capable of holding two full face helmets. It may be a bit down on power compared to the SH300i and is notably more expensive, but it's a really popular and stylish way to get around. Just be aware that smaller 12" wheels are likely to give a harsher ride, especially on pothole infested UK roads.
3. Yamaha Tricity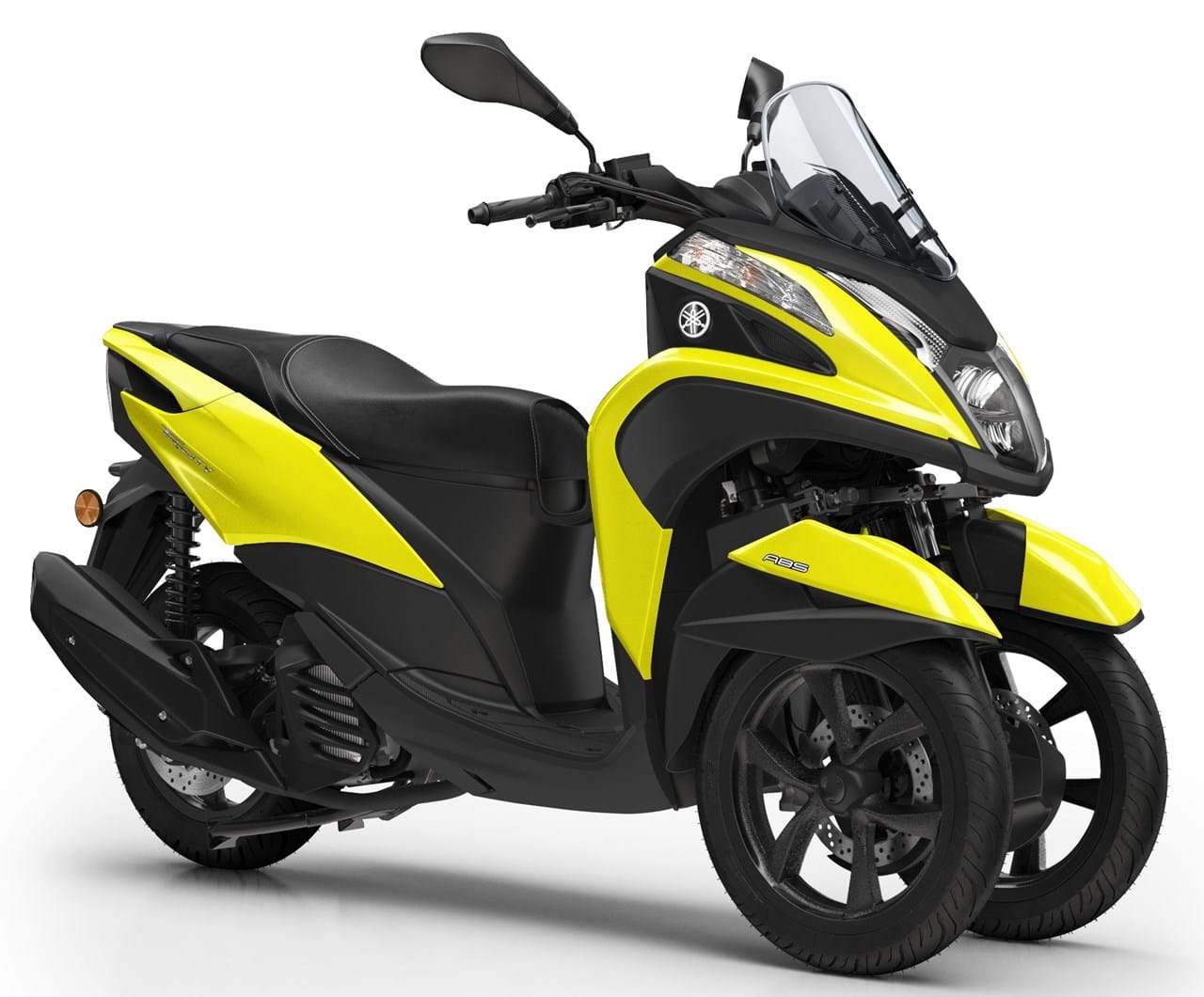 RRP: £3,850
Licence: A1
Engine: 125 cc

Power: 12 bhp
Seat Height: 780 mm
Wet Weight: 164 kg
Yamaha's Tricity may seem like an oddball choice because it has an extra wheel at the front, but that extra wheel does have some advantages and beyond that it's a decent scooter that's well worth a look. Two front wheels, both of which tilt when cornering, gives you twice the contact with the road for cornering and braking, not to mention added stability. 2017 saw a re-design with a bunch of evolutionary improvements.
4. Honda SH125i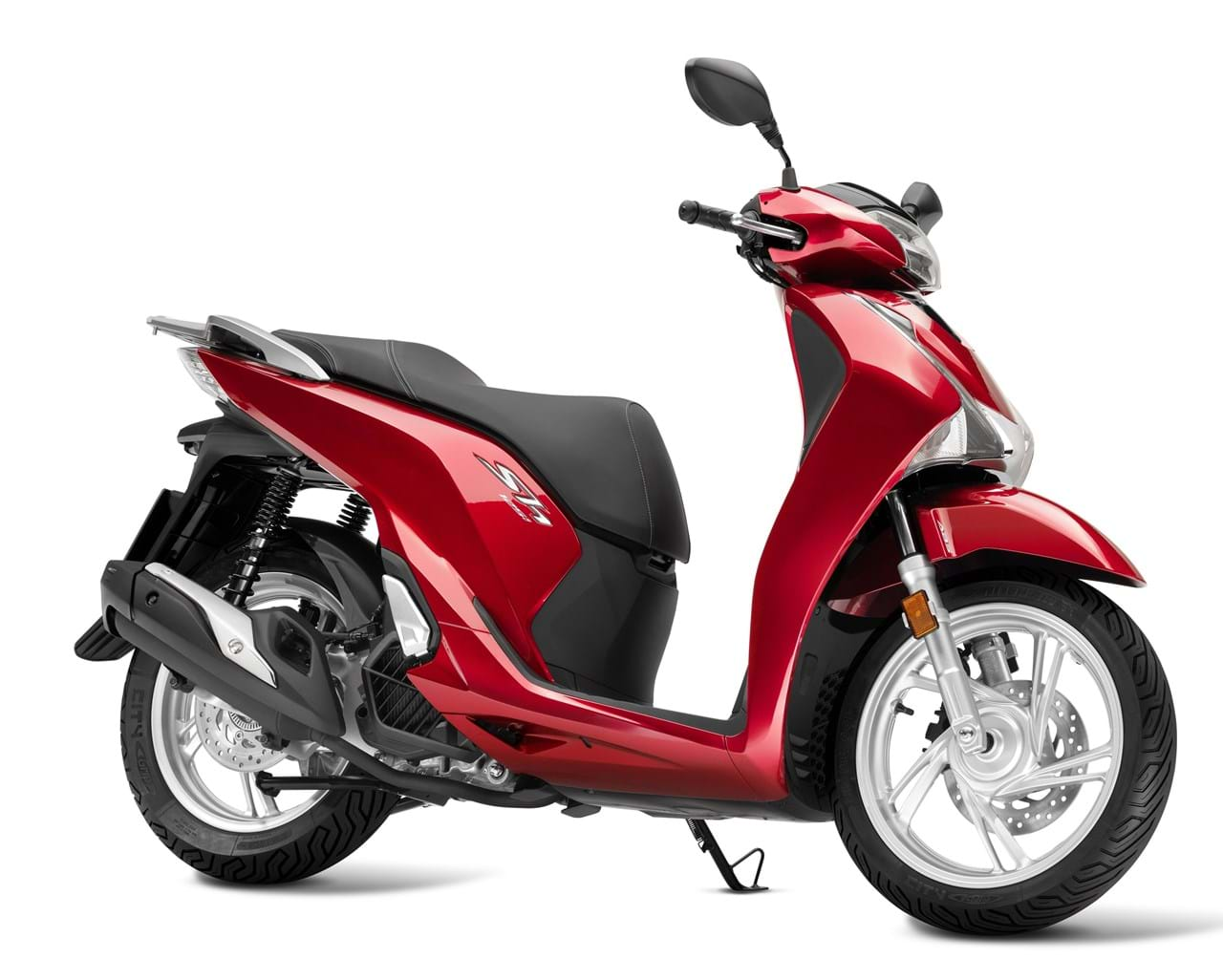 RRP: £3,350
Licence: A1
Engine: 125 cc

Power: 12 bhp
Seat Height: 799 mm
Wet Weight: 137 kg
The Honda SH125i pretty much sets the standard for 125cc scooters with full LED lighting, keyless ignition and a clever idling start/stop system to save fuel. It also boasts four generations of evolutionary improvements from Honda since 2001, with the latest generation launching in 2017.
5. Peugeot Belville 125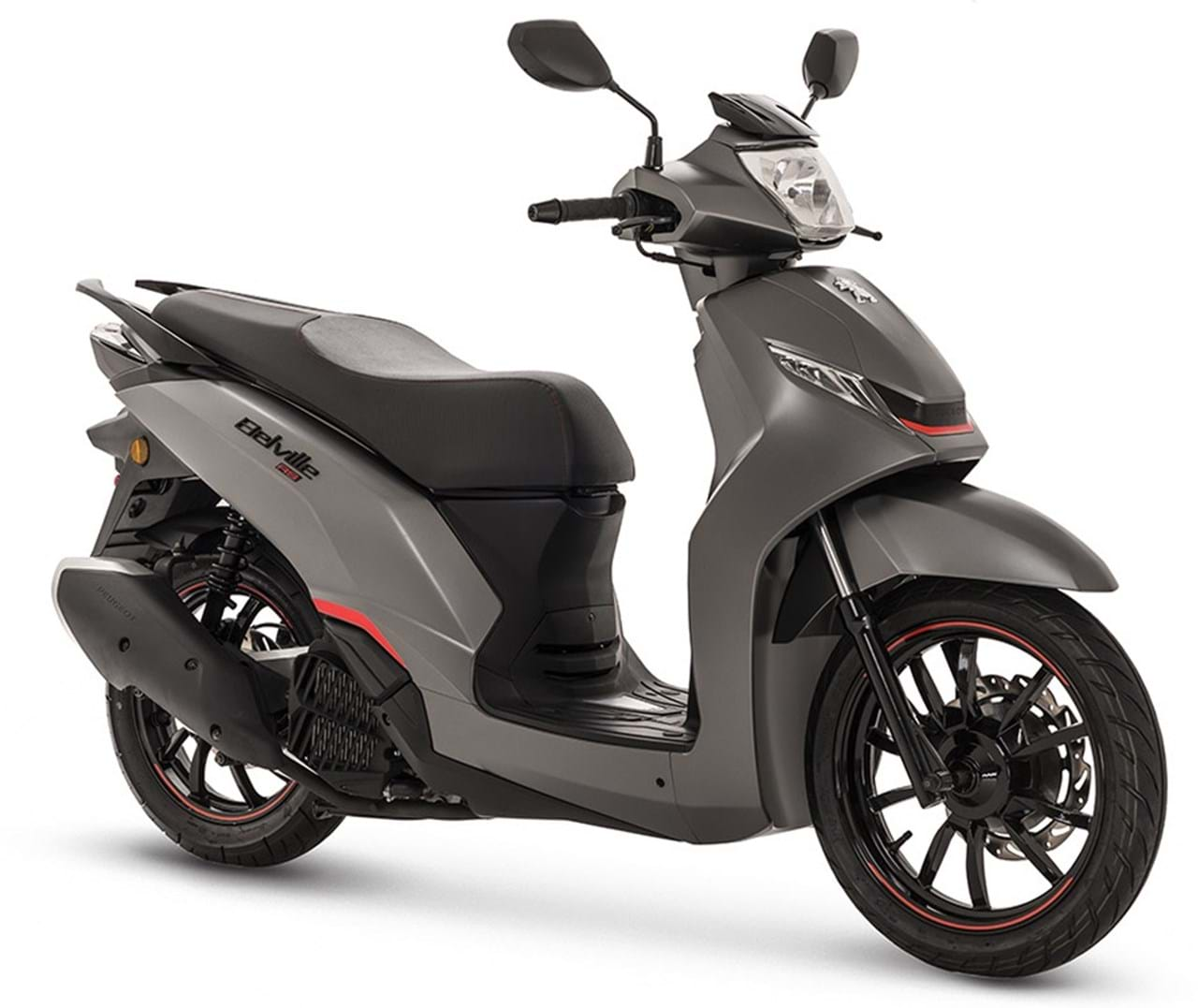 RRP: £3,100
Licence: A1
Engine: 125 cc

Power: 11 bhp
Seat Height: 790 mm
Wet Weight: 127 kg
The 2018 Peugeot Belville goes head to head with the Honda SH125i. It has the large 16" wheels and USB charging however the headlight isn't LED based and the ABS system only operates on the front brake.
6. Suzuki Address 110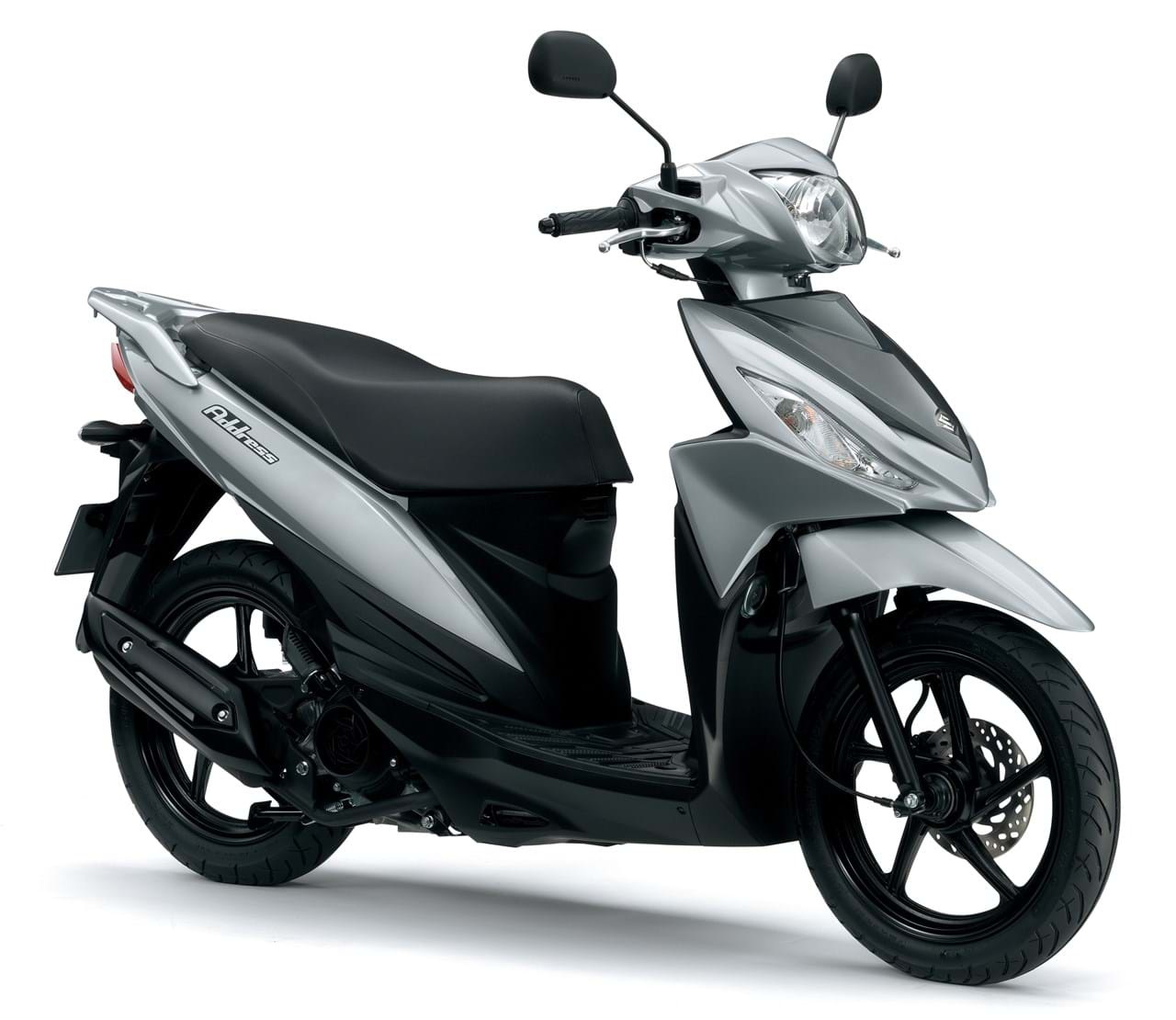 RRP: £2,000
Licence: A1
Engine: 113 cc

Power: 9 bhp
Seat Height: 755 mm
Wet Weight: 97 kg
Suzuki's Address 110 is probably best viewed as a budget 125cc scooter. It makes about the same power as many low-mid range 125 models but without the weight and cost associated with them, while the seat is nice and low for learners.
7. Lexmoto Milano 125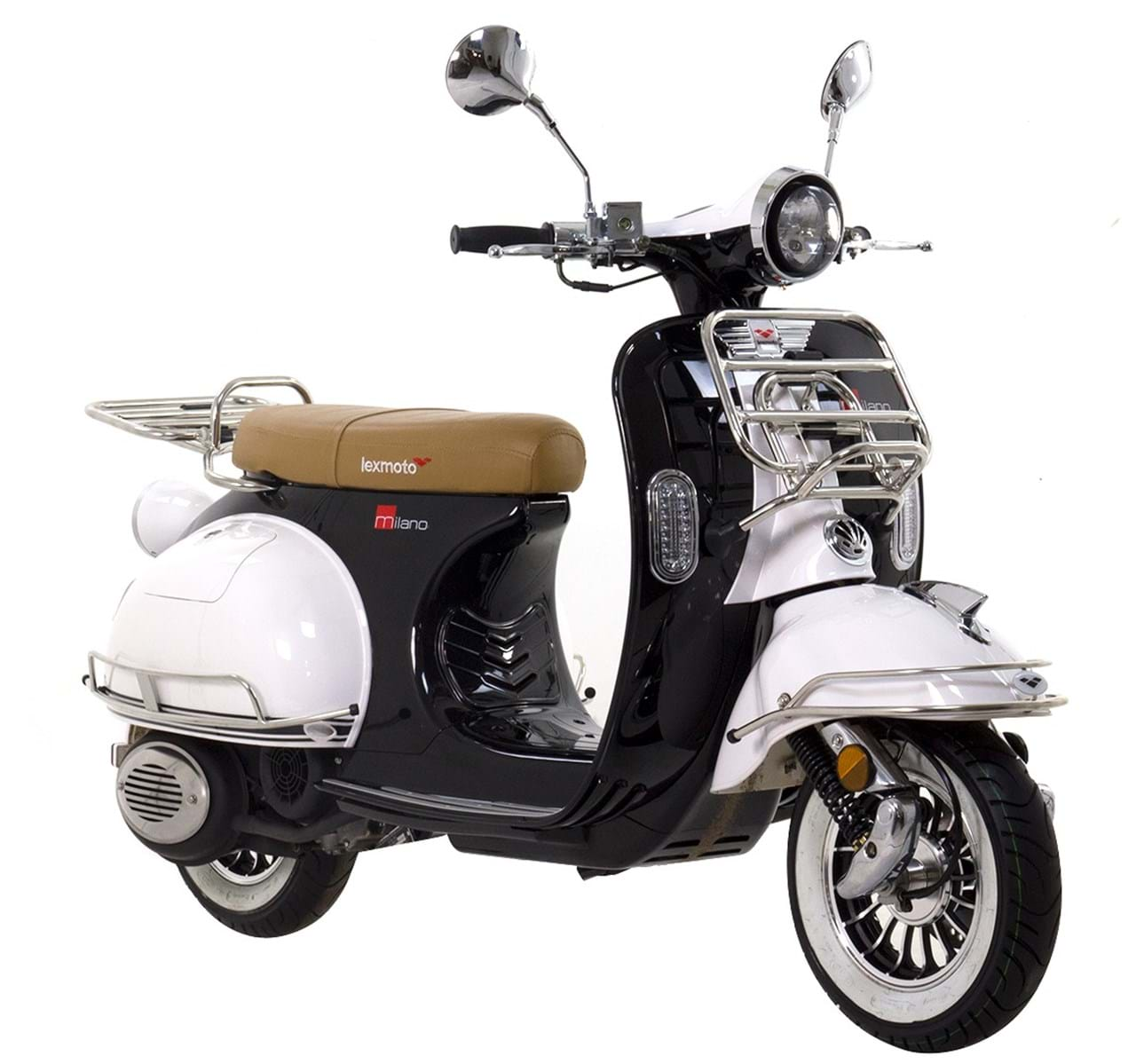 RRP: £1,600
Licence: A1
Engine: 125 cc

Power: 7 bhp
Seat Height: 780 mm
Wet Weight: 99 kg
The 2017 Lexmoto Milano is quite an exciting proposition. It ticks the Italian retro looks box, comes with the luggage racks as standard, has combined disc brakes and all for just £1,600. That's about half the price of some well known Italian scooters.
8. Vespa Elettrica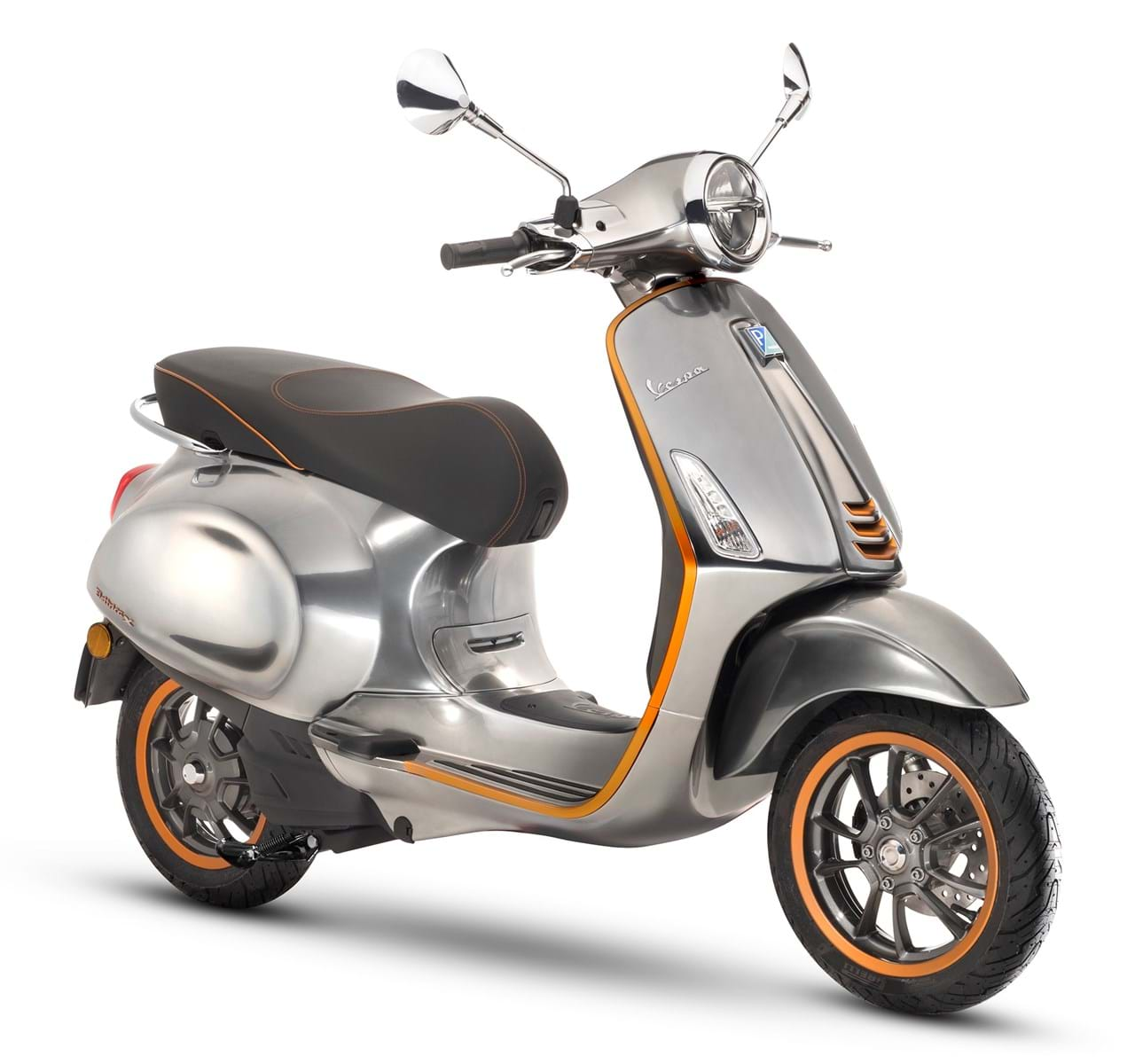 RRP: TBC
Licence: TBC
Engine: Electric

Power: 3 bhp
Seat Height: TBC mm
Wet Weight: TBC kg
For 2018 Vespa are releasing the Elettrica, which as you might have guessed is powered by an electric motor. It's a glimpse into the future of scooters, is powered by a high tech Lithium-Ion battery and has a 4.3" colour dash.
Unfortunately it's unlikely to be cheap, range may be an issue and traditional scooter practicality is sacrificed by giving over part of the underseat storage to the battery, limiting space to store a full face helmet. There's also going to be a range extending X version which uses a small motor and fuel tank to charge a battery that's half the size.
9. Peugeot Speedfight 4 50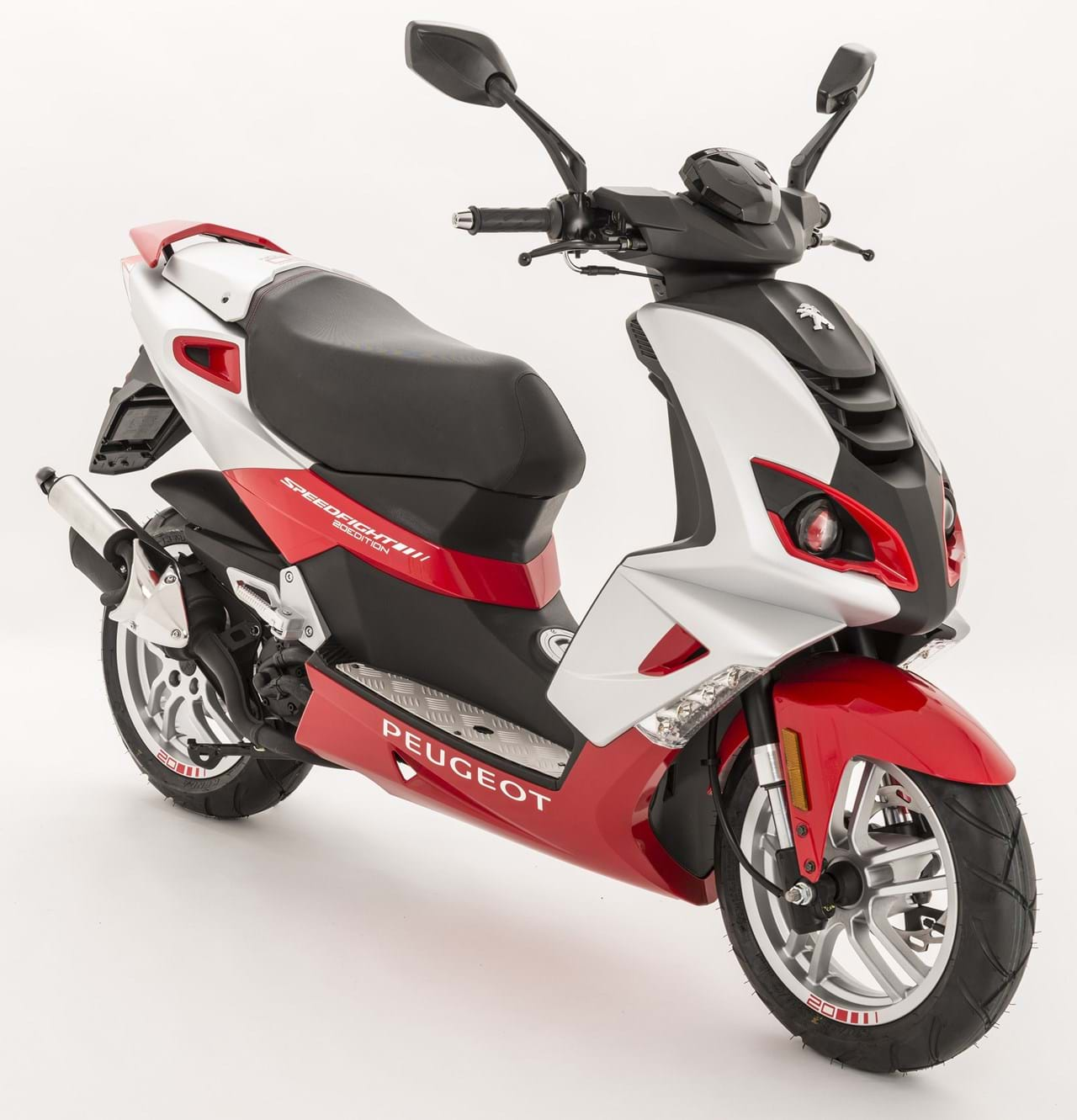 RRP: £2,300
Licence: AM
Engine: 50 cc

Power: 4 bhp
Seat Height: 800 mm
Wet Weight: 97 kg
The Peugeot Speedfight 4 50 has been around since 2015 but still looks positively modern, has wavy disc brakes and even a holder to use your mobile as a satnav with the USB charging socket.
10. Lexmoto Echo 50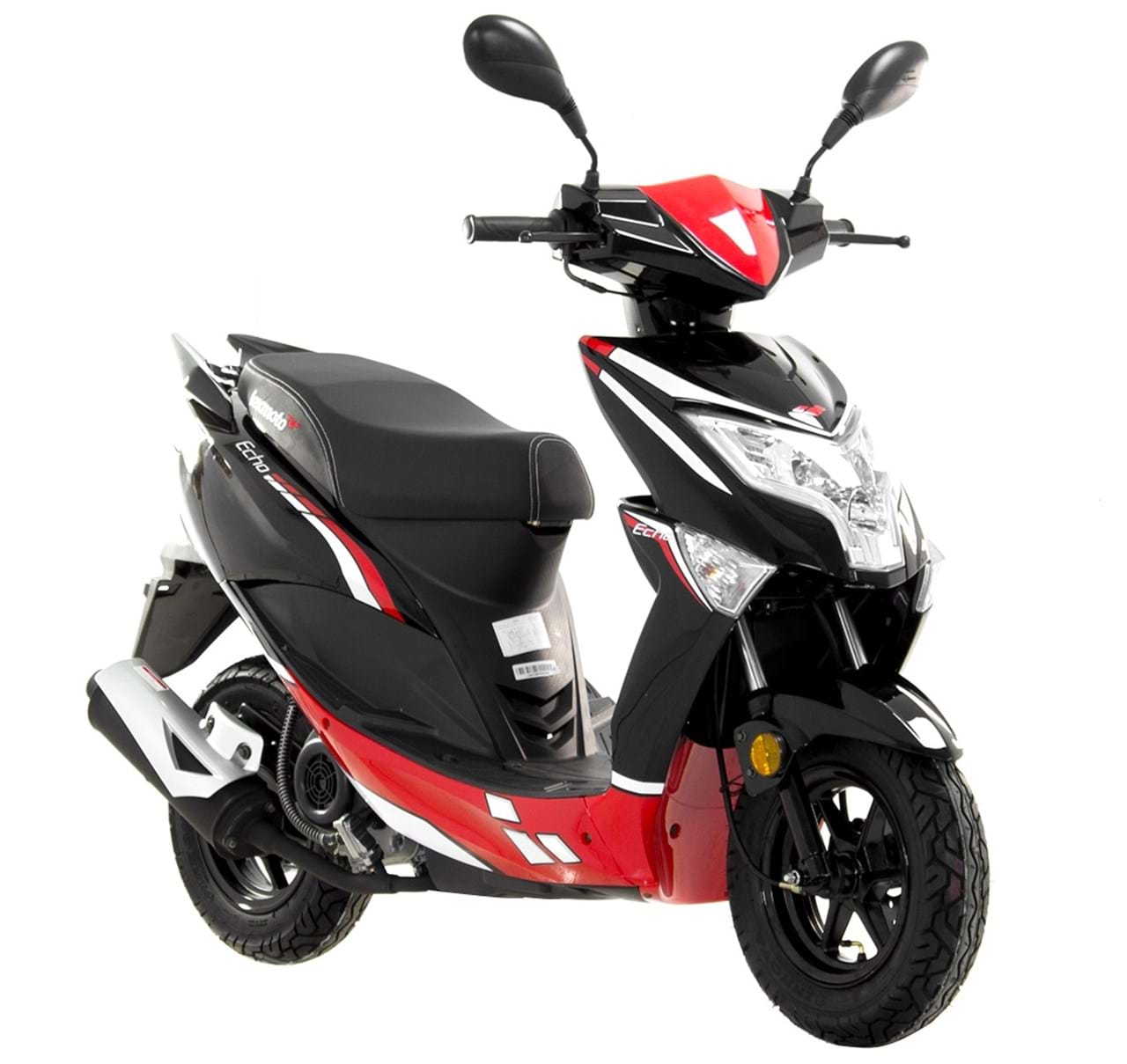 RRP: £950
Licence: AM
Engine: 50 cc

Power: 2 bhp
Seat Height: 730 mm
Wet Weight: 85 kg
The Lexmoto Echo 50 deserves to be on this list because it's super cheap at only £950. That's right, you could buy two of them for the price of the Speedfight 50 and even have change for some riding gear! The engine is previous generation and only produces half the power of the Speedfight but then how powerful does a 50cc scooter really need to be.