Top 10 Touring Motorbikes
You can tour on almost any bike however some are more suited to it than others. It's all about storage, range, two up comfort and gadgets. What is a touring bike?
The Best Touring Bikes: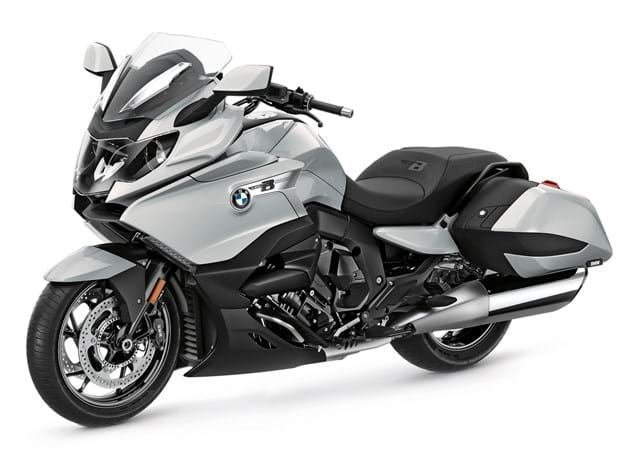 The B stands for Bagger, which is usually a US style cruiser bike modified with fixed side panniers to make it more touring friendly.
In this case BMW took the 2017 K1600GT, already a great touring bike, then made a few changes to "Baggerise" it; the K1600B appeared later in 2017 with a blacked out engine, lower and straighter exhausts, lower screen, 7cm lower pillion seat and fixed panniers with a more streamlined design. Read the review.
The end result is a much lower back end and cleaner lines to make it look cooler. Then for 2018 they launched the K1600 Grand America, which is essentially the K1600B with a top box and taller screen.
Engine: 6 Cylinder
Capacity: 1,649 cc
Power: 158 bhp

Licence: A
Seat Height: 780 mm
Wet Weight: 336 kg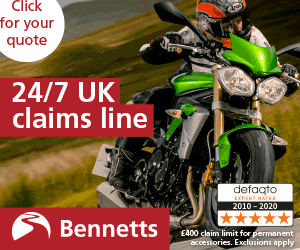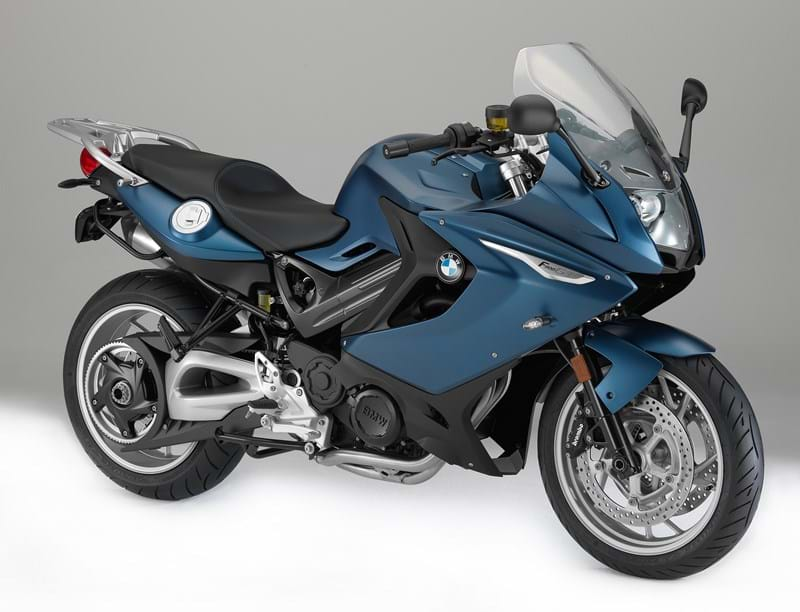 It's unique on this list because power reaches the rear wheel via belt drive and the fuel tank is under the seat but fully spec'd up it could make a great first tourer.
Electrically adjustable suspension, traction control, heated grips, tyre pressure monitoring and the 55 litre panniers can all be added from the BMW options catalogue and there are plenty of used examples around to choose from.
It's also pretty light and has a friendly low seat height. Read the review.
Engine: Parallel Twin
Capacity: 798 cc
Power: 90 bhp

Licence: A2 (Restricted)
Seat Height: 800 mm
Wet Weight: 213 kg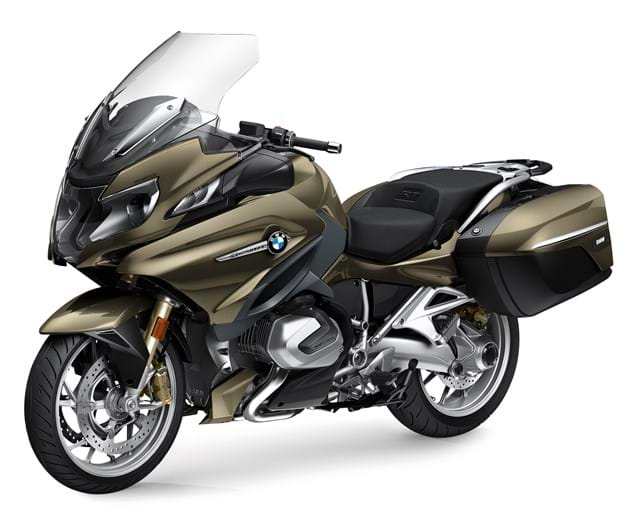 The original R1200RT had been slowly evolving since 2005 and was loved by the public and police forces alike.
For 2019 BMW has evolved it into the R1250RT by swapping the engine for a new 1,254cc Boxer design with ShiftCam technology (Variable Valve Timing).
It still features all the cool tech from the old model though such as hill start assist, dynamic brake light system, huge colour TFT dash and cornering ABS so should definitely be on your test ride list.
Engine: Boxer
Capacity: 1,254 cc
Power: 134 bhp

Licence: A
Seat Height: 805 mm
Wet Weight: 279 kg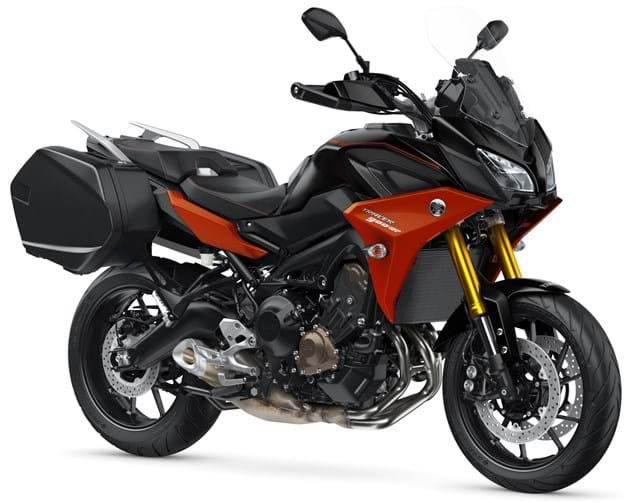 Yamaha Tracer 900 GT For Sale →
It's arguably more sports tourer than tourer, possibly even a little bit adventure, but whatever you call it there are a lot of reasons to recommend the Tracer 900 GT.
Firstly it's based on the awesome naked MT-09, one of Yamaha's best selling bikes with a lauded engine. Secondly it ups the game by adding a few upgrades to the £1,400 cheaper second generation standard Tracer 900.
You get the 22 litre panniers, a quickshifter, cruise control, better fully adjustable suspension and heated grips. That's a lot of extra kit for the money. Read the review.
Engine: Triple
Capacity: 847 cc
Power: 114 bhp

Licence: A
Seat Height: 850 mm
Wet Weight: 227 kg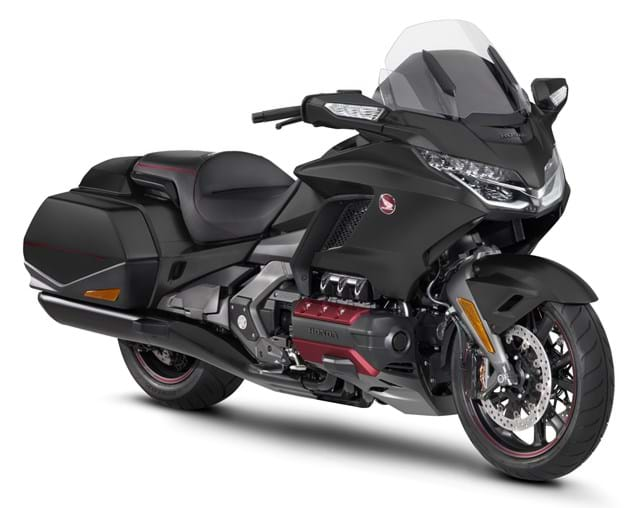 When you think about touring bikes you inevitably think about the Honda Goldwing first and this one is all new for 2018.
It has a new chassis, advanced new suspension setup, smaller engine with more power, full LED lighting, smaller overall dimensions and up to 38kg shaved off the weight!
All of the latest tech is there including a few notable systems you might not expect. There's hill start assist, which is useful for a bike weighing in at 365kg, a massive 7" colour TFT dash and if you opt for the automatic DCT gearbox it will even walk itself slowly forwards or backwards to make car parks that much easier.
If you plan on taking a pillion the range topping Tour version includes what can only be described as an armchair with a 50 litre boot behind it and even an airbag fitted on top of the fuel tank, although at a shade under £30,000 that's a serious investment!
Engine: 6 Cylinder
Capacity: 1,833 cc
Power: 125 bhp

Licence: A
Seat Height: 745 mm
Wet Weight: 365 kg
Get The Gear To Go With It
How to clean your bike properly
How to choose the right helmet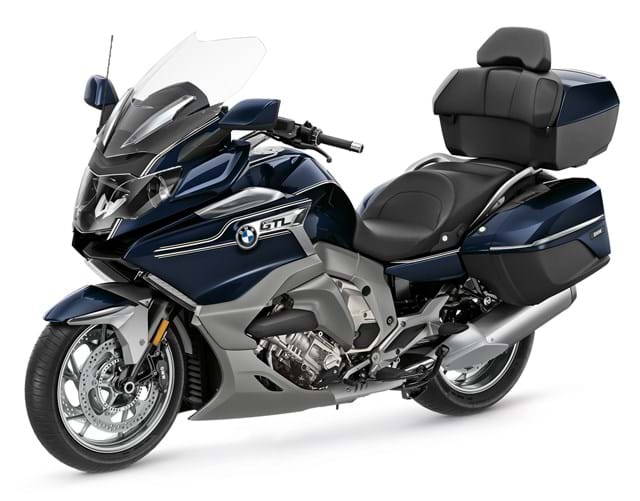 Pretty much the only rival to the Honda Goldwing, the 2017 K1600 is powered by an inline 6 cylinder engine famed for endless amounts of smooth power.
It's roughly the same weight as the wing and features masses of advanced tech including a fancy adaptive cornering headlight and a system to quickly start an SOS call from the handlebar or automatically if you crash. Clever stuff! Read the review.
BMW also do a version without the top box / pillion backrest called the K1600GT, which is 16kg lighter and £1,250 cheaper.
Engine: 6 Cylinder
Capacity: 1,649 cc
Power: 160 bhp

Licence: A
Seat Height: 750 mm
Wet Weight: 350 kg
It has been slowly evolving since 2001, with the latest generation launching in 2013, then a small update in 2016 to add in a new 6 speed gearbox, full LED lighting and a new assist / slipper clutch. Read the review.
The base version doesn't offer that much kit but step up to the £2,200 more expensive AE version and you get the 20 litre panniers, electrically adjustable suspension and cornering headlights.
At the very top the £500 more AS version adds in a clutchless gearshift system operated by your foot or thumb.
Engine: Inline 4
Capacity: 1,298 cc
Power: 144 bhp

Licence: A
Seat Height: 805 mm
Wet Weight: 289 kg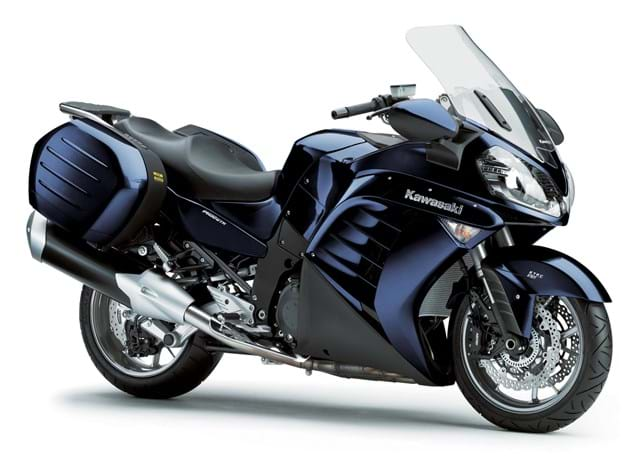 This is one of those tourers derived from an existing sports bike in the range, in this case the near 200bhp ZZR1400.
Kawasaki de-tuned the engine slightly, added an electrically adjustable screen, panniers, a more relaxed riding position and more reliable shaft drive to get power down to the rear wheel.
Unfortunately all those additions make it really heavy and it hasn't changed much since the second generation launched in 2010. For those reasons many actually go for the ZZR1400 instead, with a few mods to make it more touring friendly. Read the review.
Engine: Inline 4
Capacity: 1,352 cc
Power: 153 bhp

Licence: A
Seat Height: 815 mm
Wet Weight: 300 kg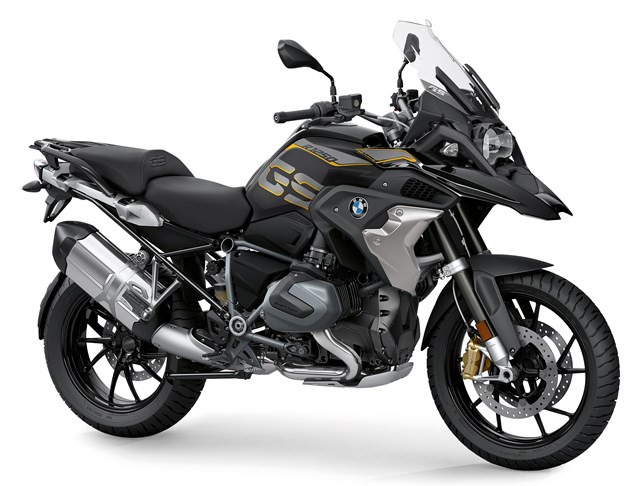 It's an adventure bike but just as good when it comes to touring. Thanks to a major update in 2017 the outgoing BMW R1200GS received shiny new looks, reduced vibration and plenty of new high tech options like hill start control and self levelling suspension; both incredibly useful on a bike which weighs a quarter of a ton before two people and a full luggage accompaniment are added into the mix.
The model continually topped the UK best sellers chart, has a massive following around the world and can be totally customised using the BMW parts catalogue.
Fast forward to 2019 and BMW have replaced it with the evolutionary R1250GS. The bike is essentially the same winning formula as before but gets a brand new engine with Variable Valve Timing tech (BMW ShiftCam).
The result is a bit more power and fuel efficiency at the expense of another 5kg added to the weight (and the best part of £20k new fully spec'd up). Read the review.
If you intend on doing lots of proper off-road work they offer a version called the R1250GS Adventure (R1250GSA) which has a larger tank, lots of drop protection and more ground clearance although it's another 8kg heavier.
Engine: Boxer
Capacity: 1,254 cc
Power: 134 bhp

Licence: A
Seat Height: 850 mm
Wet Weight: 249 kg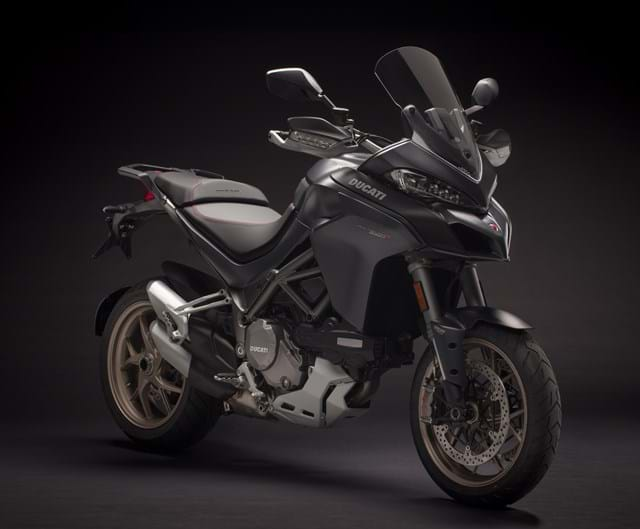 Ducati Multistrada 1260 S For Sale →
Another adventure bike that's equally good at touring. Brand new for 2018 the Ducati Multistrada 1260 S is a shiny new update to the previous 1,200cc range and is also available in a £14,300 base version without the Sachs electric suspension, TFT dash or LED headlight.
At the top of the range is the £20,800 Pikes Peak version with Ohlins suspension, Termignoni exhaust and forged wheels. Compared to the BMW R1200GS it's lighter, more sports oriented and definitely wins on the looks front.
Engine: V-Twin
Capacity: 1,262 cc
Power: 156 bhp

Licence: A
Seat Height: 825 mm
Wet Weight: 235 kg
Want To See More Bikes Like This?
Head over to the Choose & Compare Tool to see them all.
How Did We Rank Our Top Ten?
We looked at all the best touring bikes you can buy new at a variety of price points and picked the top contenders, taking into account style, power, technology and value for money.
What Is A Touring Motorbike?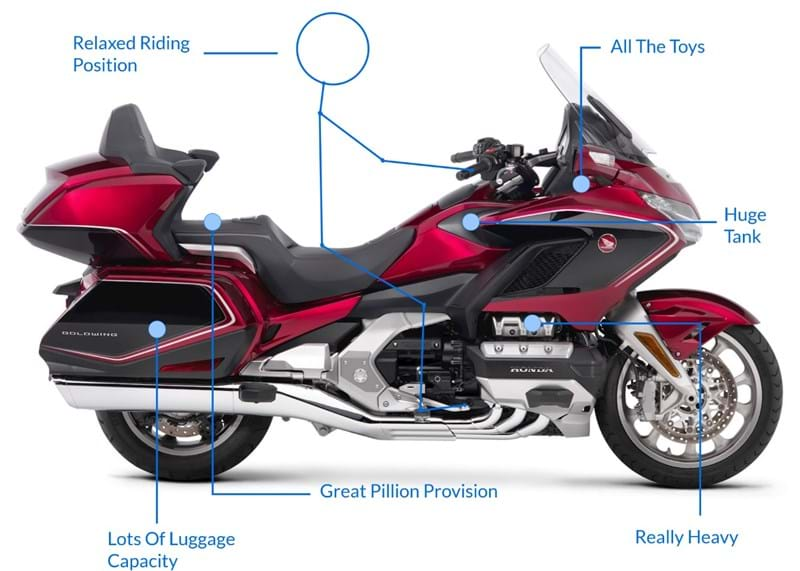 Touring bikes are all about luggage capacity, range, comfort for two, all the toys you could want and sometimes even camping gear to boot.
They aren't about light weight performance or, like sports tourers, a compromise between sportiness and outright touring capability. Unfortunately there is a down side to all that capability; they tend to be some of the heaviest bikes on the road.
Some are built specifically for the job, like the Honda Goldwing, while others are based around sports tourers or adventure bikes like the Yamaha Tracer 900 GT. They often feature fixed panniers or a fancy system to remove the luggage quickly without ruining the looks of the bike.
Cruiser derived tourers are sometimes referred to as "baggers" or "fully dressed", such as the Indian Roadmaster.
Check out the other types of motorbikes.