Top 10 Naked Motorbikes
If you want a bike that looks modern, can go fast, is agile in the bends and which sacrifices some wind protection and luggage options to save weight then you probably want a naked bike. What is a naked motorbike?
The Best Naked Motorbikes:
The Z H2 is new for 2020 and should tick a lot of boxes for a lot of people, mainly because it's derived from the excellent H2 SX SE sports tourer and makes use of the same supercharged engine.
There's a fancy colour TFT dash, quickshifter and Brembos at the front.
Engine: Inline 4
Capacity: 998 cc
Power: 197 bhp

Licence: A
Seat Height: 830 mm
Wet Weight: 239 kg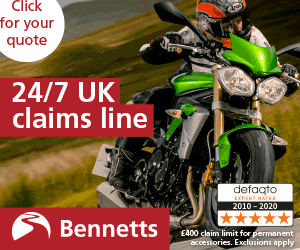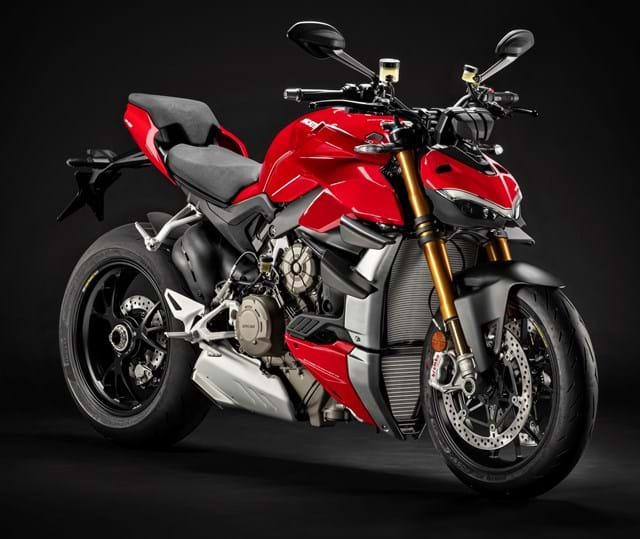 Ducati Streetfighter V4 S For Sale →
For 2020 Ducati whipped the fairing off the awesome Panigale V4 sports bike to produce the Streetfighter, which is also available as a cheaper version without the forged wheels or Ohlins electronic suspension.
Compared to the Panigale it has a more relaxed riding position, comfier seat, slightly de-tuned engine optimised for the road and double wings either side which can generate 28kg of downforce at 168mph.
Engine: V4
Capacity: 1,103 cc
Power: 205 bhp

Licence: A
Seat Height: 845 mm
Wet Weight: 199 kg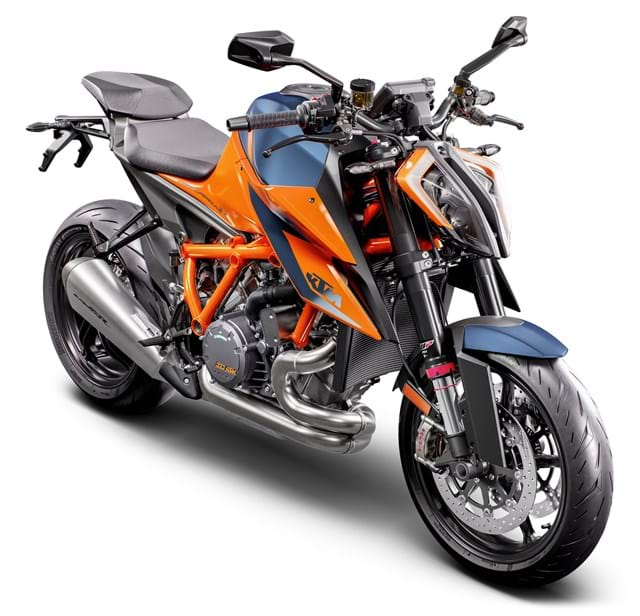 KTM 1290 Super Duke R For Sale →
The Beast 3.0 is completely new for 2020 with a new lighter frame, upgraded brakes and suspension, improved cornering ABS / traction control systems, new lighter wheels with stickier tyres a huge 6 kg shaved off the weight.
Engine: V-Twin
Capacity: 1,301 cc
Power: 177 bhp

Licence: A1
Seat Height: 835 mm
Dry Weight: 189 kg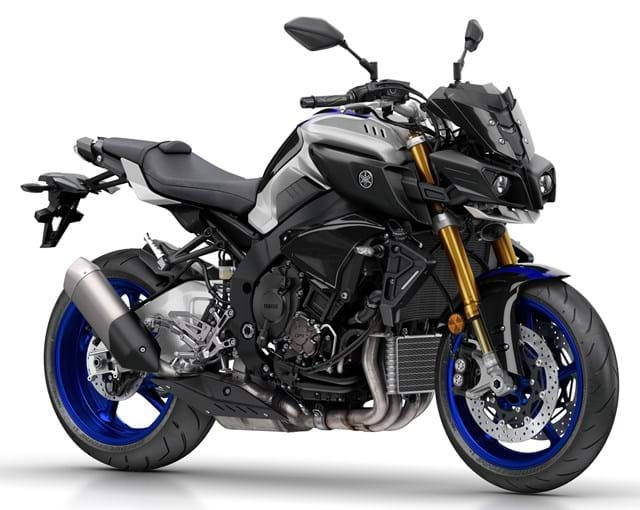 The original Yamaha MT-10 was a huge hit so the SPecial version was bound to show up soon after in 2017.
Yamaha's MT-10 SP builds on the original with a fancy R1 style colour TFT dash, a special colour scheme and Ohlins NIX30/TTX36 electronic suspension.
The engine isn't the most powerful out there but is renowned for being extremely capable, while the wind protection is surprisingly good for a naked bike, however there is a downside and it's fuel economy. Read the review.
Engine: Inline 4
Capacity: 998 cc
Power: 158 bhp

Licence: A
Seat Height: 825 mm
Wet Weight: 210 kg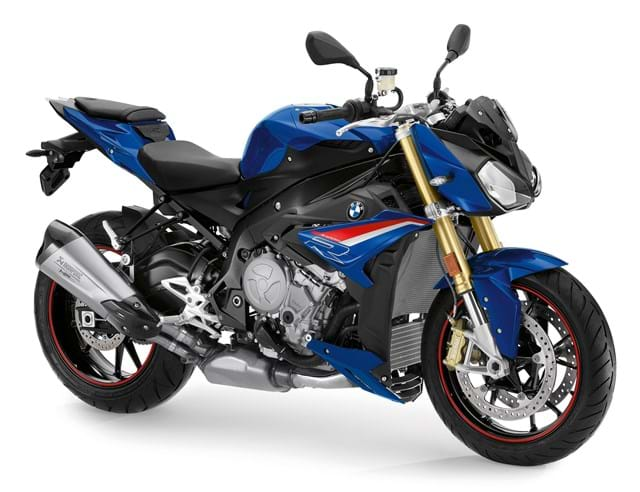 In 2013 the BMW S1000R was game changing, with 162bhp on tap and weighing in at just 205kg wet.
However the model is getting on a bit now, even with a mini update in 2017 that throws in the HP Titanium muffler for free.
Engine: Inline 4
Capacity: 999 cc
Power: 162 bhp

Licence: A
Seat Height: 814 mm
Wet Weight: 205 kg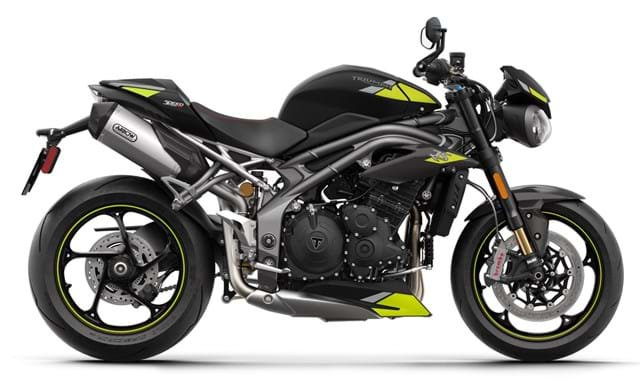 Triumph Speed Triple RS For Sale →
The top of the range Speed Triple RS is more evolution than revolution with a new colour TFT dash, refined engine, cornering ABS and a little bit knocked off the weight.
That isn't necessarily a bad thing though because the Speed Triple has been a great seller for Triumph and it has quite a following in the UK.
Engine: Triple
Capacity: 1,050 cc
Power: 148 bhp

Licence: A
Seat Height: 825 mm
Dry Weight: 189 kg
Get The Gear To Go With It
How to clean your bike properly
How to choose the right helmet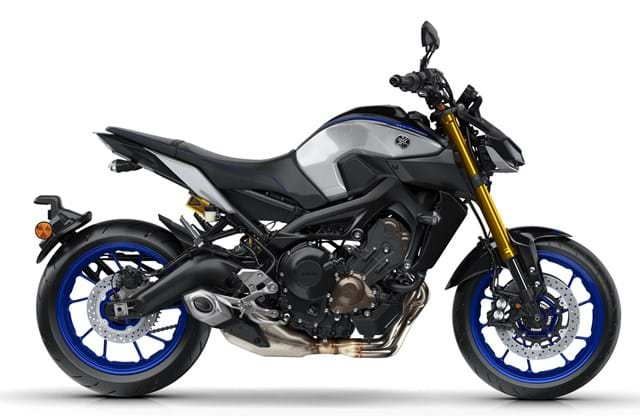 Much like the MT-10 SP the MT-09 SP takes the 2017 update of the best selling MT-09 and adds a few bits to make it SPecial, specifically a mix of Ohlins/KYB suspension upgrades and a fancy colour scheme.
It should make an already awesome bike even better but Yamaha have clearly decided not to include a colour TFT dash to save a few pennies. Read the review.
Engine: Triple
Capacity: 847 cc
Power: 114 bhp

Licence: A
Seat Height: 820 mm
Wet Weight: 193 kg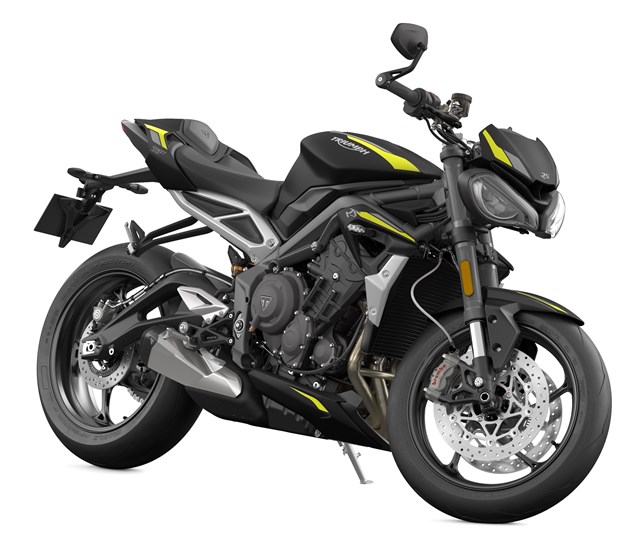 Triumph Street Triple RS For Sale →
The Street Triple RS is really popular in Triumph's range and for 2020 it's been made Euro 5 compliant with an improved mid-range, new LED headlight, new bodywork / exhaust / mirrors and a new quickshifter.
Engine: Triple
Capacity: 765 cc
Power: 121 bhp

Licence: A
Seat Height: 840 mm
Dry Weight: 166 kg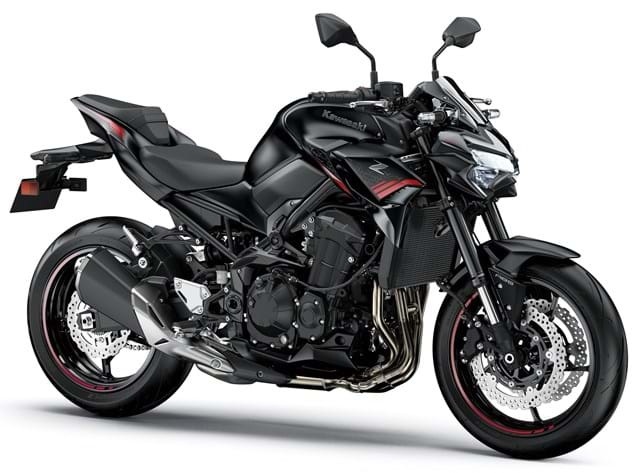 Kawasaki introduced the Z900 in 2017 to replace the ageing Z800 and there's also an A2 licence friendly restricted version. For 2020 it gets a TFT dash, comfier seat, LED lighting all round, traction control, two power modes and improved tyres.
Engine: Inline 4
Capacity: 948 cc
Power: 124 bhp

Licence: A2 (Restricted)
Seat Height: 820 mm
Wet Weight: 210 kg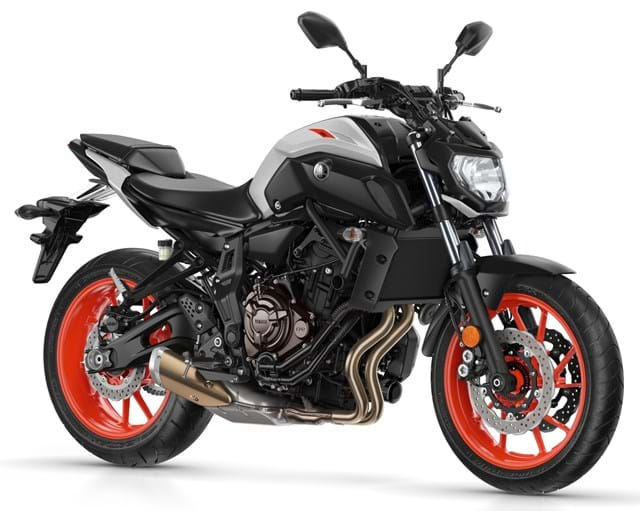 Yamaha's MT-07 needs no introduction. Over 80,000 of the original have been sold so for 2018 Yamaha simply tweaked a few bits to make it even better.
The headlight design is all new, the seat more comfortable and a few bits are blacked out for a more edgy look. Read the review.
Engine: Parallel Twin
Capacity: 689 cc
Power: 74 bhp

Licence: A2 (Restricted)
Seat Height: 805 mm
Wet Weight: 182 kg
Want To See More Bikes Like This?
Head over to the Choose & Compare Tool to see them all.
How Did We Rank Our Top Ten?
We looked at all the best naked bikes you can buy new and picked the top contenders, taking into account style, power, technology and value for money.
What Is A Naked Bike?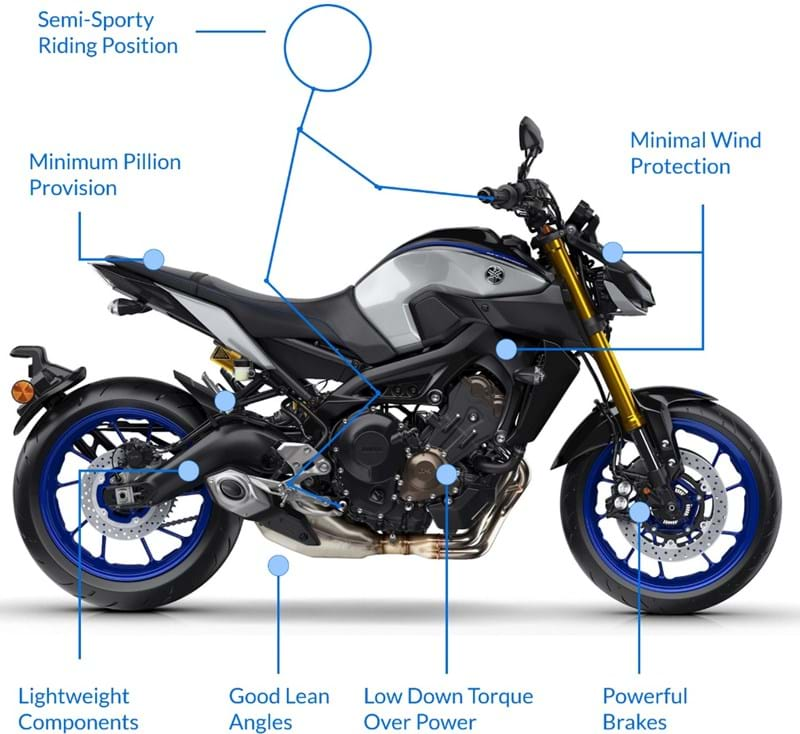 Originally a naked bike would have been a sports bike with the fairing removed, the wiring tidied up to show off the engine and a few tweaks like flatter handlebars to make the riding position less aggressive.
These days nakeds tend to be designed that way from the off. They also quite often feature a de-tuned engine from the previous generation range topping sports bike, tweaked for lots of torque lower down the range at the expense of top end power.
In the grand scheme of things they are one of the most popular classes of bike on the road and tend to be used for short blasts at the weekend rather than longer trips. Retro nakeds offer much the same but with distinct retro styling.
Check out the other types of motorbikes.