BMW S1000R Review (2021)
"
The redesign has certainly worked as the handling is so effortless, the power linear and there's more than enough of it. Reducing the weight has certainly given this new model a new lease of life.
"
What Is It?
The BMW S1000R is a premium naked bike and is powered by a Euro 5 compliant liquid cooled 999 cc inline four engine, producing 162.3 bhp at 11,000 rpm and maximum torque at 9,250 rpm.
Specs
Seat Height: Average (

830

 

mm / 32.7 inches)
Weight: Average (199 kg / 439 lbs)
Economy: Average (45 mpg / 6.3 l/100km / 15.9 km/l)
Range: High (160 miles / 257 km)
Power to Weight: Very high (0.814 bhp/kg / 0.607 kW/kg)
Top Speed: Very high (170 mph / 274 km/h)
Pros
Loads of smooth real world power
Suspension
Handling
Brakes
Lights
Looks
Dash
Cons
Down on peak power versus the competition
Options quickly drive up the price
Some vibes
Mirrors
What Is It Like?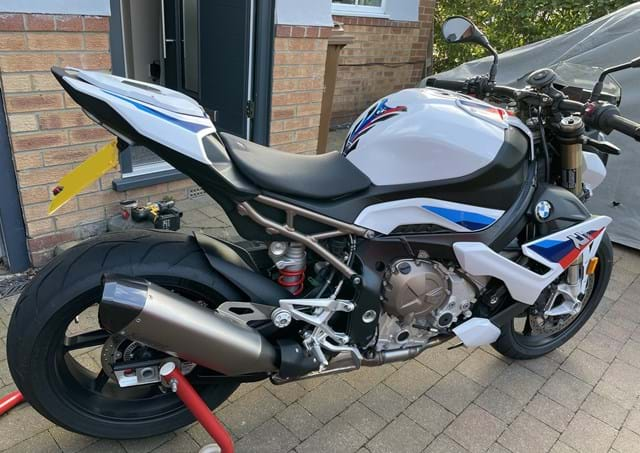 BMW S1000R Sport M
Tell us a bit about you
I'm a 50 year old male, average height 5'8".
Your biking experience to date?
I've not been riding for too long, 4 years now. My first road bike was the BMW F8000R and I found this a good starter bike. I then bought a BMW S1000R Sport (2019), which I upgrade to the 2021 model in May 2021.
Why did you choose it?
I loved the previous model and was in a position where I could hand it back and upgrade before the rush of older bikes flooded the market.
Some of the new features also caught my eye. The new TFT screen packs loads of tech, and is really easy to read and operate.
The headlights on the older model were like using a candle - even with upgrading the bulbs to a higher capacity. The new LED cornering Headlight is much improved.
Although the BHP is no greater than the older model the delivery is much smoother, and progressive.
What is good about it?
The 21 model is a completely new bike from the ground up. The engine is based on the XR and RR (without shift cam technology). It's now a stressed member part of the frame with a new swing arm and new suspension all round. This makes the handling so nimble and precise. The bike turns in so much easier and quicker.
Although the seat height is higher, I can still almost flat foot it both sides due to the bike being much narrower.
The weight is noticeably much lighter, and the agility feels like a much smaller bike. The headlight is much improved with full LED tech and cornering lights.
The new TFT taken from the XR and RR is simplicity itself to operate. Linking the TFT to the app is a nice toy to have, looking back at your lean angles and seeing when the electronic aids have cut in to help you get more enjoyment out of your ride. 
Now I have had the run in service the bike has opened up to be as expected, without the power rush mid range due to the almost linear torque curve.
The quick shifter, as with the previous model, is faultless and both levers are now adjustable as standard.
The seat is very comfortable and I managed to ride for over 2 hours at a time without the usual numbness. On a tour I managed to get the display to show a guesstimate of 192 miles.
What could be improved?
Very little, this is definitely an evolution to an already great bike. The TFT does have problems with integration between headset and phone. When it works it's a great piece of kit and well designed, but it is very frustrating that the audio breaks up. There are software updates coming at some point.
Some of the plastic panels feel a bit flexible, but fit well. The keyless ignition would have been better if it had the keyless filler cap too, but that was omitted to save weight.
Some would have liked to see the shift cam on this bike from the RR, but when you see other bikes stats with upwards of 200 BHP the S1000R stacks up nicely. The electronics help deliver the power through to the tarmac well, and on track and road the bike holds its own and even out performing most.
Any mods or upgrades?
I opted for the sports screen from factory and I changed the tail. The integrated lights / brakes / indicators don't seem to be that visible so I changed to a tail tidy that has integrated LED lights.
I am waiting for the BMW official bar end mirrors. I prefer them as I get a mirror full of shoulder unless I dip them. I did get the BMW radiator guard fitted before taking delivery for obvious reasons. Apart from the usual tank zip pad nothing else as yet.
What is the economy like?
On a trip to Scotland I got upwards of 42 MPG on the screen, when I filled up the clock showed a guess of approximately 192 miles in the tank. But when riding locally that figure seems to dip quite a bit for some reason.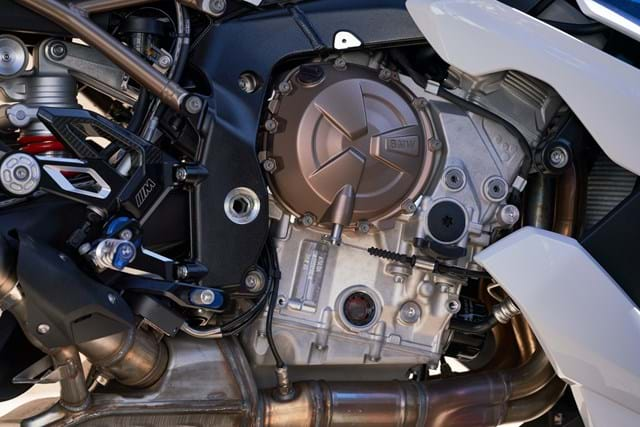 How is the engine?
The engine performs well in all conditions and all modes. The electronics work well with the engine and you can really feel the difference in each mode, giving different throttle response and power delivery for all the different conditions.
The near linear torque curve gives the bike a progressive feel. It does not have any dips in power until you almost hit the red line and there are no sudden surges in the mid range - so I think it's tame but I think it's predictable.
How does it handle?
The handling is where the biggest differences are from the old model. The new R is so agile and nimble. Getting the bike to lean over is a joy and is effortless.
This is where BMW have made the biggest advances in my opinion and I was not expecting such a big difference. Again the electronics help, and the anti wheelie setting is customisable, as are a lot of the different handling characteristics.
What are the brakes like?
These are the new BMW own branded brakes and going from the older model which had Brembo I was a little hesitant. These seem to work extremely well on the bike, I have not taken it on a track so cannot comment on the ability to work in those conditions, but on the road they are more than capable.
Is it comfortable?
After riding over 1,600 miles in a week, I had no issues with the seat or riding position. I do have to test the handlebars in their forward position to see if that makes it better for more spirited riding, but in their default position they are perfect for me on longer runs.
Both leavers are adjustable - so there is no need to replace them with aftermarket ones to get them set up for your individual preference.
How reliable have you found it?
The bike has been faultless and starts every time. Apart from the software issues on the TFT the bike is fantastic.
What's the servicing frequency and cost like?
As with any bike the servicing is yearly, cost is what it is. Some dealers have better prices than others.
To Sum Up
This is a cracking sports naked based on the S1000RR. The redesign has certainly worked as the handling is so effortless, the power linear and there's more than enough of it. Reducing the weight has certainly given this new model a new lease of life.
I would recommend anyone looking for a bike from this sector to seriously take a look, and for anyone wanting to upgrade from the previous model, it's definitely a huge leap forward in my opinion.
- Wayne K, 2021
Price Guide
Year
Dealer
Private
Part Ex
Mileage
2021
£13,200
£10,550
£9,250
2,100
How to use the price guide
The Second Opinion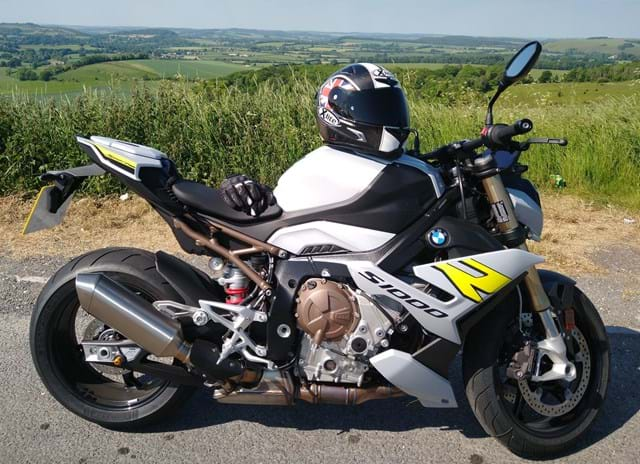 Tell us a bit about you
I'm a 47 year old male, 5'10, who started riding age 9 and hasn't stopped since.
Why did you choose it?
I was looking to upgrade from my 2017 Street Triple RS and had a slightly larger budget this time round. I really wanted to try a different brand and the new S1000R ticked all my boxes.
I was looking for a naked sports bike, but something with a bit more torque / punch, and wasn't a twin. The S1000R I bought new and took delivery as it was released in the UK, never having seen it in the flesh, yet alone ridden one.
What is good about it?
It feels so light, extremely agile (as agile as the 765 RS is). The dash and phone integration are awesome. The electronic suspension and brakes are spot on. I have customised the Dynamic Pro riding mode to suit my riding style perfectly and love the burble / popping on the overrun.
It's very easy to ride around in town in the 20 / 30 / 40 mph limits and then starts to come alive around 7,000 rpm and really starts to take off around 9,000 rpm.
What could be improved?
There is more vibration than I was expecting and a better exhaust note would have been nice. I'm not sure how the plastic bodywork and decals will hold up overtime.
The mirrors are useless at the speeds when you need to see what or who maybe behind you 😊
I only use the bike for fun and hooning around country roads, so the vibrations through the pegs, tank and bars make the bike feel alive, but, with that said, if you have a decent long ride, say 80 miles plus without a break, I have noticed my finger tips can feel a little numb.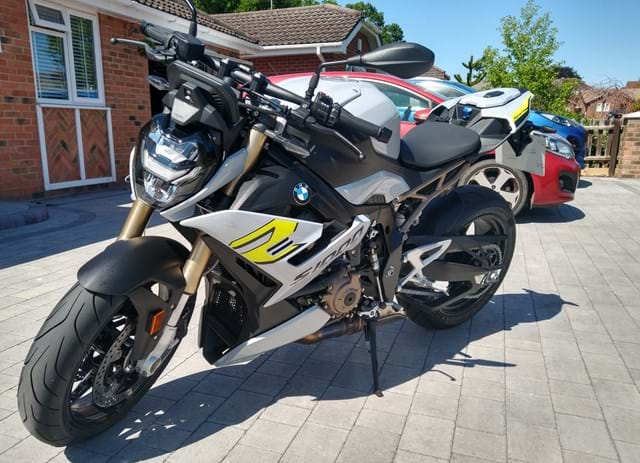 Any mods or upgrades?
Not yet but I would like to upgrade the exhaust and add bar end mirrors.
What is the economy like?
I didn't buy it for economy however I get about 140 / 150 miles per tank. For example my last ride started with a full tank (about £17) I did 102 (spirited) miles and it says there are 60 miles (38%) left in the tank…60 miles if I ride very conservatively (which I wont!)
How does it handle?
Exquisitely. It's easily as agile as my Triumph Street Triple 765 RS was. It really does just go where you look, and add a touch of counter steer and you zip round corners. The bike came with Dunlop SportSmart (never had them before) and they do feel like a great choice for this bike and road riding.
What are the brakes like?
Very strong, with way more power than I will ever need. My previous bike had Brembo's and these are equally as strong with as much feel.
Is it comfortable?
Yes, the riding position is sporty with a slight lean forward, but as mentioned the vibrations get a bit annoying after a couple of hours in the saddle without a break.
How reliable have you found it?
So far, faultless.
What's the servicing frequency and cost like?
I've only had the first service so far, £180 I think it was.
To Sum Up
This is my first 1,000 cc road bike, my first BMW, and the first road bike I have bought new, and it really has not disappointed one bit. The franchise network and customer service is very very good (Bahnstormer).
I would say though, the overall fit and finish is just slightly below the build quality of my previous bike (Street Triple RS). Silly little things like exposed rear foot-peg mounting holes and the quality and finish of the decals and plastic bodywork are not quite as good.
I bought the Sport variant which came in at £14,000 including the Hockenheim Silver paint job. I feel that I have got an awful lot of bike for my £14,000 when compared to its immediate competition.
- James BH, 2021
Add Your Review
Do you own this bike? We would love to hear anything good, bad, unexpected or that you have changed plus anything that a prospective new owner might find interesting or useful.