Top 10: Cafe Racers
11th June 2018

Cafe Racers couldn't be more on trend right now. True, they pretty much all start out as other models with a few mods to "cafe racerise" them, but increasingly the inevitable racer version is being designed in from the start and some of the latest models to hit the dealers go as well as they look. What is a cafe racer?
The Best Cafe Racers:
1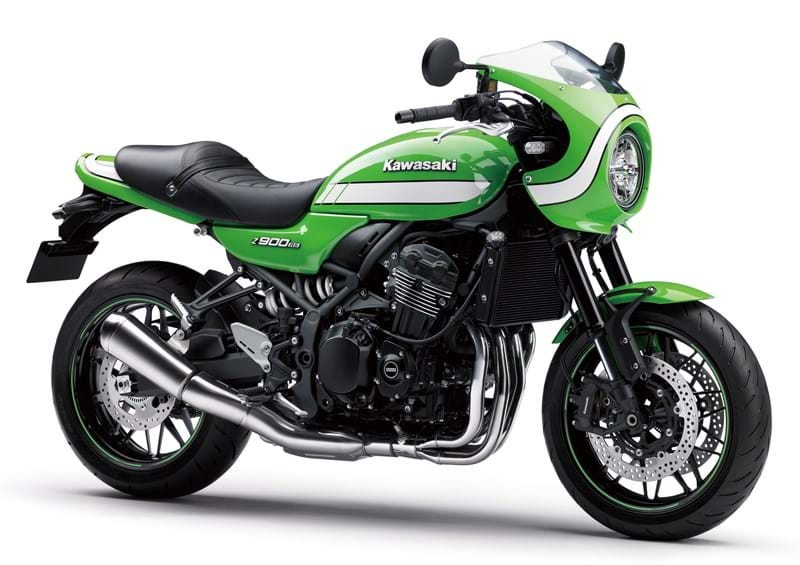 Brand new for 2018 the Kawasaki's Z900RS Cafe is based on the equally new Z900RS retro version of the angry modern naked Z900 and that's a great start! The Z900RS versions have a de-tuned engine, a fancy "retro style" modern dash, LED lighting, cast wheels designed to look a bit like wire spokes and modern niceties like traction control and a slip/assist clutch. The Cafe version is essentially the same as the excellent Z900RS but with a cafe screen added to a slightly lowered headlight, a new seat with a hump, lower mirrors and lower handlebars. The end result is pretty striking.
New: £10,350
Used: TBC
Engine: Inline 4
Capacity: 948 cc

Licence: A
Power: 110 bhp
Seat Height: 820 mm
Wet Weight: 216 kg
2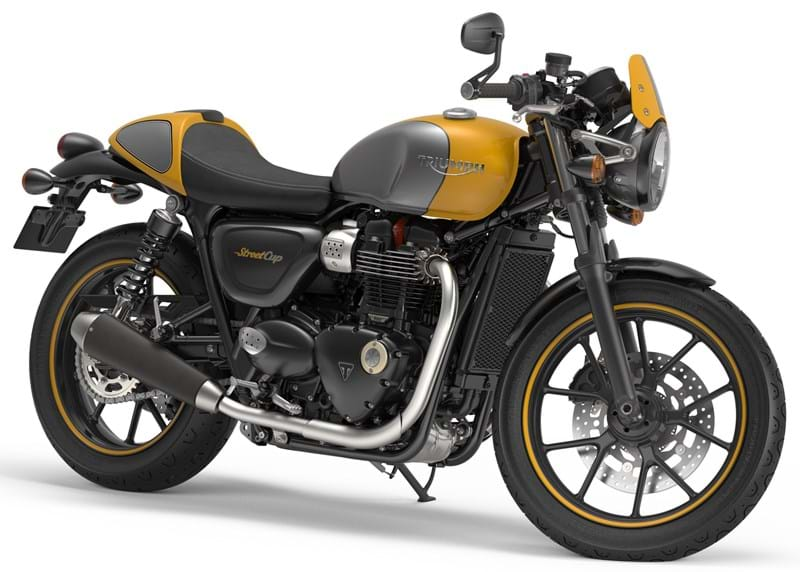 Launching in 2017 the Triumph Street Cup is essentially a Street Twin with lower clip-on bars, a mini fly screen, pillion seat hump, brushed exhaust, no fork gators and a tasty yellow and silver paint job. Again it's a great model to base it on, with plenty of low down torque and hundreds of accessories available from the Triumph catalogue. It's also A2 licence compliant with a restrictor however it's not the lightest bike out there, although that might not matter if you just want to look the part.
New: £8,800
Used: £7,200-£5,750
Engine: Parallel Twin
Capacity: 900 cc

Licence: A2 (Restricted)
Power: 54 bhp
Seat Height: 780 mm
Dry Weight: 200 kg
3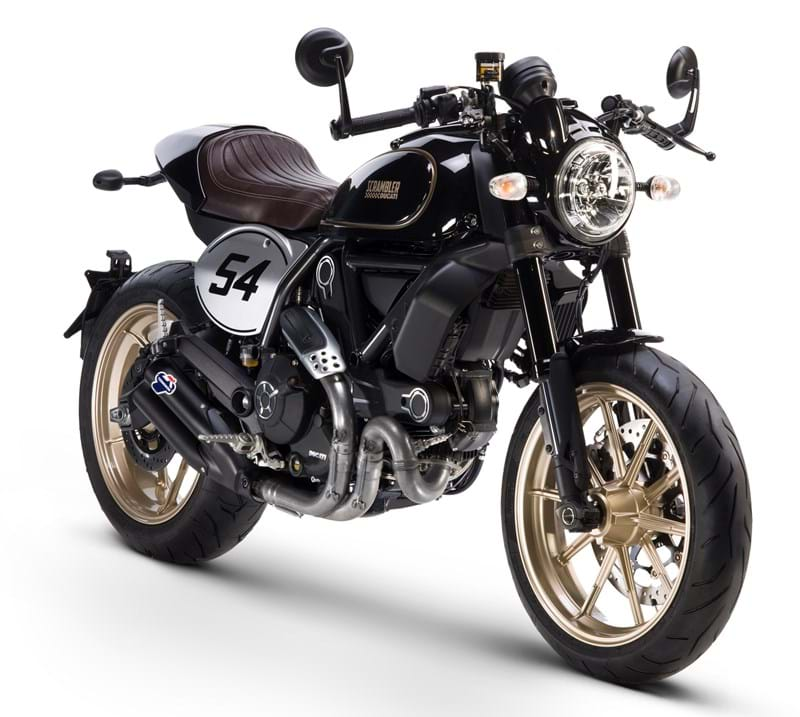 New for 2017 the Ducati's Scrambler Cafe Racer is one of the better looking of the many Scrambler models, it's really light, has bar end mirrors and comes with the Termignoni muffler however it's very bling, has limited tank range and no fuel gauge. If you really want attention it should do the job though.
Licence: A2 (Restricted)
Power: 75 bhp
Seat Height: 805 mm
Wet Weight: 188 kg
4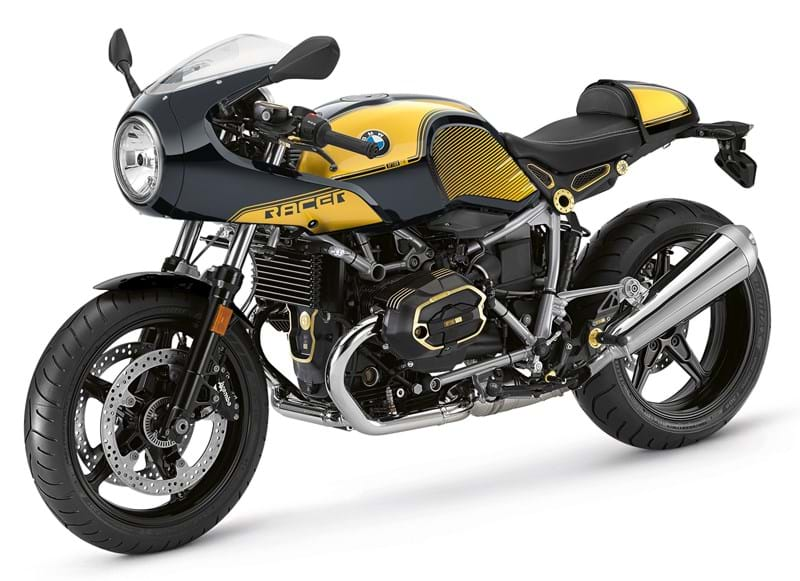 Launching in 2017 BMW's R nineT Racer is, unsurprisingly, based on their R nineT models. Not the range topping R nineT though, it has more in common with the lower down R nineT Pure and R nineT Scrambler. Still it really looks the part and it's only really missing the premium suspension and wire spoked wheels of the top model.
New: £10,900
Used: £8,700-£6,950
Engine: Boxer
Capacity: 1,170 cc

Licence: A
Power: 110 bhp
Seat Height: 805 mm
Wet Weight: 220 kg
5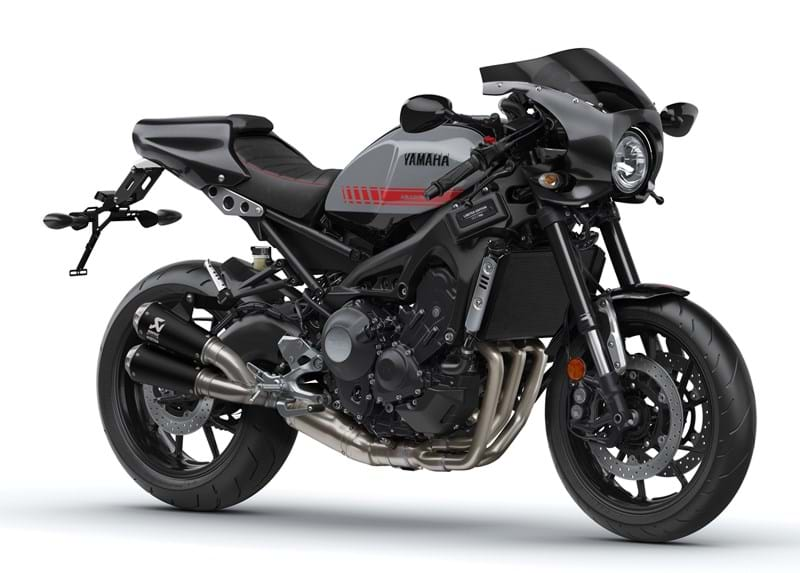 The Abarth edition of the Yamaha's XSR900 launched in 2017 and is the retro version of their super successful MT-09 angry naked model. Each of the 695 limited editions turn it into a proper cafe racer with Carbon fairing, seat hump, low bars and Akrapovic Titanium exhaust. There aren't many around though and the styling is slightly more modern than some of the others on this list. You could of course buy a standard XSR900 and slowly turn it into a cafe racer yourself.
Licence: A
Power: 113 bhp
Seat Height: 830 mm
Wet Weight: 195 kg
6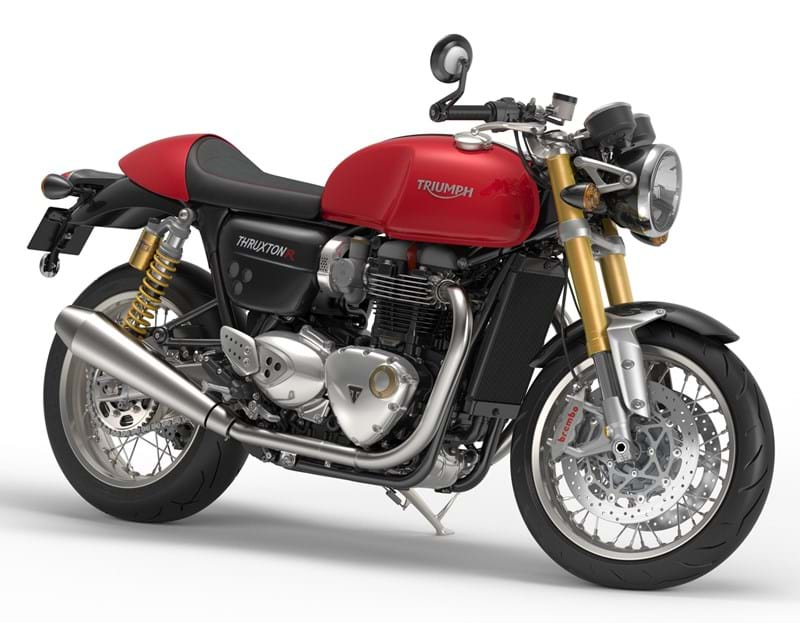 Based on the Bonneville T120 the Triumph Thruxton R features the High Power version of their 1200cc engine, so it's geared more towards top speed than every day low down torque like many of the others listed here. It has the seat hump and low clip on bars you would expect from a cafe racer but no mini fly screen as standard, although there is no doubt one in the epic Triumph accessories catalogue. It is quite pricey and heavy though.
New: £12,200
Used: £10,900-£8,150
Engine: Parallel Twin
Capacity: 1,200 cc

Licence: A
Power: 97 bhp
Seat Height: 810 mm
Dry Weight: 203 kg
7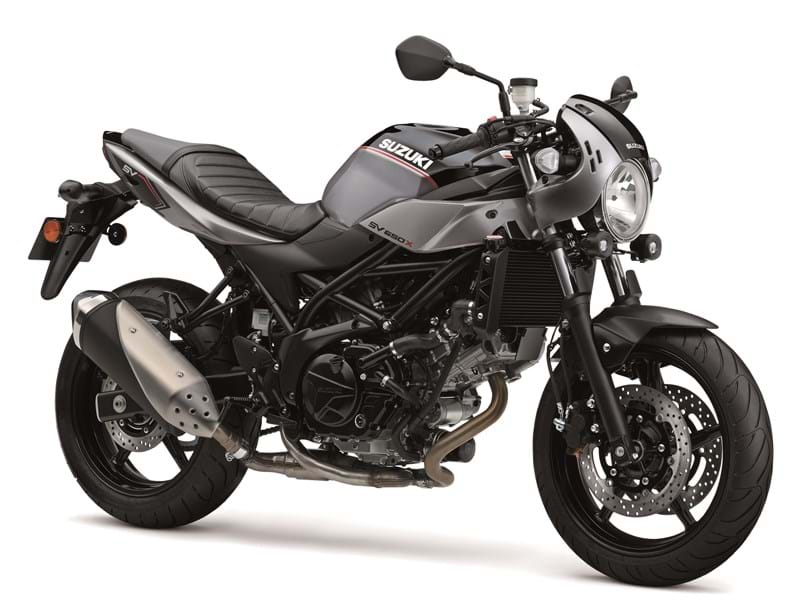 Suzuki's SV650X isn't pretending to be anything more than the venerable SV650 with a cafe fairing around the headlight, low bars and a cafe racer style seat. That isn't a bad thing though because the SV650 has quite a following. This iteration looks especially good with the optional dual LED fog lights and it's a lot of bike for the money.
New: £6,000
Used: TBC
Engine: V-Twin
Capacity: 645 cc

Licence: A2 (Restricted)
Power: 75 bhp
Seat Height: 790 mm
Wet Weight: 198 kg
8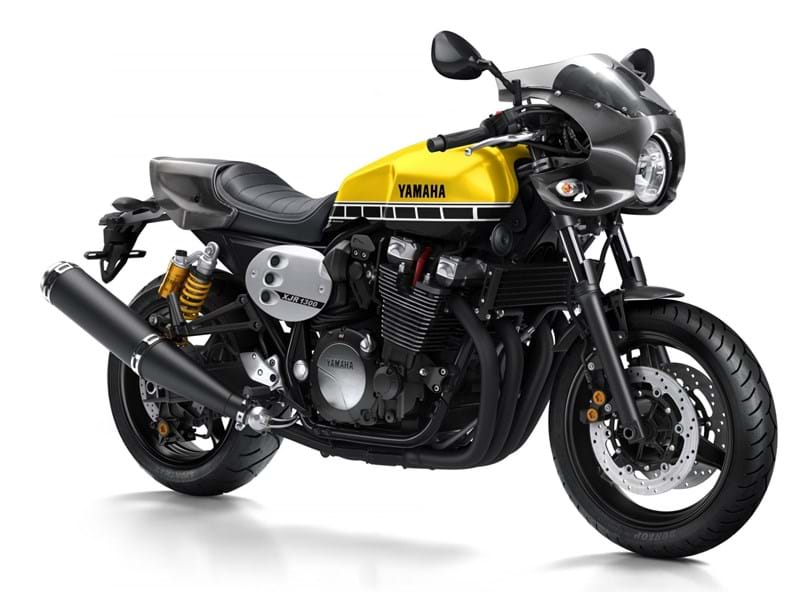 Yamaha's XJR1300 Racer follows the same pattern as the Suzuki SV650X. Take the well established XJR1300, add a headlight fairing, low bars, Carbon fender/pillion seat cowl and call it a racer. Although dropped from the range in 2017 due to Euro 4 compliance it still looks good and there are plenty around however the tech is pretty old now and it is heavy.
New: £9,600
Used: £8,000-5,900
Engine: Inline 4
Capacity: 1,251 cc

Licence: A
Power: 96 bhp
Seat Height: 829 mm
Wet Weight: 240 kg
9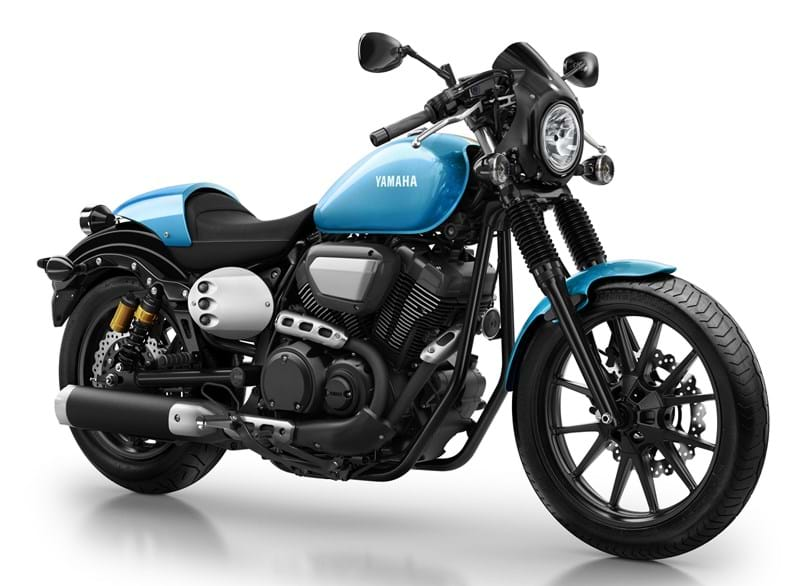 Much like the XJR1300 Racer, Yamaha's XV950 Racer adapts the XV950R with a few bolt on bits. In this case lower bars, a headlight cowl, pillion seat cowl, more of a cafe style seat to replace the cruiser style seat and fork gators. It's surprisingly heavy for the capacity and power though.
Licence: A2 (Restricted)
Power: 51 bhp
Seat Height: 765 mm
Wet Weight: 251 kg
10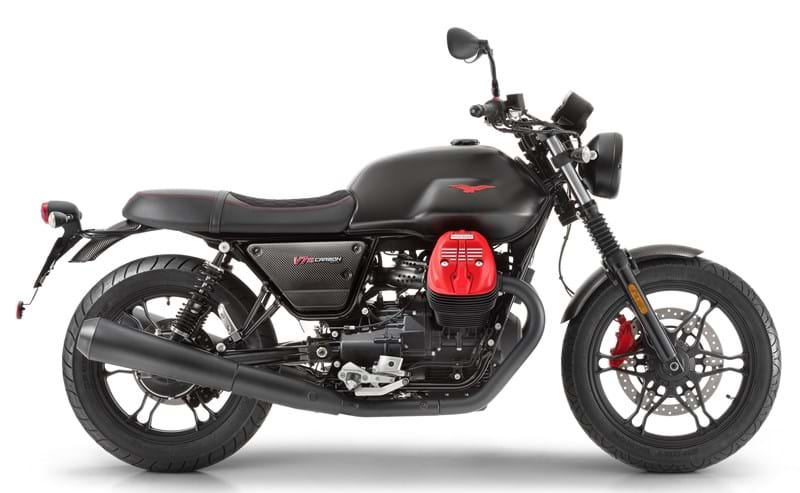 The Moto Guzzi V7 isn't strictly speaking a racer but it has bags of character, is A2 licence friendly and could easily be made into one with a few additions. This particular one is the new Carbon edition and we think it looks particularly good.
Licence: A2 (Restricted)
Power: 51 bhp
Seat Height: 770 mm
Wet Weight: 209 kg
What Is A Cafe Racer?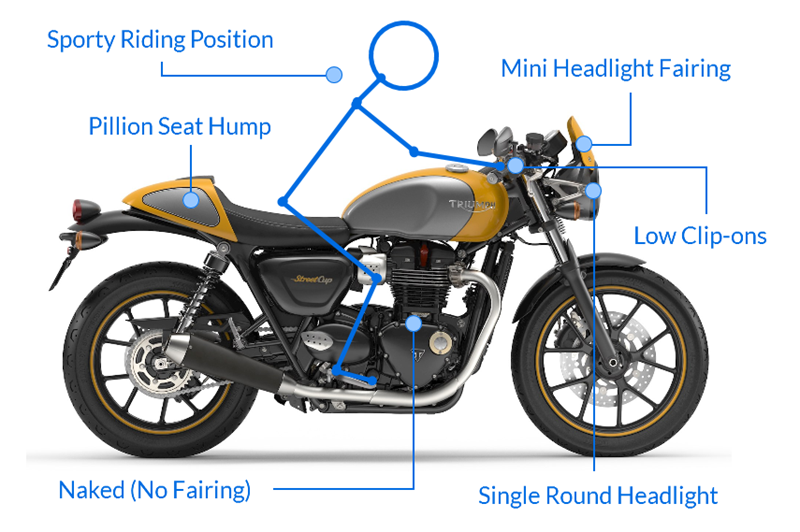 Cafe racers tend to take a retro styled naked bike then add a seat hump where the pillion would sit, low clip-on handlebars and a small screen/fairing around the single headlight up front. Lowering the handlebars creates a more aggressive low riding position to keep wind drag down to a minimum but it does mean they aren't the most comfortable of bikes for long distances. Racers were originally about lightweight speed and handling but these days it's more of a styling exercise to cash in on the demand for modern retro bikes.
Check out the other types of motorbikes.