Top Ten Adventure Bikes
28th April 2018
If you want a bike that's comfortable, generally good at everything and which will easily take two people plus luggage hundreds of miles you probably want an adventure bike. There is a downside though, in that they will never be the most powerful, fastest away from the lights, setting the best lap times on a circuit or nailing the retro look.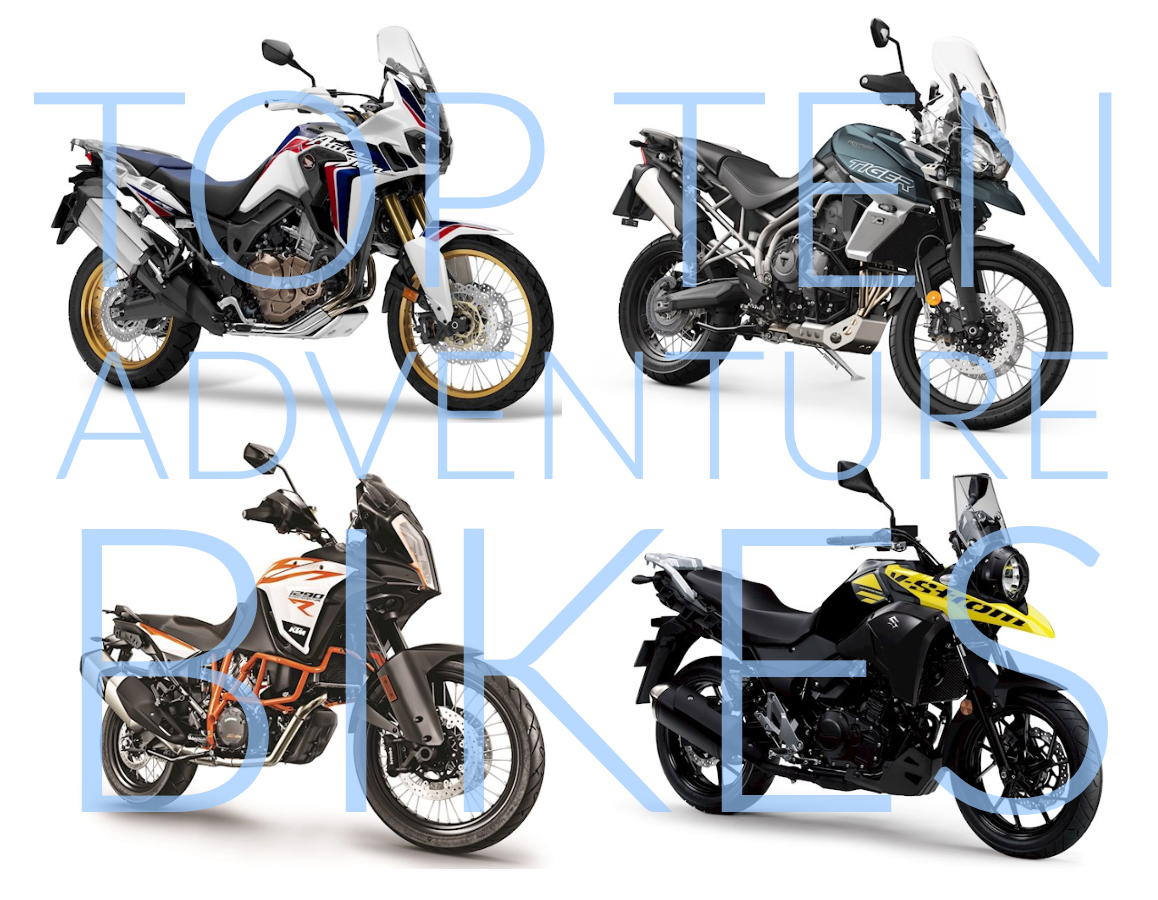 The Best Adventure Bikes You Can Buy Right Now
What Is An Adventure Bike? 
Adventure bikes are designed to be a jack of all trades, much like SUVs in the car world, although some definitions also describe them as dual purpose, dual sport or on/off road bikes. The bikes tend to be so good at commuting, touring, some sporty riding and more recently looking good, that they are generally taking over from the other types of bike, particularly sports bikes with their aggressive and uncomfortable geometry.
They tend to feature long travel suspension, a decent sized screen, high seat height, extensive luggage options, optional wire-spoked wheels and decent drop protection. The aim is maximum capability, range and the odd bit of very light off-road adventuring, although taking a large heavy bike properly off-road would be very hard work and the vast majority never leave the tarmac. It's a bit like buying a Range Rover as an everyday car.
The benchmark for Adventure bikes is arguably set by the road focused BMW R1200GS, which has topped the sales charts for quite some time now and most manufacturers also offer the same bike in a more off-road focused variant such as the BMW R1200GS Adventure (GSA) or Multistrada Enduro Pro for the few who actually take them off road. Some, like the BMW S1000XR and Ducati Multistrada, tend more towards the sports riding experience.
1. BMW R1200GS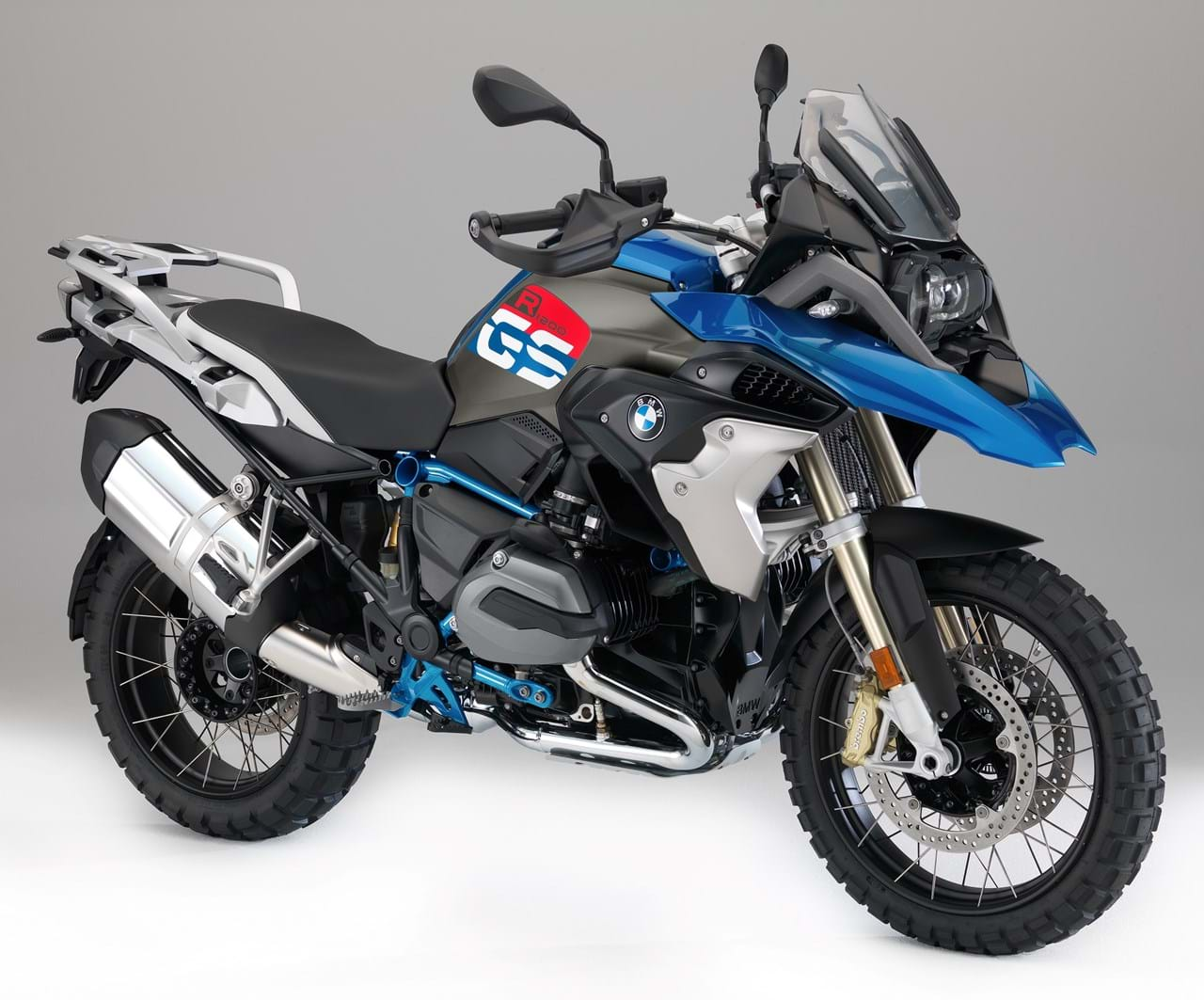 RRP: £12,400
Capacity: 1,170 cc
Engine: Boxer

Power: 123 bhp
Seat Height: 850 mm
Wet Weight: 244 kg
BMW's R1200GS received a major update for 2017 with shiny new looks, reduced vibration and plenty of new high tech options like hill start control and self levelling suspension; both incredibly useful on a bike which weighs a quarter of a ton before two people and a full luggage accompaniment are added into the mix.
The model continually tops the UK best sellers chart, has a massive following around the world and can be totally customised using the BMW parts catalogue. There is a downside though, in that it may end up costing the best part of £20,000 by the time you are finished!
If you intend on doing lots of proper off-road work they offer a version called the R1200GS Adventure (R1200GSA) which has a larger tank, lots of drop protection and more ground clearance although it's another 20kg heavier and is due an update like the 2017 GS imminently.
2. Ducati Multistrada 1260 S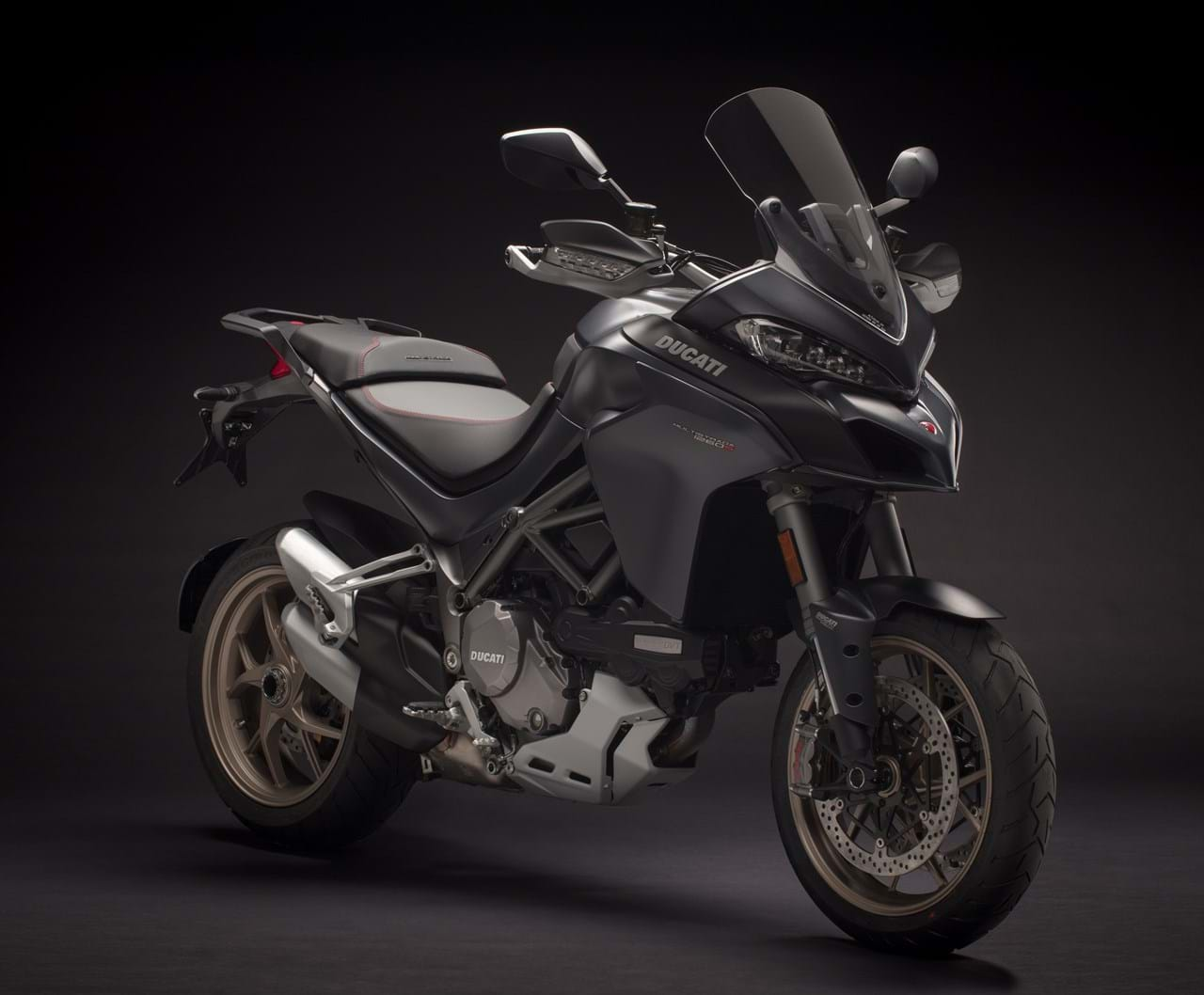 RRP: £17,200
Capacity: 1,262 cc
Engine: V-Twin

Power: 156 bhp
Seat Height: 825 mm
Wet Weight: 235 kg
The 2018 Ducati Multistrada 1260 S is a shiny new update to the previous 1200cc range and is also available in a £14,300 base version without the Sachs electric suspension, TFT dash or LED headlight, while at the top of the range is the £20,800 Pikes Peak version with Ohlins suspension, Termignoni exhaust and forged wheels. Compared to the BMW R1200GS it's lighter, more sports oriented and definitely wins on the looks front.
3. KTM 1290 Super Adventure R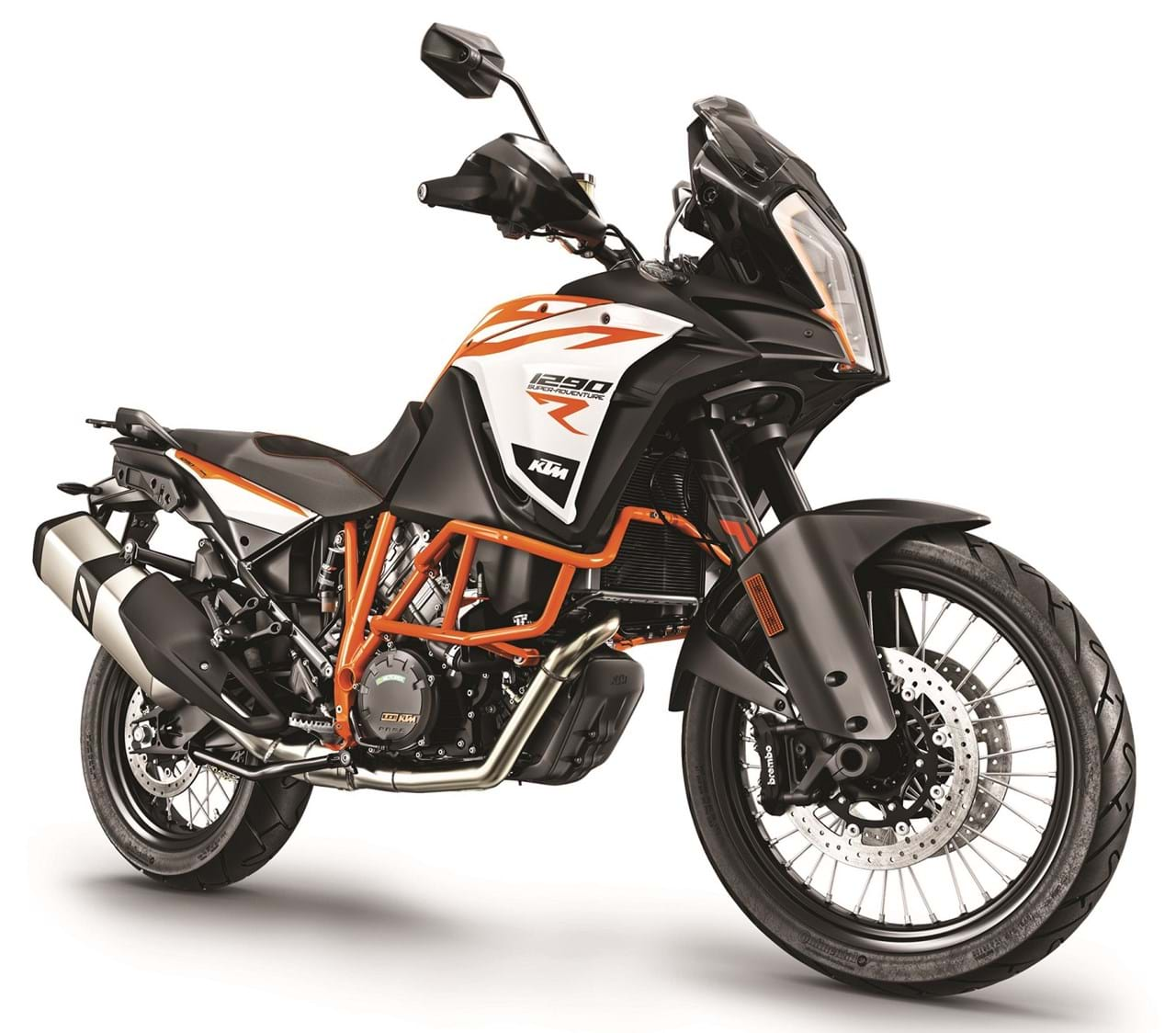 RRP: £14,900
Capacity: 1,301 cc
Engine: V-Twin

Power: 158 bhp
Seat Height: 890 mm
Wet Weight: 240 kg
The 2017 KTM Super Adventure R compares favourably with the offerings from BMW and Ducati with semi active suspension, colour TFT dash, LED lighting, ride modes and adjustable screen, not to mention a plethora of options to bring it up to top spec. The looks aren't to everyone's taste but there is an off-road GSA equivalent available in the Super Adventure T.
4. Honda Africa Twin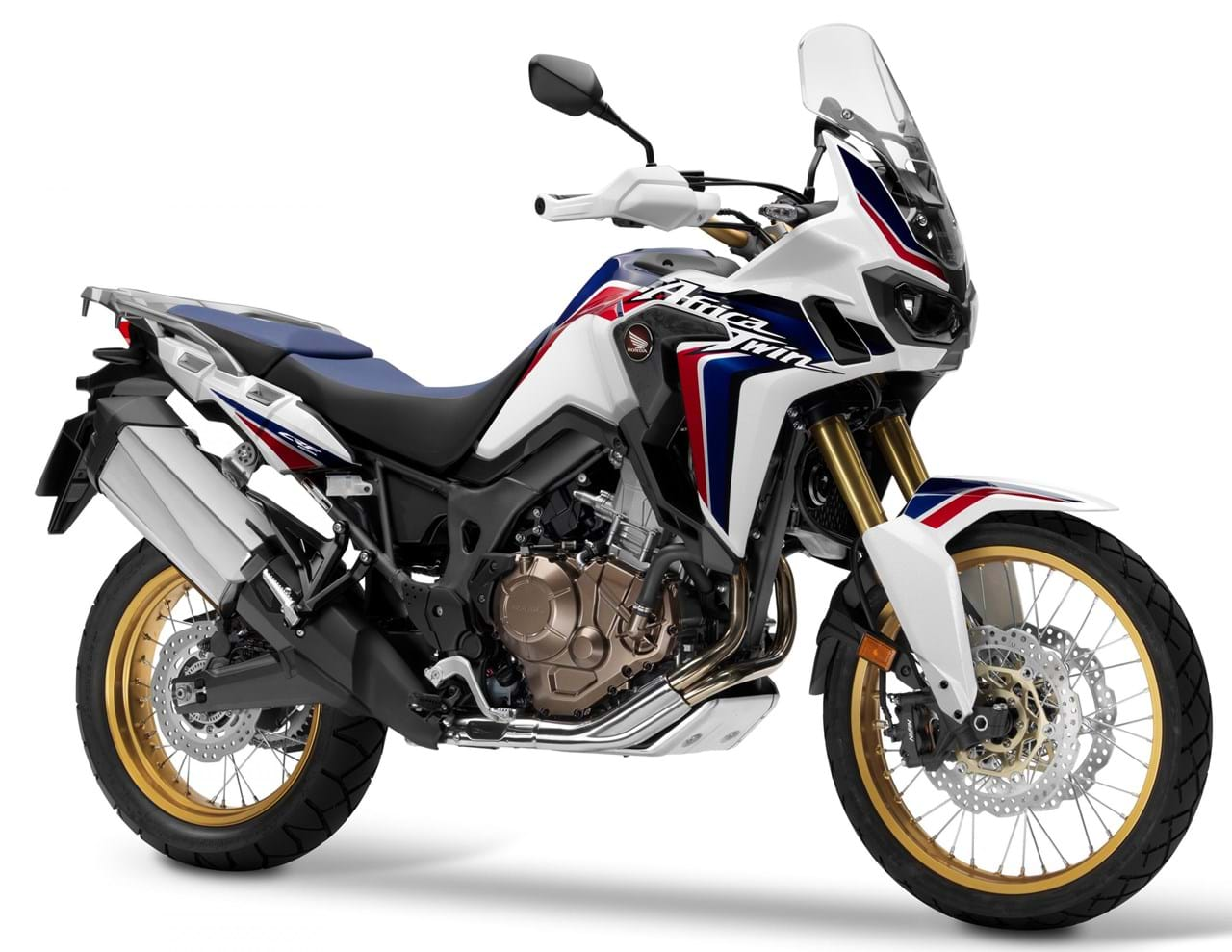 RRP: £12,550
Capacity: 998 cc
Engine: Parallel Twin

Power: 94 bhp
Seat Height: 850 mm
Wet Weight: 232 kg
Honda's Africa Twin originally launched in 2016 but received a number of key updates in 2018 when the more hardcore and off-road focused Africa Twin Adventure Sports launched. Both versions should be on your short list because they look great and are available with Honda's excellent DCT automatic gearbox.
5. BMW S1000XR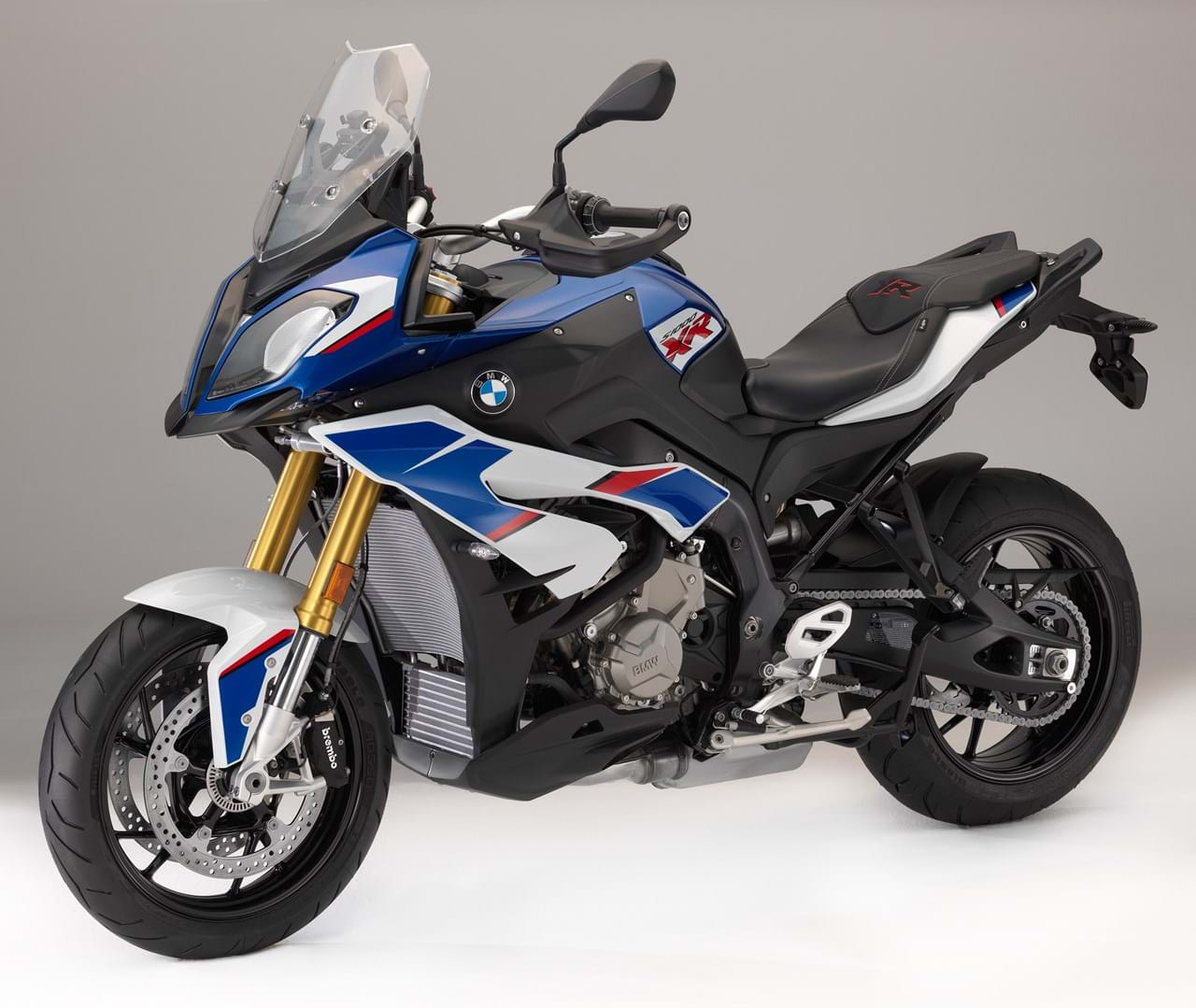 RRP: £12,650
Capacity: 999 cc
Engine: Inline 4 Cylinder

Power: 165 bhp
Seat Height: 840 mm
Wet Weight: 228 kg
BMW's S1000XR has been around since 2015 but don't let that put you off. Like the Multistrada it's an excellent road focused adventure bike based around a de-tuned S1000RR superbike engine. Using the options catalogue it can spec'd up to match the other bikes on the list, including dynamic electric suspension and it's equally at home on long tours or the occasional track day.
6. Triumph Tiger 800 XRT
RRP: £12,050
Capacity: 800 cc
Engine: Triple

Power: 94 bhp
Seat Height: 810 mm
Dry Weight: 202 kg
Triumph's Tiger 800 range has been a best seller for years and for 2018 there's a new selection of three on-road and three off-road models. The Tiger XRT is the top of the road models with the XRX and XR sitting below it, each dropping a selection of equipment to keep the costs down. Like the bigger bikes on this list colour TFT dashes, LED lighting and ride modes all make an appearance on the range topping models.
All the off-road equivalents feature more protection and wire spoked wheels as standard, topping out at the XRT's equivalent in the XCA but you can pretty much spec up either side to do exactly what you want.
7. BMW F850GS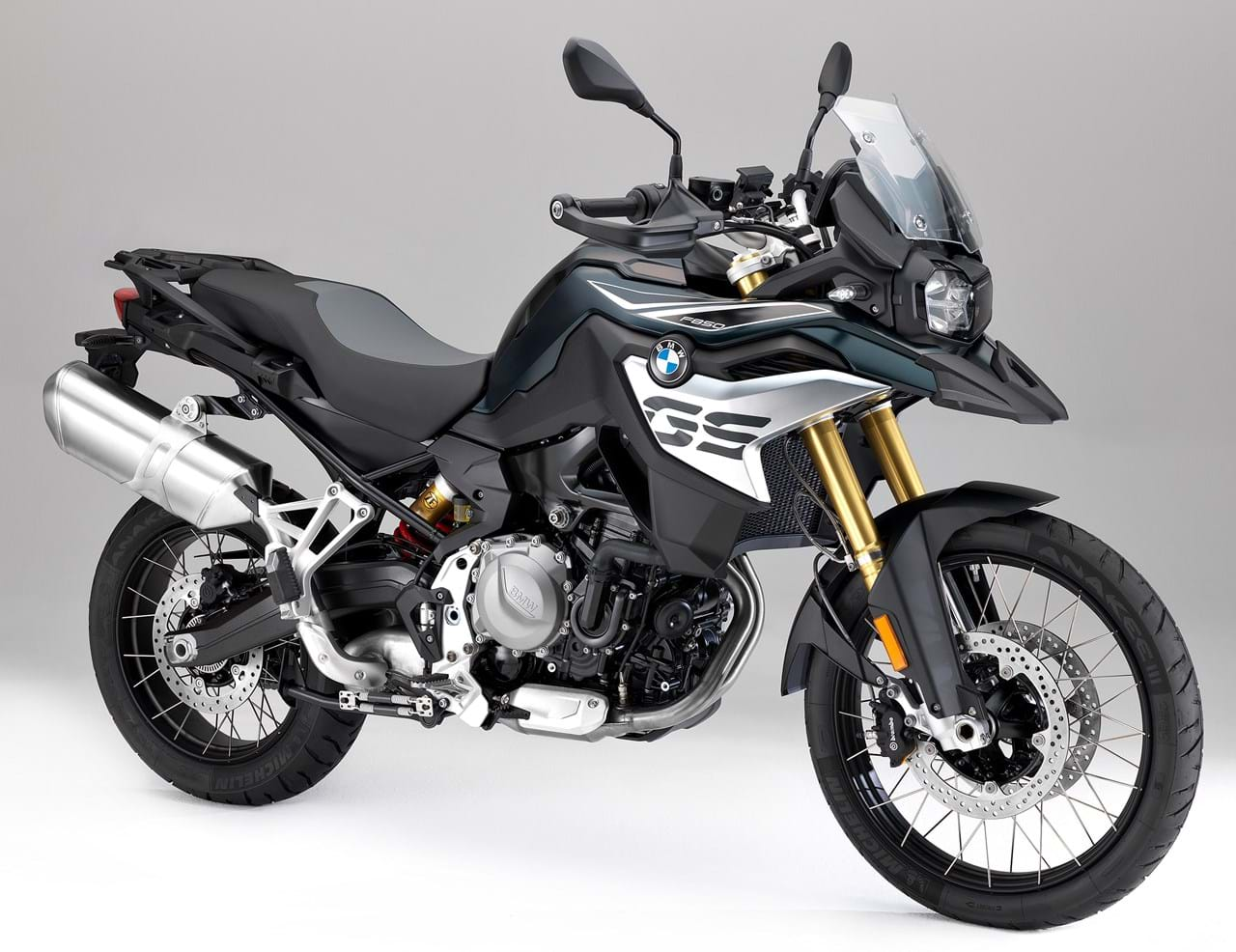 RRP: £9,400
Capacity: 853 cc
Engine: Parallel Twin

Power: 94 bhp
Seat Height: 860 mm
Wet Weight: 229 kg
Alongside Triumph's Tiger 800 the 2018 BMW F850GS is well worth a look. Using the options catalogue you can spec it up to have all the features of the big adventure bikes, including a 6.5" TFT dash, LED lighting and dynamic electric suspension but without the massive weight. However with only 94bhp on tap it's probably best suited to one up riding.
8. Honda CRF250 Rally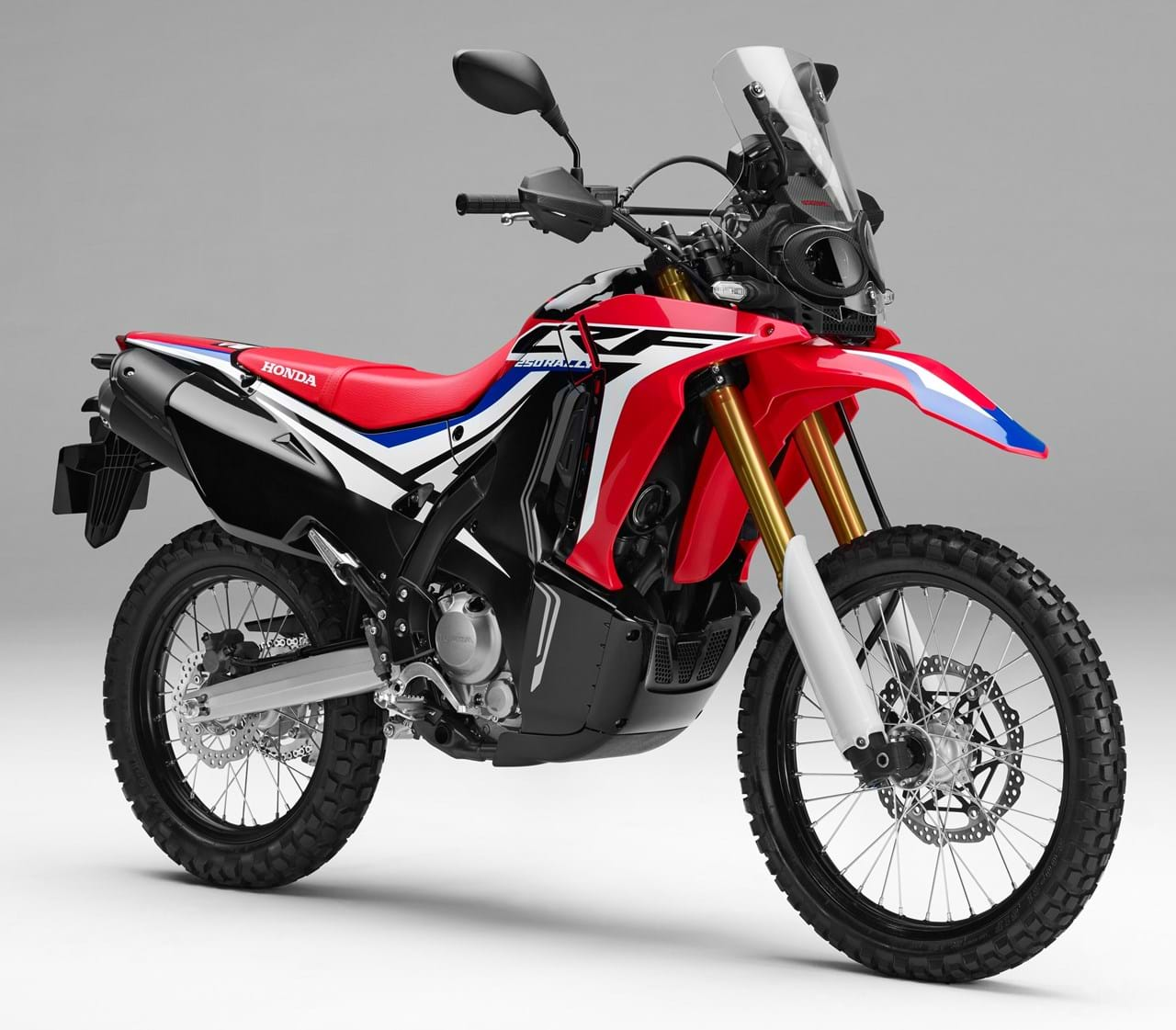 RRP: £5,400
Capacity: 249 cc
Engine: Single Cylinder

Power: 24 bhp
Seat Height: 895 mm
Wet Weight: 157 kg
Until very recently, if you wanted a small adventure bike, the Honda CRF250 Rally would have been your only option. It's super light with genuine on and off-road potential although the field has now opened up with offerings from BMW, Kawasaki and Suzuki to consider as well.
9. BMW G310GS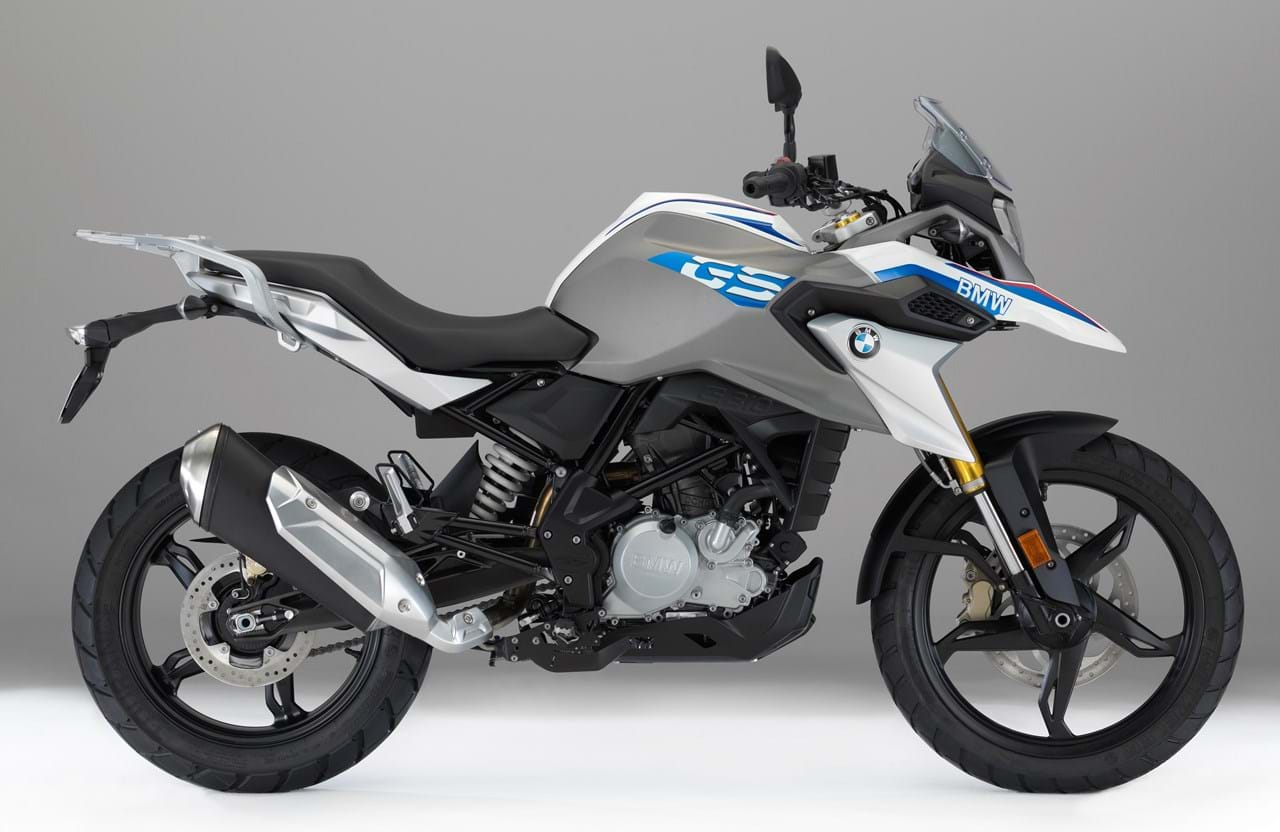 RRP: £4,400
Capacity: 313 cc
Engine: Single Cylinder

Power: 34 bhp
Seat Height: 835 mm
Wet Weight: 170 kg
BMW's G310GS, launched in 2017, is arguably the most exciting thing to happen to the small adventure bike sector in years. It doesn't have much in the way of an electronics package but does have a solid core of equipment, it's A2 compliant and can be adapted to have some off-road potential if you want to go down that route.
10. Suzuki V-Strom 250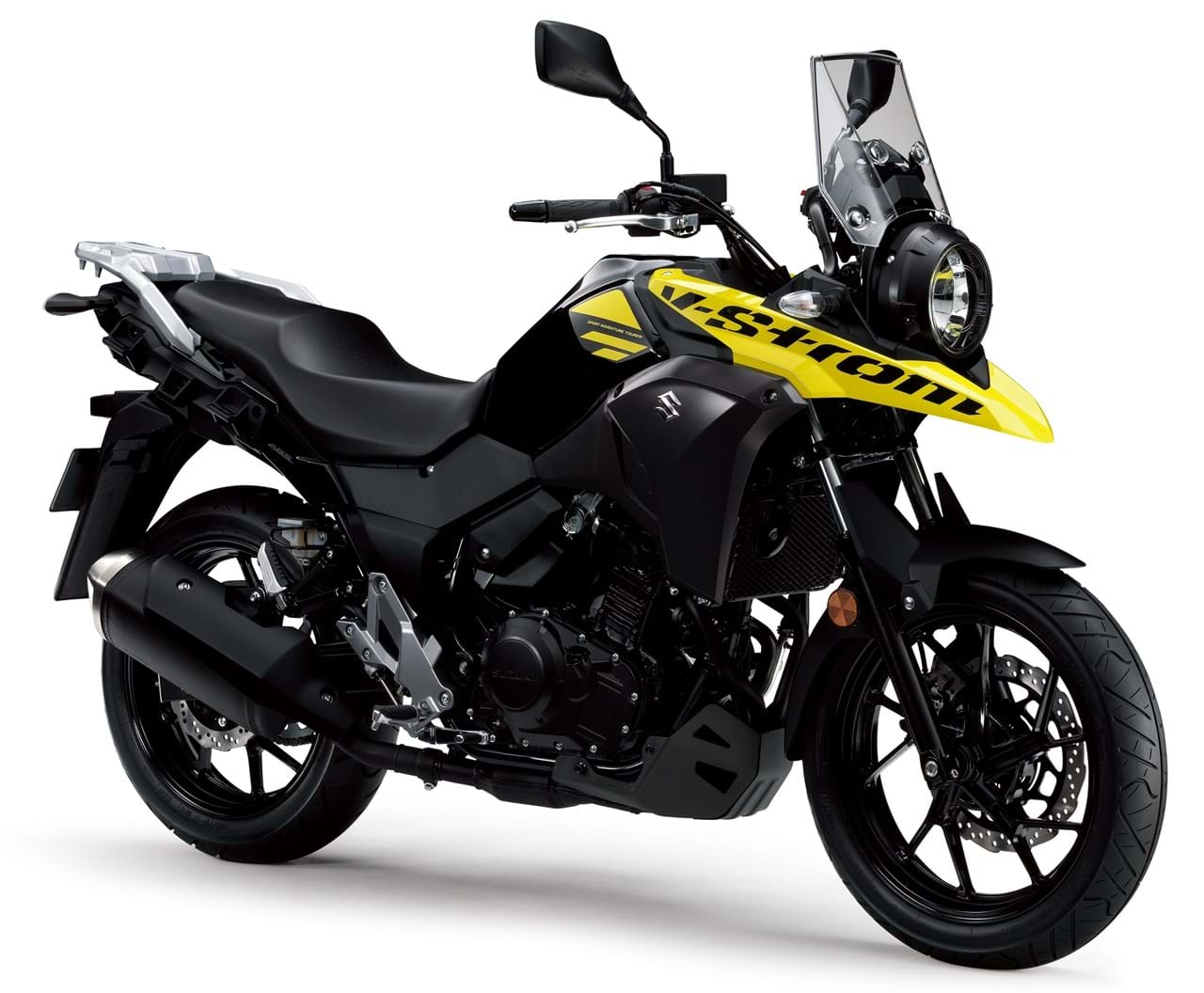 RRP: £4,600
Capacity: 248 cc
Engine: Parallel Twin

Power: 25 bhp
Seat Height: 800 mm
Wet Weight: 188 kg
The 2017 Suzuki V-Strom 250 doesn't have much going on in the equipment stakes but does seem to be a capable all-rounder if you are in the market for an A2 licence compliant bike.