Top 10 Adventure Motorbikes
If you want a bike that's comfortable, good at everything and which will take two people plus luggage hundreds of miles you probably want an adventure bike. What is an adventure motorbike?
For similar bikes designed to head off the tarmac check out our top ten off-road adventure bikes.
The Best Adventure Motorbikes: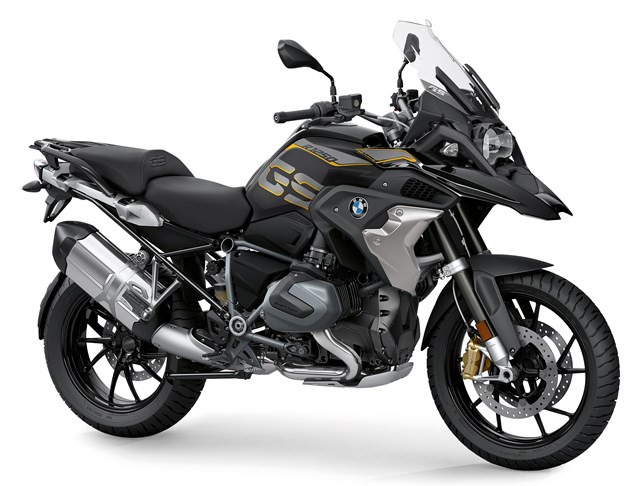 Thanks to a major update in 2017 the outgoing BMW R1200GS received shiny new looks, reduced vibration and plenty of new high tech options like hill start control and self levelling suspension; both incredibly useful on a bike which weighs a quarter of a ton before two people and a full luggage accompaniment are added into the mix.
The model continually topped the UK best sellers chart, has a massive following around the world and can be totally customised using the BMW parts catalogue.
Fast forward to 2019 and BMW have replaced it with the evolutionary R1250GS. The bike is essentially the same winning formula as before but gets a brand new engine with Variable Valve Timing tech (BMW ShiftCam).
The result is a bit more power and fuel efficiency at the expense of another 5kg added to the weight (and the best part of £20k new fully spec'd up). Read the review.
If you intend on doing lots of proper off-road work they offer a version called the R1250GS Adventure (R1250GSA) which has a larger tank, lots of drop protection and more ground clearance although it's another 8kg heavier.
Engine: Boxer
Capacity: 1,254 cc
Power: 134 bhp

Licence: A
Seat Height: 850 mm
Wet Weight: 249 kg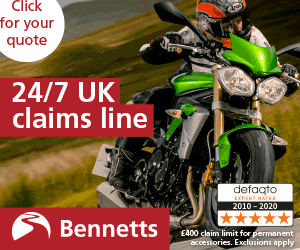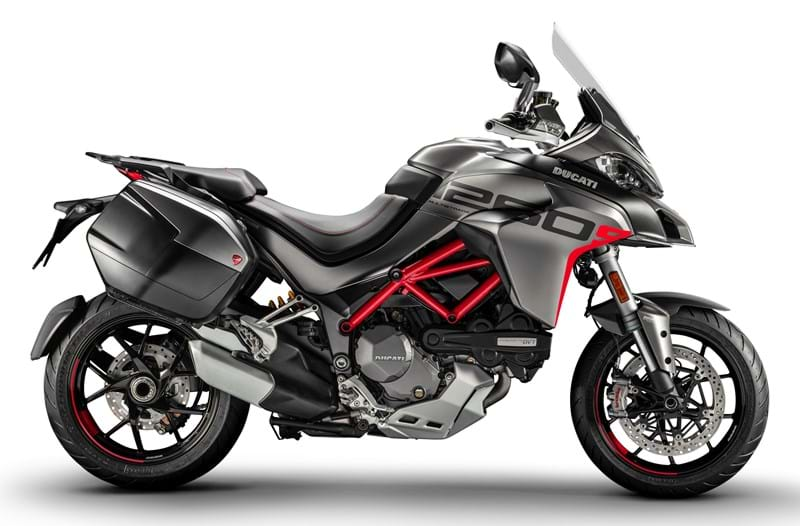 Ducati Multistrada 1260 S GT For Sale →
New for 2020 the Grand Tour builds on the 1260 S with most of the options catalogue and a special colour scheme with a red frame finish.
You get fancy electronic suspension, LED cornering lights, hill hold control, keyless start and fuel cap, a quickshifter, heated grips, LED fog lights, a premium seat and a vast array of rider aids. Check out the review of the 1260 S.
Engine: V-Twin
Capacity: 1,262 cc
Power: 156 bhp

Licence: A
Seat Height: 825 mm
Wet Weight: 238 kg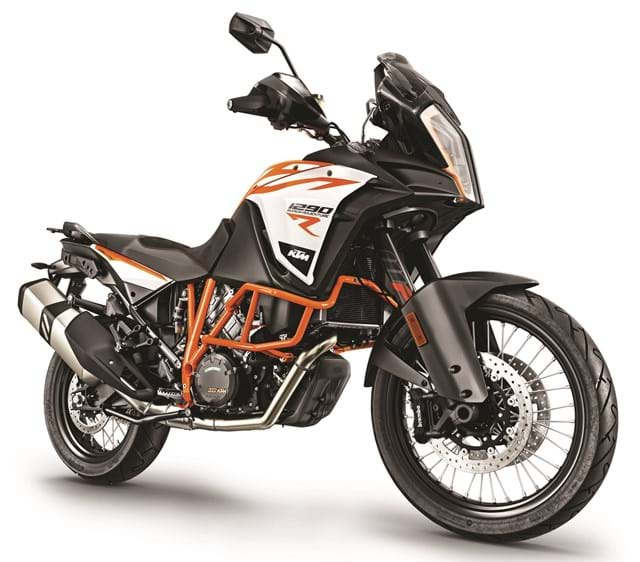 KTM 1290 Super Adventure R For Sale →
New for 2017 KTM's Super Adventure R compares favourably with the offerings from BMW and Ducati with semi active suspension, colour TFT dash, LED lighting, ride modes and adjustable screen, not to mention a plethora of options to bring it up to top spec.
The looks aren't to everyone's taste but there is an off-road GSA equivalent available in the Super Adventure T.
Engine: V-Twin
Capacity: 1,301 cc
Power: 158 bhp

Licence: A
Seat Height: 890 mm
Wet Weight: 240 kg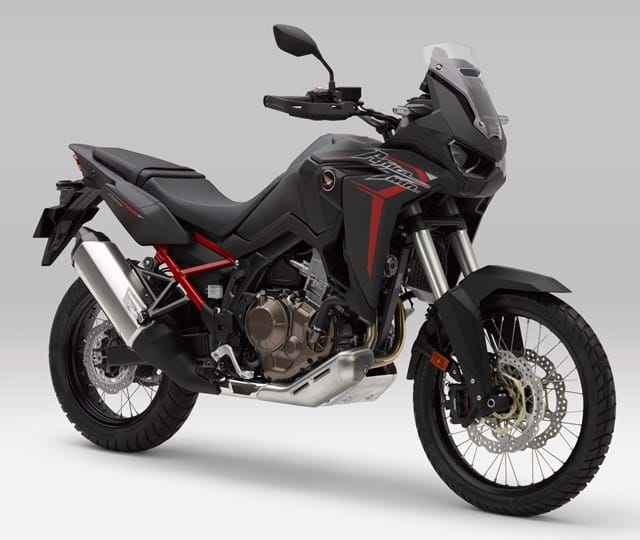 It's new for 2020 with a larger engine, more power, a new clever dash with Apple Carplay, cruise / wheelie control and a chunk knocked off the weight.
A popular option is Honda's clever DCT automatic gearbox and for longer distances you should also check out the new Adventure Sports version.
Engine: Parallel Twin
Capacity: 1,084 cc
Power: 101 bhp

Licence: A
Seat Height: 850 mm
Wet Weight: 226 kg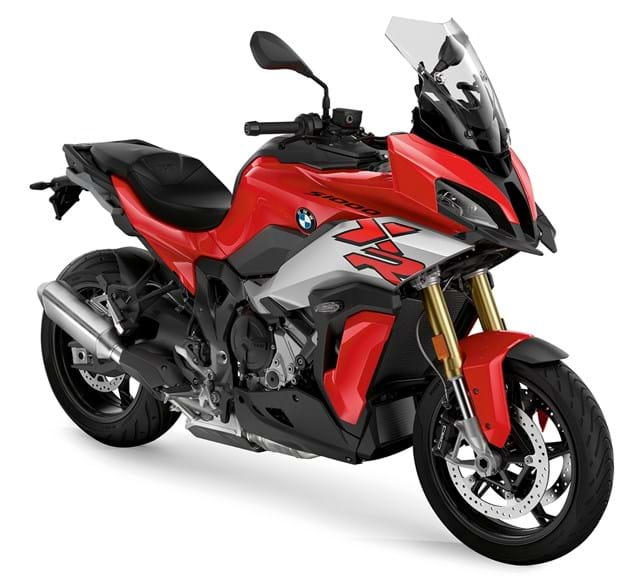 The S1000XR is a well established adventure bike with a sporty bias and is powered by a de-tuned version of the engine found in BMW's S1000RR sports bike.
For 2020 there's a new wasp styled nose, LED lighting, TFT dash, lighter frame / swingarm, new lighter Euro 5 exhaust, cornering ABS, hill hold control, electronic suspension and hill start control. It should prove just as popular as the old model!
Engine: Inline 4
Capacity: 999 cc
Power: 162 bhp

Licence: A
Seat Height: 840 mm
Wet Weight: 226 kg
Get The Gear To Go With It
How to clean your bike properly
How to choose the right helmet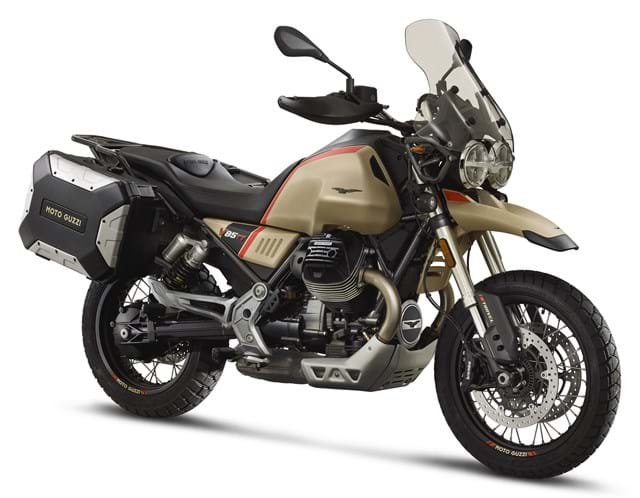 Most adventure bikes look, shall we say, uninspiring but the V85 TT is a retro work of art. It isn't super powerful but has bags of character and all the modern equipment you would expect. Read the review.
Engine: V-Twin
Capacity: 853 cc
Power: 79 bhp

Licence: A
Seat Height: 830 mm
Wet Weight: 229 kg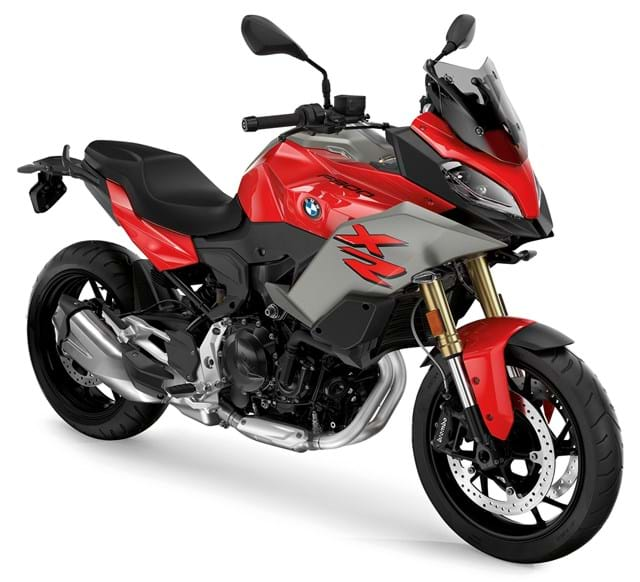 New for 2020 the XR uses the F850GS as a base to create a baby brother to the uber popular S1000XR. It's more powerful and lighter than the GS, plus can be packed with all the modern high tech options you can think of.
Engine: Parallel Twin
Capacity: 895 cc
Power: 103 bhp

Licence: A1
Seat Height: 825 mm
Wet Weight: 219 kg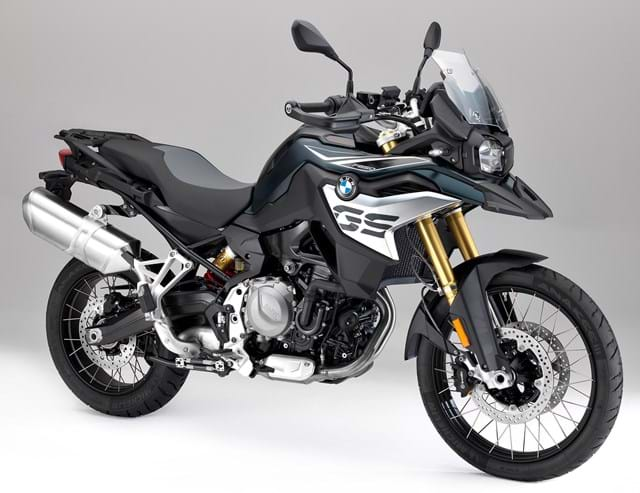 Alongside Triumph's Tiger 800 the 2018 BMW F850GS is well worth a look, however with only 94bhp on tap it's probably best suited to one up riding.
Using the options catalogue you can spec it up to have all the features of the big adventure bikes, including a 6.5" TFT dash, LED lighting and dynamic electric suspension but without the massive weight. Read the review.
Engine: Parallel Twin
Capacity: 853 cc
Power: 94 bhp

Licence: A2 (Restricted)
Seat Height: 860 mm
Wet Weight: 229 kg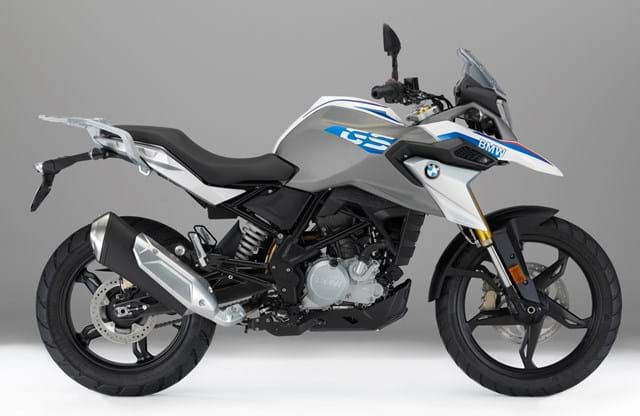 BMW's G310GS, launched in 2017, is arguably the most exciting thing to happen to the small adventure bike sector in years.
It doesn't have much in the way of an electronics package but does have a solid core of equipment, it's A2 compliant and can be adapted to have some off-road potential if you want to go down that route. Read the review.
Engine: Single Cylinder
Capacity: 313 cc
Power: 34 bhp

Licence: A2
Seat Height: 835 mm
Wet Weight: 170 kg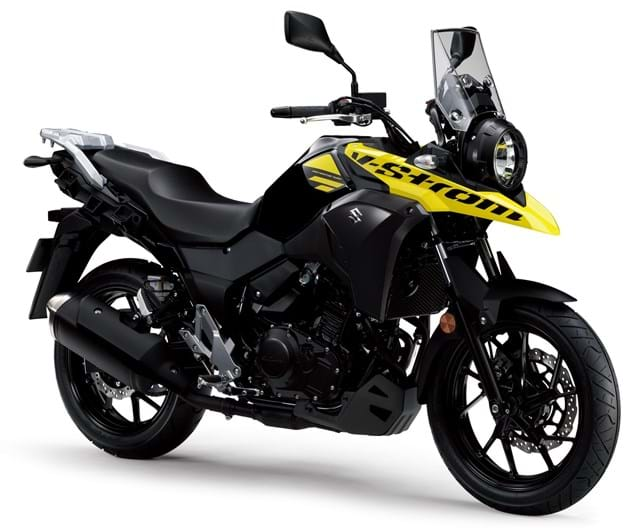 The 2017 Suzuki V-Strom 250 doesn't have much going on in the equipment stakes but does seem to be a capable all-rounder if you are in the market for an A2 licence compliant bike. Read the review.
Engine: Parallel Twin
Capacity: 248 cc
Power: 25 bhp

Licence: A2
Seat Height: 800 mm
Wet Weight: 188 kg
Want To See More Bikes Like This?
Head over to the Choose & Compare Tool to see them all.
How Did We Rank Our Top Ten?
We looked at all the best adventure bikes you can buy new at a variety of price points and picked the top contenders, taking into account style, power, technology and value for money.
What Is An Adventure Bike?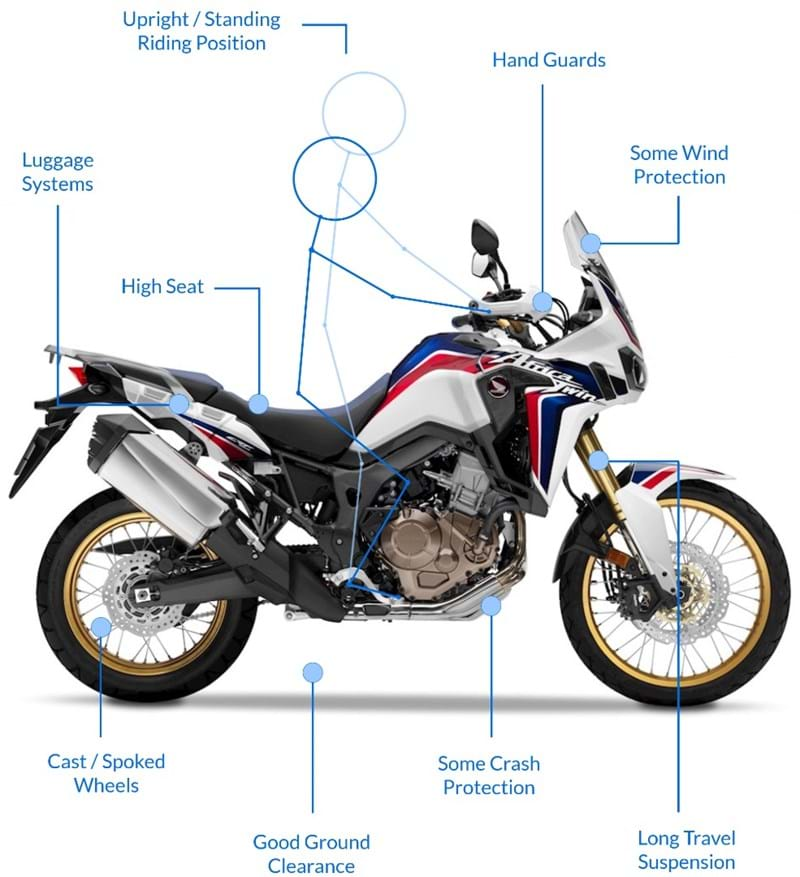 Adventure bikes are designed to be a jack of all trades, much like SUVs in the car world, although some older definitions also describe them as dual purpose, dual sport or on / off road bikes.
The bikes tend to be so good at commuting, touring, some sporty riding and more recently looking good, that they are generally taking over from the other types of bike, particularly sports bikes with their aggressive geometry.
They tend to feature long travel suspension, a decent sized screen, high seat height, extensive luggage options, optional wire-spoked wheels and decent drop protection.
The aim is maximum capability, range and the odd bit of very light off-road adventuring, although taking a large heavy bike properly off-road can be very hard work if you drop it and need to lift quarter of a ton yourself. In fact the vast majority never leave the tarmac.
The benchmark for adventure bikes is arguably set by the road focused BMW R1250GS and most manufacturers also offer the same bike in a more off-road focused variant as well.
Some adventure bikes, like the BMW S1000XR and Ducati Multistrada, tend more towards the sports riding experience.
Check out the other types of motorbikes.