Honda CRF1000L Africa Twin
For
Build quality, off road ability
Looks, power, sound
Handling, balance
All day comfort
Against
The centre stand isn't, erm, standard
Clunky manual box, poor screen
Limited tyre choices on rear
Weight can be an issue
Wiki
It's powered by a liquid cooled 998cc parallel twin engine, producing 93.9bhp at just 7,500rpm and maximum torque at 6,000rpm. It's Euro 4 compliant and RRP is £10,500 or £11,300 with DCT (the one you want).
Features include:
Steel frame/subframe and Aluminium swingarm
Dual 310mm wavy discs up front with Nissin radial 2 piston calipers
256mm wavy disc at the rear with Nissin single piston caliper
Traction control with 3 levels and off switch
Adjustable 45mm upside down Showa fork with 230mm travel
Adjustable Showa rear shock with 220mm travel
Rally style negative LCD console with gear position indicator
LED lights all round (bulb indicators on the standard model)
Strong Aluminium handlebar with brass anti-vibration inserts and hand guards
Adjustable seat between 850mm and 870mm
6 speed manual or DCT gearbox
The Africa Twin name was brought over to this model from the original XRV750L Africa Twin to denote the equally good road and off-road handling but the new bike has little else in common. The wheels are wire spoked with the 21" front taking a 90/90 tyre and the rear 18" a 150/70. 
DCT (adds 10kg, fuel consumption about the same)
The Dual Clutch Transmission model gets two heavy weight clutches capable of operating in manual mode or full automatic. Manual mode shifts up and down using levers on the left bar and there are two auto modes; D is a standard economical mode and S is more sporty, with 3 shift patterns to choose from in each mode, one of which can be set to be the default. It can also sense how much of an incline you're on and adapt the gear shift pattern to suit.
If you check the pics above there is also a G button next to the ABS off switch, which switches the clutch to a more direct drive for off-roading.
This model also gets a parking brake system with an additional piston in the rear caliper and four levels for different gradients and loads. The brake lever sits where the clutch lever would have been.
Accessories include a centre stand, 30mm wider/90mm taller touring screen, smoked standard screen, panniers, top box, heated grips, DCT foot shifter (instead of left bar controls), comfort pillion pegs, Akrapovic slip on muffler, Termignoni Stainless Steel/Titanium muffler, fairing protection bars, LED fog lights and colour coded low seat.
Colours:
2016: White/red/blue, red/white/black, silver/grey/black, black/grey,
2017-2018: 

White/red/blue, red/white/black, silver/grey/black, black/grey, red (2017)
2017: Euro 4 compliance and red paint scheme.
2018: New dash, improved mid-range from a new air box, 2.3kg lighter Lithium battery, improved pegs, 4 riding modes (Tour/Urban/Gravel/Custom), traction control now 7 levels, better sound from a new exhaust, auto-cancel indicators and knobbly tyres are now an option. Wet weight now 230kg for the manual and 240kg for the DCT version.
Africa Twin Adventure Sports version launched with larger 24 litre tank, heated grips, tall screen, protection bars and larger belly pan. Check the pics for the new dash.
If we've missed something vital or got something laughably wrong about this model please let us know and we will love you forever.
Price Guide
| Year | Dealer | Private | Part Ex | Mileage |
| --- | --- | --- | --- | --- |
| 2016 | £8,950 | £7,200 | £6,300 | 3,100 |
| 2017 | £9,800 | £7,850 | £6,850 | 2,100 |
| 2018 | £13,550 | £10,850 | £9,500 | 950 |
Value Your Bike
Get a full valuation from We Want Your Motorbike today. Just pop in your reg number and a few bike details, get the valuation and they'll pay for your bike within 24 hours - easy peasy.
Bikes for Sale (53)
1
£8,491 eBay, 22nd June
GOOD BAD CREDIT ACCEPTED, NATIONWIDE DELIVERY,APPLY NOW
£9,499 eBay, 22nd June
Finance and Nationwide Delivery available. P/X Welcome
£7,995 eBay, 22nd June
Honda Extended warranty, full service history.
1
Insurance Costs
Insurance groups vary widely by insurer with anywhere from 17 to 65 groups but our simple scale gives you a rough idea of how wallet busting it's likely to be:
Insurance Group: 8 of 10

With over 85 years' experience, you can trust Bennetts to find you the cover that meets your needs for the best price from their panel of insurers. So get a quote on their 5-Star Defaqto rated cover today.

Reviews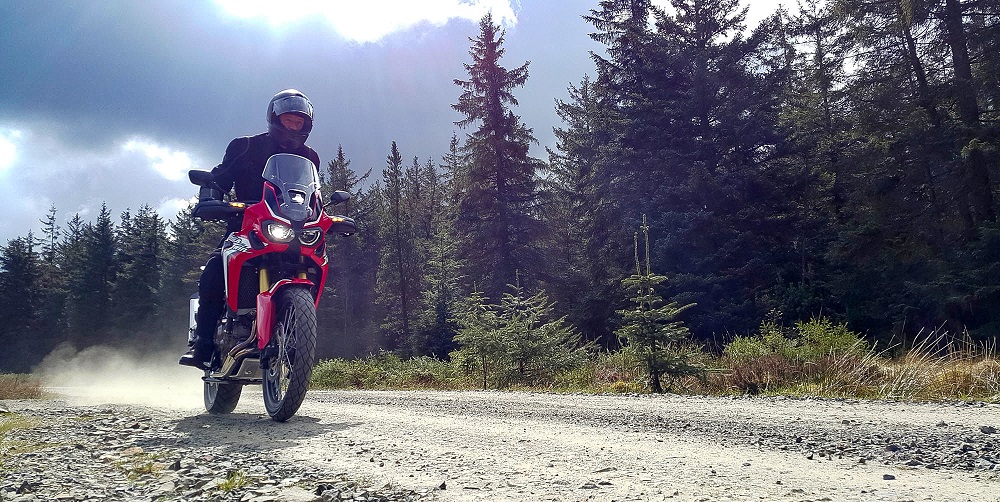 2016 CRF1000L Africa Twin manual with optional heated grips, centre stand and 12v power socket.
If you're in the market for an adventure bike or round the world tourer, you'll have the new Africa Twin CRF1000L on the test-ride list, and to be honest, you'll not be disappointed. Winner of Bike Magazine's "Bike of the Year 2016" and "Auto Trader 2016 Best Bike Award", is it time you coughed-up around £11,000 and took off to Morocco?
Probably.
Although the bike has been newly designed from the ground up, so it's not without niggles.
The not-so-good stuff
At 5ft 11" the standard screen 'buffers' me beyond belief over 60mph, a lower 'sports' screen from Rugged Roads sorted this, but the trade off is no real weather protection.
The 'clunky' gearbox is a little irritating and the 150 cross section rear tyre is unconventional, giving restricted tyre choice. The standard Dunlops are not actually Dunlops at all (long story), but despite poor reviews, I can say the stock tyres are actually fine on tarmac and offer good lean; combined with the AT's balance, getting to the edge of tyre is remarkably easy. I rode for 4 hours straight in angry rain from the ferry terminal in west Scotland to the far east of England, neither the tyres nor the AT missed a beat. Just make sure you've scrubbed them in well.
Like it or not, UK bikes must have ABS and traction control, this doesn't help the girl's weight – at a Mars Bar over 230kgs, this isn't a CRF250L. The weight is only really noticed when manually moving her around, parking and occasionally off-road. She hides it well with a slim frame and sculpted seat, but you'll still need a hand to pick her up if you get too carried away. However, she's one of the lightest in this class.
There are reports of poor performing heated grips and wheel spokes corroding, but mine are fine.
The good stuff
Without doubt the new AT is a superb motorcycle, the 95hp is enough to get an indicated 125mph+ on the LCD dash, and in all gears except 6th, she takes off well giving you confidence to overtake and maintain good motorway speeds without stressing the engine or components. 6th gear is more of a fuel saving overdrive, perfect for the long distance across France back to the ferry.
Honda has worked hard on the CRF1000L and they've scored high on looks, sound and performance. How Honda managed to get that deep sound from a stock can with the occasional 'pop' on the overrun, is beyond me. Dakar-esk LCD dash is informative and intuitive, and the headlights would give any car driver reason for the two fingers in the rear mirror. Switches are high quality and well above what you'll find on other machines.
Comfort is top of the class with all-day-in-the-saddle journeys a breeze. Suspension is slightly soft, but that's easily sorted via the adjustable shock and forks.
There's plenty of room to move your body position to accommodate a 12 hour ride, it's only the slightly small 18.8L fuel tank that'll break up your ride with fuel stops every 140 – 160 miles. Talk of 200 miles out of a tank might be possible in 6th gear all day, but I'm not one for hanging around nor riding on motorways at optimum speeds. Brakes are stunning, those twin wavy discs stop you well and the ABS is good insurance. The rear brake is powerful and perfect for skidding on the loose stuff (with traction control turned down and ABS off).
The excellent turning circle, wide bars and the combination of 21" front and 18" rear are begging you for some off-road fun.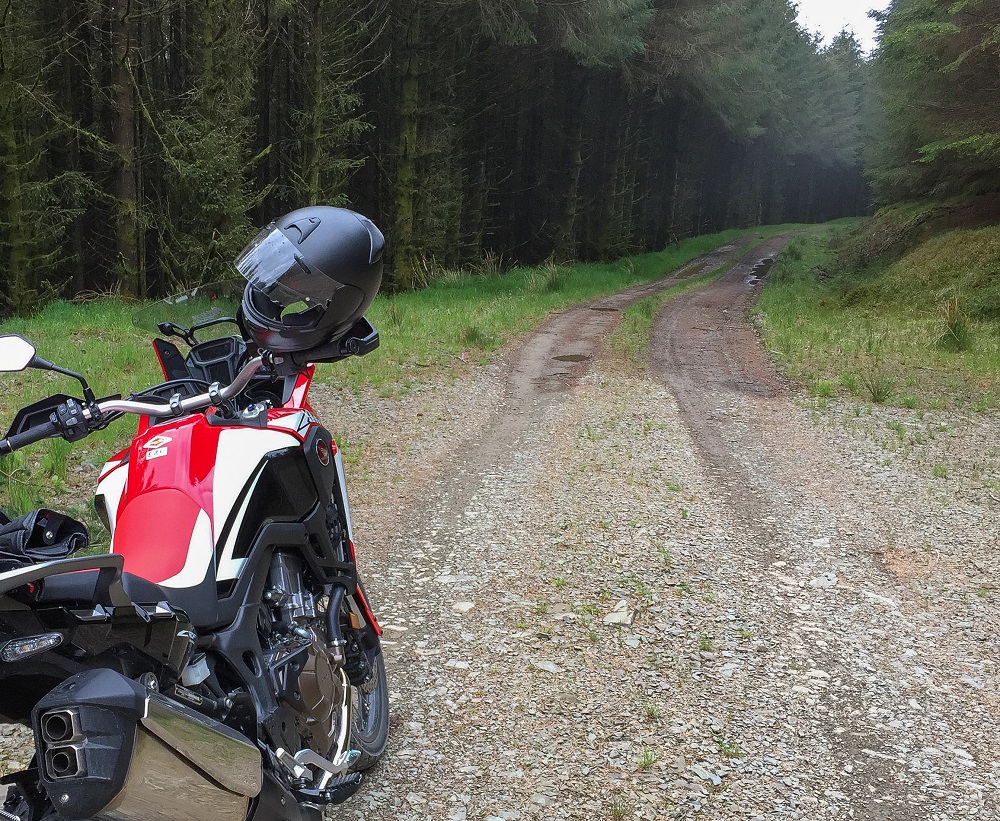 Make no mistake, this is no dirt bike
She's an Adventure Bike at home on gravel, green lanes and riding fire trails in the Dolomites. Forget any ideas of rock-hopping or serious off road mud-plugging in Cambodia. Stock tyres let us down off road; light gravel is fine, but anything remotely wet, deep loose stuff or ford crossing will have you questioning your mental health.
I've done 3,500 miles on the stock tyres, still life in them but changed to the Mitas E07's 50/50 tyre and went for a spin off-road.
Move to the centre of the trail where the deepest gravel is, stand up and lean forward, open the throttle, and just watch massive blooms of dust in your wake. The traction control has a near stroke as I spin the back end causing apocalyptic dust-clouds . With a little practice and confidence I am amazed at how the Africa Twin copes with such abuse. Off the gravel on the dry mud it's the same story, twigs, stones, chunks of dirt go flying. Traction Control down to 1 and ABS off, the AT is a joy to ride off road and inspires confidence. It's the bike that's good, not me.
At slower speeds and tricky terrain that weight comes back to haunt you, but after a 12 mile off-road stretch you couldn't wipe the smile off my face.
I grab my bucket and sponge for mammoth cleaning detail, with dust and mud all over the place and thousands of dead bugs but I put the Turtlewax back on the shelf. The Africa Twin is supposed to look like this, that's what she's for.
The new Africa Twin CRF1000L is excellent if you can ignore the niggles. £11,000 isn't cheap in the same way £14,000 isn't cheap for an R1200GS or KTM 1190. Comparing the Africa Twin to the KTM 1050 doesn't seem fair to the KTM; the 1050 lacks any off-road ability with cast wheels and smaller tyres, but at around the same price, if you intend no off-roading, this is an obvious comparison as is the Triumph XC series.

The AT is one of the more affordable and capable adventure bikes out there and in my opinion, a serious contender for your round the world journey or round the corner to Tesco. Preferably, get yourself to the Alps and ride the trails to join up the passes.
A longer term review is needed but as the bike is still new for 2016, it'll be another 12 months before we start seeing medium to long term reviews. But, so far, so good.
- Reviewed in 2016 by Dave H at www.motoeuro.co.uk (read about their latest adventure on the Africa Twin)
Is this your bike? Tell us what's good, what's bad and what you have changed over the years: ian@thebikemarket.co.uk
Videos
Check out this review from CagerOnTwoWheels:
and the off-road attempt: