Top 10 Sports Tourers
Sports Tourers aim to offer the same capabilities as touring bikes with the main sporting credentials of thoroughbred sports bikes, just toned down a bit for the real world. What is a sports tourer?
How Did We Rank Our Top Ten?
We looked at all the best sports tourers you can buy new at a variety of price points and picked the top contenders, taking into account style, power, technology and value for money.
The Best Sports Touring Motorbikes:
★ Sports Tourer of the Year ★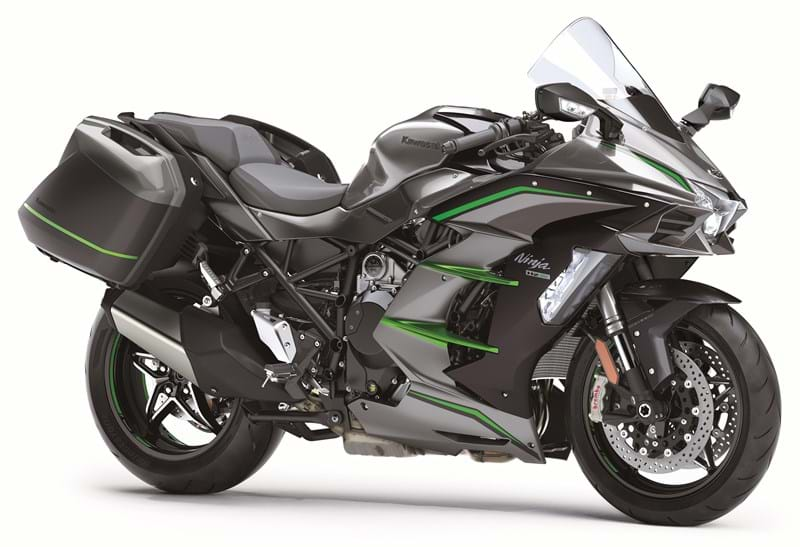 In 2018 Kawasaki evolved their supercharged H2 sports bike into a more relaxed sports tourer. The H2 SX SE has a less aggressive riding position, taller screen, much higher maximum load from a stronger rear frame and a useful two litres of extra fuel capacity.
It also comes packed with all the tech you can think of like launch control, a quickshifter, fancy colour TFT dash, heated grips and even LED cornering lights. Read the SX SE review.
For 2019 the SE+ adds electronic semi-active suspension from the ZX-10R SE sports bike, upgraded Brembo Stylema brakes and a "self-healing" paint finish.
Engine: Inline 4
Capacity: 998 cc
Power: 197 bhp

Licence: A
Seat Height: 835 mm
Wet Weight: 262 kg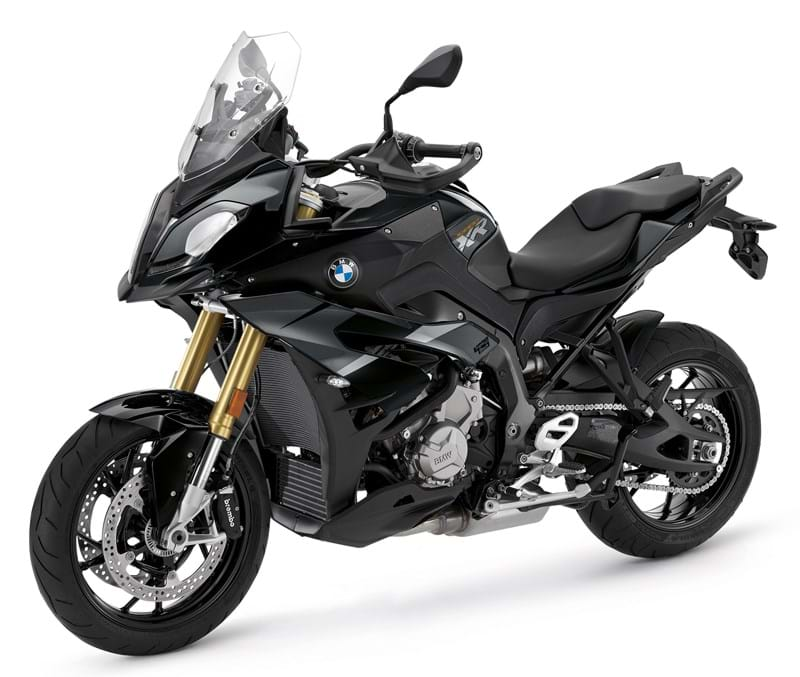 It's been on sale since 2015 but don't let that put you off. The S1000XR is a well established sports touring / adventure front runner and is powered by a de-tuned version of the engine found in BMW's S1000RR sports bike.
There was a small update in 2017 with 5bhp more and a fix for the handlebar vibrations plus the options list is very extensive so you can spec it up with fancy items like electronic semi-active suspension. Read the review.
Engine: Inline 4
Capacity: 999 cc
Power: 160 bhp

Licence: A
Seat Height: 840 mm
Wet Weight: 228 kg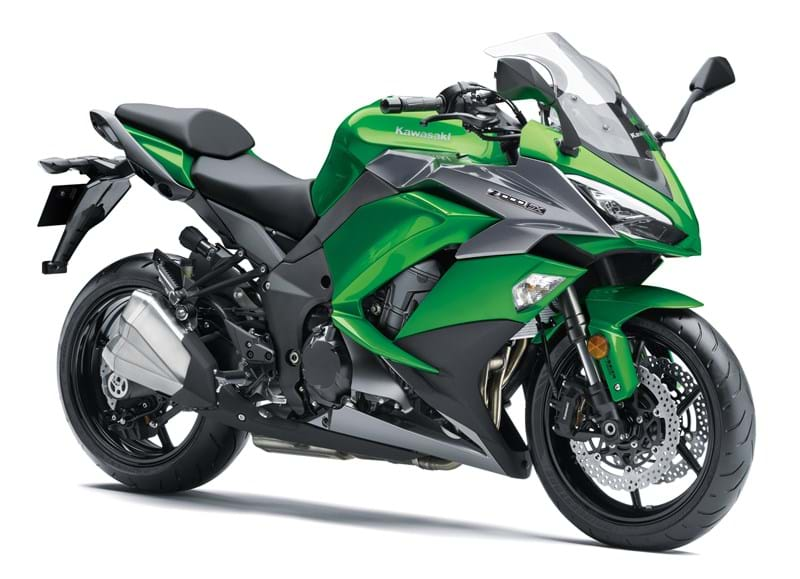 If you don't actually need close to 200bhp and all the latest gadgets then the 2017 Z1000SX represents great value for money. Kawasaki have been slowly evolving it since 2011 and they are incredibly popular. Read the review.
Engine: Inline 4
Capacity: 1,043 cc
Power: 140 bhp

Licence: A
Seat Height: 815 mm
Wet Weight: 235 kg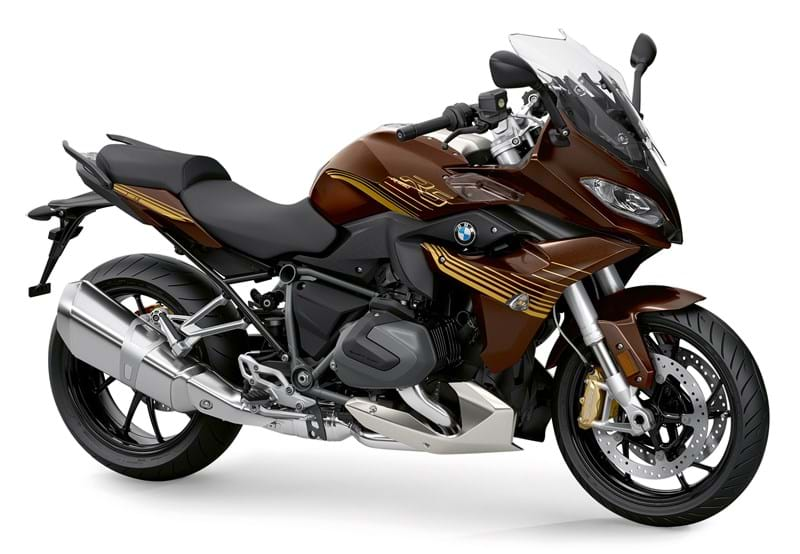 New for 2019, the R1250RS replaces the popular R1200RS with a host of upgrades. The engine now features Variable Valve Timing, there's more power, a full LED headlight and a fancy colour dash.
It carries its weight down low due to the Boxer engine design and can be spec'd up with with full luggage. The Exclusive model has the semi-active suspension, keyless start, cruise control and centre stand so that's probably the one to go for.
Engine: Boxer
Capacity: 1,254 cc
Power: 134 bhp

Licence: A
Seat Height: 820 mm
Wet Weight: 243 kg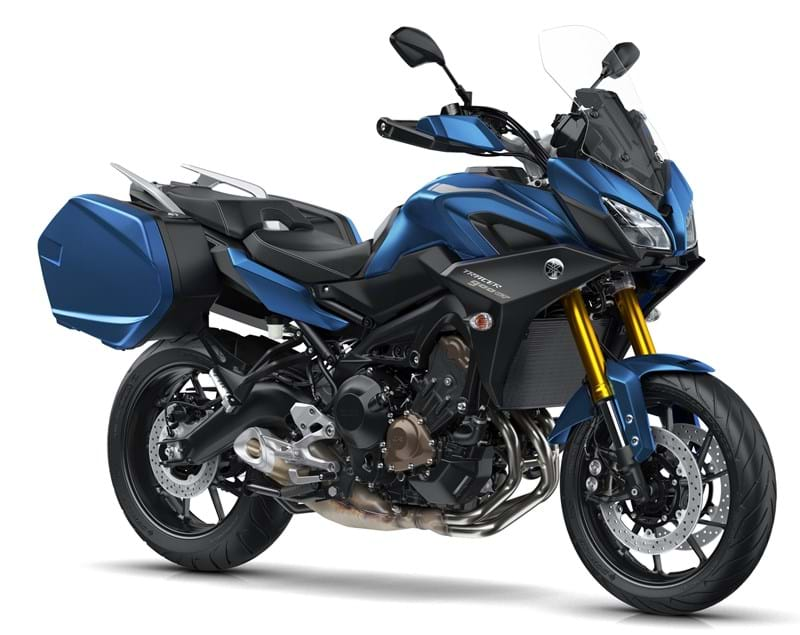 Yamaha Tracer 900 GT For Sale →
This bike should definitely be on your list to test ride. New for 2018 the Tracer 900 GT is £1,400 more expensive than the excellent Tracer 900 but you get the quick release panniers, quickshifter, cruise control, heated grips, a better fork and the colour TFT dash from the MT-10 SP. That's a lot of extra kit for the money.
Engine: Triple
Capacity: 847 cc
Power: 114 bhp

Licence: A
Seat Height: 850 mm
Wet Weight: 227 kg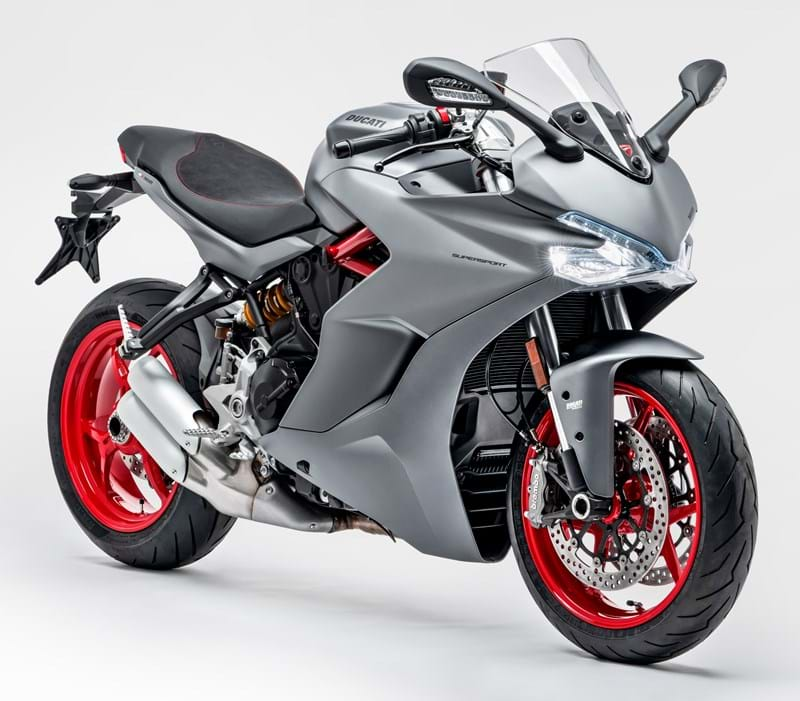 If looks are near the top of your sports touring wish list then the 2017 Ducati SuperSport is a great option. It's has Brembo brakes, riding modes and a lovely single-sided swingarm.
There's also a £1,300 more SuperSport S with fully adjustable Ohlins suspension, a quickshifter and white paint scheme with red wheels. Read the review.
Engine: V-Twin
Capacity: 937 cc
Power: 113 bhp

Licence: A
Seat Height: 810 mm
Wet Weight: 210 kg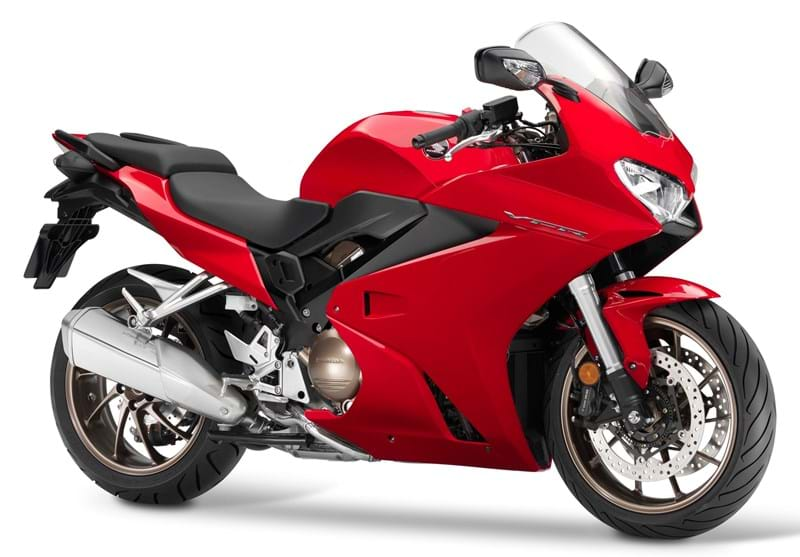 It features the same lovely single-sided swingarm design as the Ducati SuperSport but the Honda VFR800 is unique on this list because it's powered by a compact V4 engine with Variable Valve Timing (VVT).
While it was introduced in 2014, with only a minor update in 2017, the model has been slowly evolving since 2001 and has a massive following due to the change in engine character from frugal to full sports bike power when the VTEC kicks in. Read the review.
Engine: V4
Capacity: 782 cc
Power: 104 bhp

Licence: A
Seat Height: 789 mm
Wet Weight: 242 kg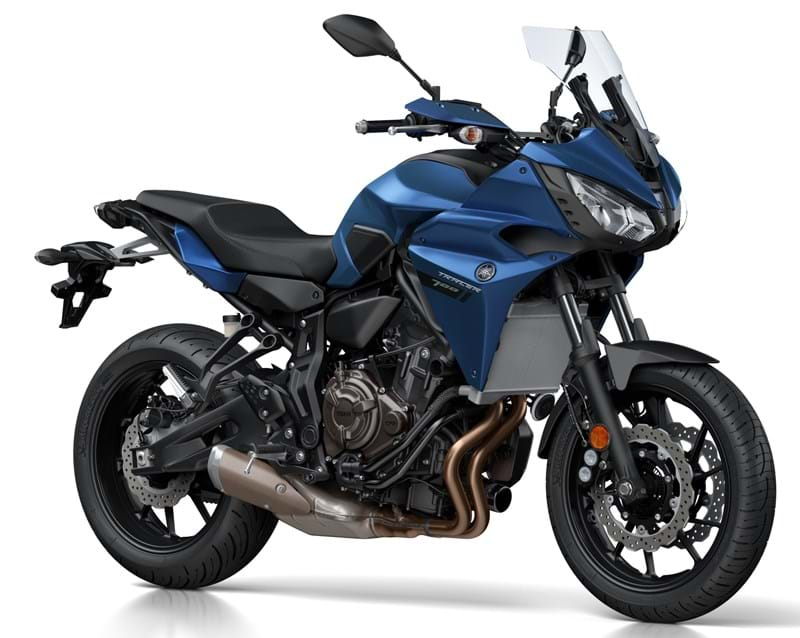 Last but not least is the 2016 Yamaha Tracer 700 which is based on the best selling naked MT-07. With only 74bhp on tap it's probably best suited to solo touring and it doesn't have masses of equipment to boast about but the engine is renowned for being excellent. Read the Review.
From 2019 the Tracer 700 GT includes the panniers, comfort seat and larger screen. Read the review.
Engine: Parallel Twin
Capacity: 689 cc
Power: 74 bhp

Licence: A2 (Restricted)
Seat Height: 835 mm
Wet Weight: 196 kg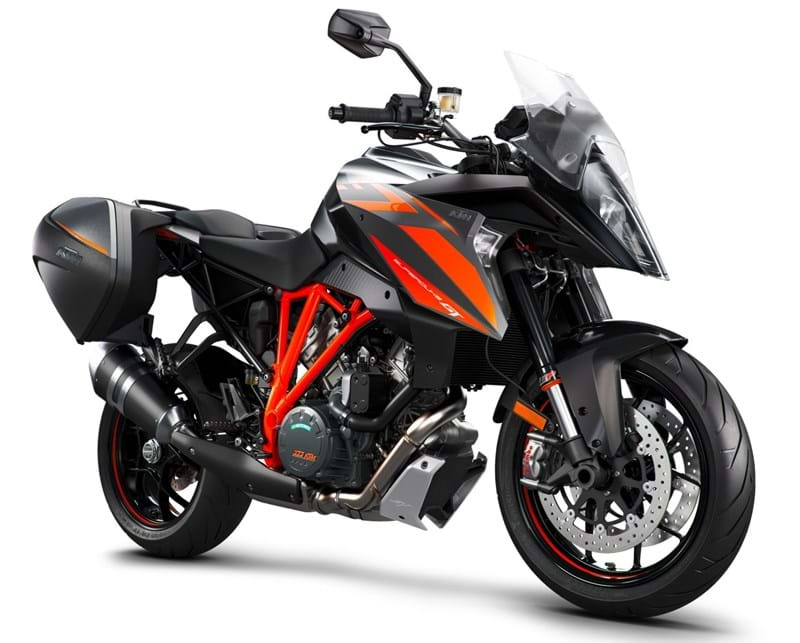 KTM 1290 Super Duke GT For Sale →
The 2016 GT is a small evolution of the naked 1290 Super Duke R with a larger 23 litre tank, screen and pannier mount system. It's very well equipped with cornering lights, semi-active suspension, cruise control, ride modes, tyre pressure monitoring and self cancelling indicators however it's somewhat unusual in this list because most of the competition opt for the smooth power of an inline four engine over a V-Twin. Read the review.
Engine: V-Twin
Capacity: 1,301 cc
Power: 170 bhp

Licence: A
Seat Height: 835 mm
Wet Weight: 228 kg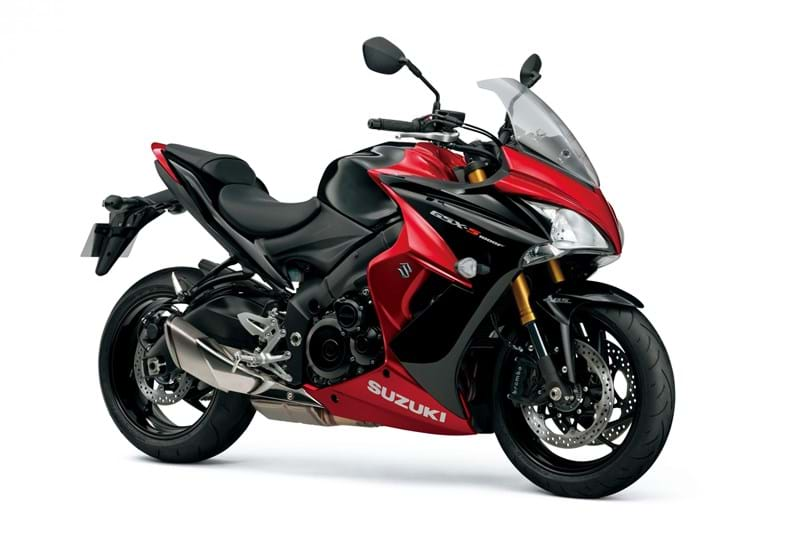 New for 2015 the GSX-S1000F is essentially the naked GSX-S1000 with a fairing, which is probably what the F stands for. Like the Z1000SX it doesn't have all the latest gadgets but you do get three level traction control, Brembo brakes and a solid engine. There was a minor update in 2017 with a bit more power and a new slipper clutch.
Engine: Inline 4
Capacity: 999 cc
Power: 143 bhp

Licence: A
Seat Height: 810 mm
Wet Weight: 214 kg
What Is A Sports Tourer?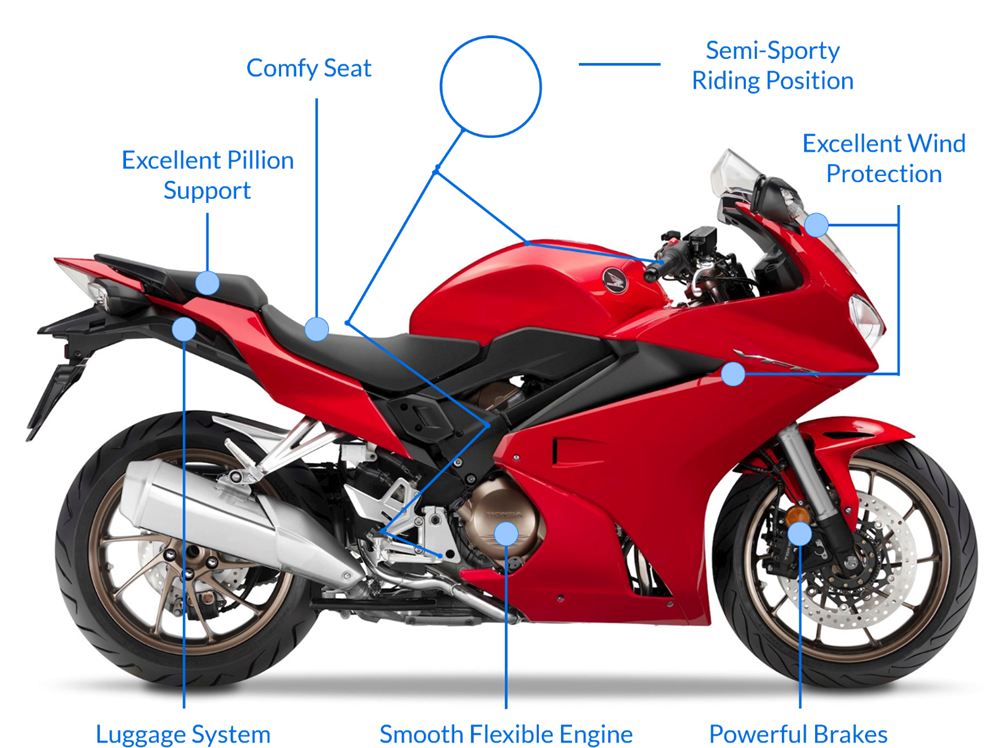 Sport Touring bikes are usually slightly modified high end sports bikes, such as the Kawasaki Z1000SX, however some are designed specifically for the job like the Honda VFR800.
They aim to offer the same capabilities as touring bikes but without sacrificing any of the sportiness in the process, so they tend to be a bit lighter and corner well but aren't as comfortable.
Compared to the sports bike donor, or sometimes a "designed from scratch" naked bike, the riding position tends to be a bit more relaxed, there's better wind protection, much better pillion provision and usually a whole quick release pannier system designed in.
Check out the other types of motorbikes.