Top 10: Cruisers
16th June 2018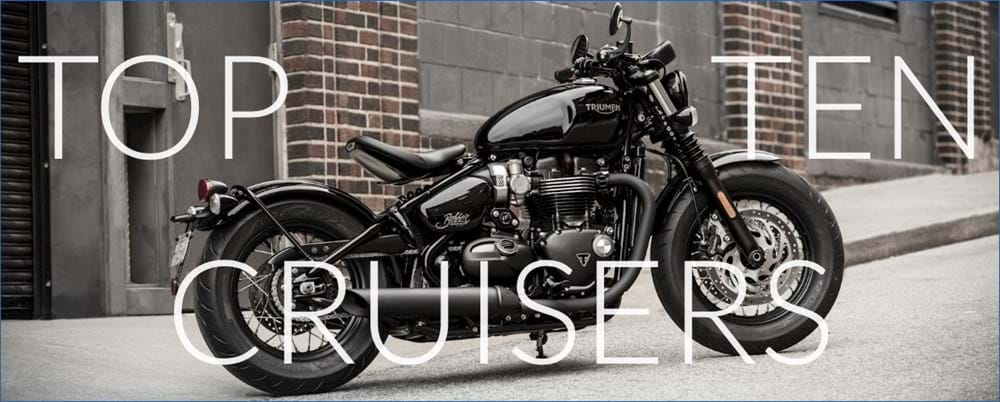 Cruisers tend to have a very relaxed feet forward riding position, a very low seat, large rear tyre, raked out fork and engine focused on low down torque rather than top end power. They are usually style over performance and tend to be really heavy. What is a cruiser?
The Best Cruisers:
1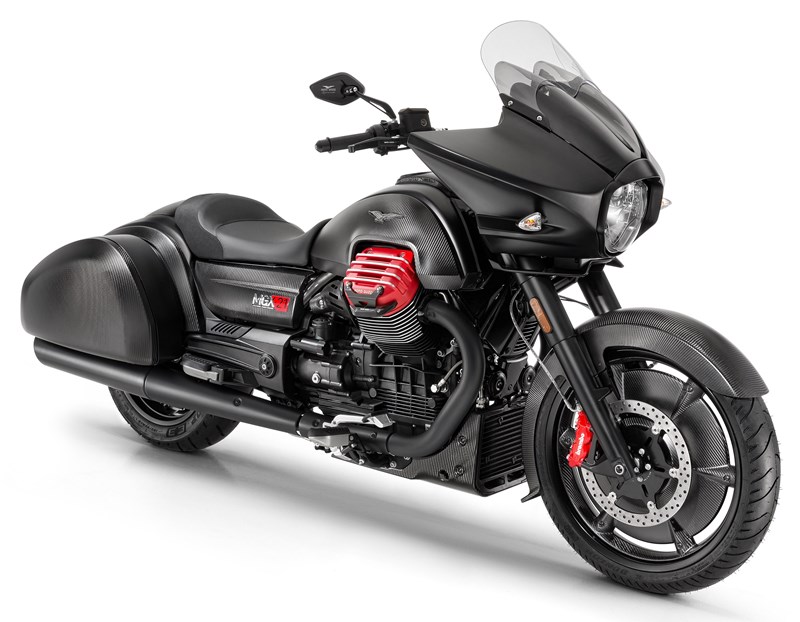 One of the heaviest cruisers you can buy
You could argue that the 2017 Flying Fortress is a touring bike but the styling, riding position, power and weight all clearly shout cruiser to us. It's both very expensive and very unique, from the 90° engine to the Carbon detailing on the front wheel and the shaft drive sending power to the rear wheel.
All the niceties you would expect are there from the LED headlight and full dash, to the ride modes and 50W sound system with 4 speakers. Just remember to pack the forklift in case you drop it!
New: £20,000
Used: TBC (Very Rare)
Engine: V-Twin
Capacity: 1,380 cc

Licence: A
Power: 95 bhp
Seat Height: 740 mm
Wet Weight: 356 kg
2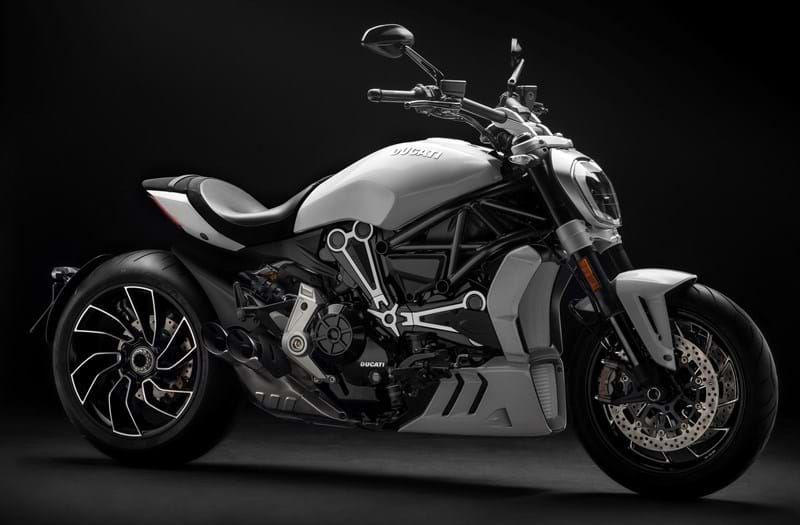 The fastest cruiser with modern styling
Launched in 2016 it's a unique concept in motorbikes right now. The XDiavel S is a belt driven cruiser with cutting edge modern styling, sports bike power and sports bike handling although any machine where the name translates to Devil was never going to be cheap.
We love the single sided swingarm, machined back wheel, integrated exhaust so you can see said back wheel in all its splendour and the colour TFT dash. All of the most advanced tech is there as well like ride modes, cornering ABS, launch control, Brembo brakes, keyless start and full LED lighting. Compared to the Motor Guzzi it's over 100kg lighter and has 60% more power but cruisers are primarily about looks and these two sit at opposite ends of the spectrum.
There is also a standard model in the £17,000 XDiavel which costs £3,200 less but does without the fancy wheels, top-spec Brembos, LED headlight, entertainment system and fancy seat.
Licence: A
Power: 154 bhp
Seat Height: 755 mm
Wet Weight: 247 kg
3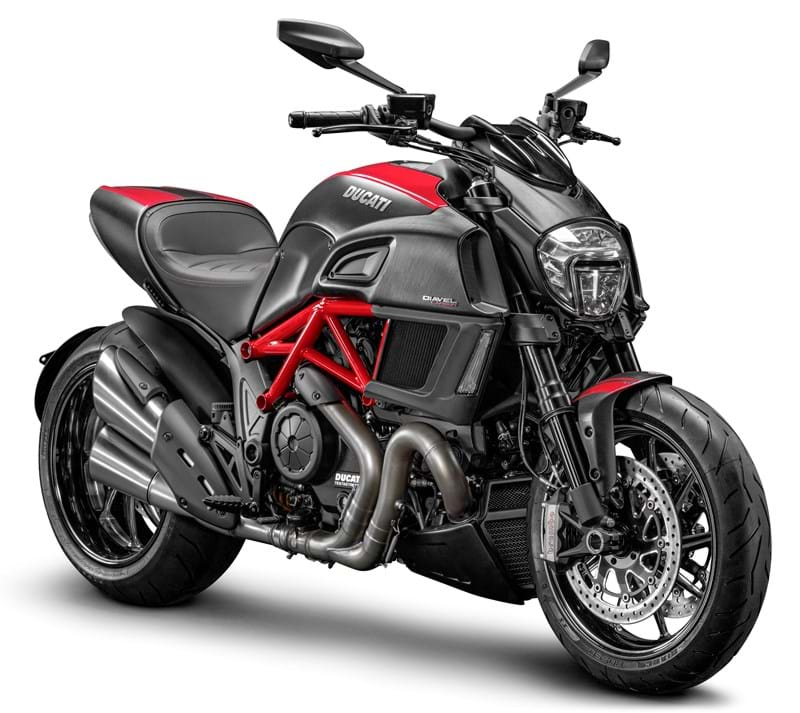 The original Diavel launched in 2011 before Ducati evolved the concept into the 2016 XDiavel. It has a smaller 1,198cc engine, produces a similar amount of power and weighs roughly the same but is chain driven. Available in plenty of special versions, including the Carbon shown here, there are lots around on the used market to choose from and you can still buy it new.
It features a few fancy bits like traction control, keyless start and riding modes but nowhere near all of the latest tech of the newer and more expensive XDiavel.
Licence: A
Power: 160 bhp
Seat Height: 770 mm
Wet Weight: 234 kg
4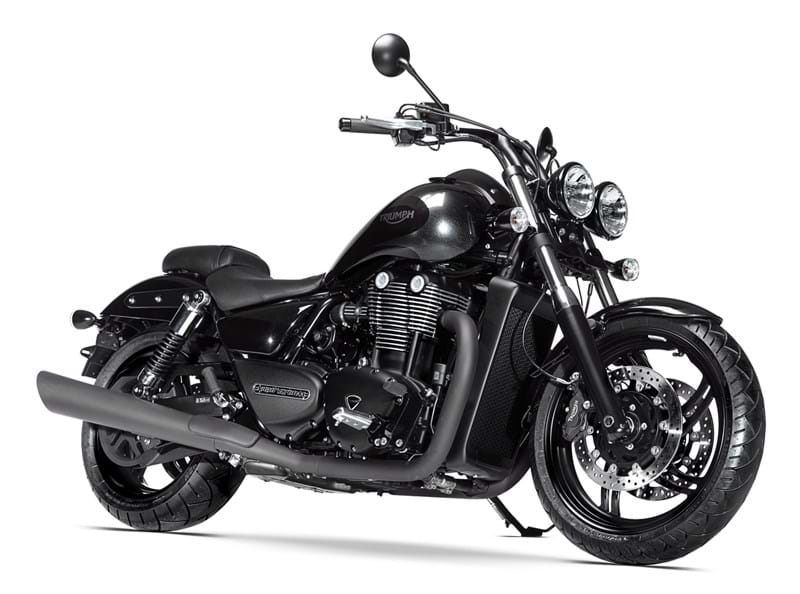 Now that the mighty 2.3 litre Rocket III has been killed off by Euro 4 emission standards the 1.7 litre Thunderbird sits at the top of Triumph's cruiser range. It's available in 5 flavours, including the more touring focused Commander and LT, but here we are looking at the blacked out Nightstorm version.
Like many other cruisers power makes its way to the rear wheel via a belt rather than a chain and in terms of equipment that's about all there is to say. Looks good though doesn't it!
New: £13,300
Used: £11,000-£8,600
Engine: Parallel Twin
Capacity: 1,699 cc

Licence: A
Power: 97 bhp
Seat Height: 700 mm
Dry Weight: 308 kg
5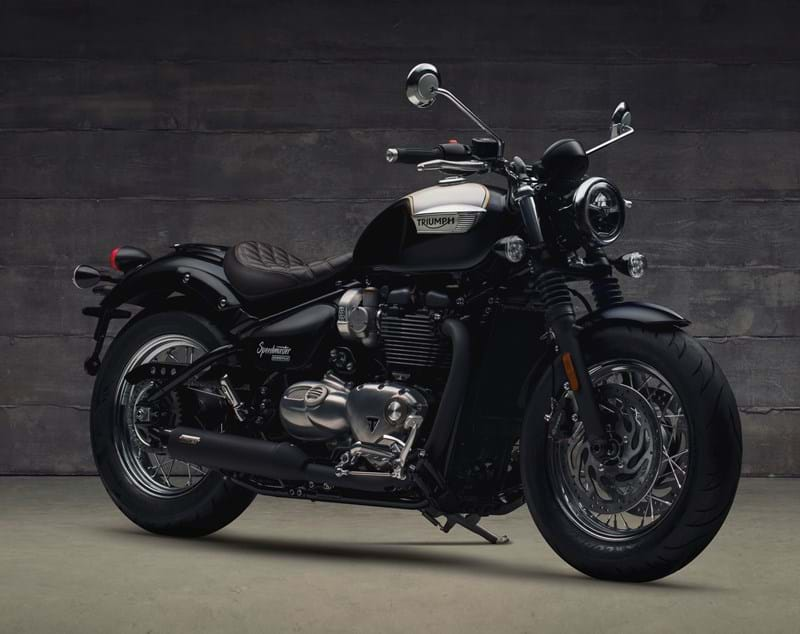 If you are in the market for a mid-price cruiser then Triumph's new for 2018 Speedmaster and Bobber Black should both be on your test ride list. They are essentially the same chain driven modern bike, cunningly designed to look retro, but where the Speedmaster is very pillion friendly the Bobber opts for a solo seat and a very clean back end.
Both are powered by the high torque version of Triumph's 1,200cc engine, feature full LED lighting, traction control, ride modes and huge potential for customisation using Triumph's accessories catalogue.
New: £11,650
Used: £6,750-£3,100
Engine: Parallel Twin
Capacity: 1,200 cc

Licence: A
Power: 76 bhp
Seat Height: 705 mm
Dry Weight: 246 kg
6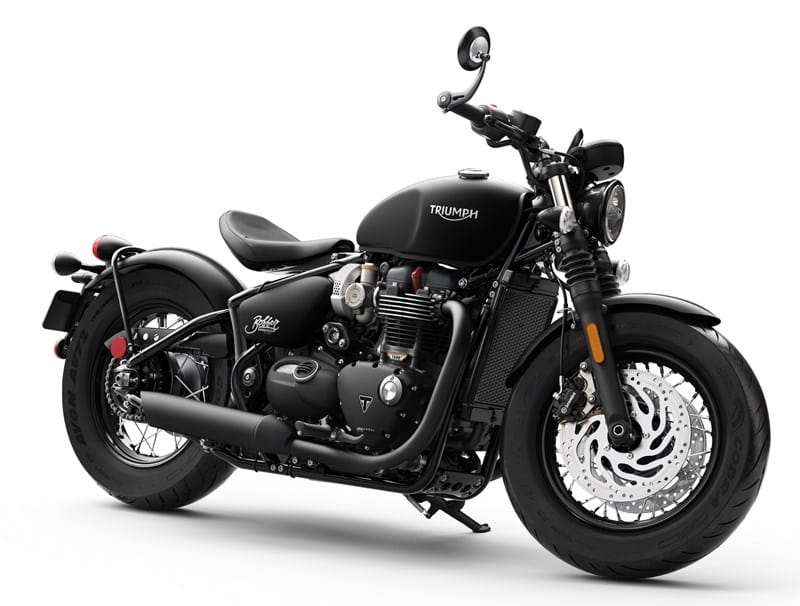 The coolest cruiser you buy right now
For 2018 Triumph released the black version of their groundbreaking 2017 Bobber. The "blacked out" version usually appears shortly after a model achieves a huge sales success and the Bobber was the fastest selling model in Triumph history. It's almost all about the retro looks but obviously isn't very pillion friendly. For that sort of thing they have the very similar Speedmaster.
New: £11,650
Used: TBC
Engine: Parallel Twin
Capacity: 1,200 cc

Licence: A
Power: 76 bhp
Seat Height: 690 mm
Dry Weight: 238 kg
7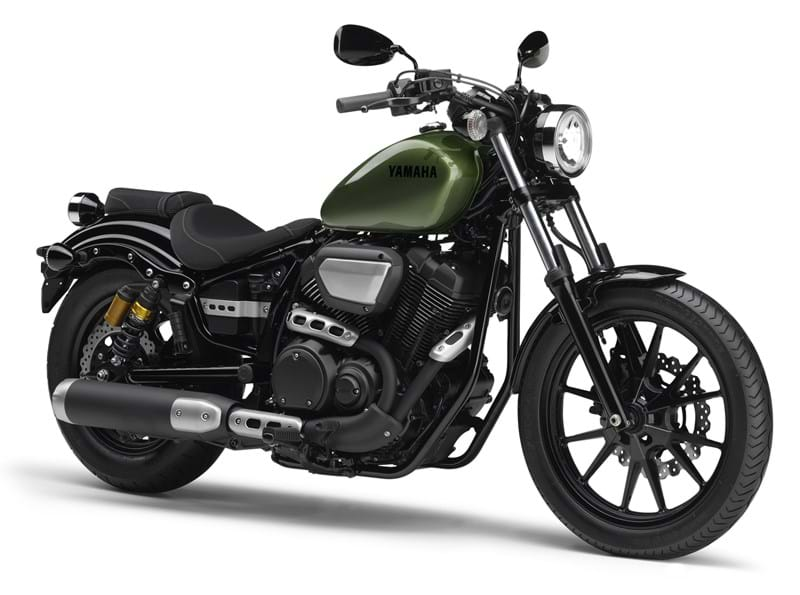 Moving down into the lower capacity cruisers we have the 2014 XV950R. Equipment is pretty basic with no gear position indicator or rev counter but you do get KYB piggyback shocks and a big V-Twin soundtrack. It's called the Star Bolt R in the USA and final drive is via belt.
Licence: A
Power: 51 bhp
Seat Height: 690 mm
Wet Weight: 251 kg
8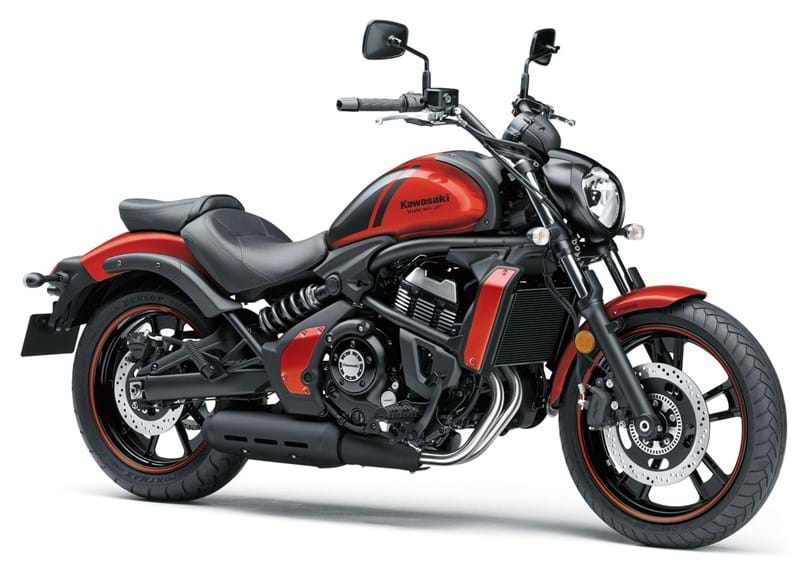 The best cruiser for a beginner
At the entry level end of the scale is Kawasaki's incredibly popular chain driven 2015 Vulcan S. It doesn't have much equipment to talk about but it looks great and can be restricted for A2 licence compatibility. Several flavours are available with additions such as a cafe racer style screen, Arrow performance exhaust, touring screen, panniers and pillion backrest.
New: £6,300
Used: £5,800-£3,700
Engine: Parallel Twin
Capacity: 649 cc

Licence: A2 (Restricted)
Power: 60 bhp
Seat Height: 705 mm
Wet Weight: 229 kg
9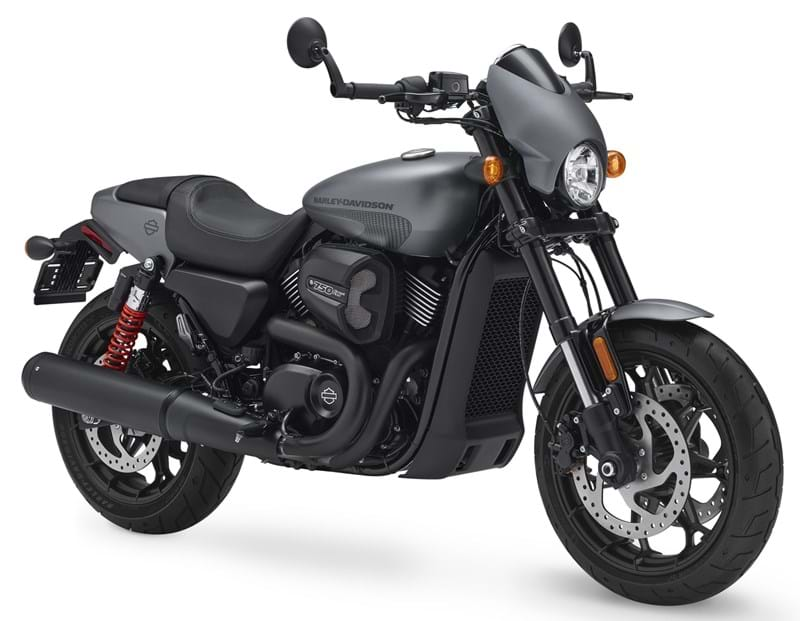 To create the 2017 Street Rod Harley took the 2015 Street, their first new platform in years, then added an upside down fork, beefier rear shocks, dual discs and a performance air intake to boost power a few bhp. It's a proper traditional cruiser with a V-Twin engine and belt final drive which can also be A2 Restricted.
Licence: A2 (Restricted)
Power: 63 bhp
Seat Height: 765 mm
Wet Weight: 238 kg
10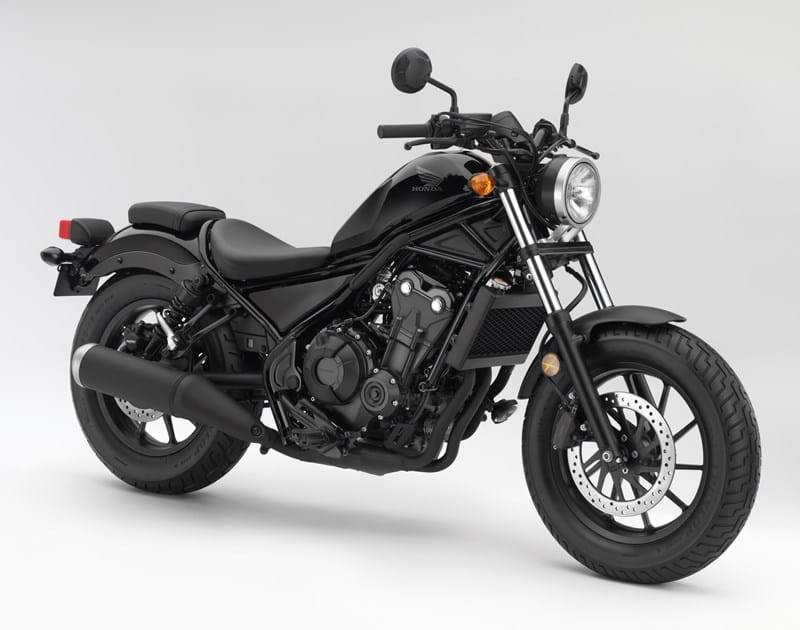 The best cruiser for an A2 licence
The chain driven 2017 Rebel is a popular little bike and with good reason. It's incredibly learner friendly with a really low seat and low weight, it looks great and the pillion seat/pegs can be easily unbolted to create an instant Bobber look. Equipment is basic but that's a lot of cruiser for £1,000 cheaper than the Street Rod and many view it as a great base to create their own custom Rebel.
New: £5,600
Used: £4,700-£3,800
Engine: Parallel Twin
Capacity: 471 cc

Licence: A2
Power: 45 bhp
Seat Height: 690 mm
Wet Weight: 190 kg
What Is A Cruiser Motorbike?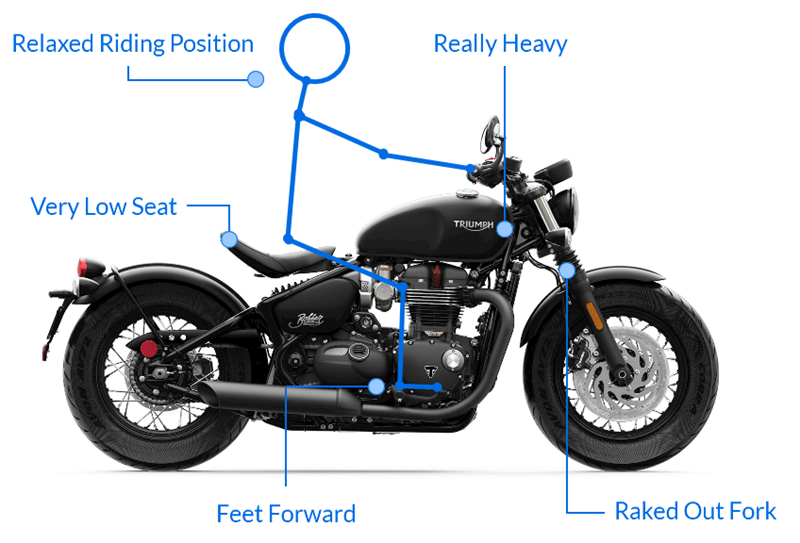 Cruisers tend to have a very relaxed feet forward riding position with the body upright or leaning slightly back, a very low seat, large rear tyre, raked out fork and engine focused on low down torque rather than top end power however they tend to be really heavy. As such the power figure will often look at odds with the size of the engine, for instance "only" getting 150bhp out of a 2.3 litre engine in the Triumph Rocket III.
They are more about looking and sounding good at low speeds than getting from A to B as fast as possible and getting your knee down in the corners although they will also munch motorway miles with ease.
Power is often sent to the rear wheel via a belt drive system, rather than the traditional chain and the plentiful low down torque also allows a more relaxed approached to gear changes. They will also often have most of the dash on top of the tank rather than mounted behind the handlebars although some models go for both options with a split dash.
In the USA cruisers are the most popular style of motorbike by some margin with Harley Davidson being a main player. Other names for them include choppers and power cruisers.
Bobbers (short for bob jobs) are a style of bike within the more general concept of cruisers. They tend to have a fixed rear frame with no suspension and a single seat attached to the frame via 1-2 shocks. It keeps the rear of the bike really clean but is obviously not very luggage or pillion friendly. Recently Triumph have cunningly bought back the bobber look with the Bonneville Bobber Black by hiding the usual rear suspension under the seat.
Ducati, on the other hand, have worked out how to make a bike with cruiser styling and performance like an outright sports bike with the XDiavel.
Check out the other types of motorbikes.