Honda Rebel 500 Review (2020)
"
A bike to me is a luxury, so I wanted it to look good, and the Rebel really is an Instagram star!
"
What Is It?
The Honda Rebel 500 is an A2 licence friendly cruiser style bike with great customisation potential and is powered by a Euro 5 compliant liquid cooled 471 cc parallel twin engine, producing 45.6 bhp at 8,500 rpm and maximum torque at 6,000 rpm.
Specs
Seat Height: Low (

690

 

mm / 27.2 inches)
Weight: Average (191 kg / 421 lbs)
Economy: Good (75 mpg / 3.8 l/100km / 26.5 km/l)
Range: High (180 miles / 290 km)
Power to Weight: Low (0.241 bhp/kg / 0.180 kW/kg)
Top Speed: Average (100 mph / 161 km/h)
Pros
The perfect blend of retro looks and modern tech
Easy to bobberise and customise
Low learner friendly seat
Looks cool
Handling
Economy
Lights
Cons
Lacks the double disc stopping power of some rivals
Non-adjustable fork
No rev counter
Stock seat
What Is It Like?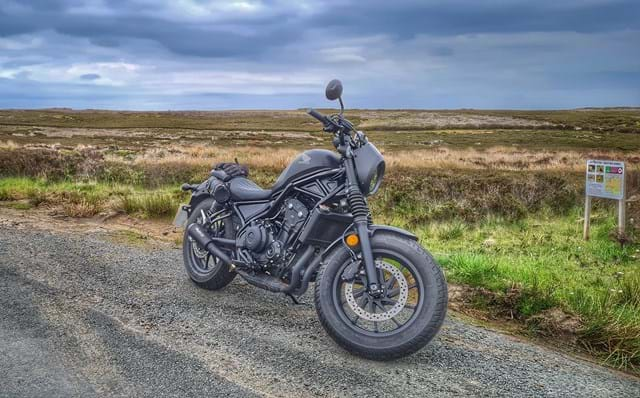 Honda Rebel 500 SE 2020
Tell us a bit about you
I'm a 41 year old male, 5ft 7/8 with a 30 inch inseam. I started to ride in 2020 when I took my CBT after my 40th birthday. From July 2020 I stared riding a Yamaha YS125, which saw me though until May 2021 when I finally passed my Mod 2 after 3 cancellations due to Covid. Before this I had never even touched a motorbike, even though I had always dreamed of it since I was 17. Perhaps one of my biggest regrets in life.
Why did you choose it?
I had not been looking to do my test really. But sometime back in March 2020, our first UK lockdown, I started looking at motorbikes online. It was then that I came across the Honda Rebel, the 2020 model specifically.
I liked the retro looks combined with a twist of modern day magic. Delving deeper into the Rebel I then came across the SE variation, with the extra cowling, stitched seat, & fork boots. If Batman was real, this would be his Batbike. I was sold - this is what I wanted, and my motorbike adventure began!
What is good about it?
First and foremost I love the styling. A bike to me is a luxury, so I wanted it to look good, and the Rebel really is an Instagram star! The seating position is confidence inspiring. Low to the ground so even the shortest of riders should be able to flat foot the Rebel. Add to that the mid footpegs and you are sitting up right with a good view of the road ahead. You can quickly take command of the Rebel, and you soon become at one with the bike.
Weight wise, the Rebel is probably as light as they come. Moving it around while off the bike is done with ease. But when riding, that's when the fun begins. Flicking the Rebel to change direction is a joy, so responsive, and great fun in the corners. The Rebel leans well and holds the road.
Part of the joy of riding is working the gears, and on this machine, if you ride it right, it can be a bit of a back road blaster with ample acceleration up to 70 mhp - more than enough to put a smile on your face and have a jolly good time. It's fun, it's Flickable and it looks good!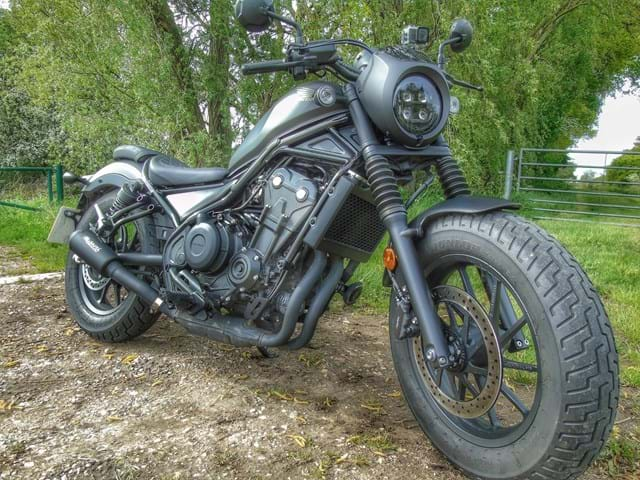 What could be improved?
The seating leaves a lot to be desired. The S version comes with the stitched seat, which gives an enhanced look, but that seems to be as far as it goes. After an hour or so of riding, the bum becomes numb. Perhaps a little more padding would help here. If you want to carry a passenger, the stock passenger seat is possibly also not going to do your passengers any favours.
The suspension doesn't really help here either, if you are riding roads that are a little on the bumpy side, this becomes very noticeable after awhile, again, maybe the extra padding in the seat would absorb some of this. That being said, my longest day trip of 220 miles didn't give me too many problems and the next day I didn't feel any the worse for it. No more body aches that normal for 40+ male!
One slight visual deterrent for myself was the stock exhaust. For me, it looked too big, like an afterthought to the styling. A bazooka slapped on the side to calm the pops and gargles of the 500.
Any mods or upgrades?
Musarri Slip On GP Exhaust
Givi MT501 Metro T Panniers
Official Honda Rebel Tank and Knee Pads
What is the economy like?
I've been seeing 73-75 mpg - this is with pushing it a little out the bends on occasion.
How is the engine?
The Honda engine is smooth and reasonably quiet. The clutch is light and the gears flick in with ease.
How does it handle?
The handling is incredible. The Rebel is nimble and light on its "feet" and always ready to alter its course. It holds the road well giving the riding confidence to enjoy the ride.
What are the brakes like?
The single disc brake at the front is adequate, although a little extra stopping power before the corners would have been nice. But this is not a sports bike, nor a cruiser, so the brakes are ample for the urban explorer it is.
Is it comfortable?
The seating position itself is good. My body feels at home, at 5ft 7 I don't feel cramped, however, a coupe of inches taller and I wonder if my hips might start to feel fatigued after a while.
How reliable have you found it?
So far no problems. I have had this bike from 557 miles and I have now done 3,500 miles. Only time will tell, but from what I have heard these engines are ultra reliable. Seeing as it's the mainstream engine across Honda's 500cc motorbike range, I am confident there won't be any issued for thousands of miles to come.
What's the servicing frequency and cost like?
The first service is 600 miles, then 8,000 miles or 12 months. I've not had a service as of yet and I won't for at least another 8 months. So cost is pretty minimal as far as keeping it on the road, unless you factor in bike washing materials, because you will always want to keep the Rebel looking its best!
To Sum Up
The Honda Rebel SE 2020, otherwise known as the Batbike, looks good, makes you feel good, and to ride it's a joy. If you want a bike that makes you smile, it certainly does.
It's not about the speed, it's about the ride, and the Rebel, whilst it may be lacking top end speed, more than makes up for it with is looks and agility. It's a real bike, for the real roads we ride.
- Matt S, 2021
Price Guide
Year
Dealer
Private
Part Ex
Mileage
2022
£6,200
£5,000
£4,350
1,200
2021
£5,850
£4,700
£4,100
2,100
2020
£5,500
£4,400
£3,850
3,700
How to use the price guide
The Second Opinion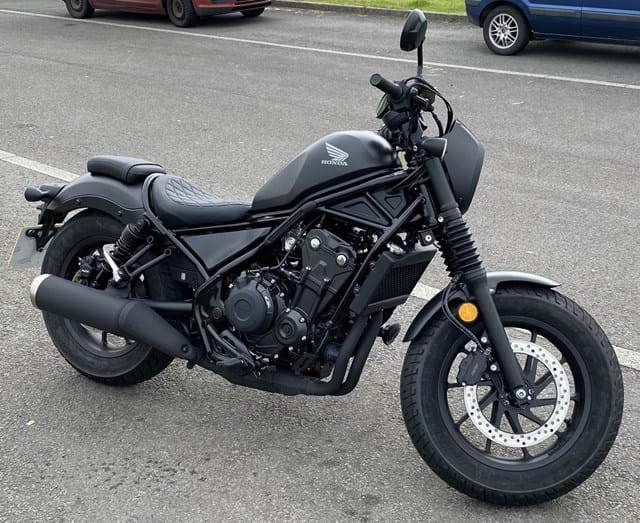 Honda Rebel 500 SE 2021
Tell us a bit about you
I'm a 66 year old male, 5'8" and I've been riding since 2000. In that time I have owned:
Two Honda VFRs
Suzuki Bandit 600
Yamaha FJR1300
BMW F650 GS (800 twin)
Why did you choose it?
My friend owned one so I took a test ride and found it perfect for my short body. I've read lots of reviews, predominately in the USA and everyone was very complimentary.
What is good about it?
Everything!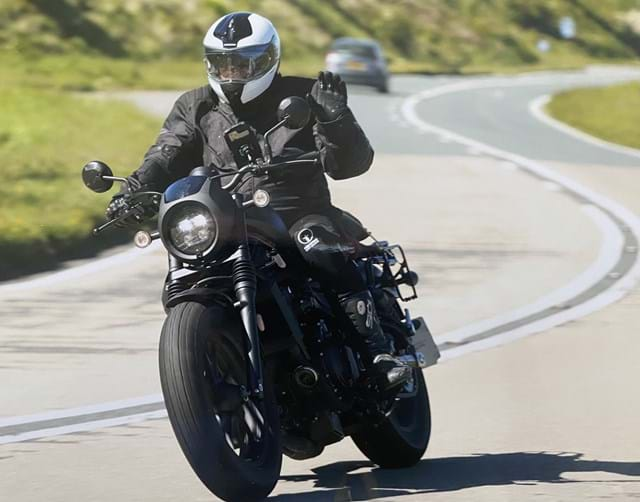 What could be improved?
The stock seat is very uncomfortable, so I have ordered a replacement at £300.
Any mods or upgrades?
Engine guard
Rear rack
Pannier supports
Panniers
Phone holder
New seat
What is the economy like?
Brilliant, I'm seeing 74 mpg.
How is the engine?
Very good and quick for a 500 cc. The gear shift is smooth with good engine braking.
How does it handle?
It sticks to the corners like glue.
What are the brakes like?
Adequate.
Is it comfortable?
Definitely not.
What's the servicing frequency and cost like?
The first is at 600 miles and the second at 8,000 miles. I don't use a main dealer, far to expensive.
How would you sum up the model?
The Honda Rebel 500 is a very good small cruiser.
- Chris B, 2021
Add Your Review
Do you own this bike? We would love to hear anything good, bad, unexpected or that you have changed plus anything that a prospective new owner might find interesting or useful.