Honda Rebel Review
| | | |
| --- | --- | --- |
| Overall | | ★★★★★ |
| | |
| --- | --- |
| ✓ | Looks cool, low learner friendly seat, easy to bobberise / customise |
| | |
| × | No rev counter or gear indicator, fork, firm seat, headlight |
What Is It?
The 2017 Honda Rebel is an A2 licence friendly cruiser style bike with a great following and loads of customisation potential.
Engine: 471 cc Parallel Twin, 45 bhp
Economy: 65 mpg, 160 miles
Seat Height: 690 mm
Wet Weight: 190 kg
RRP: £5,350
What Is It Like?
After years of hanging out with my father in law and his Harley Davidsons and occasionally turning up to bike shows riding pillion, only to surprise other bikers that I was a bloke and not his 5'10 old lady. (a lot of these blokes watch too much sons of anarchy) I thought it time to get on with it and set about learning to ride. Two months passed between my CBT and passing my Mod 2 and in that time, I poured over every used bike on the market, looked at every finance option I could for Triumph Bonnevilles – I was a man on a budget and needed something that wouldn't break the bank or upset the wife.
I found the Rebel 500 by accident on a trip up to Harley Davidson in Uppingham (father in law trying to get me onto a Street 750 on a Harley deal, turns out that bike is just awful). In the used section I found a CMX500 ex demo model that they were holding, I'd never seen one before, but it was love at first sight. The styling, the seating position, the price… I passed my mod 2 and bought a brand new one from the lovely people at Grafton, Milton Keynes… Chris will tell you I walked in waving a white flag and said 'you got me'.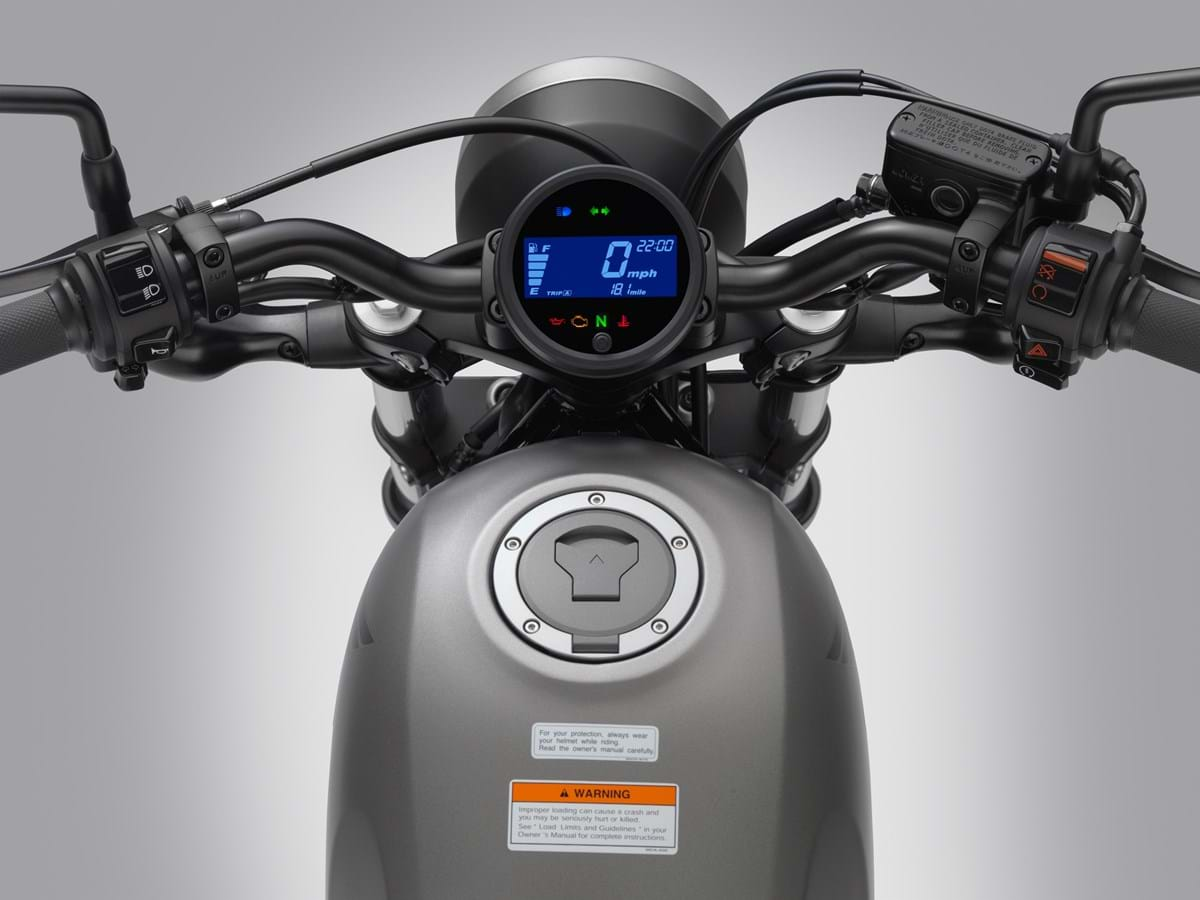 I took it home a week later and began a series of short 30 mile ride outs. Great bike. It turns on a sixpence, you can chuck it about around lanes and roundabouts like a lot of standard bikes, mostly due to the familiar riding position to that of a bicycle. The 471cc power unit is tried, tested and quite frankly…. Bullet proof. The acceleration doesn't leave you wanting a lot more from a bike this style. Cruising on a motorway at 70mph? no problem – it even has plenty more to give you if you need to exceed that, and the power doesn't start to run out or struggle until you reach a speed that I would never admit to doing, but let's say I hear it'll approach a ton. The transmission is smooth and the clutch and throttle are effortless. The stopping power with the single discs and ABS are well balanced.
I keep getting asked about my bike at bike meets by other riders who are looking at this bike… for their wife. My 6'4 colleague sat on my bike recently and he looked like a daddy long legs trying to mate with a micro machine – it's definitely a bike suited for the shorter rider, so I see why this is favoured by some ladies.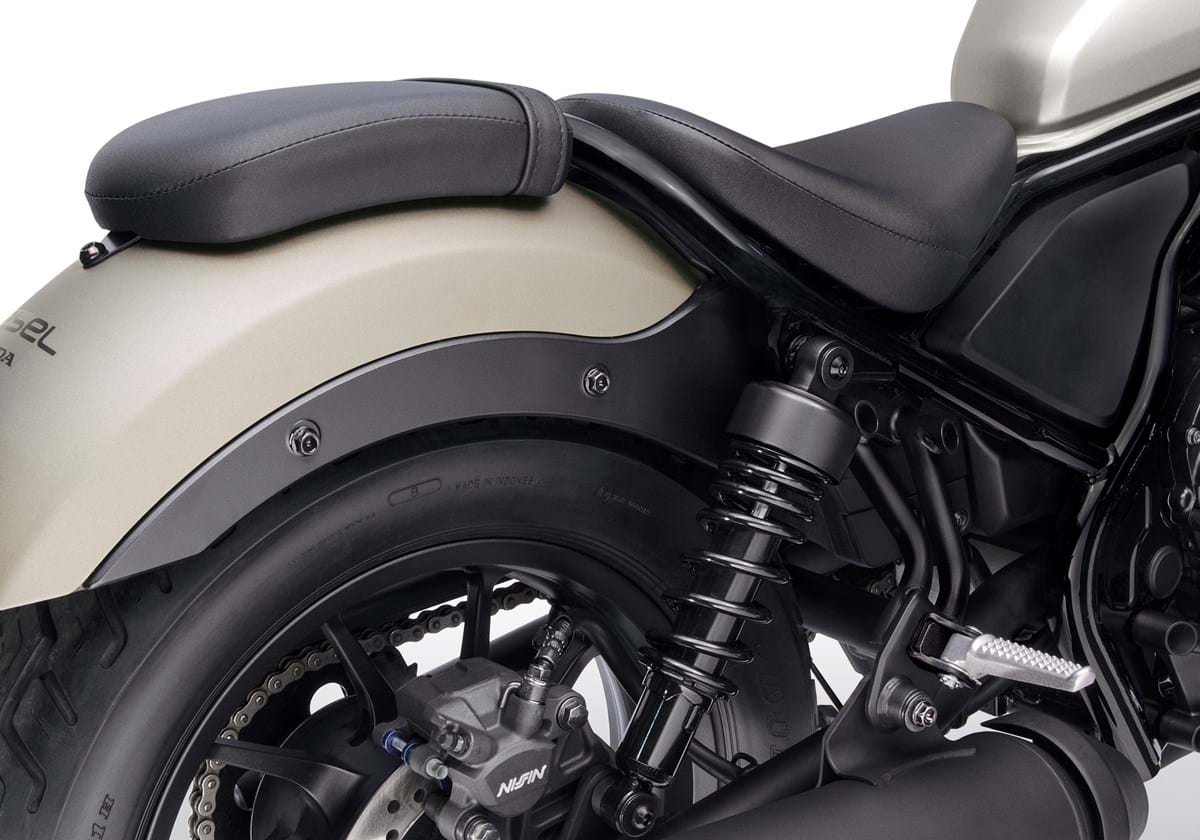 I had the honeymoon period with the bike and enjoyed my short journeys, then the 100 mile trips began… and a 300 mile round trip to Matlock… The seat is not made for these trips. The frame that comes over the top of the bike, nestled in with the seat – huge design flaw. It's unforgiving, causing some serious pain on the base of my spine. Upon some help from my fellow Rebel enthusiasts I managed to switch out the seat for an after market one from zeedparts.com (based in Thailand) all of their parts they have an instructional video for. £145 (including 7 day delivery) got me my MOTAZAA V2 seat which has vastly improved the comfort. Still to this day though I take ibuprofen before I set off on a longer journey.
Apart from the seat, there other issues. The overall finish looks very cheap and plastic and there are some bikes that it looks ridiculous parked next to. The brake and clutch levers in my opinion need to be more chunky as they're very similar to what you'd find on a mountain bike, not like the better feeling shape you'd find on a Harley or a triumph – this wouldn't have cost Honda anything to have implemented in the design and it wouldn't need to be a material change. The side panels pop out easily and are again, cheap plastic. The indicators look like an afterthought and the front lamp looks very 1980s. This being said, what else could I expect from a brand new bike that is very much entry level?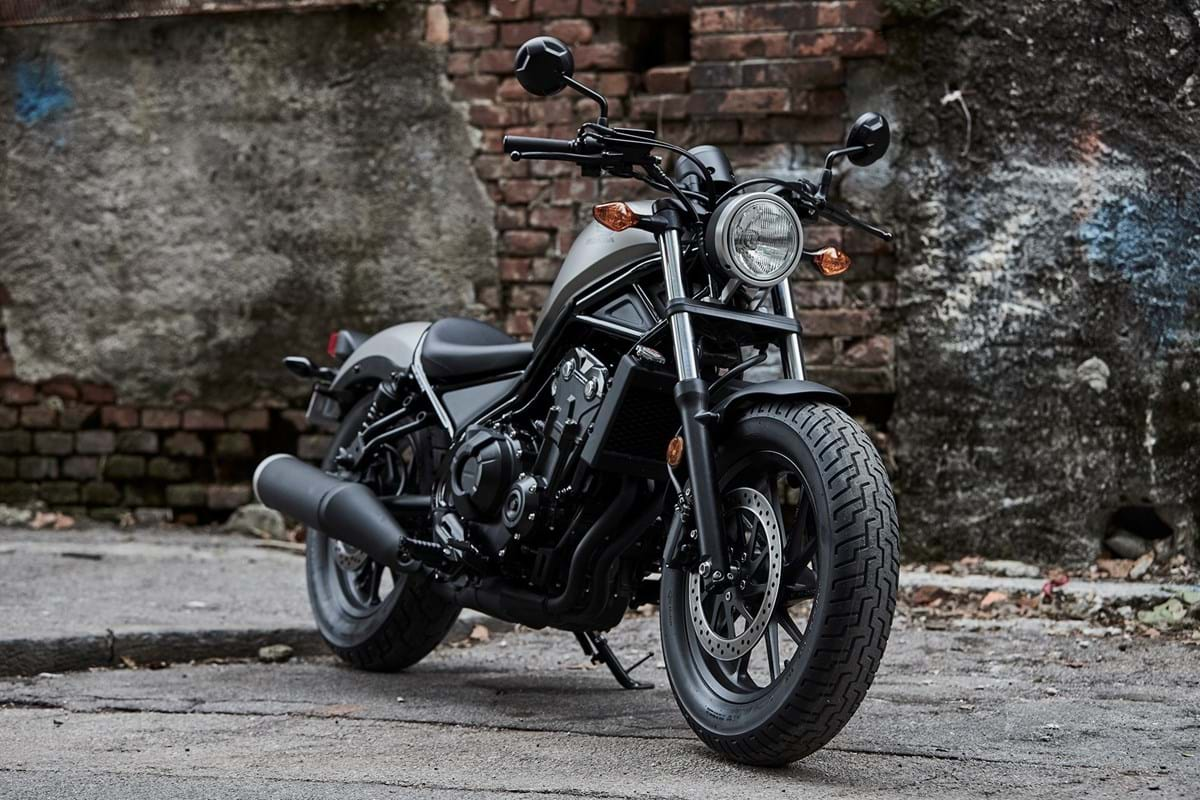 And that brings me to my next point.
Honda don't disguise their 500cc A2 bikes as the best thing since slice bread. The fact is, if I gave you £5,500 and sent you into every dealership to buy a brand new bike, you're coming out with a Honda – whether it's the Rebel, the CBR500, CB500X or the CB500F. They work. If you want bells, whistles, and more power than Harry Maguire's forehead – you're going to have to pay a lot more money for it. The re-assurance of a new bike and support of after service and warranty has given me a good introduction into motorcycling.
This bike has been great fun and a fantastic bike to gain experience on. I'm 3,576 miles in already and use this bike increasingly for work as it'll handle the M1, M25 and M4 with no issue. It does get attention for it's unique styling and whilst I have moaned about the seat, the actual riding position allows you to have great control and balance. I added (and have since removed) a large Puig screen that was functional, but took away some of the appeal that the styling offers. I would recommend this bike to any new rider, but if you plan on taking long day trips or riding across Europe check out www.zeedparts.com for a seat.
- Adam B, 2018
Price Guide
| Year | Dealer | Private | Part Ex | Mileage |
| --- | --- | --- | --- | --- |
| 2017 | £4,300 | £3,450 | £3,000 | 3,700 |
| 2018 | £4,750 | £3,800 | £3,350 | 2,100 |
| 2019 | £5,000 | £4,050 | £3,550 | 1,100 |
The Second Opinion

Review of the Honda Rebel 2018 ABS, UK version
We looked around for quite a while to get a bike that my rather small, 4ft 11inch partner could ride comfortably, she test rode a few, including the 650 Kawasaki Vulcan S, the Honda rebel CMX500, the Kawasaki Ninja 400 KRT and the Ninja 650 KRT.
She also tried out the Harley Davidson Street 750. And a Triumph Bonneville 1200cc Bobber. I rode with her on all the test rides, and must admit that the triumph would of been the winner for me, but at almost 105kg heavier than the Rebel, it was just a little to heavy for my partner.
She loved the Rebel, and finds it amazingly easy to ride, she can sit on it with both feet on the floor, and lift it off of the side stand very easily. We purchased the Rebel on 14th April, she couldn't really make her mind up on Red, Black or Matt silver Metallic, which is really just grey. All pretty good colours, but she opted for the black, which I personally think, suits the design of the bike.
The seat height is 690 mm from the ground (the same as the Triumph) and she finds it comfortable, even on long rides, we ride country roads A and B roads and do a bit of motorway riding as well, all of which the 471cc. The 45 bhp parallel twin engine handles with ease.
The pillion seat isn't worth even thinking about carrying a passenger on, and we will be removing it along with the pegs. And are currently looking for a rack and small back-box that will sit over the rear mud guard, where the pillion seat once was, as all other racks and boxes, just look really wrong on this bike, as they extend way back passed the rear of the bike.
The Rebel is ideal for the smaller people amongst us. It weighs in at 190 kg wet and is also A2 licence compliant.
Honda re mapped the injection system, to give more torque at lower revs, and it makes such a difference on this cruiser, the gearing seems to be just about right.
The bike itself is pretty basic, with no gear indicator or LED head lights. There is also no rev counter, which shouldn't bother experienced riders, but may of helped out the less experienced. But at around 5 grand, it's cheep for the money.
First service is at 800 miles and then at every 8000 miles thereafter or yearly.
The only real gripe is custom parts availability in the UK, they're a problem to find and are mostly only available from Thailand or the USA.
We have fitted handle riser pullbacks, which lift the bars by around 35 mm and pull them back by about the same amount, we have also fitted a pair of adjustable short levers, as my partner found that her hands were just to small for the large gap between grip and levers.
- Tony W, 2018
More Honda Rebel Reviews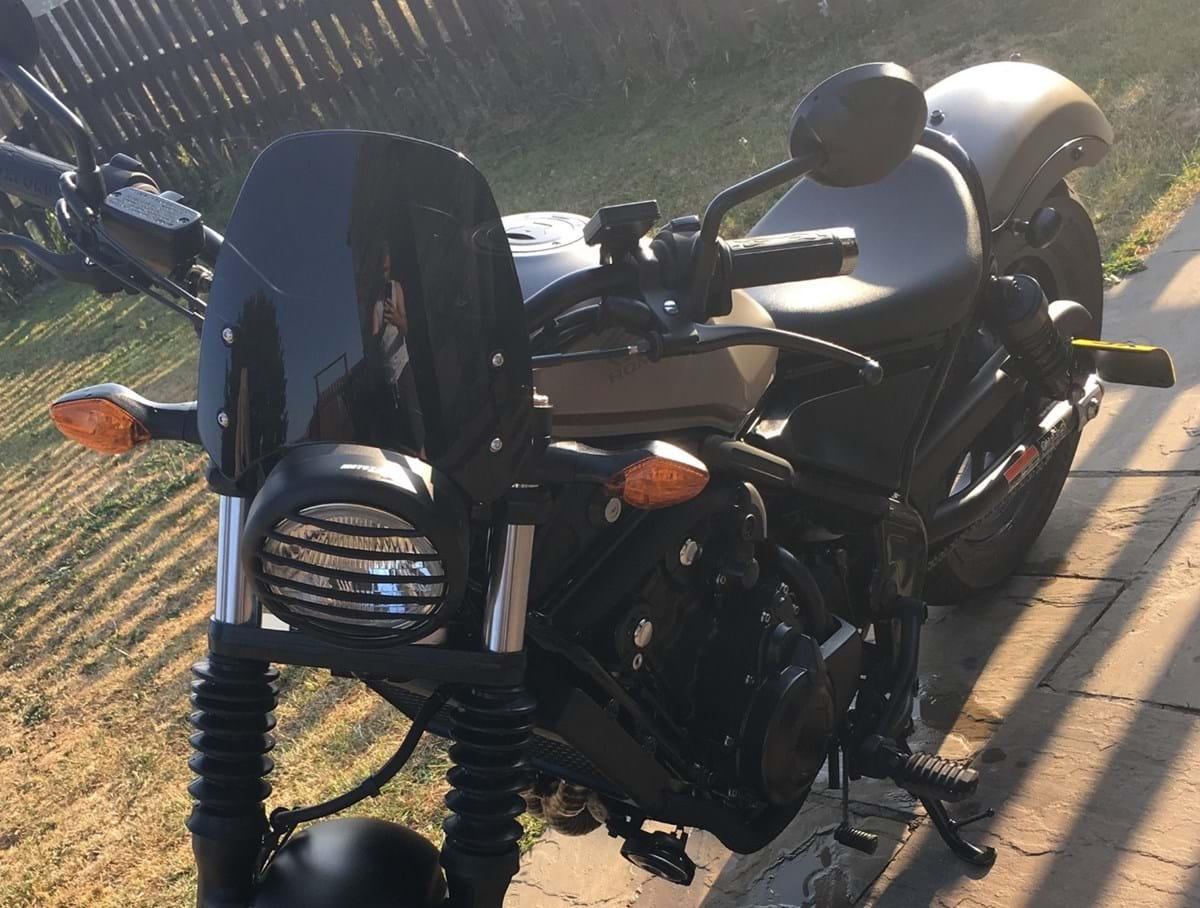 I have owned the Honda Rebel CMX500 since September 2017. I am a relatively new biker and ride all year long, often commuting to and from work some 20 miles per day.
It is a very easy bike to ride with a light clutch and smooth gear selection. The position is upright and comfortable, and I always look forward to riding again. The bike gives you confidence, in and out of the corners, feels sturdy and well connected to the ash felt. There is some play in the throttle assembly, no rev counter or gear indicator. But once you get used to it and learn to count all is well.
Being a Honda you get the bullet proof assurance of course, however, there are not many accessories available in the UK, which is a real shame meaning that you need to go further afield. Thailand seems to be the place, where you can essentially change and upgrade almost any part of the bike. There are two places to order parts from, ZeedParts and HRP Motors. eBay and Amazon will also become friendly places to go.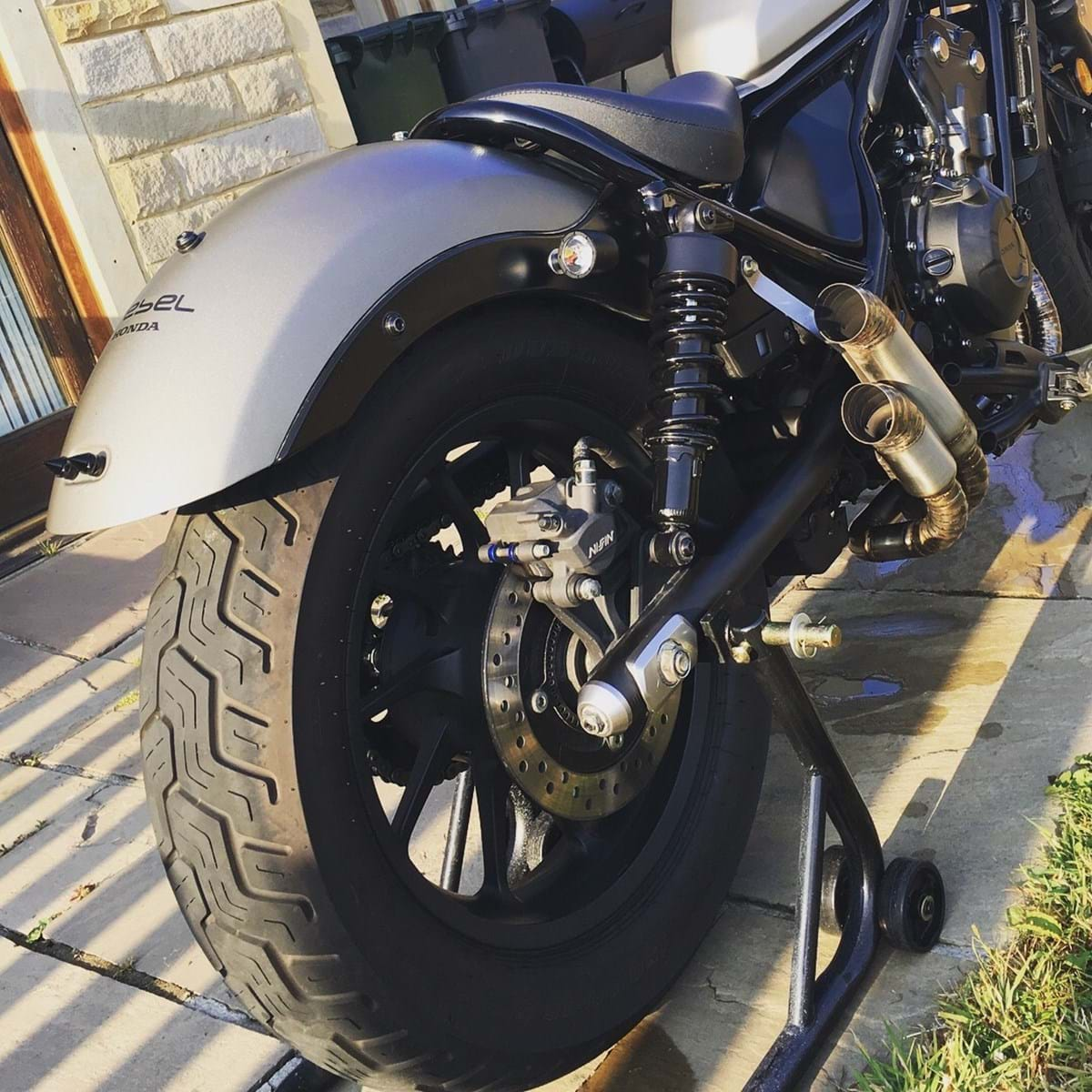 The first thing I did was to upgrade the exhaust, which I have designed and made locally, and I fitted a K&N air filter. This is simply due to the fact the stock exhaust is extremely quiet and quite large, resembling a rocket launcher. I then purchased Oxford heated grips and a small screen. Since then, I have recently worked on the ascetics of the bike, to achieve my desired look, as you'll see from the photos. One thing I'd recommend is changing the headlight bulb to LED and if you're commuting further than 20 miles a day, you might want a more comfortable seat.
I absolutely love my Rebel and particularly since upgrading certain parts I think it is much more visually appealing. I have certainly received much more attention".
- Simon H, 2018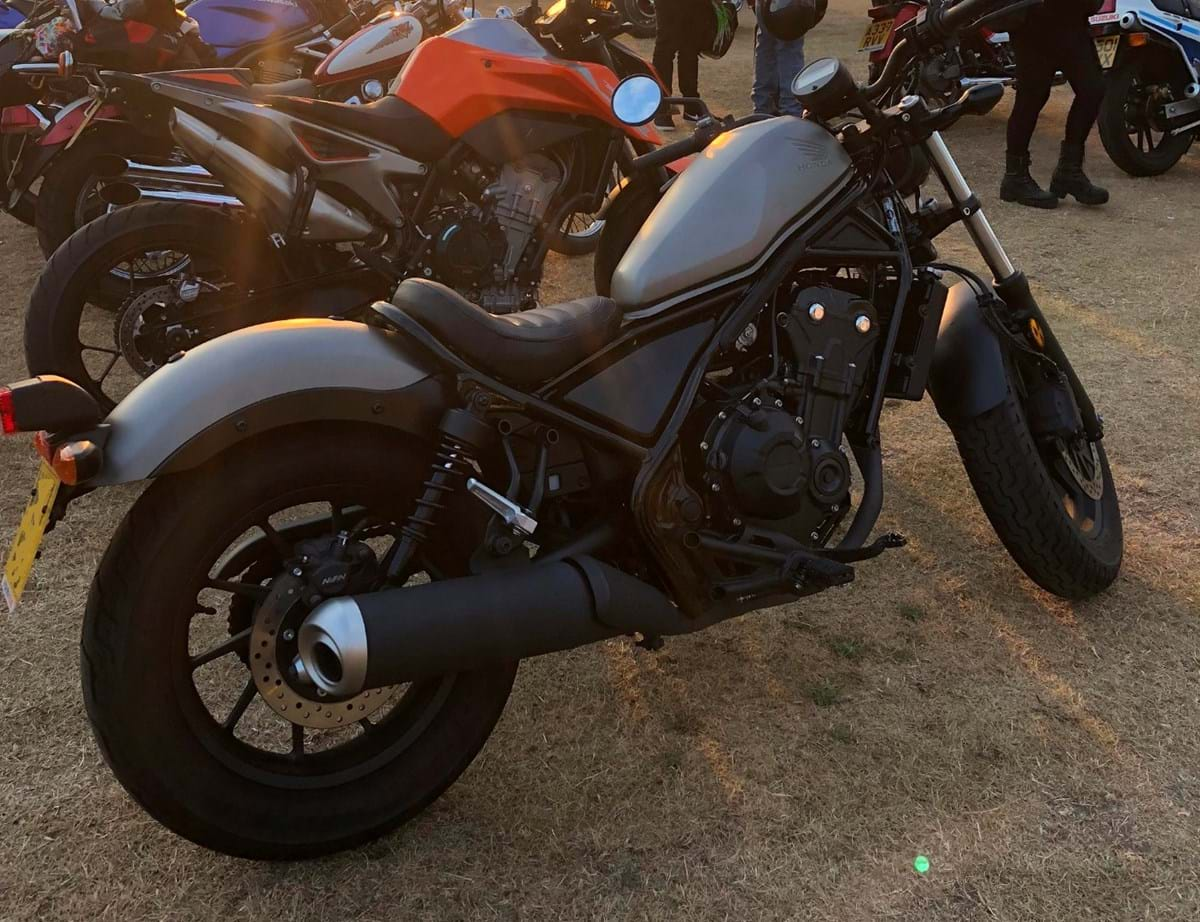 Having owned the Rebel for a few thousand miles now I really have a sense of what this bike can do. With its retro styling and smooth parallel engine, it really is a fun, easy and appealing bike to ride. Having owned larger bikes in the past I was worried that I would become disenchanted with less power early into the relationship. However, I can say that this is clearly not the case. I look forward to riding this bike on any given day. It's low slung seat and riding position give you a real sense of feedback, letting you know exactly how happy the bike is whilst you're winding it round a corner. All of this aspires confidence in your own abilities. It's fun at most speeds as you cruise away the day and the Nissin calipers are man enough to slow the bike with ease. The sound of the bike is lovely, if only a little quiet for my personal taste. The only thing to really remember is that there is little to no wind protection. So if you're doing a long jaunt regularly I'd probably recommend a windscreen.
Having said all of this there are a few downsides to the Honda. The suspension is soft and with the front not being adjustable, it leaves room for improvement. The bike will let you know the limit by what feels like the suspension sinking away. The chain is rather loud, it sounds stupid but sitting at a steady speed you can hear it whirring away. So that will be changed for a better quality bit of kit once this one has had its day. As well as adjustable forks it could benefit from some adjustable levers at some point. I guess the things I miss the most are a rev counter and a gear indicator. Both would be a welcome introduction on future models.
The only few things that I have changed have been for aesthetic reasons. The seat looked a little orthopaedic to me, so now it has a roll and tuck synthetic leather finish. Comfort was never an issue for me but the foam was reshaped a bit. I also replaced the bolts under the pillion seat. As I ride solo mainly they just did not look good. Aluminium washers and screws look a much nicer finish.
Now my biggest gripe with the bike and it's not even the bikes fault. It's Hondas! This bike is sold as massively customisable, so why have Honda not released a range of parts? If you want to customise the bike you will find yourself tracking down bits from Thailand or Eastern Europe. Very little is at hand over here. Compare this to a Triumph Bobber (which comes with a catalogue of bits) and you can be left disappointed. Obviously there is the DIY option but for someone with less time it would be nice to pop down to Honda and buy yourself some kit.
Overall I love the bike. Brilliant for everyday and is great for new bikers or old. Fun, easy and I think attractive.
- Michael N, 2018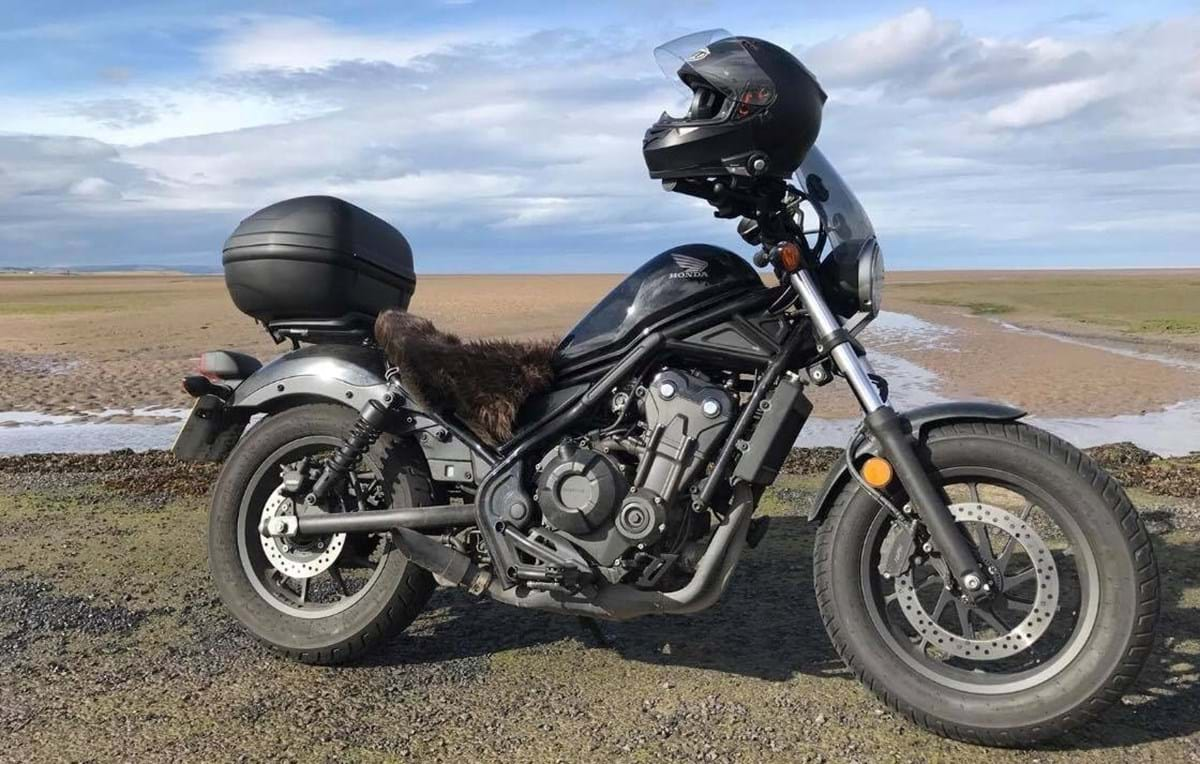 I passed my test coming up to a year and a half ago, my first bike after my Honda Grom was a Honda CB500F....I went for this bike as it was the one I had learnt on. I'm only 5'3" so even being lowered and seat sculpted I was on my tip toes which knocked my confidence and I began going on my bike less and less which I didn't want to do.
When the Rebel came out my partner suggested I test ride one so I did in March of this year and instantly fell in love with it. The first thing I noticed was that I could get my feet flatter on the floor than my Grom, I loved the bobber style of it and was comfortable on it from that first test ride. I could take corners smoother and lean into them further.
I got my beautiful black Rebel a few weeks later and I haven't been off it since. The nervousness I had felt on my CB500F had gone and I just wanted to be on my bike all the time.
I have added a pyramid plastics screen, took the pillion seat and pegs off, added a rack and a givi box. I also changed the exhaust as well, much smaller and louder but less than £30 from America. I have now done 3500 miles in 6 months. I have done 11/12hr days on the Rebel over the summer and it hasn't let me down once, and apart from the length of time on the bike which would give you aches on any bike it's super comfortable.
I've had no problems at all and I am getting between 140-148 miles to a full tank. My biggest ride to Scotland over the summer was great, I loaded up the box, had a tank bag and a dry bag loaded up on the Rebel and travelled from Newcastle to the Isle of Mull. It was spot on, not one problem and still did really well on fuel. I have added a sheepskin seat to the bike for extra comfort and will be testing that out this weekend on a run from Newcastle to Applecross pass in Scotland
- Jude H, 2018