Harley Davidson Street Review
| | | |
| --- | --- | --- |
| Overall | | ★★★☆☆ |
| | |
| --- | --- |
| ✓ | Quiet, small and comfy, smooth free-revving engine |
| | |
| × | Gearbox, mirrors, brakes, seat comfort, no ABS |
Harley Davidson Street For Sale →
What Is It?
The 2015 Harley Davidson Street is an A2 licence friendly entry level cruiser which was joined by the upgraded Street Rod in 2017.
Engine: 749 cc V-Twin, 53 bhp
Economy: 50 mpg, 140 miles
Seat Height: 710 mm
Wet Weight: 229 kg
RRP: £5,795
What Is It Like?
Harley Street XG750 2016
Having ridden a plethora of Japanese and a few American bikes over the years I do have an inherent fondness for the V-twin geometry and feeling of a big cruiser.
Having said that Harley's newish liquid cooled addition to the family is an intriguing one, in that it has a bit of an identity crisis.
It's not quite a cruiser nor is it a naked sports bike of any kind, or a tracker, scrambler, retro or whatever label is floating around.
However, what it does do, is handle urban and country road riding with ease with a nice amount of torque, low down power and acceleration that is more than enough to get you out of trouble at lowish speeds.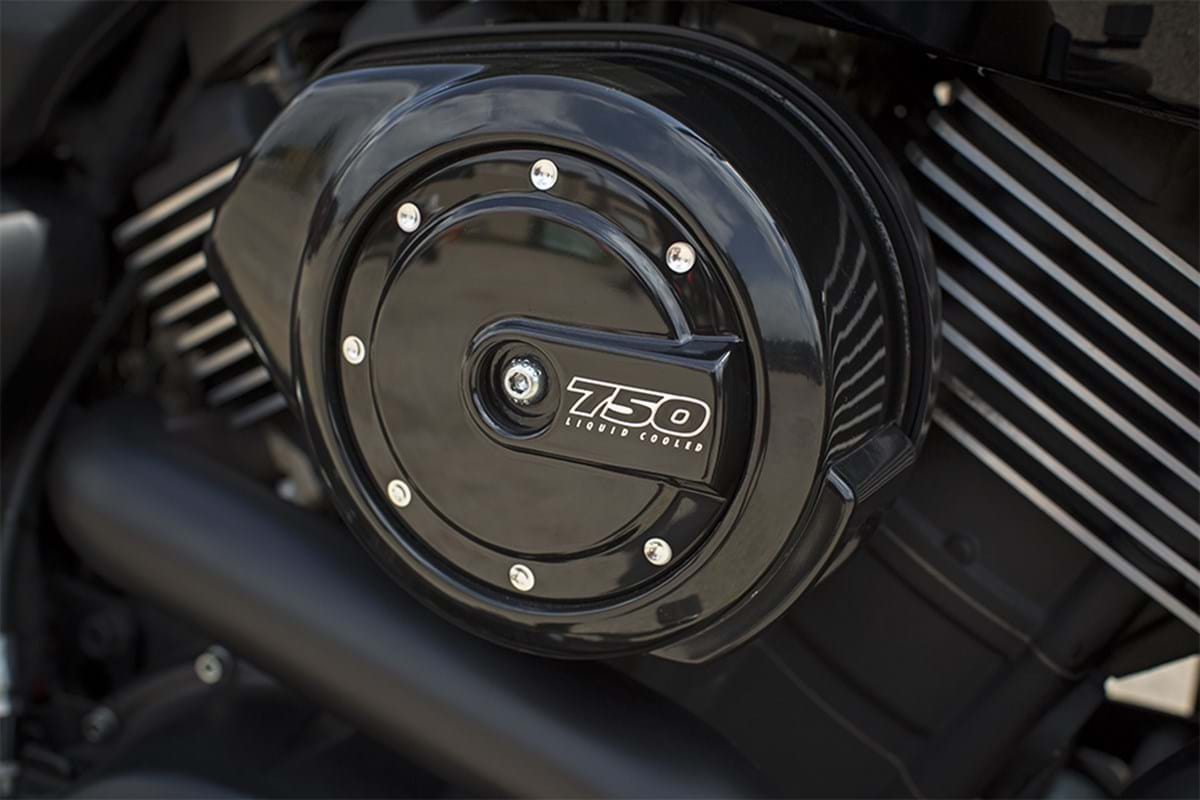 The Long Open Road - That's Another Story
Having ridden the street on 300 mile journeys, the stock set up for me is not quite there yet. It does need a few modifications to compete with its big brothers/sisters. The seat being my main gripe, it's just not comfy enough for long distance and the tank range is only approx 120 miles as well. At that point you will have no feeling left in your legs, backside or hands.
As the footpegs are kind of mid-mounted, they are great again for urban riding but are cramped at long highway cruises. Forward pegs would be much more suited to any longer distance riding. Or if crash bars are fitted then highway pegs are a must.
The stock mirrors are there for show and nothing else, unless you are about a foot wide you cant see out of them, bar end mirrors for me are a must.
I haven't ridden 2 up as yet but have loaded the XG with an inordinate amount of rally gear and it handled it beautifully, not really noticing it at a nice highway cruising speed of 75-80 MPH - for testing purposes obviously…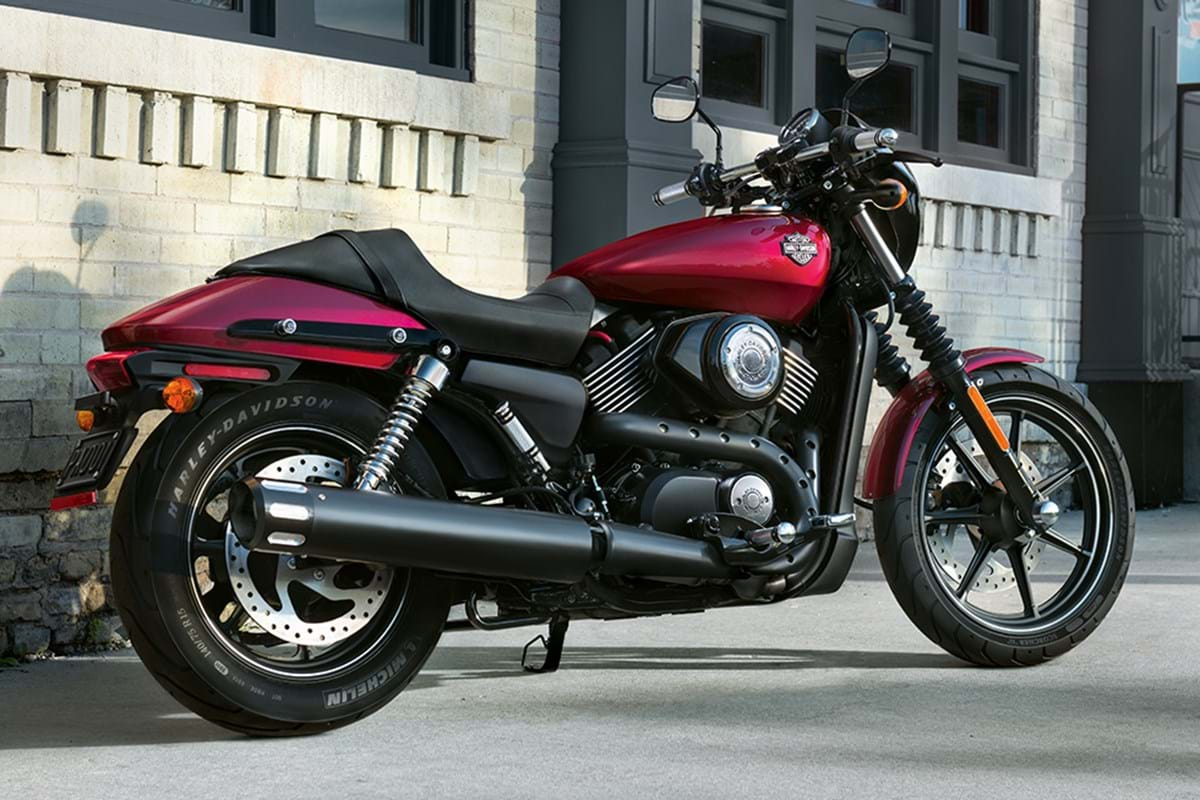 The engine has a good amount of torque as you would expect for a V-twin, and although its half the size of some of its siblings, it has a lot grunt and the geometry and manoeuvrability is very ridable, when dodging potholes and obstacles. The brakes on the non-ABS version are a little spongy, but again with braided hoses maybe a little better.
As this bike was apparently designed around the streets of Mumbai, it does tell a lot about the design decisions made for this model. Although being at the bottom end of the Harley spectrum, the manufacturing quality isn't really up to the standard one would expect, but then again neither is the price tag…
All in all, a very capable and extremely affordable bike that can accommodate a multitude of rising styles with a little extra tweaking.
Pros
Affordable
Torquey engine
Can carry a load of gear
Nimble for its size
Cons
Mirrors
Stock Exhaust - ( needs an after market to make it sounds at least like a V-twin )
Foot Pegs - on long journeys
Modifications
Danmoto end can
S & S Air cleaner
Dynojet Fuel Commander
Bar End Mirrors
- Mark H, 2018
Harley Davidson Street For Sale →
Price Guide
| Year | Dealer | Private | Part Ex | Mileage |
| --- | --- | --- | --- | --- |
| 2015 | £4,250 | £3,400 | £3,000 | 6,800 |
| 2016 | £4,450 | £3,600 | £3,150 | 5,100 |
| 2017 | £4,800 | £3,850 | £3,400 | 3,700 |
| 2018 | £5,300 | £4,250 | £3,750 | 2,100 |
Related Bikes
Harley Davidson Street Rod - Upgraded version with more power, improved brakes, better suspension, bar end mirrors and a larger rear wheel.
The Second Opinion
I've had my 2016 fire red Street for about 2 weeks and have just shy of 500 miles on her.
My first impressions are good I'm a short a**e 5ft 1ish in my boots so my main consideration was the height. I've struggled through the years with bikes that are low enough all my previous bikes needed various lowering kits so when I tried the Street 750 it was a perfect fit. In fact you can lower it further but the standard fit me okay.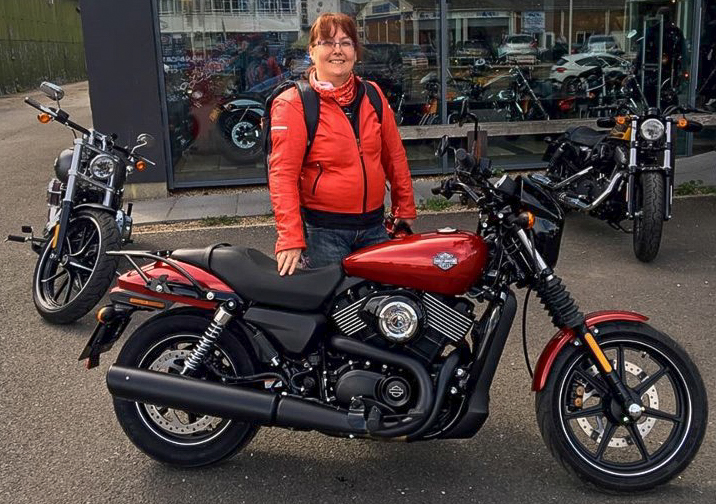 The riding position is very comfortable, a very neutral position unlike the 883 which I found a bit of a stretch. The speedo is very clear and the controls are simple to use.
The big con is the horrendous mirrors why Harley would produce a bike with such poor visibility is beyond me; all they afford is a good view of your elbows and whilst it's nice to know they are still attached it doesn't help when you have to see what's coming up behind you so that's the first thing I changed and added mirror extensions. I can now see better but I may need to alter again at some point.
The second con is the heat from the engine on your inner thighs whilst sitting in traffic. You laugh but being short puts your thighs within touching distance of the engine casings but this is easily remedied by changing your position whilst stationary. There are guards you can buy from the US but I'm going to be laughing when the winter comes and you're all freezing - I'll have my own central heating.
All in all in the 2 weeks I've had it I love it.
- Dizz37, 2016
More Info
Check out this review from BikeSocial.