Choosing The Right Motorbike Helmet: The Complete Guide (2022)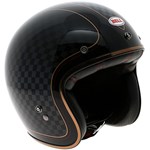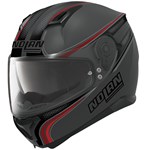 A motorbike helmet is the most important part of your riding kit, often a legal requirement and has a big role in making biking enjoyable beyond the safety aspect.
To help you make the right choice, we've put together an ultimate motorbike helmet guide.
Types Of Motorbike Helmet
Choosing the right type of motorbike helmet will come down to the style of riding you mainly enjoy and personal preference. You can ride motocross in a full race helmet, or cruise on a motorway in a motocross lid, but neither is particularly enjoyable.
Whatever your choice, it's important to check what use your helmet is homologated for. An open face helmet will have a J on the label, while a full-face lid will be marked with a P.
If you have a flip front helmet, it may only be legal to be ridden with the chin bar down, marked as a P, or also with the chin bar up and marked as P/J.
One easy way to save money on a crash helmet without compromising on safety is by picking a plain colour finish. It will be cheaper than graphic options and a lot less expensive than full race-replica paint schemes.
Open Face Helmets
Often worn by cruiser riders, trials competitors and retro fans. You'll be nice and cool in warmer weather, but there's no chin or face protection.
Some open face helmets come with a built-in visor, even a sunshield, but if it has no visor you'll need to also invest in a pair of goggles to protect your eyes and you might also want a buff to protect the rest of your face from dirt, stones and insects.
The benefits of an open face helmet include fewer blind spots and being more aware of the environment around you.
It's possible to pay as little, or as much, as you might want for an open-face motorbike helmet. Arai, Shoei and iconic British brand Davida all make a variety of Jet and open lids which offer the same quality shells, materials and padding as any other helmet.
Flip-Front, Flip-Up Helmets
The convenience of a flip-front motorbike helmet has seen the range available expand massively over recent years. One reason is the increase in petrol stations and other businesses asking bikers to remove their helmets – it's much easier to flip up the front of your helmet than remove it entirely.
Flip-front helmets have also always been popular with police and the emergency services. Check whether your helmet has been dual-homologated, and how much drag the chin-bar might create in an open position.
You can choose from LS2 or Spada at the more cost-effective end of the market, up to the likes of Caberg, Shoei, AGV and Schuberth.
Full-Face Helmets
A necessity if you're racing, or planning on doing lots of track days. A full-face motorbike helmet offers the most protection, and will generally be quieter than an open-face alternative. You'll also get more weather protection, with no need for goggles and better aerodynamics.
A fully enclosed helmet can feel a little claustrophobic, especially for new riders or inexperienced pillions and your field of vision will be a little more restricted than with an open design. It's the most common type of motorbike helmet and therefore the widest choice around.
You can pay from under £50 for an ECE22.05 approved full-face helmet with a brand you won't recognise or closer to £700 for a high spec Arai or Shoei race replica. For ultimate bragging rights and more than £2,500 you can get a full carbon Arai RX-7 RC.
Check out this review of the Shark Skwal 2.
Adventure Helmets
Like the motorbike of the same name, these helmets are designed to blend riding on road with a little off-road. You'll get a similar peak to a motocross helmet, which can be removable for road riding and most adventure helmets come with a built-in visor, but allow you to also swap it for goggles if you prefer.
One of the first examples was the Arai Tour-X, which is now on the X4 version after decades on sale. You can remove either the peak or the visor, or take both off to essentially end up with a conventional full-face motorbike helmet. Other examples are available from the likes of Nexx and LS2.
Motocross Helmets
They are often legal to use on the road but the design is very much tailored to riding on dirt. You'll get a peaked motorbike helmet, to help protect you from dirt, trees and other off-road obstacles but you won't get a visor and the peak will be a pain at motorway speeds.
A motocross helmet does feature a large chin bar, often with plenty of ventilation to cope with the exertion of riding on rough terrain.
You will be riding properly off-road or just need the look to match your 125cc dirt bike. Alongside all the major helmet companies you'll find some more specialist MX names including Fox and O'Neal, along with a wide range of off-road goggle manufacturers.
The likes of Oakley started off by producing motocross goggles, so there are a lot of cool and innovative designs available.
Technology
The most important piece of helmet related technology is the humble earplug. No matter how quiet a motorbike helmet is claimed to be, it's only earplugs that will ensure you don't damage your hearing over long periods of time. The choice between cheap foam examples or custom-made creations is personal choice.
But there is more technology available to the modern biker. The main example is for communications, whether that's bike-to-bike or to your phone. Even scooters are now coming equipped with Bluetooth functionality to allow you to listen to music or the radio, answer calls, or use voice navigation on the move.
Earlier motorbike intercom systems were a bit of a lottery, but the technology has become increasingly impressive over recent years. For instance, the Sena Momentum EVO helmet comes with a built-in MESH Intercom system, which can let you communicate with a 'virtually limitless' number of riders up to a mile way, or up to 16 riders within a 5-mile radius.
Whether you choose Sena, Cardo, Autocom or others, you can also choose a Bluetooth intercom for phone connectivity. Some helmet manufacturers produce their own branded intercom and communication solutions designed to fit their own products, such as AGV, LS2, Nolan, Schuberth, X-Lite and Icon.
Why Wear A Helmet?
Besides the legal requirement, there are good reasons for wearing a motorbike helmet. From Hugh Cairns original 1941 research until the present day, studies show that they reduce the number and severity of injuries in motorbike accidents.
But there are other benefits. We've all become more aware of the potential hearing damage from wind and engine noise, and a good motorbike helmet will help to reduce the problem alongside earplugs.
Helmets also mean you aren't stopping to pick the bugs from your eyes, teeth and hair every few miles. And increasingly they allow for a range of additional features including communication systems, and even heads up displays.
How Are Motorbike Helmets Made?
We've come a long way from the canvas and shellac helmets dished out for the 1914 Isle of Man TT. A modern motorbike helmet will be constructed with three main sections, including the interior lining and padding.
The hard, outer shell is designed to protect from penetrating impacts in an accident. For lower cost helmets this will tend to be made from polycarbonate or ABS thermoplastic. Although this will meet and exceed the required safety standards, it's potentially more vulnerable to deforming in an accident, degradation from coming into contact with substances like petrol, and can't be painted.
More expensive helmets will have a composite shell using one or more fibre materials. These can include carbon fibre, fibreglass or aramid fibres like Kevlar. These can potentially be lighter, stronger, and able to spread the force of an impact more effectively. Plus, they allow for more complicated designs and custom paintjobs.
The inner layer will always be a deformable expanded polystyrene foam layer. This works in a similar way to a crumple zone on a car. The energy of the impact is absorbed by the compression of the polystyrene, which means less reaches your head.
While this is an effective way to reduce the external force, it's also a one-time effect. Which is why you should always replace your motorbike helmet after a crash, and it's recommended even if your lid has just been dropped. Ultimately you can't tell whether the inner layer has been compressed without taking it for an inspection by a dealer or helmet manufacturer.
Finally, the interior lining of a motorbike helmet will vary in complexity and quality depending on your budget. Almost any manufacturer will offer hypo-allergenic liners and ventilation channels at all price ranges. But you'll tend to find paying slightly more can mean better, more durable padding, which will give you a more comfortable fit, and a safer crash helmet, for longer.
Pricier helmets also tend to allow for replacement pads to be sold separately, which is obviously cheaper than a new lid.
Check out this video from BikeSocial.
Visor Or Goggles
With a fully open-face helmet, you're going to need a separate pair of googles to avoid the pain of an insect or a stone hitting your eyes at 30mph. Even rain hurts at higher speeds, leaving you blinded without some form of eye protection.
When it comes to visors, there are a few things to check and consider. The first is that the visor mechanism will allow you to open the visor and keep it partially open if required – useful at low speeds in hot weather or if your visor has misted up.
To prevent a visor misting in the first place, you can use an anti-fog coating, washing-up liquid, or a Pinlock system. This is a plastic panel and silicone bead which attaches to a pair of pins fitted in your visor, essentially creating double glazing. Many helmets are advertised as 'Pinlock ready' and will come with one supplied in the box.
When you're buying a helmet, always check how easy it is to remove and replace your visor. This makes it easier for cleaning, and also if you need to swap from a dark or tinted example.
The law is clear on dark visors. Any visor for road use should carry a BSI Kitemark or ECE22.05 marking to be legal, and it should transmit 70% of more light. If you are going to use a dark visor, then make sure you only use it in bright sunlight and carry a clear visor with you.
Many modern motorbike helmets now include a built-in sunshield. This can be useful, but you need to check it blocks as much light as possible without leaving a distracting patch of bright light. It also means the front your helmet will need to be slightly further away, and this can reduce your visibility if you're riding in a typical superbike crouch. That's why racers always use dark visors.
Ventilation
Most helmets will include some external vents and internal channels through the lining and padding to circulate air.
It's difficult to check how effective the ventilation on a particular helmet will be, so it's worth checking out reviews and other opinions. Some brands do tend to have more effective venting, but this also tends to be a little noisier. For example, AGV helmets have always tend to be particularly well ventilated.
One thing you can check is whether the vents can be opened and closed easily with a gloved hand. A headache from an icy blast hitting your forehead is no fun, particularly if you have to stop before you can sort it out.
Helmet Fasteners
There are two types of fastener used on modern motorbike helmets.
The 'Double-D Ring' fastener is what's used by racers. It gives a very secure fit from what is a remarkably simple mechanism once you get the hang of it. It can be tricky to use if you already have gloves on, but that's about the only real downside.
The alternative is a micrometric ratchet, which has largely replaced older seat-belt buckle type fastenings. The self-locking design is set to the size you want, with around an inch of adjustment when you put the helmet on.
It's more secure than the previous versions, which tended to work lose and it's much easier to use when you have motorbike gloves on.
Getting The Right Fit
Choosing a helmet that fits properly is the most important aspect of safety and comfort. If you pick a crash helmet which is too tight, it will hurt more than you might expect. Buying one which is too loose will lower the protection you get and increase the noise you experience.
The best answer is to measure your head for a rough guide and then try on the helmet you want before buying. Large dealers and shows like Motorcycle Live can be good for this.
To get an idea of your size, measure the circumference of your head just above the eyes. Use that to narrow the size selection, but keep in mind that the shape of different helmets will also make a difference. For example, Shoei and Arai are both top helmet manufacturers with similar sizes, but some riders claim to have an 'Arai head', and others have a 'Shoei head'. You can even find brands like Shark will have different shapes within their range.
If you wear glasses, make sure you try them on with your helmet. Some brands have cut-outs for the arms of spectacles, but others may be a problem.
When you try on each motorbike helmet, take your time and really concentrate on checking whether there are any pressure points. You should feel snug, with an even pressure around your head. And if you hold the helmet still, you shouldn't be able to turn your head or nod it significantly.
Some of the cost for more expensive helmets is down to manufacturers providing more outer shell sizes. This means you get a better fit with more suitable interior padding. Otherwise you could find a smaller size helmet will have the same outer shell as larger sizes, but will have been stuffed with much more padding. That means you'll look like your head is enormous, and the helmet will be much looser as the padding starts to wear.
This is one area where visiting a shop really is the best idea. Most retailers won't let you return a helmet once you've left the shop, as they can't easily tell if any damage might have occurred.
Caring For Your Helmet
A motorbike helmet can be a big investment. And you can get more value by looking after it carefully with regular cleaning. It also makes it a much more pleasant place to be during your normal riding.
Tips for preventing damage in the first place include making sure you avoid balancing your helmet on the fuel tank of your bike. Not only can the petrol vapour damage the EPS inner lining, but it's also a prime way helmets end up falling onto concrete or Tarmac.
It might look good in photos to drape a helmet on your wing mirrors but this can dent the inside, and stuffing your gloves in there will leave grime and potentially damage from any Velcro fasteners.
Cleaning Your Helmet
Using plain water and a microfibre cloth you can clean the outside. Stubborn bugs can be removed with some wet kitchen roll laid over them to soften the insects for removal.
Remove any Pinlock if you have one. Use plain water, or a cleaner suitable for your visor material. The V2 Visor Sponge is an effective chemical-free solution worth trying.
The Pinlock will absorb water, so just use a very soft, dry cloth.
Clean the visor mechanism with water or a dedicated helmet cleaning product, and then lubricate it with some silicone oil.
Finally, remove the lining and hand wash it. If it can't be removed, then take off all the helmet parts possible, place the helmet on a towel in the bath, and rinse it using a shower head and a very mild detergent. Rinse thoroughly, and then place it somewhere the air can circulate. Don't use a hair dryer or put it over a radiator.
The time you invest in cleaning and reassembling your helmet will be worth it when you're riding in a fresh, clean lid.
There's endless debate about how long a motorbike helmet is safe to use. But the degradation of the outer shell from UV rays comes when it's first exposed to daylight. The exact time will depend on usage, but generally a helmet should be replaced around 5-7 years after first being worn.
Helmet Safety Standards
There are several standards relating to motorbike helmets which are worth knowing about.
ECE 22.05: This is the legal standard for use across Europe, including the UK. And whatever happens politically in the future, the test standard will probably stay the same. It covers testing for abrasion, impact, penetration, deformation and retention testing.
BSI Kitemark: The UK standard pre-ECE 22.05 is still legal for road use. But it hasn't been used in so long, any helmet will have degraded way too much to wear safely.
ACU Silver/Gold: Manufacturers can submit helmets to the ACU to be approved for off-road racing (Silver) or track use including track days (Gold). Approval doesn't require further testing.
SHARP: This UK government safety scheme carries out further testing on helmets, awarding a 5-star rating system. It doesn't include everything on the market, but almost 500 helmet models have now been tested.
DOT Testing: This is the American standard, which doesn't apply for the UK and Europe. But does mean your helmet can also be used legally in the U.S.
Snell: A private testing and certification program based in the U.S. As with the ECE/Sharp equivalent in the UK, Snell testing is aimed at a higher level than the DOT legal standard.
EQRS: Not a safety standard as such, but a system designed to help a motorbike helmet be removed without causing additional damage after an accident. Most reputable brands include it as a standard design feature, but it's always worth checking.
The History Of The Motorbike Helmet
The origin of the motorbike helmet is often attributed to neurosurgeon Hugh Cairns, who attended the death of TE Lawrence (Lawrence of Arabia). But initially helmets were introduced to racing by the medical officer at the Brooklands circuit, Dr Eric Gardner. After witnessing a number of injuries, he took 94 helmets to the Isle of Man TT in 1914, and the Auto-Cycle Union made them compulsory.
It was 21 years later that Lawrence crashed his Brough Superior SS100 avoiding two young cyclists. In that era, most motorcyclists on the roads didn't wear any head protection. It was those injuries which lead to the death of the famous Lawrence of Arabia and for Cairns to begin researching motorbike road accidents.
Six years later, the Australian surgeon was a consultant to the British army and when his research was published in 1941, almost immediately helmets became mandatory for dispatch riders.
The legal requirement for UK motorcyclists to wear helmets wasn't passed by the House of Commons until 1973, 12 years after a similar law passed in Australia.
In America, the law still varies between individual states, with three having no helmet laws at all (Illinois, Iowa and New Hampshire). Most have requirements depending on age, which vary according to engine size or the amount of health insurance required. Just 19 U.S states have mandatory universal helmet laws.