Types of Motorbikes & Scooters
12th April 2018
Types of Motorbikes and Scooters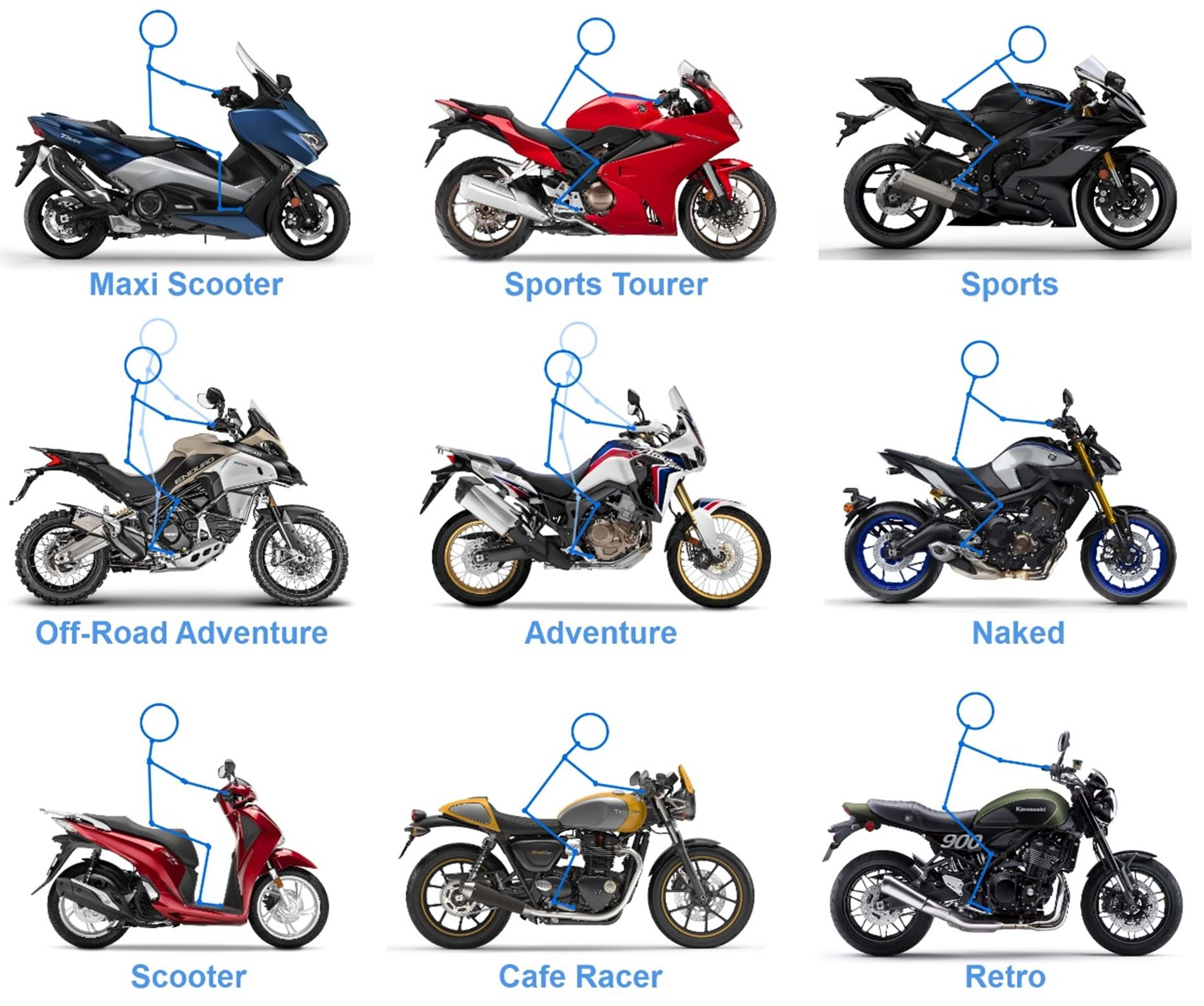 Adventure
Usually designed as a jack of all trades, Adventure bikes tend to feature long travel suspension, a decent sized screen, high seat height, extensive luggage options, optional wire-spoked wheels and decent drop protection. They aim for maximum capability, range and the odd bit of very light off-road/dirt track adventuring, although taking a large heavy bike properly off-road will be very hard work.
Some manufacturers offer the same bike in a more road or off-road focused variant, such as the Suzuki V-Strom or BMW R1200GS models. Also referred to as dual purpose, dual sport and on/off-road bikes.
The low end of the market is best represented by the Kawasaki Versys-X 300, with bikes like the Suzuki V-Strom 650 taking the middle ground and the best selling BMW R1200GS or Ducati Multistrada 1200 at the top end.
The bikes tend to be so good at commuting, touring, sports and more recently looking good, that they are generally taking over from the other types of bike, particularly sports bikes with their aggressive and uncomfortable geometry.
Naked
Half of naked bikes tend to start off life as last season's range topping sport bikes, which then have their fairing removed to make them "naked". Other tweaks usually involve making the geometry less aggressive, flatter handlebars, no screen, single light cluster and some tidying up of wiring etc to showcase the engine (sometimes from the previous generation sport bike to save cost).
They are sometimes also referred to as roadsters, especially by BMW, or standard bikes while the highest power models are sometimes called muscle bikes, streetfighters or hyper-nakeds.
At the lower end you have the Yamaha R-125 derived MT-125, with a similar relationship between the Suzuki GSX-R750 and GSX-S750 in the middle, then at the top the BMW S1000RR and S1000R. Check out our top ten sporty nakeds and top ten retro nakeds for some inspiration.
The other half tend to be designed as naked bikes from the ground up, often with a retro feel to them, for example:
Cruiser
Cruisers tend to have a very relaxed feet forward riding position, a very low seat, large rear tyre, raked out fork and engine focused on low down torque rather than top end power however they tend to be pretty heavy. They are more about looking and sounding good at low speeds than getting from A to B as fast as possible and getting your knee down in the corners. The plentiful low down torque also allows a more relaxed approached to gear changes.
In the USA cruisers are the most popular style of motorbike by some margin, with Harley Davidson being a main player. Other names include choppers and power cruisers.
Bobber
Bobbers (short for bob jobs) tend to have a fixed rear frame with no suspension and a single seat attached to the frame via 1-2 shocks. It keeps the rear of the bike really clean but is obviously not very luggage or pillion friendly.
Cafe Racer
Cafe Racers tend to take a standard traditionally styled naked bike then add a seat hump where the pillion would sit, low clip-on handlebars and a small screen/fairing around the single headlight up front. They were originally about lightweight speed and handling but these days it's more of a styling exercise to cash in on the demand for modern retro bikes. Check out our top ten cafe racers for some inspiration.
Touring
Touring bikes usually feature fixed panniers or a fancy system to remove the luggage quickly without ruining the looks of the bike, the idea being that you can tour to a location then remove the luggage for a few days of carving up the Alps.
Some are built specifically for the job, while others are based around cruisers like the Indian Chieftain Limited. Cruiser derived tourers are generally referred to as "baggers" or "fully dressed". They all emphasise comfort, range, good pillion provision and usually come loaded with all the toys however they are also some of the heaviest bikes going.
Sports Tourer
Sport tourers are usually slightly modified high end sport bikes, such as the Kawasaki Z1000SX, however some are designed specifically for the job like the Yamaha FJR1300. They aim to offer the same capabilities as touring bikes but without sacrificing any of the sportiness in the process, so they tend to be a bit lighter and corner well but aren't as comfortable.
Sports
Sport bikes have one goal in mind, which is going as fast as possible from A to B. They achieve this by minimising weight while at the same time maximising power, a low aggressive riding position, full aerodynamic fairing, state of the art technology and the best lean angle possible for cornering as low as possible. The most expensive bikes are usually closely related to the manufacturer's MotoGP race bike of the time.
Sales have been suffering recently though because they aren't comfortable, economical or really that practical for everyday riding and if you can only have one bike an Adventure or Sport Touring model probably makes more sense, particularly if you won't be taking it anywhere near a track.
Scooters
Scooters tend to come in two flavours. First there's the traditional step through design like the Vespa PX125 and Honda SH125, which has a flat floorboard and plenty of space to literally step through the frame in order to get on it. Secondly there is the maxi-scooter design which has more of a solid trunk down the middle of the frame, giving more space for things like the fuel tank.
Maxi scooters tend to have bigger engines, better equipment and be more expensive but all of them feature an automatic gearbox for simple twist and go riding ease. Given the advantages over traditional motorbikes they seem to be less popular in the UK but on the continent they can be found round every corner and particularly in the city centres. Honda even make an adventure styled maxi scooter now in the Honda X-ADV.
Check out our top ten maxi scooters for some inspiration.
Three Wheelers
Scooters (and more recently bikes) with three wheels tend to take an existing model and simply add another wheel at the front. Both wheels steer so the advantages include better stability and more grip when cornering however they are more complex and pricey. Trikes are quite different and general have another fixed wheel at the back, often converted from an existing bike.
Most designs allow both front wheels to tilt when cornering and some can even lock in the upright position at slow speeds so there's no need to put your feet down in traffic. Some models are also fine to ride with just a UK car driving licence but only if their wheels are over a certain distance apart and technically they are classified as a trike.
Supermoto
Supermoto bikes, sometimes called Supermotard, are designed for racing on tracks made up of tarmac, dirt and jump sections. To optimise the bikes for all three they tend to feature wire-spoke wheels, very long travel suspension, great ground clearance, very basic equipment and a noticeable high "beak" as the front fender. They also tend to be simple single cylinder engines with large wheels and chunky tyres.
Off-Road
The hallmarks of bikes specifically designed for off-road work tend to be very light weight, wire-spoked wheels, some form of protection under the engine in case of grounding, engine bars in case it drops, long travel suspension, and often "knobbly" tyres for improved grip.