Honda Grom Review
" It's a great little commuter with a good riding position, it's very comfortable, very economical and just so much fun to ride. "
✓Super compact, learner friendly, cool headlight, cheap to run, massive potential to customise it
×Not pillion friendly, standard chain, not best suited to A roads, limited top speed
What Is It?
The 2016 Honda Grom is a mini naked bike originally launched in 2013 which has a massive following and great potential for customisation.
Engine: 125 cc Single Cylinder, 10 bhp
Economy: 110 mpg
Range: 130 miles
Seat Height: 765 mm
What Is It Like?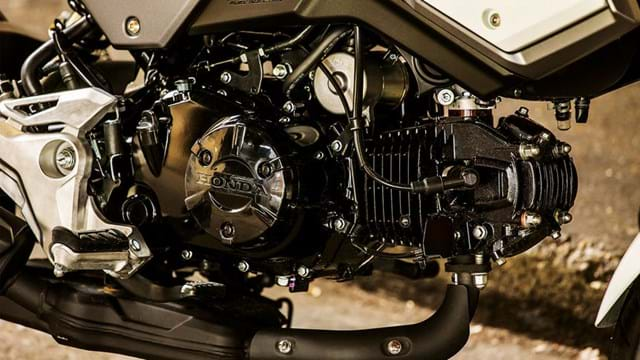 What's Good?
I've owned my Honda MSX125 for almost two years. I purchased it back in October 2016 and ever since then it's never failed to put a smile on my face or amaze me.
I've always wanted to own a Grom ever since the first generation launched in 2013. I currently ride mine on a CBT and I've been riding bikes and quads from a young age so it's kind of in my blood. I love the quirky design of the Honda MSX.
I use mine daily to commute around 40 miles to and from work. The main reason is that it's just a great little commuter, with a good riding position, it's very comfortable and just so much fun to ride.
Running Costs
It's also very economical. I get around 110 miles to a full tank which holds around a gallon of fuel. I run it on super unleaded fuel and it costs me around £5 to fuel up, £17 tax per year and it's cheap to insure makes it well worth a buy.
Tyres
The bike has now done 4,500 miles and is about ready for a new back tyre. I've never had any problems with the factory tyres but will be upgrading to Michelin Power Pure, which have two compound technology with a hard centre with soft walls because I do a lot of straight A roads while commuting to work.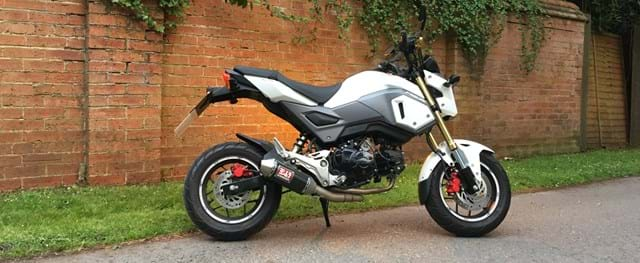 Mods
When I bought the bike it was pretty much standard, the only modifications were a tail tidy and a front mudguard extension which is great because it keeps all the mucky road grime from your engine.
Since I've owned the bike I've made a few mods with plenty more planned but here's a list of what I've done:
Full Yoshimura RS-2 mini exhaust system
Small fully adjustable brake and clutch levers
Mirrors
Gold DID chain and new sprockets
Fly screen
Tail tidy
Front mud guard extension
I also want to get a belly pan, new smaller indicators and possibly a wrap in the near future.
Good Points
Great fuel economy
Easy to ride
Light and nimble around town
Bad Points
- Aaron B, 2018
Price Guide
Year
Dealer
Private
Part Ex
Mileage
2020
£3,000
£2,400
£2,100
2,100
2019
£2,900
£2,350
£2,050
3,700
2018
£2,800
£2,250
£2,000
5,100
2017
£2,700
£2,200
£1,900
4,300
2016
£2,600
£2,100
£1,850
6,500
Related Bikes
Honda Monkey - The popular retro version of the Grom.
The Second Opinion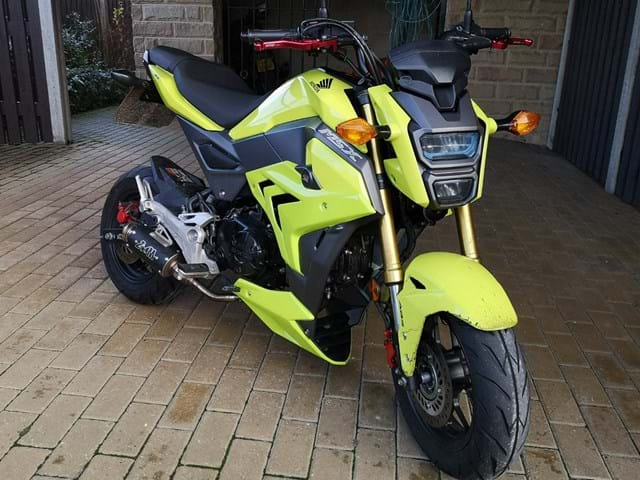 Pros
It's small, easy to manoeuvre, quick round town and gets in between cars where other bikes can't, cheap to run and looks great. It's also suitable for taller people; I'm 6'2 and have no problem.
Cons
It's slow but you know it is when you buy it and it always feels like it needs an extra gear. You don't buy a Grom to go fast though! Other than this I love the bike.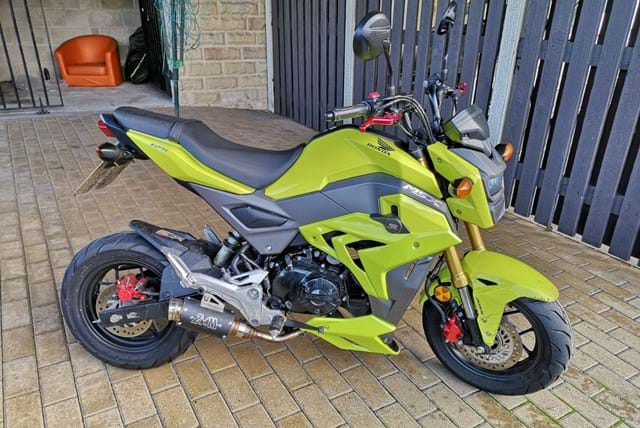 Mods
I have the V2 fairing kit from msx125accessories.com which costs £100 shipped and it just makes the bike look awesome. The Zoom non loop exhaust gives a great sound, with better throttle response and low to mid range power.
Front sprocket - 1 tooth gave me an extra 5mph at top end meaning 60mph is easily achieved, so I'm not slowing traffic down on main roads. Also a Rose joint gear selector joint. The original is just a little hit'n'miss sometimes and this helps gear selection be solid every time.
To Sum Up
It would be nice to see more Groms on the road around my area as at the moment I'm one of two people with one. The Grom is an awesome bike; it does what it does best and that is a quick little get about for all types of rider.
- Phillip W, 2019
Add Your Review
Do you own this bike? We would love to hear anything good, bad, unexpected or that you have changed plus anything that a prospective new owner might find interesting or useful.