Triumph Speedmaster Review
What Is It?
The 2003 Triumph Speedmaster is a medium sized cruiser style bike which was replaced by a brand new Bobber derived model in 2018.
Engine: 790 cc Parallel Twin, 53 bhp
Economy: 45 mpg, 160 miles
Seat Height: 720 mm
Wet Weight: 249 kg
RRP: £7,000
| | | |
| --- | --- | --- |
| What Is It Like? | | ★★★★☆ |
| | |
| --- | --- |
| ✓ | Looks great, comfy |
| | |
| × | No fuel gauge, heavy |
Triumph Speedmaster 2007
First there was the Bonneville; a kind of "This is how we used to look" retro-type bike, complete with parallel twin engine. Then Triumph decided to get into the cruiser market, and produced the America, which was a cruiser-style bike based around Bonneville running-gear. Then a couple of years later (in 2003) they produced the Speedmaster, which was a kind of "America with a bad-attitude" type bike. (And attitude is something Triumph do quite well!). Then in 2007 they introduced a few up-dates, the main one being the engine going out to 865cc from the original 790cc.
One of the things I liked about the Triumph was that it didn't look like a Harley. Okay, I know that bikes within one category often (mostly?) look similar, but I don't see why every cruiser has to be a Harley clone! By basing it on the Bonneville Triumph took an individual approach; the engine is different and the styling is different. The next thing I liked was that it doesn't weigh 300kg! In fact it's only 229kg. (Well it is in the "mid-size-cruiser" class).
I described the Speedmaster as an "America with a bad-attitude", and that's the effect Triumph were going for. They even said so in their brochure: "Some bikes are more sociable than others. The Speedmaster isn't one of them." There is less chrome and more black, the seat is a non-pillion-friendly "gunfighter" style, and it gets slash-cut exhausts. But enough of the brochure, let's get to riding it!
I thought a nice cruise out in the country would be the go to for a bike like this; a minimum of traffic to negotiate then riding along some un-crowded country roads. I have to admit to feeling a little apprehensive about riding the Speedmaster. It had been a while since I'd ridden a bike with forward controls. Also there was the issue of ergonomics: cruisers, especially those with forward controls, tend to encourage a slouched riding-position – which is not ideal for someone, like me, with a crook back! So I figured on doing a fairly short test just to get some impressions of it. However, ergonomics aside, I found the Speedmaster remarkably easy to ride and get used to.
Sitting on the bike felt quite good. The seat is well-shaped and very comfortable, and the bars felt very natural. The grips are quite thick, which, because I have long hands, I liked a lot. The bike was also easy to handle; it felt lighter than even it's stated weight would suggest. The raked-out front felt a bit heavy and ponderous at very slow speeds, but I suppose you'd expect that; and at anything above town speeds it was fine. And I soon got used to the forward-controls: in fact, as I headed out of town I found a certain enjoyment in the feet-stuck-out, "Look out I'm coming through!" attitude!
Coming back into town I pulled in to take some photos and take a closer look around the bike. I thought it looked good from every angle! Good in that "bike-with-attitude" way! From any angle it looks mean and purposeful. The fact I was liking this is perhaps a bit strange, because normally I'm a very mild-mannered sort of bloke! (Maybe that Ulysses motto of "Grow Old Disgracefully" is starting to have an effect on me! Or is it just the individuality that I'm liking?).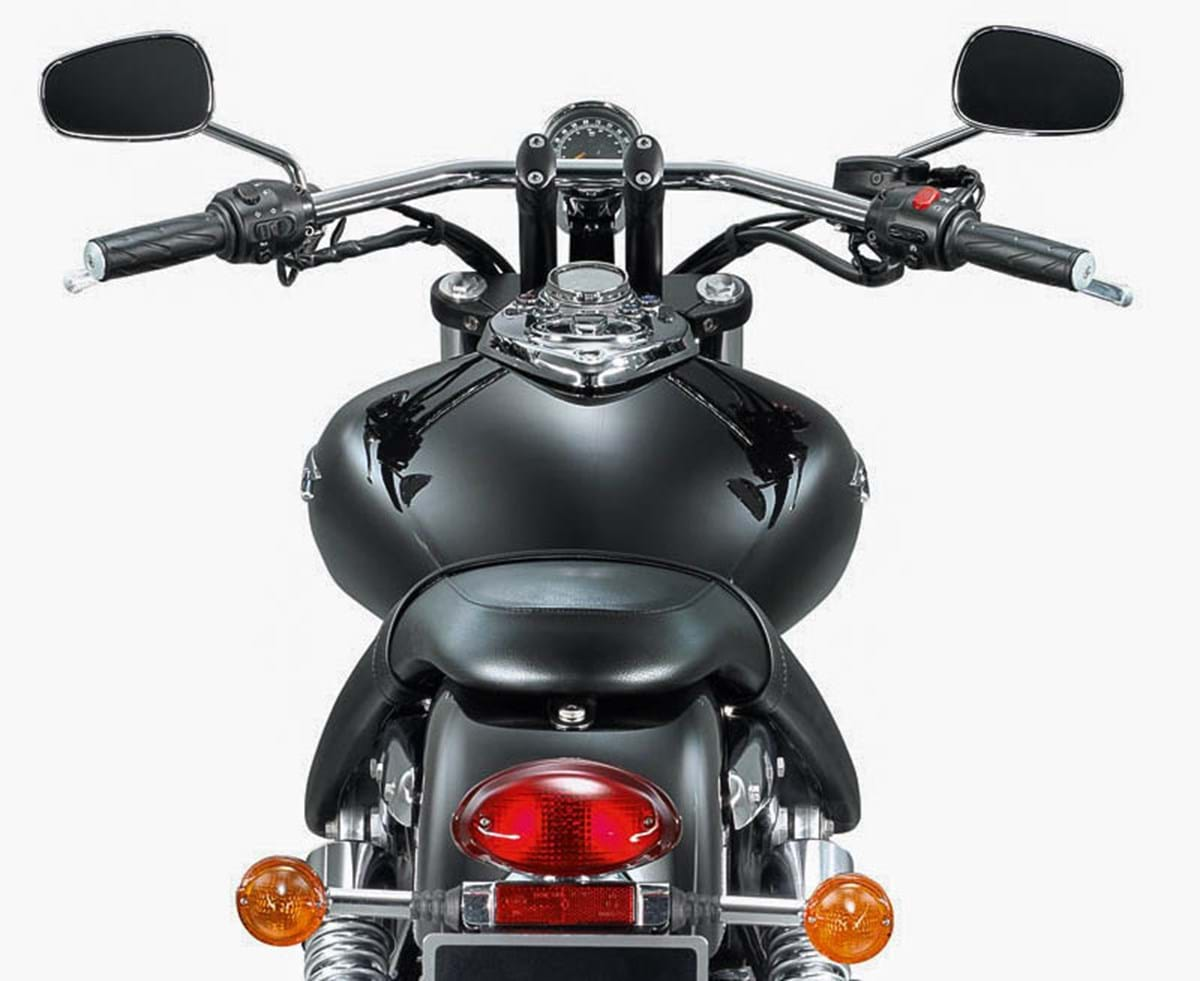 Cruisers tend to miss out on a lot of technology you come to expect on bikes, even back in 2007. Like a fuel gauge. ("But who needs that? You've got Reserve, and if you run out of that just steal some petrol from a passing motorist!") And a trip-computer. ("But those things are only for sissy-boys to play with!"). (I'm just joking! Maybe this "bad-attitude" thing really is getting to me!). It also has a non-lockable petrol-cap. (You just screw it off; using a child-proof type action, where you press down and turn it). With the price of petrol these days (and the aforementioned lack of fuel gauge) this could be a problem!
The instrumentation also follows the usual cruiser style. Up front there is a big white-faced speedo, graduated up to 120mph. For anything else you've got to look down on the tank. There you find a couple of lights, and a very small tacho, graduated to 9,500rpm and red-lined at 7,500rpm. The ignition-key is conveniently(?) located down beside your left knee. But enough looking around, let's get riding again.
Start the bike up and you get a wonderful sound from those twin exhausts. These days most new bikes are noise-restricted to the point where they sound almost whisper-quiet. Not this one; you get a deep throaty sound that just growls even stronger when you open it up. I loved it! The engine itself is a fairly low-spec thing. It runs a 9.2:1 compression ratio and twin carbies. (Later models changed to fuel-injection). Power is quoted at 54bhp (just over 40kw),so the bike's name becomes a bit of a misnomer! Obviously with that sort of power, pulling this weight of bike, it's not going to be a "master of speed"! Perhaps just a "master of cruise"? (Apparently the name "Speedmaster" pays homage to some bloke who used to tune the original Triumph Bonnies for greater performance on the salt-flats). Mind you, it still does go well. It's certainly no sports-bike, but then it's not supposed to be. Get the revs up around 5,000 and it's noticeably quicker, and actually feels quite lively.
It's an extremely tractable engine. It'll pull away easily from 2,000rpm in top. At anything above that you don't need to even think about changing down, unless you're looking for maximum acceleration. By the way, a curious thing I noticed when looking through the brochures. The "standard" Bonnevilles have the same engine, with same compression-ratio, and carbies, but have a 360-degree firing order rather than the 270-degree used by both the Speedmaster and America. And they produce a touch less power.
The engine, and indeed the whole power-train, feels very smooth and sophisticated. One of my first impressions was that someone should give Harley Davidson one of these to show them that a cruiser doesn't have to have an engine that vibrates so much it blurs your vision, or a gearbox that feels like it was taken off a tractor! You do feel the engine sometimes, mainly as a slight vibe through the bars, but it's all very smooth, and the only vibes you feel are good ones!
The gearbox (which, typically cruiser, is only a 5-speed), is smooth too, giving easy changes up and down. The clutch was nice and progressive too; giving smooth take-offs and even allowing you to easily slip it to control the speed on sharp U-turns. Yep, in cruiser land, I reckon this bike is a class act!
It cruises easily at 60mph – 70mph. Surprisingly, the wind didn't feel too bad at these speeds either. Handling is not something that you look too hard at with a cruiser, and I didn't go searching for twisties to blast around. But ridden as it's intended, it handles well; safe and secure and going exactly where you point it. Around town there is that slight heaviness of the raked-out front I mentioned, but once properly underway it has a nice flowing feel.
One advantage of the forward-controls is that it gives good ground clearance. Looking at the bike I suppose the exhausts would be the first thing to scrape, but you'd be leaning over a fair way for that to happen! Brakes are good too. Twin discs up front, and a single at the rear, give good response and are more than adequate for the bike's performance.
Going into the country and away from major traffic to test the bike was a good idea on one level, but the disadvantage was that there weren't really any major open highways: and smooth highways are where the Speedmaster would be at its best. Yep, like most cruisers, it doesn't like rough roads! My test route consisted of a smooth main road which I travelled for a while before turning around (before the traffic got too heavy) and heading back through town and out along some secondary back-roads that were reasonably good, but a bit choppy in places. Typical real-world country roads, in other words! Then I joined a major road (formerly a main highway, but having deteriorated a bit with the surface being patchy and uneven in places) that took me back to the town again. I headed briefly up a minor back-road, but didn't go far along there. So, not ideal roads for a cruiser, but roads that, if you went touring away from major highways, you could easily find yourself on.
From very early on the ride, while still on the smooth road, my concerns about the riding-position proved to be well-founded. Sitting up-right with your arms and legs poking out forwards encourages your back to slump; as I mentioned earlier. And that places all your weight on the end of your spine. Acceleration tends to increase the bad posture; because with the bottom of your body held in place by the curvature of the seat, and the top of your body held in place by your arms outstretched to the bars, the only thing that can move is the centre of your body. So on acceleration the middle of your body tends to be thrown back, exacerbating the slump position. Ergonomically, this is all wrong! Add to that the typically cruiser harsh rear suspension, and as soon as you encounter an even slightly bumpy road your badly-postured spine cops a hammering. For an old bloke with a crook back, this is bad news! And it wasn't long before I started to feel the discomfort in my back. At first, while still on the smooth road, it just felt wrong; but when I got to the uneven-surfaces I could feel it giving me some grief!
As I've indicated already, the ride is harsh at the rear. The front is fine, you feel nothing through there, but the rear units bounce and bash at you over choppy surfaces. As an example, there was one section of unevenly surfaced road that had been part of a test-route I took on the year model Triumph Sprint ST. In my test of that I said, "the suspension gave a superbly compliant ride, soaking up the bumps very well. Larger bumps make their presence felt, but it's never harsh or jolting". Over that same section the rear end of the Speedmaster jolted harshly and gave my back a serious pounding! It was quite weird though: occasionally I'd encounter some patchy bitumen that the bike seemed to handle reasonably well, and I'd start to think that maybe it was okay; but then I'd cop some harsh jolts to remind me that it really wasn't okay!
Now, this needs to be put into perspective. While, from a strictly ergonomic point of view, the riding-position is just wrong, (if you don't believe me, ask a physiotherapist), but then many people cope quite well, and find cruisers very comfortable. So it's very much an individual thing. Getting used to it isn't a problem; you'll do that pretty easily. It's a matter of how your back likes it. For me, my dodgy old back didn't like it.
There's a lot to like about the Triumph cruiser! I mentioned the "bike-with-attitude" styling, the sound from the exhausts, and the fact that it did what it did in such an easy-to-ride manner, and with such a smooth engine and gearbox. And I was kind of getting the whole cruiser-mentality thing; which added even more to the enjoyment factor. As I reached the outskirts of town on my way back I turned around for another cruise down the old highway. My back was now giving me some pain, but I wanted to experience cruising it down the highway just one more time before returning it!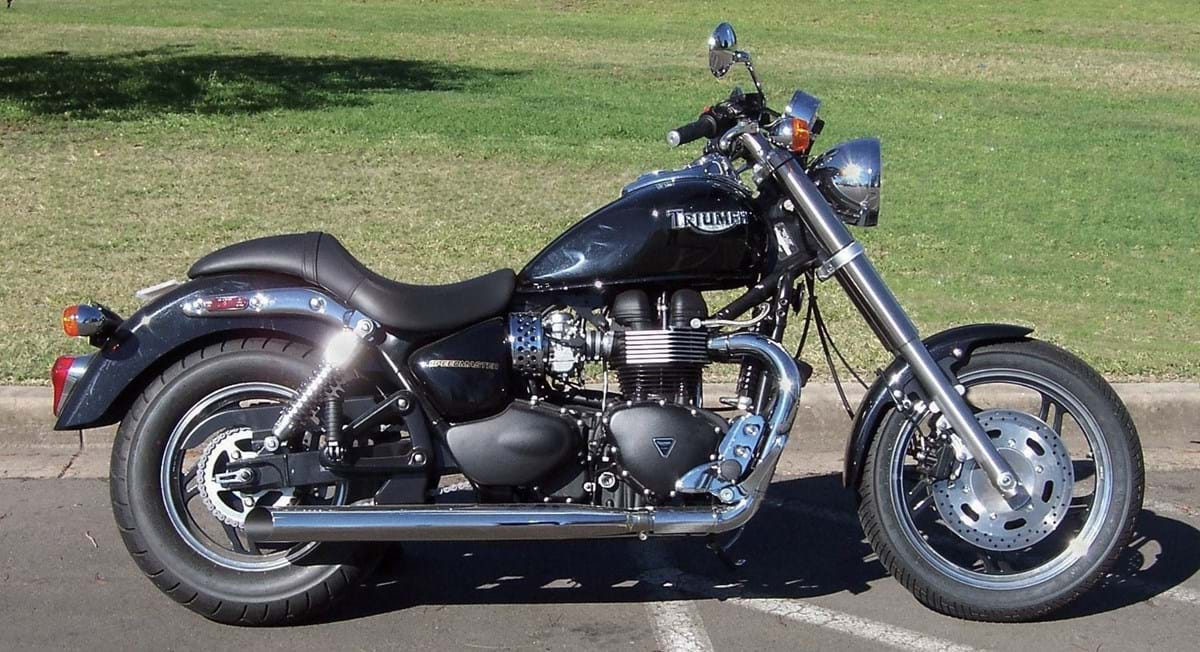 So would I recommend it? Well, if you like cruisers, and can handle the riding-position, then I'd definitely recommend it! It's much better to ride then a Harley Sportster, and has more power and more individuality than most other mid-size cruisers. But if you have back problems, then re-think very carefully! The best way I can sum it up, for me personally, is to say that I rode it further than I intended, but also further than I should have.
- Elwyn Jordan (AKA The Old Bloke), 2017
Triumph Speedmaster For Sale →
Price Guide
| Year | Dealer | Private | Part Ex | Mileage |
| --- | --- | --- | --- | --- |
| 2003 | £4,000 | £3,200 | £2,800 | 24,200 |
| 2004 | £3,900 | £3,150 | £2,750 | 23,200 |
| 2005 | £3,900 | £3,100 | £2,750 | 22,100 |
| 2006 | £3,900 | £3,150 | £2,750 | 21,000 |
| 2007 | £4,000 | £3,200 | £2,800 | 19,700 |
| 2008 | £4,100 | £3,300 | £2,900 | 18,400 |
| 2009 | £4,300 | £3,450 | £3,000 | 17,000 |
| 2010 | £4,550 | £3,650 | £3,200 | 15,600 |
| 2011 | £4,850 | £3,900 | £3,400 | 14,000 |
| 2012 | £5,200 | £4,200 | £3,650 | 12,400 |
| 2013 | £5,650 | £4,500 | £3,950 | 10,700 |
| 2014 | £6,100 | £4,900 | £4,300 | 8,900 |
| 2015 | £6,650 | £5,300 | £4,650 | 7,100 |
| 2016 | £7,200 | £5,750 | £5,050 | 5,100 |
| 2017 | £7,850 | £6,300 | £5,500 | 3,700 |
Year shows signs of appreciation
The Second Opinion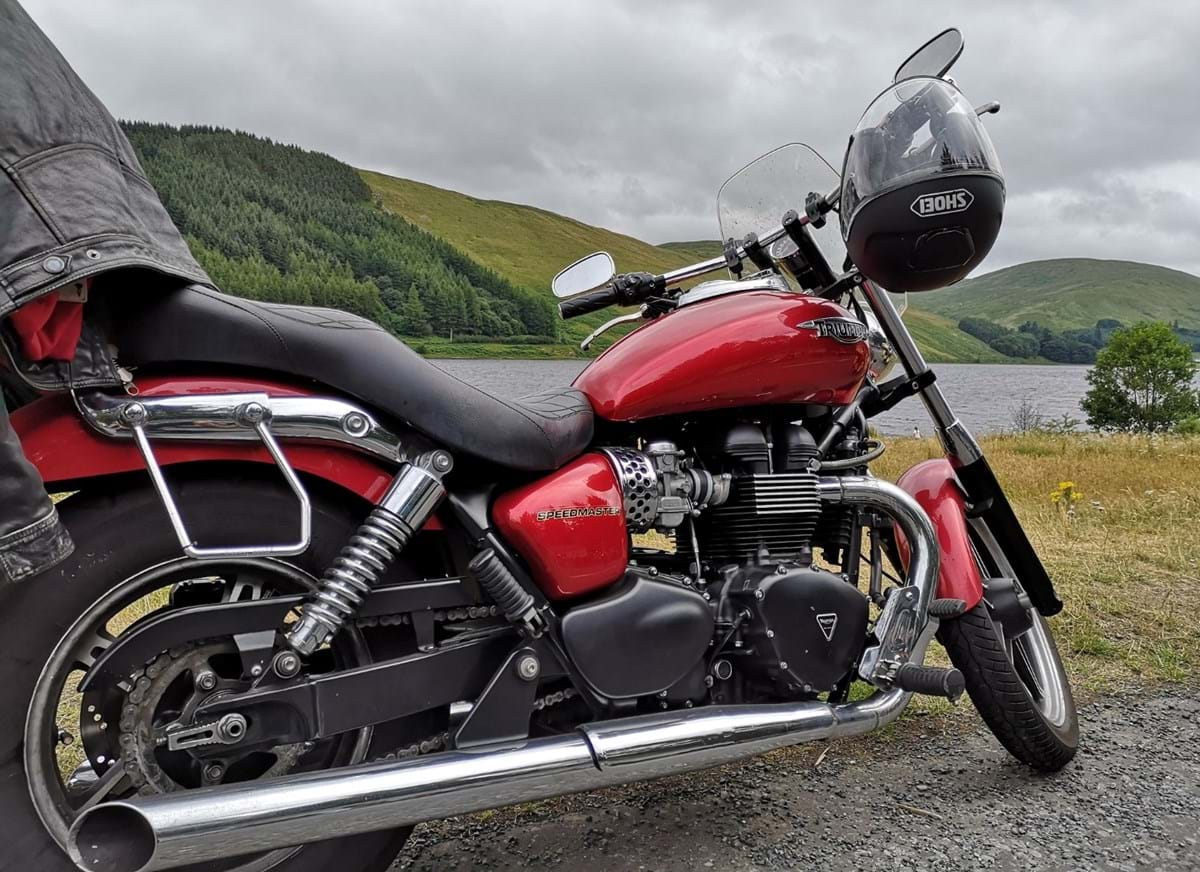 My 2011 Triumph Speedmaster, bought two years ago, currently 7.5 k on clock, serviced regularly. It's got quite a few mods, including king/queen seat, rear and side luggage racks and medium wind screen. Bought from billaus in Darlington.
During the time I've owned it I've only had one problem, that being a leaking back tyre valve. It's solid as a rock and always starts, even after four months over winter in damp garage, two years in a row.
Not the fastest bike but if I wanted speed I'd buy a sports bike. Very comfortable ride, gear box a bit clunky, (but I had a Suzuki GSXF before this and that box wasn't good), think the introduction of the 6th gear on the new Speedmasters was a good mod, but one gets used to 5 gears, handles well.
Only problem I have is that whoever owned bike before me must have stored it outdoors as both front exhaust raisers have pitted rust, I've cleaned these regularly but not gotten them as clean as I would wish, currently looking to replace the full exhaust system in black but finding a dealer is difficult.
All in all an excellent bike, would only replace with the new model Speedmaster or T'bird, although the T'bird is a very heavy bike.
- Maurice B, 2018