Honda Monkey Review (2018)
"
As soon as I saw the Monkey, I was in love! It was small, non-intimidating and had the retro look I was after.
"
What Is It?
The Honda Monkey is a retro style bike based on the popular Honda Grom and is powered by a Euro 4 compliant air-cooled 125 cc single cylinder four stroke engine, producing 9.3 bhp at 7,000 rpm and maximum torque at 5,250 rpm.
Specs
Seat Height: Low (

776

 

mm / 30.6 inches)
Weight: Light (107 kg / 236 lbs)
Economy: Very good (120 mpg / 2.4 l/100km / 42.5 km/l)
Range: Average (150 miles / 241 km)
Power to Weight: Low (0.084 bhp/kg / 0.063 kW/kg)
Top Speed: Average (65 mph / 105 km/h)
Pros
Learner friendly
Economical
Super light
Compact
Cool
Fun
Cons
Expensive to buy and insure
No gear indicator
Range
Power
What Is It Like?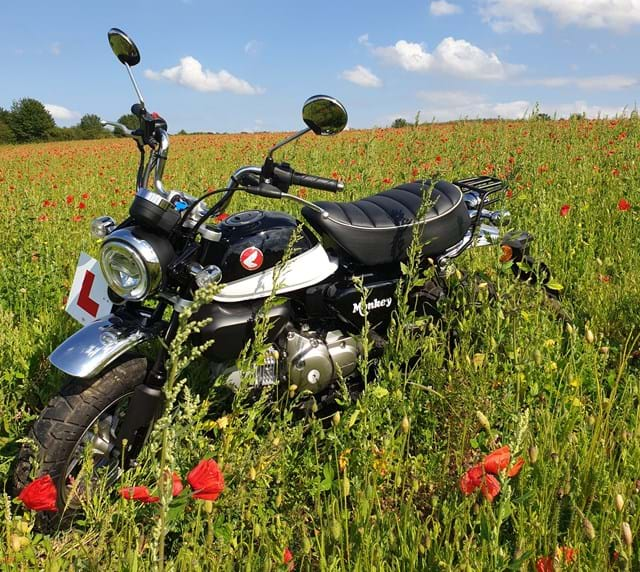 Riding History
Absolute beginner here. Growing up I've been on the back of a fair few bikes, and have wanted to ride my own since my mid thirties, but after my first attempt to get any kind of license escaped me, it was the slow turns man, I decided that this was the year to get on two wheels and booked up my CBT.
It started off okay, but then I dropped the bike on the figure 8s and my confidence was knocked. The second attempt at the CBT a couple of weeks later was even worse and my confidence was shattered at that point.
Now, I'm not a nervous person, I've driven in six different countries, and there isn't much that fazes me in general, but at that point even the thought of sitting on a geared bike scared me.
So it was time to get back to basics! The next step was a four hour one to one session starting off on a 50cc scooter. It took me about 30 minutes to feel totally at ease on the little guy, and I graduated up to a geared 125cc for the rest of the session.
I couldn't believe I was actually relaxed and in control of what I thought was a scary bike, and for the first time I enjoyed the ride! The CBT was done on the next round, and so it was time to get on the road!
Choosing The Monkey
After many evenings researching bikes that I liked, that would fit my 5'3" frame and be beginner friendly, I decided that a Suzuki Van Van would be the way to go.
Just to be sure though, I thought I'd better wander down to my local dealers to have a look at what else was on offer and sit on some bikes.
As soon as I saw the Monkey, I was in love! It was small, non-intimidating and had the retro look I was after!
But on paper the VanVan made much more sense. It was cheaper to buy, cheaper to insure and it would give me a bigger profile on the road for better visibility.
I did find a VanVan for sale locally which ticked all the boxes, but after sitting on it, my head said yes, but my heart said no. It was going to be the Monkey for me all the way.
Gromit
Since the new Monkey came out in 2018, there was the occasional one popping up for sale in the Summer of 2019 with about 500 miles on the clock, but £500 to £600 off the retail price.
It seems guys were buying them for the nostalgia but forgetting how little power a 125cc has. But that was fine by me, and I snapped up a little Pearl Shining Black model with 560 miles for £3,200 delivered and OTR, and promptly named him Gromit.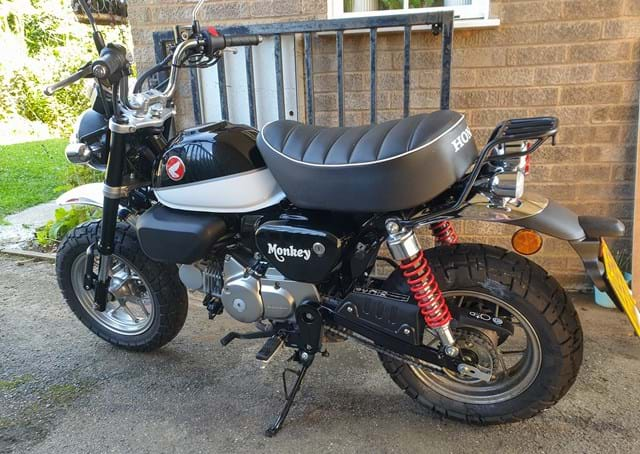 So How Does He Ride?
Well I've had him about six weeks now and it's still love! After the bumpy start actually getting on a bike, riding Gromit has been the best confidence builder, he's so easy to ride.
I really like the upright riding position and the control I have in the turns by being directly on top of the bike. He's super light, easy to manoeuvre and this also makes him surprisingly zippy.
Yes, with a serious headwind he'll push up to 55mph, but on the flat dual carriageway he'll regularly get up to 65mph and even up to 73mph downhill. But then, are there many 125cc bikes which can do better?
That's just the nature of the beast. One thing I do love about him is how solid and stable he feels at those high speeds, he never feels wobbly or unsafe, which is unlike the Zonte I took my CBT on!
Any Downsides?
But if there was anything I could change on the Monkey it would be the addition of a gear indicator and clock on the dash.
Plus, he is weirdly expensive to insure, and this isn't just because I'm a new rider, I've seen people who ridden for years say they also found the insurance high.
Maybe that will change over time as it's still a relatively new model, who knows. And although it's super cheap to fill up, I find I have to do it every single time I go out, but then I drive a diesel Polo, so I'm not really used to having to visit petrol stations more than once or twice a fortnight.
Mods
The only mods I've done so far are the addition of a luggage rack and changing the rear suspension to stock red.
To Sum Up
I'm happy to say that after six weeks on Gromit, I've booked my theory test, had a successful practice session on a four cylinder bike, and booked up my next four hour session to begin training for the Mod 1 & Mod 2.
My instructor warned me that getting back on Gromit after the big bike would be disappointing, but on the contrary, I still love how he handles, even if he does lack in power.
While checking out the bigger scramblers it fleetingly crossed my mind that I could trade Gromit in for a bigger bike, but you know what? I love him too much now to part with him.
In fact, our next adventure will be checking out the local green roads and seeing how he fares.
Pros
Lightweight
Small
Easy to ride
Surprisingly zippy
Cons
Cost to buy
Insurance is high
No gear indicator
No clock on dash
- Emma B, 2019
Price Guide
Year
Dealer
Private
Part Ex
Mileage
2021
£3,650
£2,900
£2,550
2,100
2020
£3,450
£2,750
£2,400
3,700
2019
£3,350
£2,650
£2,350
5,100
2018
£3,250
£2,600
£2,300
4,900
How to use the price guide
Related Bikes
Honda Grom - The popular modern naked bike the Monkey is based on.
The Second Opinion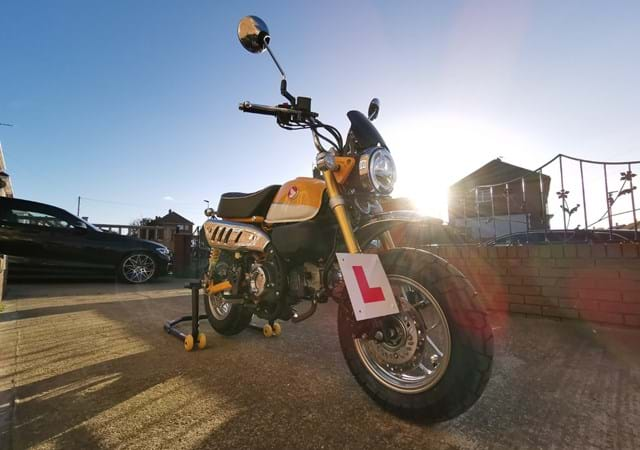 Why I Hate My Honda Monkey!
Firstly let me apologise for the clear click bait title but it will make sense soon. I would like to preface with telling you a little about myself before reviewing the Honda Monkey 2018.
I was like the odd one out in the family, the reason, well because I was into cars and not bikes. Since a very young age I'd rather see a hot hatch than a Harley.
My father and brother in law however both have Harley's and my brother has a slew of KTM's and other custom creations. They've always wanted to get me into bikes and let's be honest I have been outnumbered three to one.
Last year, 2018, it was my 30th birthday and well I gave in. I said I would get my CBT and then my licence. My father instantly started looking for bikes and I initially set my goals on a BMW G310GS telling myself I'd take it off road and camp. I wouldn't of course!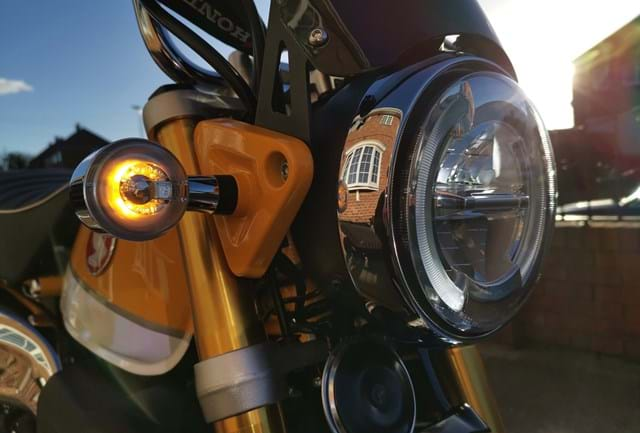 First Impressions
But only a couple of weeks before my 30th in September my father sent me a link to the new Honda Monkey and that's when I became hooked and fell in love with the idea of being different. And here comes the first problem, which colour?
Off I popped to Newcastle Motorcycles, had my first look and of course it had to be yellow. I had decided this little 125cc bike was to be my first road legal motorbike and the order was placed with Graeme, lovely chap and knew his stuff. Now one thing I didn't like about the ordering process, no fault of Graeme's, was the lack of knowing when the bike would arrive.
I was given an estimated date and that's pretty much it. This is definitely something Honda Motorcycles can improve upon from a customer's perspective. I was told it could be anywhere up until December 31st of that year.
The good news however is that it turned up in October and I couldn't of been happier. Graeme even obliged me with taking pictures of it on the day it arrived and also was kind enough to let me keep the metal crate it arrived in for a future project.
Luckily I had completed my CBT only days before the Monkey would be ready for collection. The day came and Newcastle Motorcycles delivered the newly named 'Marvin' the Monkey Bike right to my door.
That day I cleaned the Monkey to my standard, I'm a little obsessive about my detailing, and that was about it. Took it round the block and first impressions were how comfortable the seat was and how I didn't feel tiny compared to the cars around me.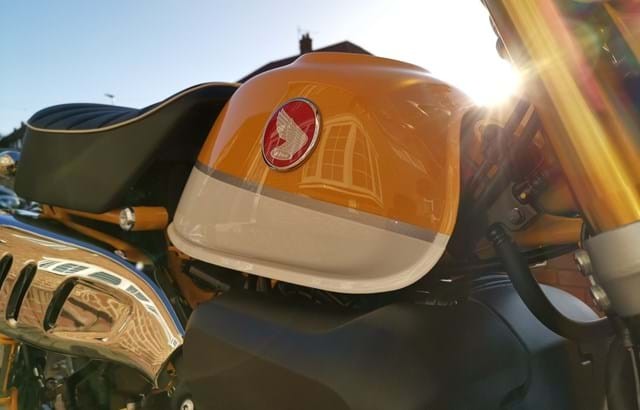 Reactions
Unsurprisingly, as it's an unusual bike and bright 'Banana Yellow', it was amazing how much the drivers noticed me. I didn't feel like I was going to be missed and squashed.
This being my first bike it gave a real sense of safety and took the uncertainty of being a novice rider away from me. It made it fun instantly.
It must however be quite comical to see a rather large adult on top of such a small looking bike, I loved the smiles and double takes from drivers and pedestrians a like.
Engine
Only 100 miles were covered in the next 4-6 weeks mainly riding up and down the beautiful North East coastline. This is where I noticed the mighty 10hp from the single cylinder air cooled 125cc engine.
Coming from a 3 litre 6 cylinder BMW with nearly 400hp I thought I would struggle with the lack of power, how wrong was I.
The Monkey uses every ounce of its 10hp and propels my portly behind all the way to 60 and I'm happy with that top speed figure.
Even though it feels big I know it isn't and to be honest I don't think too much more top end would be comfortable and for the type of use most Monkeys will see, is it even necessary?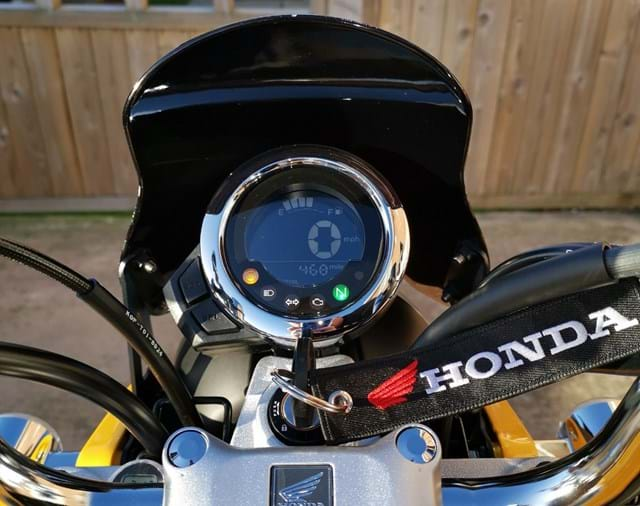 Economy
The weeks pass and more miles slowly creep onto the Monkey, I also take it to work for the first time and realise something else I love. I'm not struggling to park and it's costing me pennies to get there.
My BMW gets maybe 20mpg but after some very rough calculations I'm getting nearly 7 times that on the Monkey. It's not living up to the claimed 189mpg but it's certainly around 130-140mpg and that's with my rather quick to twist wrist.
In that time somewhere my first fill up came and I was amazed with how little I was putting in the tank, around £4.50, and I could find that in my pocket change. Result.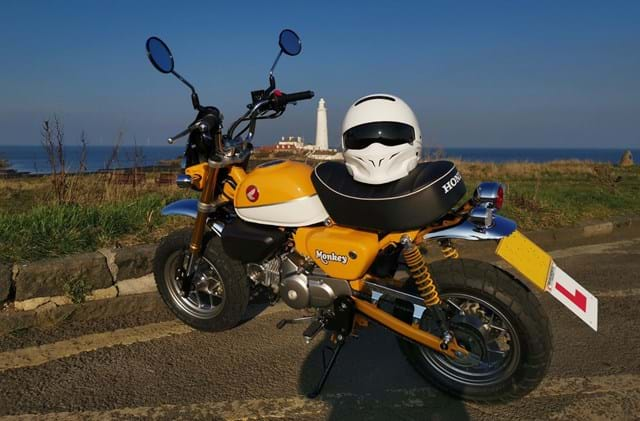 So Why Do You Hate It?
Now this is where the click bait title will be explained, I do hate Marvin The Monkey Bike and why? Well because I'm now more eager to strap on my helmet than strap myself into my car.
Any weather, any time I'm thinking 'bet I could take the Monkey'. And do you know what I can. The dual purpose tyres are decent in both wet and dry weather and at no point have I thought I'm going to be sliding along the tarmac because of them.
Would You Recommend It?
To anyone unfortunate enough to have read my whole biking life story I would like to end with this. I'd recommend a Monkey to anyone. Especially new bikers who want to get into it.
It's easy to ride, cheap to run and when you stop where the other bikers stop they'll speak with you and you'll feel included. Certainly not some outsider knocking on the door of the club wanting to get in with your little yellow bike in tow.
Now it's time to pass my test and get a second bike, more than likely a Harley but it won't ever replace Marvin. He'll be forever in the family and probably still be my go to bike.
- Adrian M, 2019
Add Your Review
Do you own this bike? We would love to hear anything good, bad, unexpected or that you have changed plus anything that a prospective new owner might find interesting or useful.
More Info
Check out this video review from The chronicles of mr fish.