Honda Monkey Review
| | | |
| --- | --- | --- |
| Overall | | ★★★★★ |
| | |
| --- | --- |
| ✓ | Cool, compact, fun, economical, learner friendly |
| | |
| × | Best avoid A roads, quite expensive for a 125cc |
What Is It?
The 2018 Honda Monkey is a retro style bike, based on the popular Honda Grom, which re-imagines the original Z50 monkey bike.
Engine: 125 cc Single Cylinder, 9 bhp
Economy: 120 mpg, 140 miles
Seat Height: 776 mm
Wet Weight: 107 kg
Top Speed: 65 mph
RRP: £3,700
What Is It Like?
Why I hate my Honda Monkey!
Firstly let me apologise for the clear click bait title but it will make sense soon. I would like to preface with telling you a little about myself before reviewing the Honda Monkey 2018.
I was like the odd one out in the family, the reason, well because I was into cars and not bikes. Since a very young age I'd rather see a hot hatch than a Harley. My father and brother in law however both have Harley's and my brother has a slew of KTM's and other custom creations.
They've always wanted to get me into bikes and let's be honest I have been outnumbered three to one. Last year, 2018, it was my 30th birthday and well I gave in. I said I would get my CBT and then my licence. My father instantly started looking for bikes and I initially set my goals on a BMW G310GS telling myself I'd take it off road and camp. I wouldn't of course!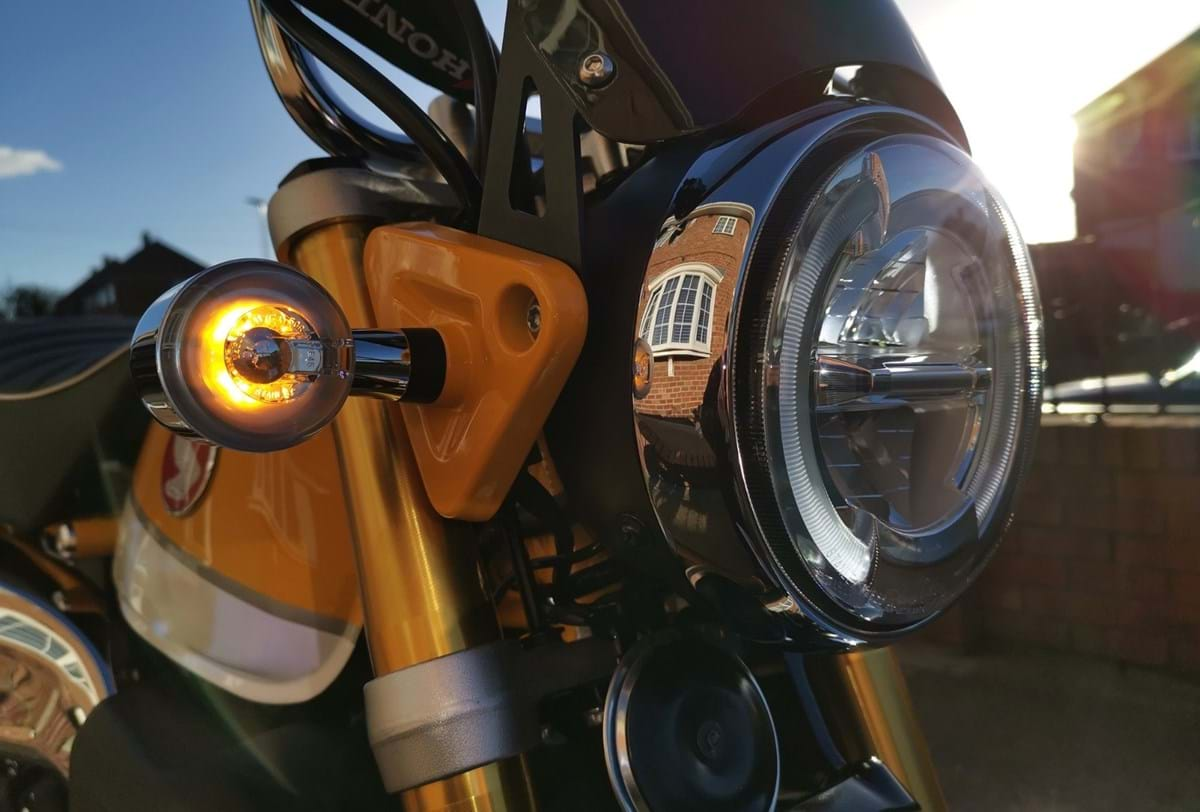 First Impressions
But only a couple of weeks before my 30th in September my father sent me a link to the new Honda Monkey and that's when I became hooked and fell in love with the idea of being different. And here comes the first problem, which colour?
Off I popped to Newcastle Motorcycles, had my first look and of course it had to be yellow. I had decided this little 125cc bike was to be my first road legal motorbike and the order was placed with Graeme, lovely chap and knew his stuff. Now one thing I didn't like about the ordering process, no fault of Graeme's, was the lack of knowing when the bike would arrive.
I was given an estimated date and that's pretty much it. This is definitely something Honda Motorcycles can improve upon from a customer's perspective. I was told it could be anywhere up until December 31st of that year. The good news however is that it turned up in October and I couldn't of been happier. Graeme even obliged me with taking pictures of it on the day it arrived and also was kind enough to let me keep the metal crate it arrived in for a future project.
Luckily I had completed my CBT only days before the Monkey would be ready for collection. The day came and Newcastle Motorcycles delivered the newly named 'Marvin' the Monkey Bike right to my door. That day I cleaned the Monkey to my standard, I'm a little obsessive about my detailing, and that was about it. Took it round the block and first impressions were how comfortable the seat was and how I didn't feel tiny compared to the cars around me.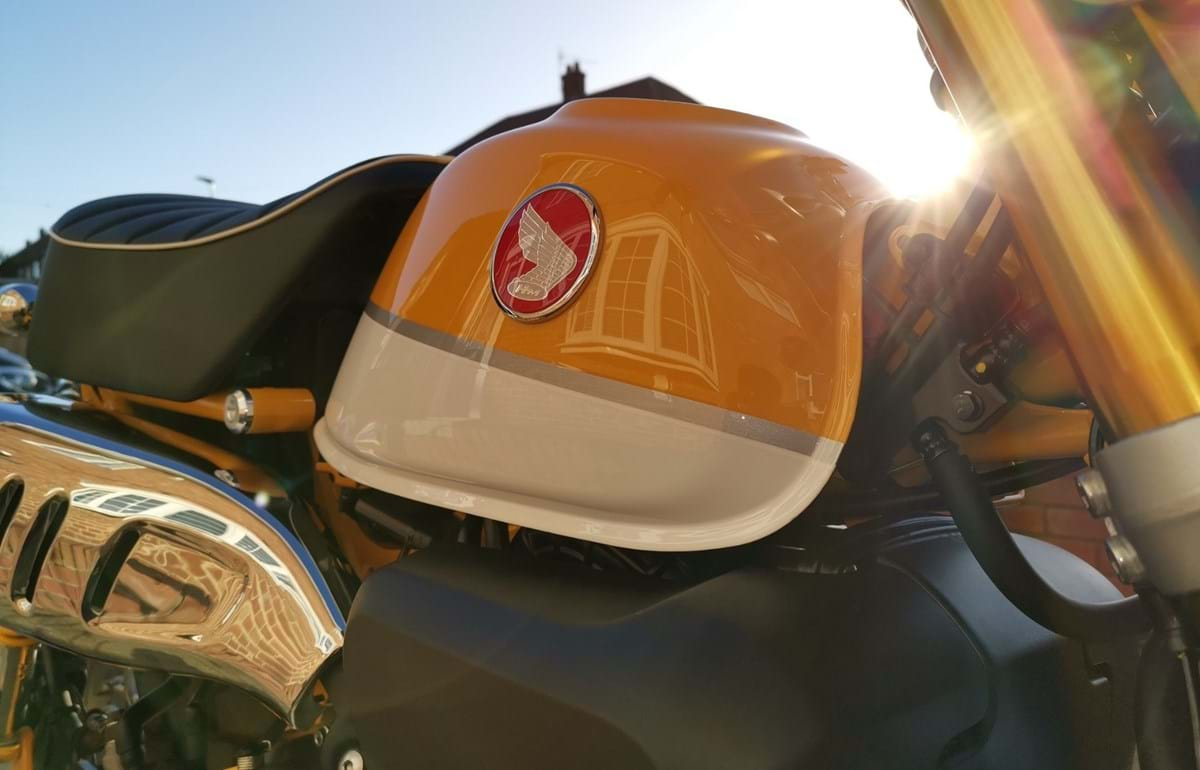 What Reaction Does It Get?
Unsurprisingly, as it's an unusual bike and bright 'Banana Yellow', it was amazing how much the drivers noticed me. I didn't feel like I was going to be missed and squashed. This being my first bike it gave a real sense of safety and took the uncertainty of being a novice rider away from me.
It made it fun instantly. It must however be quite comical to see a rather large adult on top of such a small looking bike, I loved the smiles and double takes from drivers and pedestrians a like.
What's The Engine Like?
Only 100 miles were covered in the next 4-6 weeks mainly riding up and down the beautiful North East coastline. This is where I noticed the mighty 10hp from the single cylinder air cooled 125cc engine.
Coming from a 3 litre 6 cylinder BMW with nearly 400hp I thought I would struggle with the lack of power, how wrong was I. The Monkey uses every ounce of its 10hp and propels my portly behind all the way to 60 and I'm happy with that top speed figure.
Even though it feels big I know it isn't and to be honest I don't think too much more top end would be comfortable and for the type of use most Monkeys will see, is it even necessary?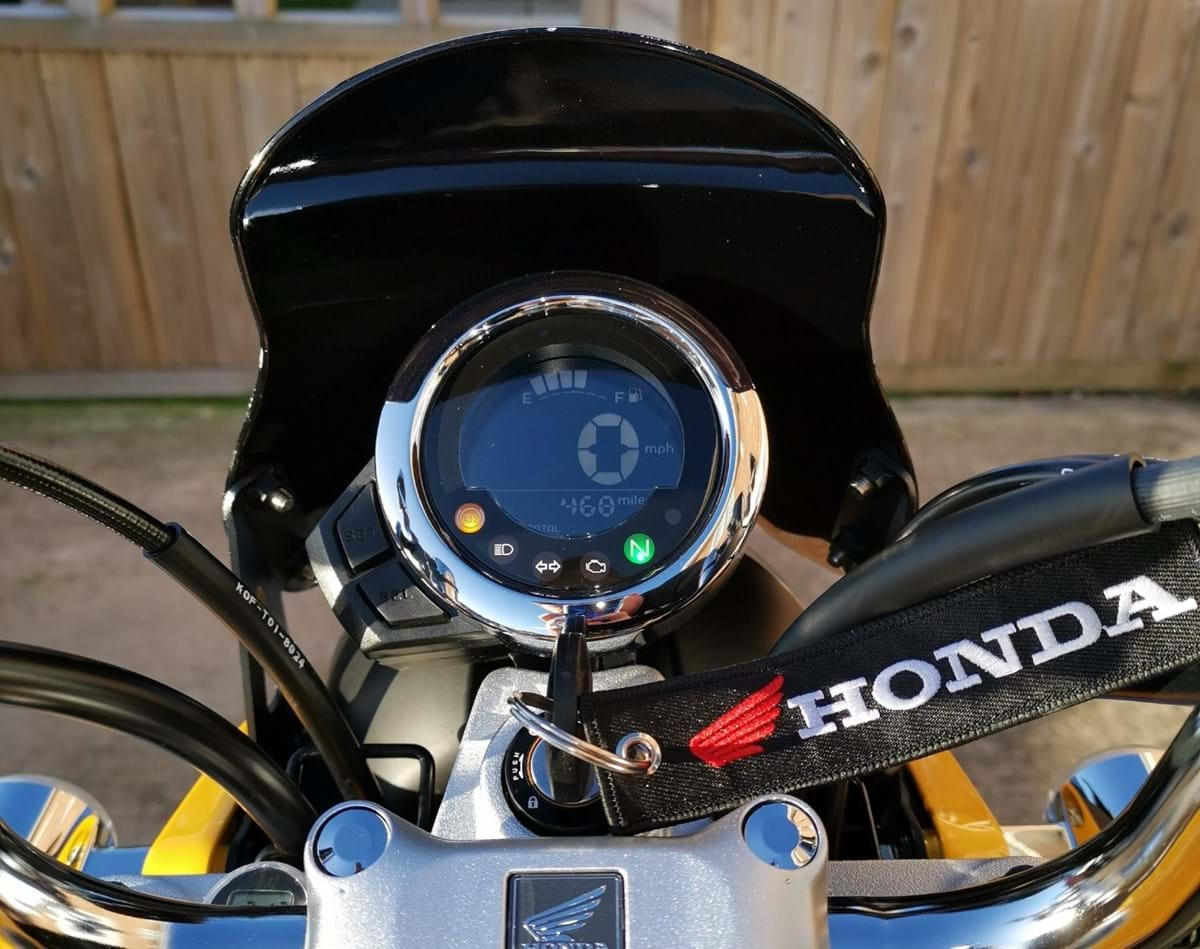 What's The Economy Like?
The weeks pass and more miles slowly creep onto the Monkey, I also take it to work for the first time and realise something else I love. I'm not struggling to park and it's costing me pennies to get there. My BMW gets maybe 20mpg but after some very rough calculations I'm getting nearly 7 times that on the Monkey.
It's not living up to the claimed 189mpg but it's certainly around 130-140mpg and that's with my rather quick to twist wrist. In that time somewhere my first fill up came and I was amazed with how little I was putting in the tank, around £4.50, and I could find that in my pocket change. Result.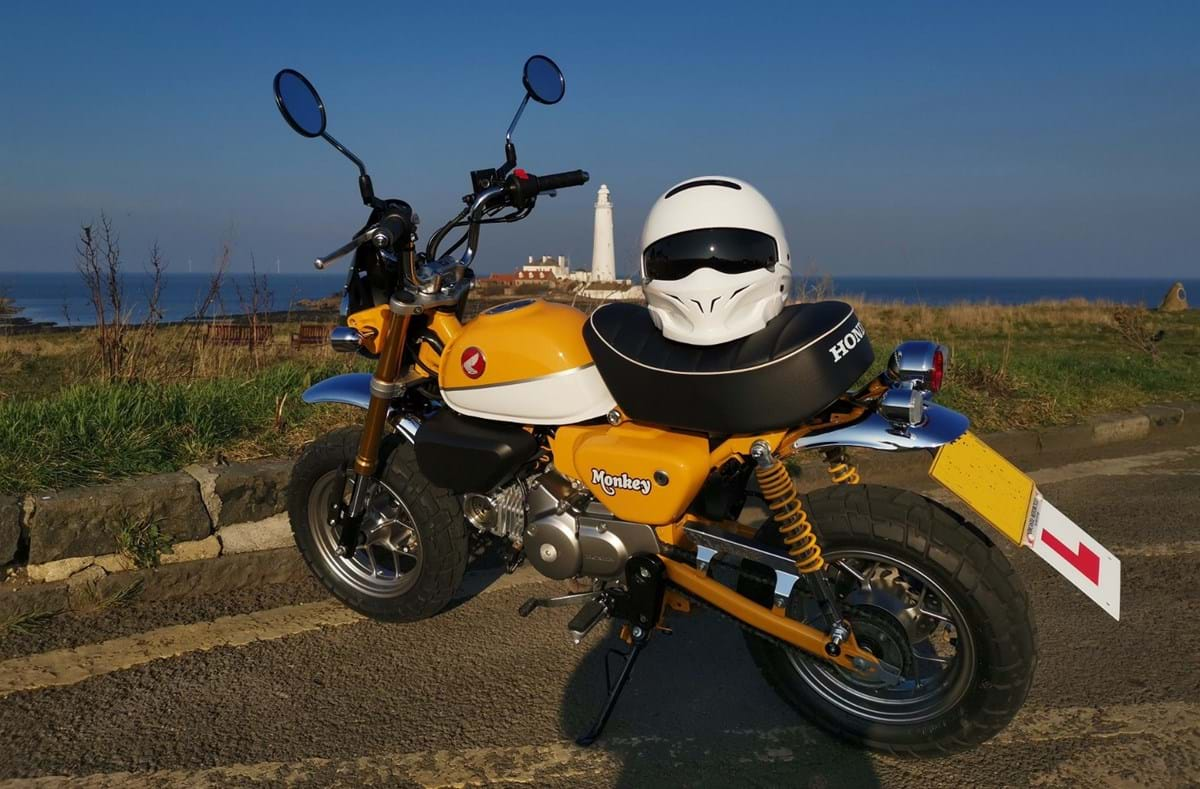 So Why Do You Hate It?
Now this is where the click bait title will be explained, I do hate Marvin The Monkey Bike and why? Well because I'm now more eager to strap on my helmet than strap myself into my car. Any weather, any time I'm thinking 'bet I could take the Monkey'. And do you know what I can. The dual purpose tyres are decent in both wet and dry weather and at no point have I thought I'm going to be sliding along the tarmac because of them.
Would You Recommend It?
To anyone unfortunate enough to have read my whole biking life story I would like to end with this. I'd recommend a Monkey to anyone. Especially new bikers who want to get into it. It's easy to ride, cheap to run and when you stop where the other bikers stop they'll speak with you and you'll feel included. Certainly not some outsider knocking on the door of the club wanting to get in with your little yellow bike in tow.
Now it's time to pass my test and get a second bike, more than likely a Harley but it won't ever replace Marvin. He'll be forever in the family and probably still be my go to bike.
- Adrian M, 2019
Price Guide
| Year | Dealer | Private | Part Ex | Mileage |
| --- | --- | --- | --- | --- |
| 2018 | £3,550 | £2,850 | £2,500 | 2,100 |
| 2019 | £3,700 | £3,000 | £2,600 | 1,100 |
Related Bikes
Honda Grom - The popular modern naked bike the Monkey is based on.