Suzuki VanVan 125 (2003) Real World Review
" Overall the Suzuki VanVan is a great little bike with a good following. It's comfortable, unique looking and will always have a place in my garage. "
✓Great retro style town runabout or leaner bike, luggage hooks, pillion grab rail, comfort
×Limited top speed, mirrors, suspension, very basic equipment
What Is It?
The 2003 Suzuki VanVan is a retro style bike with large balloon tyres, making it suitable for farm work, green lanes or beaches.
Engine: 124 cc Single Cylinder, 12 bhp
Economy: 70 mpg
Range: 120 miles
Seat Height: 770 mm
What Is It Like?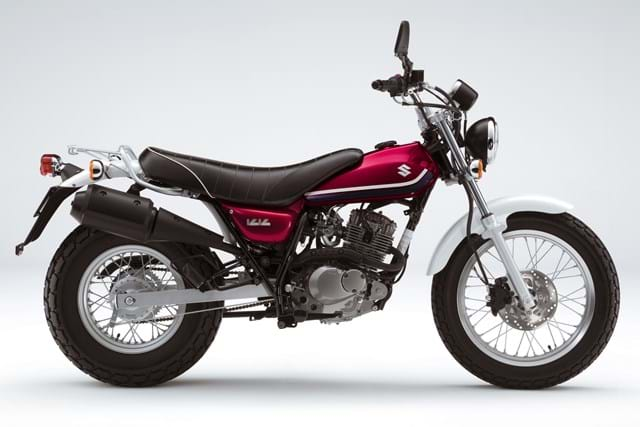 What's Good?
The 2017 Suzuki RV125 VanVan is a unique little bike full of character and fun. Fun being the important word here because the RV in its name means recreational vehicle. As such it doesn't take itself too seriously.
The main selling point of the VanVan is the fact its different to everything else in the 125 class. Sure there are better off roaders and better road bikes but they all tend to look similar to each other. The VanVan stands out from the crowd with its low centre of gravity and big fat balloon tyres.
Tyres
Of course, the style isn't just for looks, those big fat low pressure tyres are designed for riding on sand and gravel. As such the bike will happily skip over loose surfaces with little drama and if you do find yourself down the beach you can happily go for a little ride in the sand.
Woodland tracks are also a joy to ride along just don't be tempted to try and take on any of the more demanding mud trails as the suspension and relatively low ground clearance do mean the bike will quickly become overwhelmed.
Handling
On the road the VanVan's low ground clearance, big wide comfortable seat and fat tyres make for a fairly reassuring ride and although it doesn't handle like a full-on road bike it does still make a very nice daily commuter, able to zip in and out of traffic just as well as any other bike.
Finish
The build quality is for the most part good. The bike is mostly metal with the only bits of plastic being the front and rear mud guards and small side panels, one of which hides the air box and the other a tool kit.
The chain is a standard 125 one and does wear fairly quickly however 520 pitch upgrade kits are available and work very well. Rust doesn't tend to be a problem if looked after properly. Areas to look out for are the bottom front of the frame, the bottom of the rear shock and the underside of the front suspension yolk.
Storage
It's fairly limited, as with most small bikes, however the 125cc VanVan does at least come with a rear rack to which a top box can easily be fitted.
The position of the exhaust high up on the right side does make fitting any type of pannier difficult, however with a bit of research and determination it is possible to find and fit storage to the sides of the bike.
Power
In its standard form the VanVan isn't exactly the fastest 125 on the market. The relatively old GN engine powering it only produces about 12hp.
The bike is also quite heavy for a 125 but the extra weight does have a noticeable effect, particularly when you come to a hill. Speed wise given a long enough run up you will hit 65mph but in most situations around 50-55 is more realistic.
Mods
Four stroke 125s generally do not benefit much from tuning unless a total engine rebuild is on the cards however there are a few mods that the VanVan does benefit from.
The first mod as previously mentioned is to upgrade the chain to a 520 pitch, this reduces the excessive chain wear. At the same time as changing the chain some owners opt to swap out the sprockets either increasing teeth on the rear or reducing the front to lower the overall gear ratio. The VanVan's gearing is a little high in standard form.
Another good mod is a full exhaust system. GPR do front pipes plus a good selection of silencers and this helps the little engine breath a bit better. None of these mods necessarily increase power but they do help to make the most of what's there.
To Sum Up
Overall the Suzuki VanVan is a great little bike with a good following. Many happy owners have taken their VanVans on epic adventures proving that you don't need a big tourer to head off and explore.
For the majority of people though the VanVan is a great bike for everyday commuting and the odd bit of off-road fun. Comfortable and unique looking it is definitely one of my favourite bikes and one that will always have a place in my garage.
- A Very British Biker, 2017
Price Guide
Year
Dealer
Private
Part Ex
Mileage
2018
£3,150
£2,550
£2,200
3,400
2017
£3,000
£2,400
£2,100
5,200
2016
£2,900
£2,300
£2,000
6,900
2015
£2,750
£2,200
£1,950
8,600
2014
£2,650
£2,100
£1,850
10,200
2013
£2,500
£2,000
£1,750
11,800
2012
£2,400
£1,950
£1,700
13,300
2011
£2,300
£1,850
£1,600
14,700
2010
£2,200
£1,750
£1,550
16,100
2009
£2,100
£1,700
£1,500
17,400
£2,050
£1,650
£1,450
18,600
2007
£1,950
£1,600
£1,400
19,800
£1,900
£1,500
£1,350
20,900
2005
£1,850
£1,450
£1,300
22,000
£1,800
£1,450
£1,250
23,000
£1,750
£1,400
£1,200
23,900
↑Year shows signs of appreciation
What does this mean?
Add Your Review
Do you own this bike? We would love to hear anything good, bad, unexpected or that you have changed plus anything that a prospective new owner might find interesting or useful.