Honda CB500F Review (2013)
"
If you want a practical, fun, inexpensive to service, easy to maintain, cheap to run, reliable and quality product – look no further than the Honda CB500F.
"
What Is It?
The Honda CB500F is an A2 licence friendly naked bike and is powered by a liquid cooled 471 cc parallel twin engine, producing 46.9 bhp at 8,500 rpm and maximum torque at 7,000 rpm.
Specs
Seat Height: Low (

785

 

mm / 30.9 inches)
Weight: Average (192 kg / 423 lbs)
Economy: Very good (80 mpg / 3.5 l/100km / 28.3 km/l)
Range: Very high (290 miles / 467 km)
Power to Weight: Low (0.245 bhp/kg / 0.183 kW/kg)
Top Speed: High (110 mph / 177 km/h)
Pros
Easy to manoeuvre
A great all rounder
Beginner friendly
Cheap to insure
Economy
Handling
Light
Cons
Better in town than on motorways
Budget for a better exhaust
Minimal wind protection
Tyres
What Is It Like?
My Experience
A wise person once said "biking frees the heart and rejuvenates the soul" – kudos to him; he got that spot on. My love for all things motorcycle started at a young age on the back of my fathers 125cc Suzuki. We would race up to 50mph and 65mph on the rare occasion we found some free space amidst the traffic.
I remember spending many an hour tinkering in the shed with dad while he serviced or fixed his or his mate's bikes. It wasn't until I turned 18 that I was allowed to venture out on said 125cc which soon became my hoonmobile for a year or so!
Choosing The CB500F
As usual life got in the way but when I eventually did consider riding early last year I was on the hunt for something fun, something exciting but at the same time something manageable and something I wouldn't kill myself on.
Having only really ridden a 125cc I weighed up my options and initially considered a Ninja 250 – the classic learners starting out motorcycle, the KTM Duke 390 – a fun looking bike and Kawasaki's naked Z300 option. I figured 300cc was plenty enough and would serve me well for the one year I needed before upgrading my license.
I went to Honda to check out the models and came across the CB500F and boy oh boy did I fall in love with the way it looked instantly. I remember going back with a massive smile on my face and went straight onto the internet to review the specifications and details about the bike. I figured I would risk going with a 500cc, even though it seemed a daunting proposition at the time; in the hope I would be able to keep it as my long term bike. I am glad I did!
First Impressions
The Honda CB500F is honestly an absolutely fantastic bike to start out on. I bought the 2017 matte black version and besides looking sensational it has everything a novice rider could want…and more!
Like anything new it took a bit of getting used to initially and I remember having a close call when wheeling it across the lawn to the shed as the wheels dug in and I nearly lost my grip of the handlebar, almost dropping the bike. Luckily I managed to regain my balance and hang on! So yes it is heavier and more cumbersome to roll around then a lighter 300cc – something to consider if you are of smaller build or a female rider. However this should not put you off as it is very easy to get used to fairly quickly.
Power
The bike has plenty of pickup and go and is quite happy cruising at the motorway speed limit. Though I have not tested one I am sure the wide range of aftermarket screens available for this bike will help with the wind if you are daring enough to spoil the look.
Gearbox
It's smooth and shifts relatively easy with a light clutch feel. I personally only use the clutch for downshifts and the bike is quite happy shifting even at full beans as long as you know how to rev match.
Servicing
I service mine at every 3,700 miles even though the manual suggests every 7,500 miles and notice a significant difference in smoothness straight away which makes me believe I am better off sticking to this plan of attack.
Handling
The bike is best suited to city riding with the occasional country or twisty road weekend blast. The gear ratios are short so you do find yourself shifting regularly when trying to get to the speed limit quickly – especially when compared to the bigger bikes which can do that in first gear!
The power curve is quite linear so there are no major surprises once you get used to the bike and it makes sense to shift earlier rather than rev it out as the gains are marginal at the end of each gear. It does sound better and louder when on song though.
Mods
The first thing I did was change the exhaust to a mini carbon 200mm Delkevic and found that even with the baffle in the bike sounds great and is loud enough to warrant attention.
I also fitted an R&G tail tidy which really cleans up the rear end. Aftermarket tinted indicators from ebay complete the blacked out look.
Probably the most useful modification I made was to wire in a gear indicator which has ironically since been included on the 2018/19 models. This is extremely useful as I found there was a tendency for me to constantly try and shift into the non-existent 7th gear; but from what I have read apparently I am not the only one who struggles with this on this bike.
A quick glance down at the display shows I am in 6th and you just need to rev it out for more top end. The bike does feel like it is revving high when cruising on the motorway and would benefit from switching into a higher gear to keep those revs down – food for thought when gearing those last two ratios Honda.
Installing bar end mirrors were mainly done for cosmetics and while they really make the bike look good they do restrict visibility in the blind spots and make lane filtering / splitting challenging. However I am an obsessed checker of my blind spot so get around this by looking around constantly anyway.
I removed the rear pegs as I don't plan on ever riding with a pillion and would like to install a rear seat cowl but cannot justify the ridiculous amount Honda wants to charge for a piece of plastic. Surprisingly there aren't too many aftermarket options to fit these bikes yet which is very strange but sadly true. I also had the rider pegs and bracket powder coated black to match the bike.
It is very important to have navigation and music when commuting so I installed a RAM phone mount with connected USB charger that I can turn on and off and have found this to be great. I use Sena and Bluetooth speakers on the different helmets I use and just plug in the phone and off I go.
Tyres
Factory tyres on these motorcycles are average at best and you will see massive benefits from upgrading to decent rubber. I run the Michelin Road 5s and they are absolutely brilliant both in wet and dry conditions. They have a dual compound so are tougher and more durable down the centre with soft shoulders / edges for enhanced cornering grip.
I used fluro coloured liquid chalk to paint in the lettering to create something unique and I think it looks cool! I also run reflective fluro rim tape for enhanced safety and to keep with the general fluro theme I have going on.
To Sum Up
That is my 2017 CB500F in a nutshell. Overall I would not hesitate to recommend it one bit but depending on your skill and talent you may find that while this bike meets your every need.
It does lack the outright power and oomph of a bigger bike and you will eventually want to upgrade when the budget allows. The bike is very easy to ride, light, flickable and handles slow twisty stuff better than most of the wide variety of bikes I regularly ride with.
Besides the pegs scrapping on corners when I ride hard, I can easily keep bigger bikes behind me in the twisty hilly sections of the rides I lead but find that they blast past me on the straights. They also have far superior braking ability so tend to go much deeper into a corner.
At 16,000 miles in I can safely attest - if you want a practical, fun yet sensible, inexpensive to service, easy to maintain, cheap to run fuel, reliable and quality product – look no further than Honda in general and the CB500 range in particular; you really cannot go wrong.
- Jeremy DG, 2019
Price Guide
Year
Dealer
Private
Part Ex
Mileage
2018
£4,250
£3,400
£3,000
4,900
2017
£4,000
£3,200
£2,800
6,700
2016
£3,800
£3,050
£2,700
8,500
2015
£3,650
£2,950
£2,550
10,300
2014
£3,550
£2,850
£2,500
12,100
2013
£3,450
£2,750
£2,400
13,900
How to use the price guide
Related Bikes
CB500X - Essentially the same bike with more of an adventure feel, including a tall screen and longer travel suspension.
The Second Opinion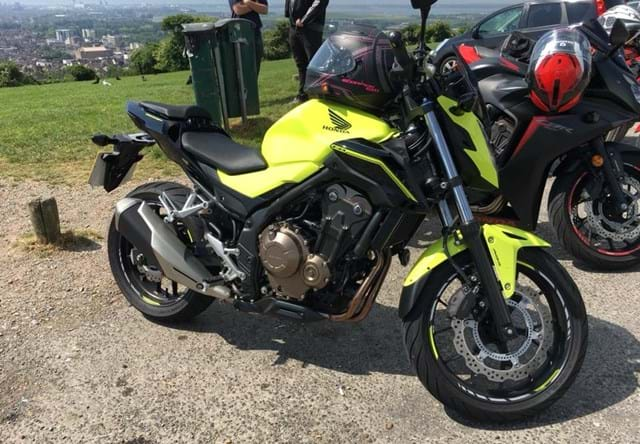 Choosing The CB500F
I have owned my 2016 CB500F for a couple of months now and it was the best choice of upgrade for me. I had previously ridden a 2017 CB125F for a year on my CBT, before taking my full A licence.
Whilst I was tempted by the CB650F, being only 5ft 2 and 46kg, manoeuvring the larger bike did not feel comfortable. Being relatively light (~180kg) I find moving the CB500F around fairly easy.
I use my bike every day for work into and around town, so I needed something reliable, able to handle a motorway, fuel efficient and easy to move about. The CB500F does this perfectly.
What's Good?
For me, it's fast enough off the line in the lower gears to leave cars standing at lights - a nice jump up from the 125 but not too much to be scary and twitchy.
The handing is superb; solid as a rock, forgiving, comfortable and smooth. No issues moving around town and it cruises nicely at 70 on the motorway, as well as great fun around the twisties.
The wind resistance hits me straight in the chest so is very steady and firm. Seating position is great for me and I can touch the floor with both feet okay. It feels just like a bigger 125, which is what I wanted.
Economy
The fuel economy is superb. I don't ride conservatively, do have a bit of a play every so often and I am still getting 81-82mpg! I can't remember the last time I fuelled up… As for reliability - its a Honda.. I am expecting no issues!
To Sum Up
Whilst many people told me I would get bored and why bother with a 500 when I can get anything, I am VERY happy with this bike and highly recommend it as a first 'bigger' bike, particularly for commuting and smaller people!
Photo Courtesy of Jason Brown Photography (my husband - who owns the CBR650F in the background)!
- Katherine B, 2018
A Few More Thoughts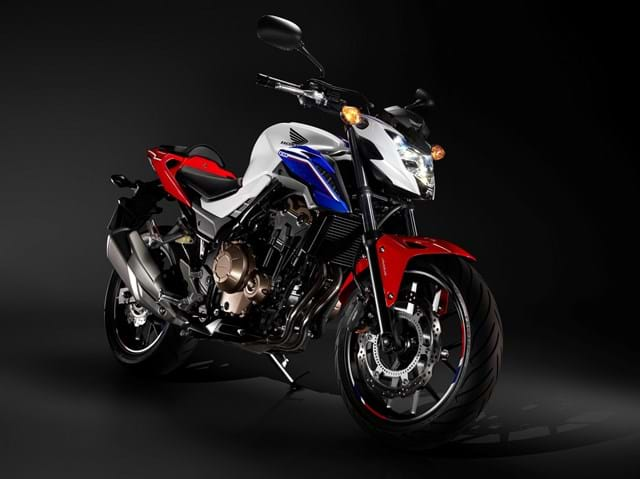 What's It Like?
I love my little CB500F, it's a 2015 on a 16 plate and it's done 10,500 miles. When I went to buy a bike I was open to all brands and was favouring the Kawasaki but once I sat on the CB500F I knew that was the one, as I told my partner, the bike chose me.
I'm 5'4" and 52 kg. I won't tell you my age but I got my full bike license in 1992. I feel so comfortable with the weight and size, manoeuvring the bike is effortless. I have lowered my CB500F with a lust link so I can get both feet flat on the ground.
I commute to work daily through county lanes and into town. My CB500F loves the twisted lanes, handles much better than larger / heavier bikes can and when in town traffic it behaves impeccably. Yes The CB500F could race the cars off the lights if I wanted to but these days I just want to arrive safely at work. On bypasses and motorways you can easily achieve the national speed limit and with a passenger and the bike still feels well balanced.
Being a naked bike you do feel the wind at faster speeds but if you want to constantly fly your not going to buy a naked bike. Okay, It's not the most powerful bike out there and if you're still at the stage in life where you need to live on the edge, you may feel this bike lacks for you.
To Sum Up
What you do get is Honda reliably, excellent fuel economy (I get 82+ mpg), excellent handling and a grin on your face after every ride.
- Jenny W, 2018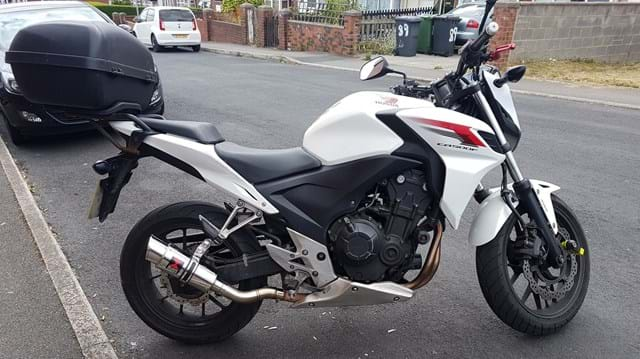 What's It Like?
I bought my CB500F last year, it's on a 2014 plate and had 6,560 on the clock. It now has 14,329... obviously by that vast increase in mileage they are a cracking bike to own.
They are a very easy way into the big bike world and sure do shift too! I've recently changed the stock exhaust to a 200SS black widow stainless steel slip on and it really has made a difference not only in noise but performance too. I go travelling all over on it as it is a real comfy bike to ride, easy to ride too.
To Sum Up
There are quite a few 500cc motorbikes out there on the market but I would highly recommend this as being the best first bike for anyone. The Honda CB500F is a fantastic easy going and great all round bike to own!
- Ashley H, 2018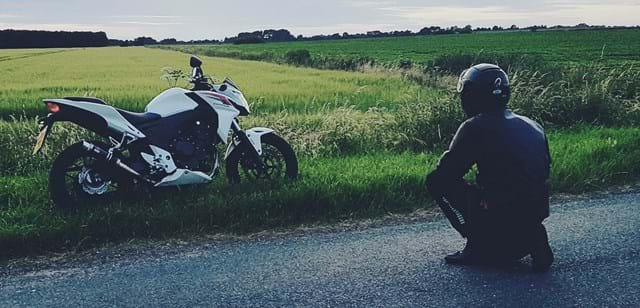 What's It Like?
This is my first bike, I have never ridden anything else, which means people where sceptical as to whether I would be able to safely ride it. It turns out that the bike is a fantastic first bike.
It handles really well in corners, I'm able to get my knee down and it is super comfy so will also make an excellent commuter bike. It will power wheelie in first, clutch up in second and will do a 4th gear burnout. You should be looking at getting a maximum of 115 mph if you're light in weight. It's super easy to modify and it is a great head turner.

I have ridden lots of bikes since owning this CB500F and I can categorically say that I wouldn't have picked another bike.
- Benjamin A, 2018
More Info
Check out this useful video review from CagerOnTwoWheels.