Honda CB650F Review (2017)
"
Honda's middleweight is back with well set up suspension, a low centre of gravity, linear acceleration and phenomenal fuel economy.
"
What Is It?
The Honda CB650F is a mid-range naked bike and is powered by a Euro 4 compliant liquid cooled 649 cc inline four engine, producing 89.8 bhp at 11,000 rpm and maximum torque at 8,000 rpm.
Specs
Seat Height: Average (

810

 

mm / 31.9 inches)
Weight: Heavy (208 kg / 459 lbs)
Economy: Average (50 mpg / 5.6 l/100km / 17.7 km/l)
Range: High (190 miles / 306 km)
Power to Weight: Average (0.433 bhp/kg / 0.323 kW/kg)
Top Speed: High (140 mph / 225 km/h)
Pros
Running costs
Those pipes!
Suspension
Gearbox
Brakes
Looks
Cons
No gear position indicator
Slightly buzzy
Mirrors
Levers
Tyres
Seat
What Is It Like?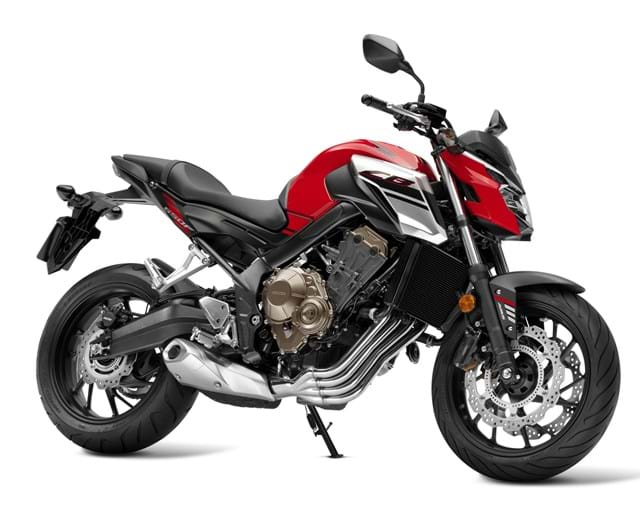 Replacing The Hornet
In 2013, Honda ceased manufacture of the popular 600cc naked bike, the Hornet, in favour of a new breed of middleweight naked bikes, calling the new model simply the CB650F.
This new machine was powered by an inline four, 649cc engine, with a relatively mediocre power output of 86bhp compared to its predecessor, which had around 100bhp. The lowering of bhp was in part to allow the bike to be modified (by means of ECU or throttle restriction) for the new A2 licence class, which allows the rider to have a maximum of 47bhp.
The reduction in power output was the subject of much derision and the bike was surely doomed from the off, especially among the hardcore Honda client base who adored their 600cc range.
Success
However, the world was in for a surprise. The new middleweight Honda bit back, and bit back hard! With a basic, but well-set-up suspension arrangement, a low centre of gravity with an under-belly exhaust system, linear acceleration in all 6 gears, excellent mid-range acceleration as well as from a standing start, and phenomenal fuel economy the CB650F soon became a popular "first big bike".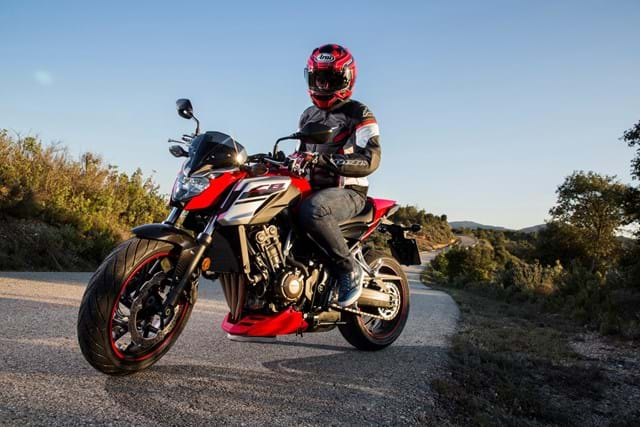 Choosing The CB650F
I'm approaching 40 years of age, with signs of middle-age kicking in so I've abandoned my love of sports bikes and rewarded my achy wrists and neck with the 'sit up and beg' riding position of a new "17" plate Honda CB650F in millennium red.
Mods
I ordered it with the semi-sports pack, which gave me a carbon fibre effect rear hugger, and a rear seat cowl. Naturally, I added an R&G tail tidy to get rid of the hideous lump of black plastic on the back that holds the number plate, and fitted a set of Strada7 short levers. I can never understand why manufacturers fit those horrible, barely-adjustable lumps of silver metal on even the top of the range models of bike.
Heated grips soon followed, as my commute from coast to city in Winter can be a little nippy, and as time went by an Ermax sports screen was also added as the continuous wind battering can become a little wearing on the motorway. I have recently added a K&N air filter, but more of that later.
Costs
The bike is superb... why I didn't have a straight bar naked bike before, I do not know... So why is it so good? Well, for starters, there's the price tag. It is under £6,500 on the road, and for a rider with 5 years no claims living in East Yorkshire, it has just cost me £113 to renew and that includes personal accident cover and helmet and leather insurance too.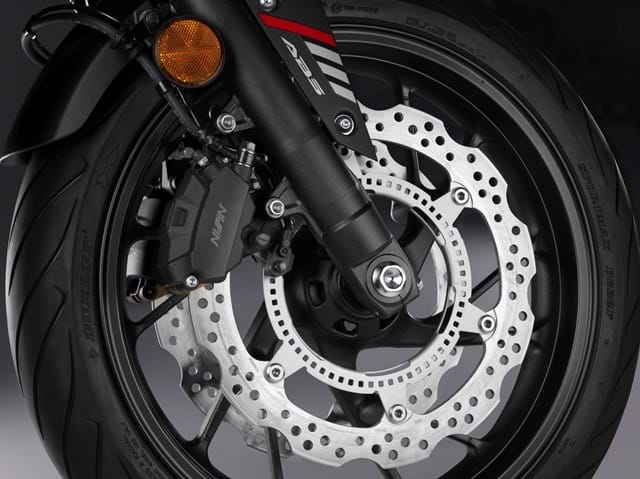 Economy
It is not super-naked fast. If you want to pootle around gently and accelerate with moderation, then you will be rewarded with around 60mpg, even without the streamlining of a screen. More spirited riding reduces that to around 50mpg, but that is still a very good excuse to take the bike and leave the car on the drive. And believe you me, you will want to be more spirited.
Gearbox
The transmission is silky smooth and acceleration is excellent in every single gear... although you will probably want to leave it in 3rd and hang around at the top of the rev range on those country lanes!!
Brakes
With linked ABS as standard they do require a little bedding in from new, but once set, you can stop it on a sixpence... I've never seen a sixpence, but I imagine it's small!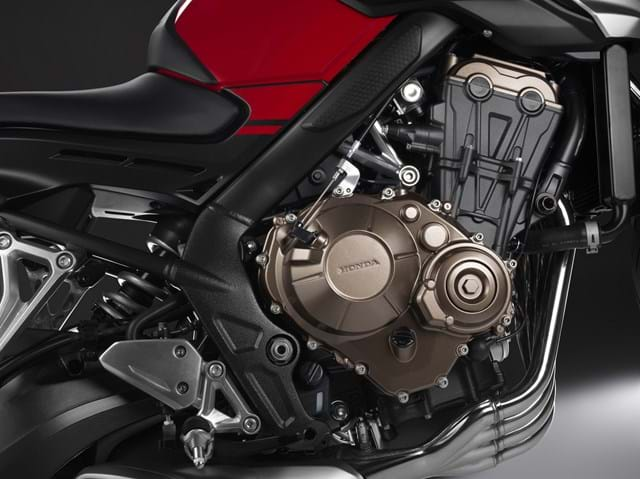 Exhaust
At the higher end of the rev range, the inline four explodes with aggression and excitement. There is a nice raspy roar from the standard exhaust set-up.
A criticism many – including myself – had of the 2014-2016 CB and CBR 650 bikes, was the fact the exhaust was way too quiet, almost dangerously so, and many replaced it with after market systems.
It being a full system, this is not a cheap exercise and the popular Akrapovic costs around £1,200 fitted. The phase 2 650 has a much nicer sounding and louder exhaust.
Many people will still go for an after-market set-up, ever seeking that race bike scream, but all I'm saying is... it's not a necessary addition with this new model.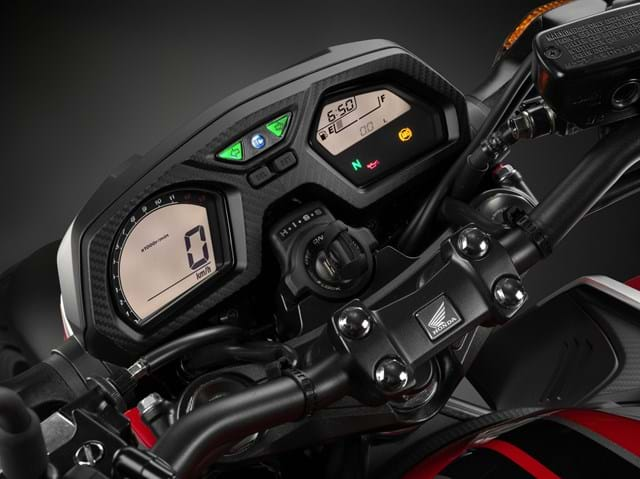 Handling
The CB650F handles really well. Ok, there is room for improvement, but for the average joe rider – me, and probably 90% of those on the road – it is great. The Showa forks perform admirably, and if you must, the rear suspension is adjustable.
The low centre of gravity also adds to the overall effect, and makes for a perfectly balanced and very forgiving machine, perfect for the newer rider, or anyone going back into biking after a maritally enforced break... you know what I mean!
Tyres
The bike sits on Dunlop tyres, which come under a lot of fire on owner's forums online, but quite frankly I have no complaints. I have ridden the bike like a grandad and I have ridden it like a wannabe Dani Pedrosa (well, I think so)... I have ridden in the dry, the wet, the hot, the cold... and they have coped just fine.
So, there are better tyres out there. My favourite all time tyres are Conti Road Attaks... but others will have other preferences. However, my advice is to just stick with the standard fit tyres and wear them out before you replace them. You should easily get 6,000 miles out of them with normal road use.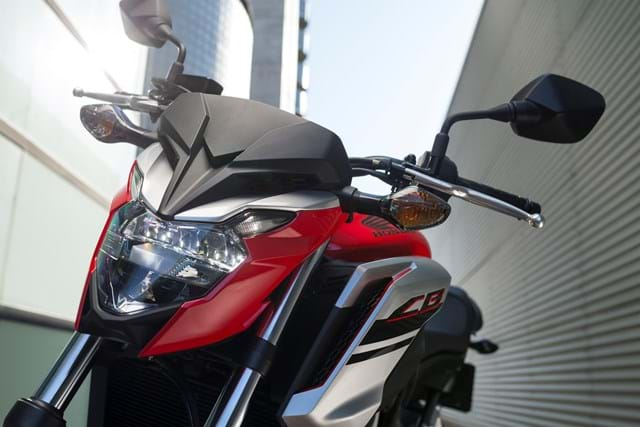 Looks
Aesthetically, the bike is a vast improvement on the 2014-2016 version, with a much more modern front end and LED lights. They are great even on dipped beam and the roads I use are pitch black at night. It may be a naked bike with straight bars, but it still retains a sporty feel.
Any Downsides?
I feel I must put something negative in here, to balance it out a little, but my only real complaint is that the bike is a little buzzy, and so the pins and needles do kick in sooner than in its previous incarnation.
Oh, and the mirrors are not great. Also it is a shame that you have to fork out a small fortune for extras like a belly pan, but then this is a bike on a budget.
If you want Öhlins suspension, belly pans, bar-end mirrors, seat cowl, and lots of Gucci gadgets as standard on a naked bike, you could always opt for the absolutely incredibly superb new Triumph Street Triple RS. However it's £4,000 more, you'll have increased insurance premiums as thieves really like Triumph for some reason and it is most certainly not a suitable "first big bike."
To Sum Up
I will be in my mid-forties when I change this one, and I can see myself going for a CrossTourer or similar, but for now, this little wasp keeps my soul alive!
Go on... you know you want to!
- Naked Rider, 2018
Price Guide
Year
Dealer
Private
Part Ex
Mileage
2019
£5,750
£4,600
£4,050
5,100
2018
£5,500
£4,400
£3,850
4,900
2017
£5,200
£4,150
£3,650
6,700
How to use the price guide
Related Bikes
Honda CBR650F - Faired sports version of the bike with lower bars.
The Second Opinion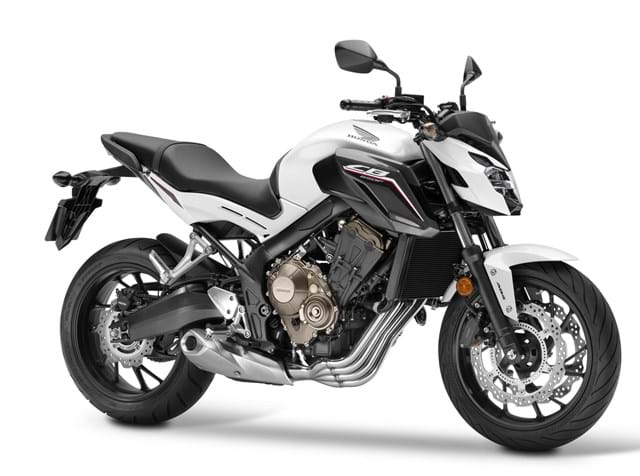 Honda CB650F 2018
Tell us a bit about you
I'm a 55 year old male, 5 ft 10 inches. A returning rider with 15,000 miles experience, on my third bike; GPZ550, CB750 and now CB650F.
Why did you choose it?
I wanted an in-line four engine and in the USA this is the only one in it's class. I needed Honda reliability, 90 bhp is plenty and it looks cool in red and black.
What is good about it?
The handling is neutral and the bike brakes hard. Acceleration 7,000 rpm to 11,000 rpm is intoxicating. My style of riding is high revving and I engine brake the hell out of it. The Honda can take the abuse.
The bike rides great, feels planted upright and in control at all speeds and cornering. The exhaust sounds good revved up and throaty down.
What could be improved?
The mirrors give a great view of my elbows.
Turn signal switch should click to feel. It is smooth so when turning off left the right goes on and visa versa.
It should have come with tank grip pads.
A coloured instrument panel would be better than circa 1980 digital watch type black and grey.
Any mods or upgrades?
Only tank grip pads. 
How is the engine?
I love it. The torque is good and the power band is linear. It rips above 6,000 rpms to 11,000 rpm.
How does it handle?
It's a nimble bike that can be thrown into corners, easy swerves and I can lean it over with confidence. The bike is capable of more than I am. Good to know if I enter the turn too fast I can lean it over with solid grip.
What are the brakes like?
The non ABS system brakes hard. The bike can easily stop and I keep going. Hold on tight, they work frighteningly well.
Is it comfortable?
Yes except for hard stops. I wear a nutty buddy to protect my jewels.
How reliable have you found it?
Perfect. Honda is the best.
To Sum Up
Great. The bike exceeds expectations and is as safe as a motorcycle can be. It sounds like an inline four. I love it and I will keep until I can't ride anymore.
- Daniel M, 2021
Add Your Review
Do you own this bike? We would love to hear anything good, bad, unexpected or that you have changed plus anything that a prospective new owner might find interesting or useful.
More Info
Check out this video review from TheMissendenFlyer.