Kawasaki Z300 Review (2015)
"
It can more than hold its own on the motorway and I don't feel out of my depth travelling 200 miles each week on the M4.
"
What Is It?
The Kawasaki Z300 is an A2 licence friendly naked bike and is powered by a liquid cooled 296 cc parallel twin engine, producing 38.9 bhp at 11,000 rpm and maximum torque at 10,000 rpm.
Specs
Seat Height: Low (

785

 

mm / 30.9 inches)
Weight: Average (170 kg / 375 lbs)
Economy: Average (55 mpg / 5.1 l/100km / 19.5 km/l)
Range: High (210 miles / 338 km)
Power to Weight: Low (0.229 bhp/kg / 0.171 kW/kg)
Top Speed: High (110 mph / 177 km/h)
Pros
Aggressive looks
Light weight
Economy
Low seat
Cons
Power is at the top end
Not ideal in high winds
Tyres
What Is It Like?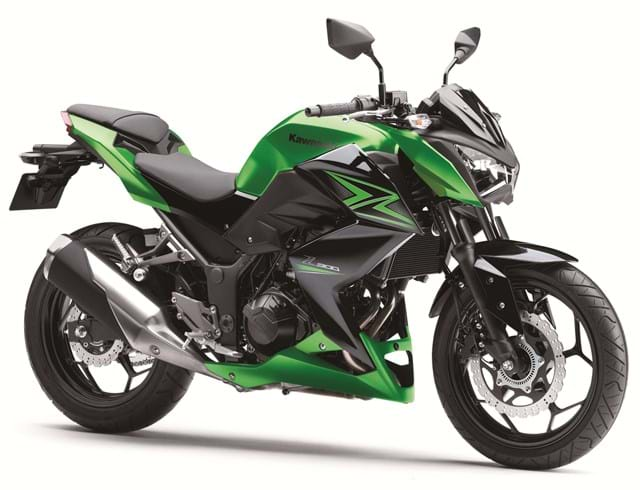 Why The Z300?
I have owned my Kawasaki Z300 for just over a year. In that time I have done 9,000 miles as I use it for a daily commute across South Wales.
Originally, when I passed my test, I was planning on getting a 600cc or larger and I didn't want a sports bike as I needed some level of comfort with the amount of miles I do. I spent hours upon hours trawling the internet before passing my test trying to decide what bike I wanted. I looked at the Yamaha MT-07, Kawasaki Z650 and other naked bikes.
After visiting my local Kawasaki dealer I looked at the Z300. Even though the engine was smaller I was attracted by the running costs and thought I would give it a go. Instantly the bike felt right for me and powerful enough for what I wanted it for.
How Does It Handle?
It may not be as fast as bikes with larger engines but can more than hold its own on the motorway where I do a lot of my travelling. I don't feel out of my depth travelling up to 200 miles each week on the M4.
At 5ft 7 and 80kg the bike is the perfect size for me and it fits into my small shed perfectly.
It saves me a lot of money in fuel on my commute and is a good workhorse while being powerful enough to enjoy it when the mood takes me.
I also use it for pleasure riding during the summer going to local bike shows and find it enjoyable screwing the throttle around the Welsh valleys and mountains.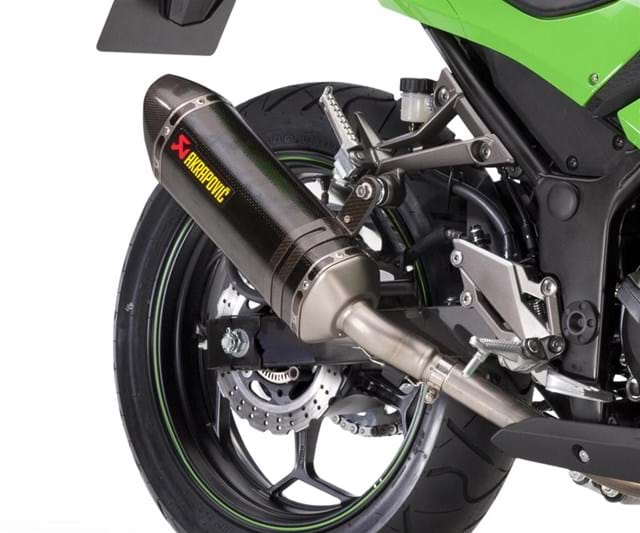 What Have You Changed?
I personally think it looks fantastic and people are often surprised when they find out it is 'only' a 300. Upgrades I have put on the bike include a Givi top box system as I need it to store stuff while working, Akrapovic exhaust which looks and sounds far better than the original and Oxford heated grips which are essential for me in the Winter.
The Givi system is great as it's secure and big enough to hold everything I need. It comes off with one turn of the key if I just want to go for a ride.
To Sum Up
If you want a good all rounder for the daily commute, something that's not going to break the bank and something that is still going to be fun when you fancy a blast then the Z300 is the perfect bike.
The only thing I'm slightly disappointed with is Kawasaki brought out the Z400 recently and if I had got my bike a year later I would have probably gone for that. Ideally I would like a display that shows what gear I am in too.
- Dan L, 2019
Price Guide
Year
Dealer
Private
Part Ex
Mileage
2018
£3,750
£3,000
£2,650
4,900
2017
£3,500
£2,800
£2,450
6,700
2016
£3,050
£2,450
£2,150
8,500
2015
£2,450
£2,000
£1,750
10,300
How to use the price guide
The Second Opinion
Choosing The Z300
I passed my bike test many years ago but after 6 months of having my first bike, a ZXR400, I hit gravel and crashed out, never to ride a bike again..well until a year ago. After much deliberation I decided to giving biking another go, and after much researching into all different bikes, I knew I needed a lightweight bike with a low seat height as I am a little vertically challenged.
I eventually opted for the Z300 and I just love this bike. The riding position is perfect for me with its upright bars. The change of direction is quick and smooth, although my little criticism would be that I find the front tyre has a tendency to tramline to grooves in the road. I added a larger nose fairing as I felt a lot of wind at higher speeds.
What's Good?
In my first year of riding I have clocked up 8,000 very happy miles from the length and breadth of Scotland and Northern Ireland to the Isle of Man and my Z300 has not missed a beat.
The Z300 in my opinion is a fantastic intro bike, it's a great bike to practice on, it's easy to do u-turns and easy to manoeuvre. So overall it's a fantastic bike and looks great.
- Karin S, 2018
Add Your Review
Do you own this bike? We would love to hear anything good, bad, unexpected or that you have changed plus anything that a prospective new owner might find interesting or useful.