Kawasaki Versys-X 300 Review (2017)
"
I've taken this bike to Holland, Germany, Hungary, Slovakia, Poland, Ukaine and the Czech Republic, so I can guarantee it can handle big miles!
"
What Is It?
The Kawasaki Versys-X 300 is an A2 licence friendly adventure bike and is powered by a Euro 4 compliant liquid cooled 296 cc parallel twin engine, producing 39.3 bhp at 11,500 rpm and maximum torque at 10,000 rpm.
Specs
Seat Height: Average (

845

 

mm / 33.3 inches)
Weight: Average (170 kg / 375 lbs)
Economy: Good (60 mpg / 4.7 l/100km / 21.2 km/l)
Range: High (220 miles / 354 km)
Power to Weight: Low (0.229 bhp/kg / 0.171 kW/kg)
Top Speed: High (105 mph / 169 km/h)
Pros
Big bike dimensions
Economy
Comfy
Engine
Screen
Mirrors
Light
Value
Cons
Not the best looking adventure bike
Factory luggage
Side stand
Tyres
Seat
What Is It Like?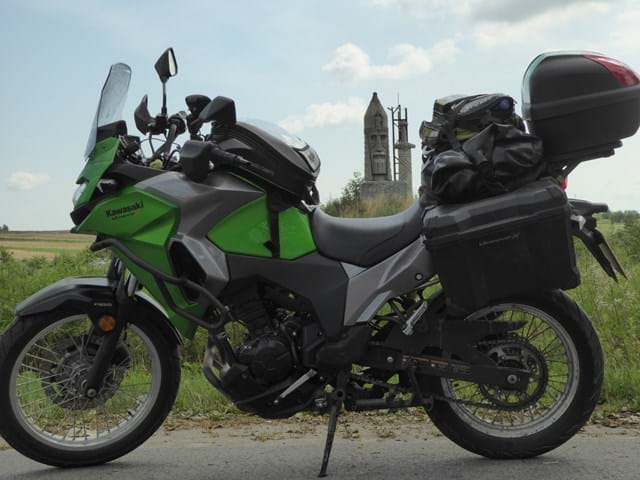 My wee boy Lypen, a 2017 Kawasaki Versys-X 300 Adventure.... after 15 months and 8,000 miles these are my thoughts on the boy:
Why The Versys-X?
I'm 41 years old, have ridden many years and already own a selection of bikes, but following a knee injury Dec 2016 I was facing a year out unless I could find a bike with less weight and less knee bend than my current steed.
The website www.cycle-ergo.com was the best thing ever saving me hours of fruitless attempts, and it led me to consider one of the new 300cc bikes being launched that year - BMW G310GS, or the Versys 300, so I set about trying to find one.... BMW hadn't given a date, whilst the Kawasaki was meant to have landed in January (this was March) and there weren't even demo bikes in the country.
The waiting was frustrating but when I got the text to tell me there was finally a Versys 300 in my local dealer I went straight down and saw it straight out the crate.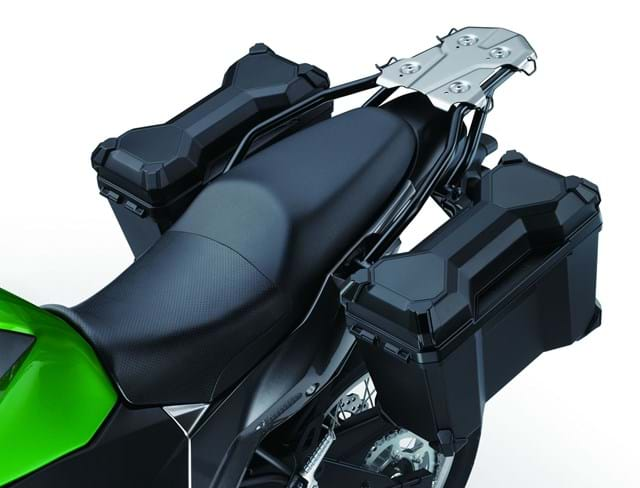 First Impressions
Yes, okay, it looks like a Versys (:ugly!), but it also looks reassuringly like a big bike, with big bike dimensions. A proper seat, and pillion seat, nice screen, good mirrors, nice tall seat height - there really weren't many clues it was only 300cc. I sat on it and it really was light as a feather, and true to cycle-ergo's word, the knee bend was really very comfortable for someone with dodgy knees, and it took me about 2 minutes to decide to buy it.
I went for the Adventure options - ABS, hard plastic panniers, centre stand, tank pad, engine bars and hand guards, and I also added the optional extra of the 12v socket. £5,999 OTR. I've since added the Kawasaki top box which just barely fits a medium sized Shoei lid, but it's been a useful addition.
The manual states running in period is @ 4,000rpm ... sorry, but clearly the person who wrote that has not ridden this bike - it's not a great thumping engine that can do a decent speed at 4,000rpm, it's a - frankly wheezy - 300cc that is going about 20mph at 4,000rpm! So, I ignored that, but did want to take it as easy as possible, so I just decided to try to remain smooth and try to avoid the upper rev range. Which by the way is 15,000rpm, with a the red zone at 12,000rpm.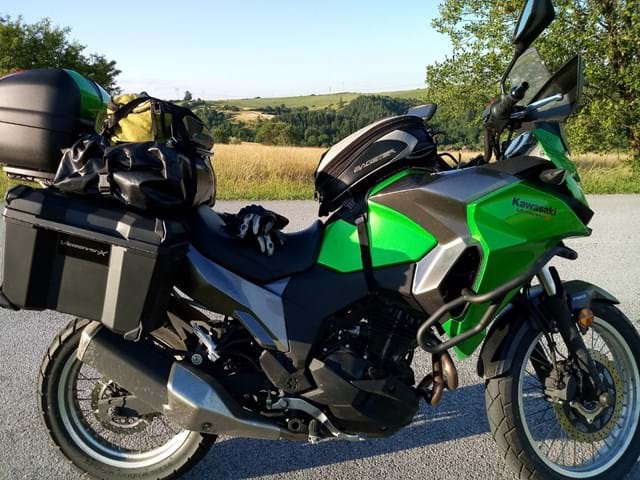 Handling
Well, the comfort is there - the riding position is brilliant - tall, comfortable, the screen is frankly excellent (I'm 5'7" with a 31" inseam) and the mirrors are stable and well positioned. The seat is like a plank. I initially thought it was because I hadn't ridden for a while, but no, the seat is hard as a rock!
The engine really does feel gutless. My basis for comparison is a 19 year old DR350 which is a punchy single and frankly a hoot to ride. The Kawasaki is a parallel twin, and clearly has been set up for new riders, or fuel economy, or perhaps both. After its first service at 600 miles it seemed to liven up a wee bit, so perhaps it was marginally restricted, but it's still very tame.
The brakes took a long time to bed in, but after about 4,000 miles they've been good.
Gearbox
The 6-speed gearing is also very odd with a very short 1-3 so round town you are constantly changing through the gears. It has a gear indicator which I've never had before, but it's been a big help whilst I get used to this new riding experience.
I don't know what the posted top speed is, but 81mph is 10,000rpm in 6th and at that speed it is still all very confidence inspiring - rides true, no wobble, weave or shake, so that's pretty decent performance for a wee 300 really. I've had it closer to 90mph for extended periods on the German autobahns and it still felt solid, so I'm really impressed with that.
Tyres
The tyres it came out of the factory with are not exactly confidence inspiring. On first glance they look like a Metzeler Tourance or some such so I wasn't too fussed, and in the dry there was no real issue, but first ride in the wet and they showed their true colours. I changed them for Metzeler Tourance Nexts before our second tour together which fit my style of riding.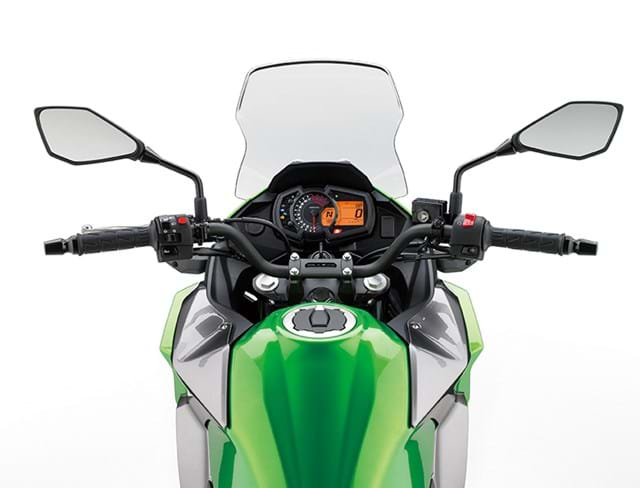 Economy
The tank is 17 litres and the fuel economy is basically as stated! I have managed 220 miles until the filler light flashed (there is also a fuel gauge) and even then he only took 14.5 litres!
That day had been conservative riding, so I thought it might be unusual, but then on the one day I had a motorway slog and sat around 75/80 mph for 3 hours I still managed 180 miles until the light showed, and then it only took 13 litres, so I am very much impressed! Don't get me wrong, I'd happily trade some of that fuel efficiency for a bit more poke, but, well....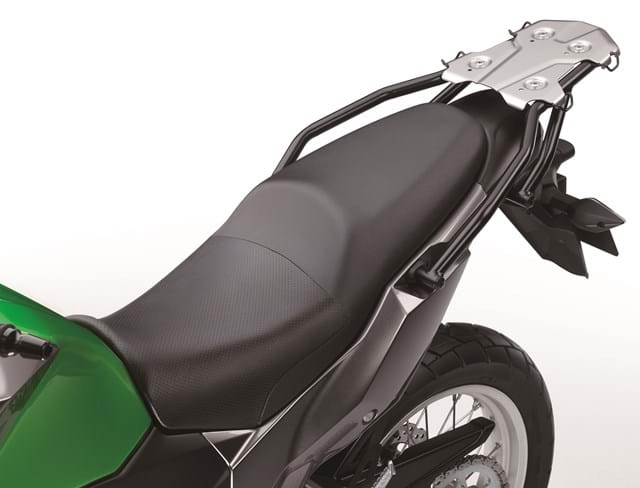 Any Downsides?
Well, apart from the general gutlessness, and the plank for a seat the only other con is the side stand. It is far more stand than it is side - even to the degree that in some petrol stations I have struggled to get enough lean to get off!
I had owned my big bike five years before I had a side stand fail, but with this one it happened in five weeks, and I'm still not sure what happened - I was just stepping off and it went over underneath me. The engine bars and hard case did their job - the only damage was a bit of a scuff on each, and the gear change lever was a bit bent, but nothing of note.
The only other thing is the factory cases - they are REALLY flimsy, they are an odd shape, and because it's really easy to get things in the way of the lock the key gets bent easily. There are other options out there that are far more usable and robust products which I would recommend over the Versys option.
I was also disappointed with the factory chain and sprockets - they were really cheap. I tried to get them changed at 4,000 miles but because they are special order I didn't have time before our next tour, so they are being changed out now at 8,000 miles for a DiD / AFAM set. The handguards are also just single attachment, so don't offer as much protection as some of the aftermarket options, but they've been fine for what I need them for.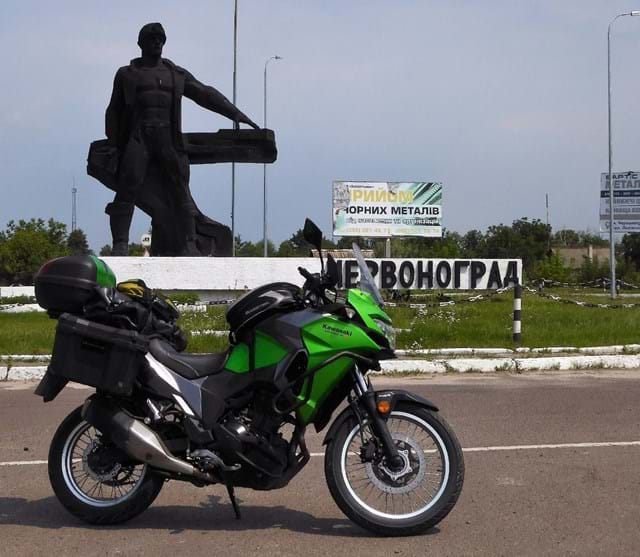 Where Have We Been?
I've taken this bike to Holland, Germany, Hungary, Slovakia, Poland, Ukaine and the Czech Republic, so I can guarantee it can handle big miles!
This bike does inspire confidence - never once did I go into a bend too hot, or feel like I was out of my depth. U-turns are easy, as are car parks. Hill starts with luggage takes a bit of work, and the unpaved / forest roads I've done were really hard work with the gearing, but I've watched some videos of other folk in the US and Phillippines and I think in the right hands this bike might be quite capable on easy dirt too.
As with any small engined bike your riding takes a bit more thought and a bit more planning - overtakes etc, you can't just be lazy and rely on a smooth fast roll on to get you through, but I actually really enjoy that about riding it.
My plan was always that the Versys would be a short term solution to an injury problem, but I'm really starting to enjoy the ease that comes with riding a small bike, so I think I'll keep it a bit longer.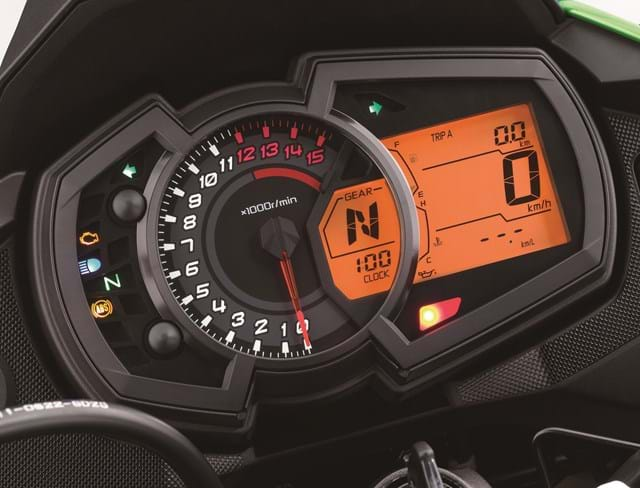 Servicing
I had the 600 mile dealer service, then the first annual service was done at about 3,750 miles. I'm just back from our second tour and I've put it in for what should have been it's 7,500 mile service, but it got a bit hammered on the forest roads in Ukraine Carpathians, so talking to the dealer I opted for the 15,000 mile service @ £500. The bike has a 2 year guarantee, so I want to keep the warranty valid.
Servicing is not cheap - valve clearances every 7,500 miles(!) but I think they're banking on most owners not covering big miles. Tyres were special order as they are odd sizes, as was the chain and sprockets, with a 14T on the front. I've opted for a 15T which should help with the odd gearing but you can't change the size of the rear as it messes up the engine management. There has been a recall on the rear light fitting as it disintegrated, but otherwise all seems to work well.
Pros
Big bike dimensions
Fuel economy
Relatively cheap to buy and insure
Wind protection
Perfectly capable
SOOOOOO lightweight
Comfortable riding position
Useful gear position indicator
Factory top box is pretty good
Excellent mirrors
Excellent turning circle
Good clocks and lights
Cons
The really basic gearing (a pro for new riders!)
Flimsy side cases (other brands are now available)
Side stand is too upright (most people cut them down and/or add a larger footplate)
Seat like a plank
Factory tyres aren't great
Factory chain and sprockets aren't great
New bike so not many after market options, like the Bagster tank cover or a Haynes manual
- Pipa U, 2018
Price Guide
Year
Dealer
Private
Part Ex
Mileage
2020
£4,500
£3,600
£3,150
3,700
2019
£4,350
£3,450
£3,050
5,100
2018
£4,050
£3,250
£2,850
4,900
2017
£3,700
£2,950
£2,600
6,700
How to use the price guide
The Second Opinion
Why The Versys-X?
If you are looking for a new, full sized motorcycle, for the price of a used one look no further than the Kawasaki Versys-X 300. I have been riding for over 50 years and the X 300 is quickly becoming my all time favourite motorcycle. I have always liked the thought of an adventure bike, but could never justify the price, nor was I comfortable with the size and weight.
I had never seen the X 300 in person until I had already bought it online and arrived with my trailer to bring it home. I was pleasantly surprised with the high quality at such a low price. Luckily I was able to find a brand new left over 2017 model, so I paid just £3,470 total out the door including title, tax and license plate. It is only costing me £78 a month over 48 months. Compared to other motorcycles I have own that is pretty much free.
The Engine
Let's talk about that motor. I've heard people say it lacks power, but I just don't agree. It was not meant to be a "stump pulling" Enduro bike. It may not have the low end grunt of a 300-400cc single, BUT it will rev like a Formula 1 race car! If you keep it in it's power band and don't mind shifting to keep it in the proper gear, you will be rewarded with "miles of smiles".
Handling
I had to "retrain" my ears to the sound of the motor on the road. It may be howling at 9,000 rpm and 75 mph, but it LOVES to do it. Keep good oil in it and let 'er rip! Shhhh, don't tell anybody, it will also hit an honest 100 miles per hour at 12,000 rpm. But you didn't hear that from me. If you are into Canyon Carving while sitting in an upright position the X 300 will not disappoint either.
The Seat
Many riders I know say the stock seat is too hard and uncomfortable, but with 2,000 miles on the bike I still haven't found that to be true for me. With the new windshield and some soft luggage a younger person could probably ride from NYC to Los Angeles and be fine. The big fuel tank and 55+ miles per gallon are made for that kind of trip.
Any Mods?
After being caught in the rain several times I decided I needed a bit higher screen. I selected a Givi D4121ST screen that is about 5.5 inches taller than the factory unit. The added 5.5 inches improves protection considerably; the faster you go the larger your envelope of still air. Wind buffeting was all but eliminated and I could hear my music better too! A great improvement and well worth the £84 including shipping. I highly recommend for those wanting better protection. Now, where's that rain?
For convenience running around town I added the E300NT2 Monolock Top Case. It will hold all your rain gear, lunch, water and then some.
I just received the Givi crash bars I ordered, but haven't had time to install them. I also am looking at buying a centre stand. The stock side stand is my only criticism to date. It seems to set the bike too upright and if you don't park in the right spot it can get tippy.
My older brother and I am planning a week or two exploring abandoned mining towns and ghost towns in Colorado this summer, so the OEM tyres will be replaced with something more off road ready. The OEM tyres are good on the highway and on dirt roads, but if you are planning anything more off road you will likely want to replace your tyres as well.
To Sum Up
I just can't say enough about how much I just LOVE this bike. I've read many reviews and owner's opinions criticising it, but I guess they are either spoiled or expecting too much from an inexpensive entry level bike. While being light and nimble it is very comfortable to ride and from the factory pretty well ready to do it all.
The Kawasaki Versys-X 300 will do most things a big £12,000 motorcycle will do and many things a big bike won't. If you are trying to decide if it is for you I say "take the plunge". You won't be sorry.
- Richard A, 2019
Add Your Review
Do you own this bike? We would love to hear anything good, bad, unexpected or that you have changed plus anything that a prospective new owner might find interesting or useful.
More Info
Check out this video review from CagerOnTwoWheels.