Honda CB500F
The Honda CB500F is an A2 licence and beginner friendly naked bike, powered by a 47bhp parallel twin engine. It was first released in 2013 but received a major update in 2016 with LED lighting and adjustable levers.
Pros
A great all rounder, economy, handling
Light and easy to manoeuvre
Cons
Budget for a better exhaust
Minimal wind protection
Wiki
Power is provided by a liquid cooled 471cc parallel twin four stroke engine, producing 46.9bhp at 8,500rpm and maximum torque at 7,000rpm. The engine is a stressed member of the frame.
Features include:
Steel tube frame and swingarm
320mm wavy disc up front with Nissin 2 piston caliper
240mm wavy disc at the rear with single piston caliper
41mm Showa fork with 120mm travel
Rear pro-link shock with 9 level pre-load adjustment and 120mm travel
2->1 exhaust system
60/55W H4 Halogen headlight
6 speed gearbox
It's basically the same bike as the A2 licence friendly sports CBR500R and adventure CB500X, but without tall suspension, fairing or low bars (49mm lower on the R).
The LCD console gives you the usual speedo, revs, fuel level as well as dual trip meters, fuel consumption and a clock while the 6 split spoke 17" cast Aluminium wheels take a 120/70 tyre at the front and 160/60 at the rear.
Accessories include heated grips (£280), hugger (£85), tall screen (£115), 35 litre top box (£395), pannier kit (£325), hugger (£85), Akrapovic slip on (£495), carbon effect mini screen (£25), rear seat cowl (£130) and carbon fibre tank pad (£25).
2013-2017: Colours: Black, white, red, red/white, yellow, orange, white/blue/red
2018: Black, red, blue, silver/yellow
2016: Slightly larger fuel tank, LED lighting, spring re-load adjustable fork, adjustable brake levers and new lighter exhaust.
2017: Euro 4 compliant, new muffler.
If we've missed something vital or got something laughably wrong about this model please let us know and we will love you forever.
Price Guide
| Year | Dealer | Private | Part Ex | Mileage |
| --- | --- | --- | --- | --- |
| 2013 | £3,400 | £2,700 | £2,400 | 11,500 |
| 2014 | £3,500 | £2,800 | £2,450 | 9,700 |
| 2015 | £3,650 | £2,950 | £2,550 | 4,100 |
| 2016 | £3,900 | £3,100 | £2,700 | 3,100 |
| 2017 | £4,150 | £3,350 | £2,900 | 2,100 |
| 2018 | £5,450 | £4,400 | £3,850 | 1,450 |
Prices Updated: 24th September 2018
Finance your next bike with Superbike Loans. All makes and models considered.
Value Your Bike
Get a full valuation from We Want Your Motorbike today. Just pop in your reg number and a few bike details, get the valuation and they'll pay for your bike within 24 hours - easy peasy.
Bikes for Sale (23)
1
£3,795 eBay, 25th September
UK Mainland Delivery JUST £99! - CALL 0161 432 1303
£3,400 eBay, 25th September
FREE DELIVERY IN KENT, NATIONWIDE DELIVERY £150*
£4,195 eBay, 25th September
FINANCE AVAILABLE-PART EX WELCOME-DELIVERY ARRANGED
1
Insurance Costs
Insurance groups vary widely by insurer with anywhere from 17 to 65 groups but our simple scale gives you a rough idea of how wallet busting it's likely to be:
Insurance Group: 5 of 10

With over 85 years' experience, you can trust Bennetts to find you the cover that meets your needs for the best price from their panel of insurers. So get a quote on their 5-Star Defaqto rated cover today.

Reviews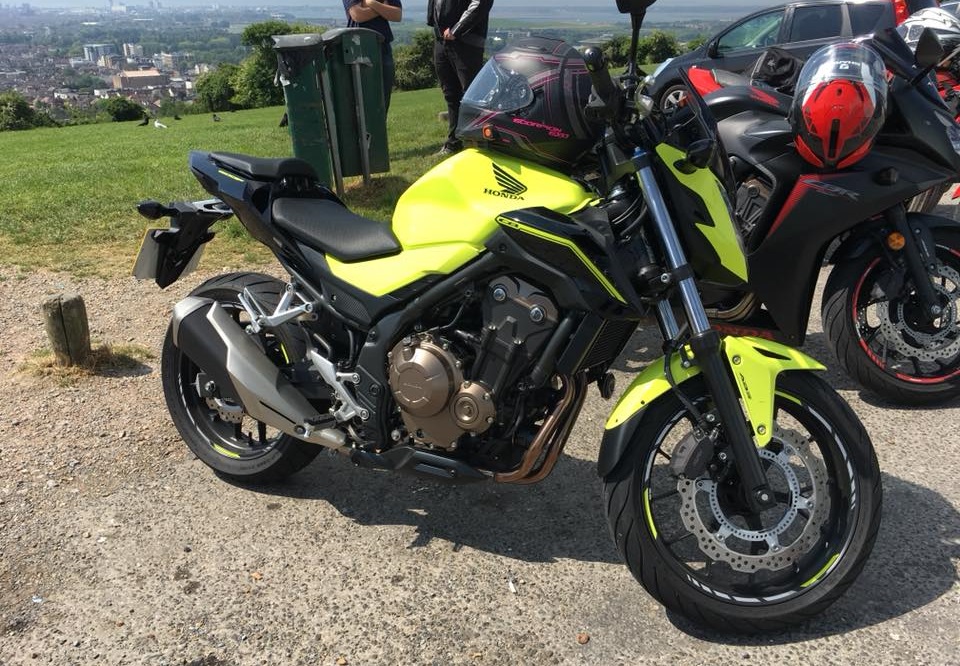 I have owned my 2016 CB500F for a couple of months now and it was the best choice of upgrade for me. I had previously ridden a 2017 CB125F for a year on my CBT, before taking my full A licence. Whilst I was tempted by the CB650F, being only 5ft 2 and 46kg, manoeuvring the larger bike did not feel comfortable. I use my bike every day for work (into and around town) so I needed something reliable, able to handle a motorway, fuel efficient and easy to move about. The CB500F fulfils this perfectly.
Being relatively light (~180kg) I find moving the bike around fairly easy, especially in comparison to the larger bikes. For me, it's fast enough off the line in the lower gears to leave cars standing at lights - a nice jump up from the 125 but not too much to be scary and twitchy. The handing is superb; solid as a rock, forgiving, comfortable and smooth. No issues moving around town and cruises nicely at 70+ on the motorway, as well as great fun around the twists. The wind resistance hits straight in the chest so is very steady and firm. Seating position is great for me and I can touch the floor with both feet okay. It feels just like a bigger 125, which is what I wanted.
The fuel economy is superb. I don't drive purposely conservatively and do have a bit of a play now and again, and I am still getting 81-82mpg! I can't remember the last time I fuelled up… As for reliability - its a Honda.. I am expecting no issues! Whilst many people told me I would get bored and why bother with a 500 when I can get anything, I am VERY happy with this bike and highly recommend it as a first 'bigger' bike, particularly for commuting, smaller people!
Photo Courtesy of Jason Brown Photography (my husband - who owns the CBR650F in the background)!
- Katherine B, 2018
---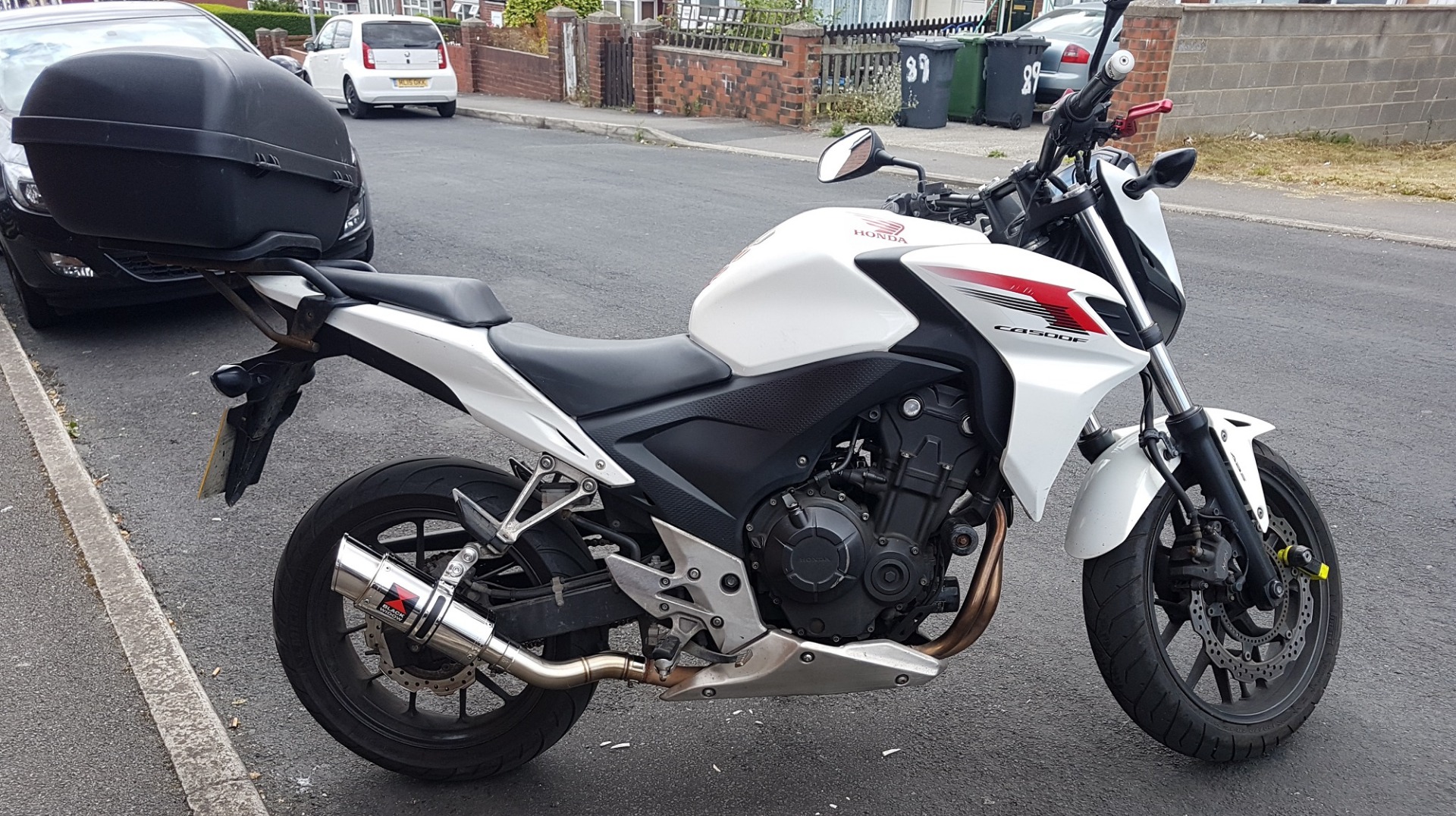 I bought my CB500F last year, it's on a 2014 plate and had 6,560 on the clock. It now has 14,329... obviously by that vast increase in mileage they are a cracking bike to own.
They are a very easy way into the big bike world and sure do shift too! I've recently changed the stock exhaust to a 200SS black widow stainless steel slip on and it really has made a difference not only in noise but performance too. I go travelling all over on it as it is a real comfy bike to ride, easy to ride too.
There are quite a few 500cc motorbikes out there on the market but I would highly recommend this as being the best first bike for anyone. I have owned a Kawasaki ER500 and it wasn't bad... until it completely died on me so that's now in a scrap yard WHERE IT BELONGS!
In summary the honda CB500F is a fantastic easy going and great all round bike to own!
- Ashley H, 2018
---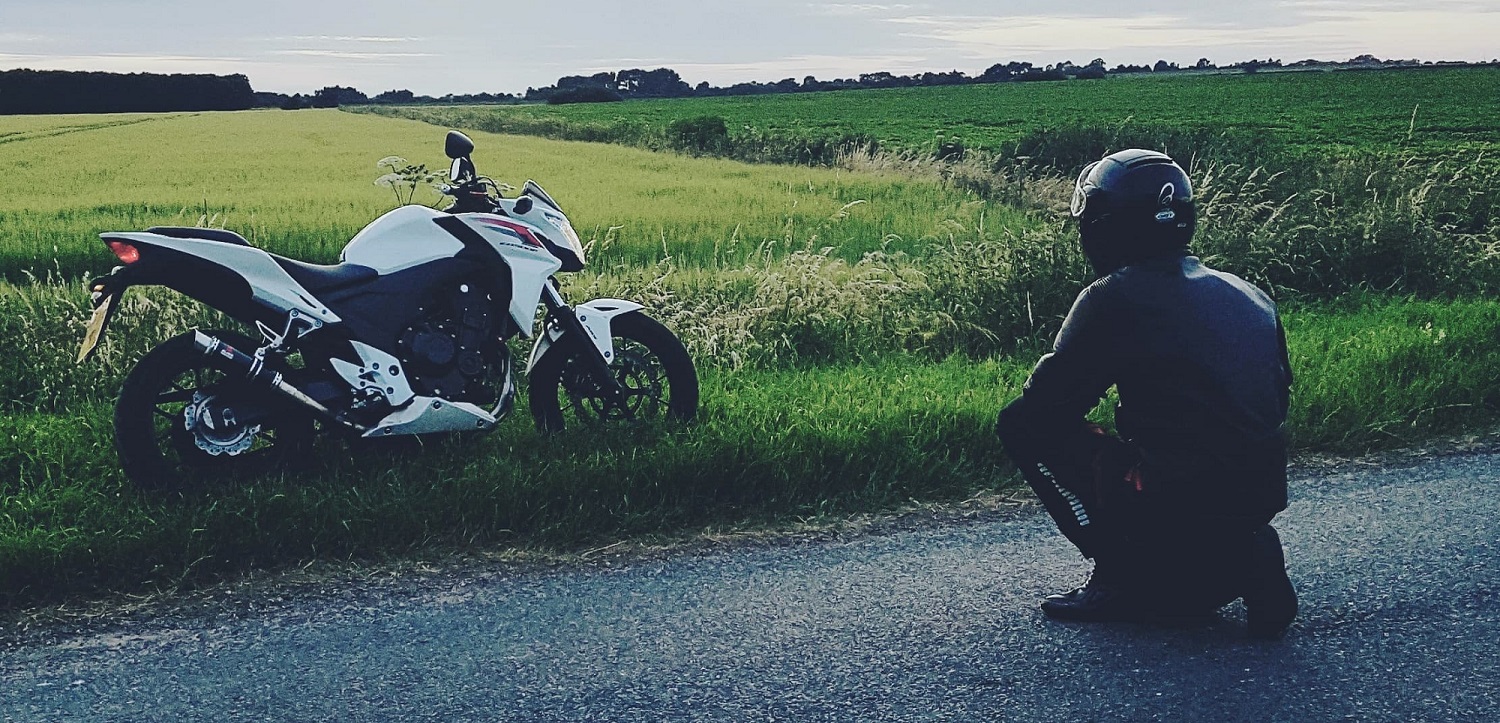 What can I say?
This is my first bike, I have never ridden anything else, which means people where sceptical as to whether I would be able to safely ride it. It turns out that the bike is a fantastic first bike.
It handles really well in corners, I'm able to get my knee down and it is super comfy so will also make an excellent commuter bike. It will power wheelie in first, clutch up in second and will do a 4th gear burnout. You should be looking at getting a maximum of 115 mph if you're light in weight. It's super easy to modify and it is a great head turner.

I have ridden lots of bikes since owning this CB500F and I can categorically say that I wouldn't have picked another bike.
- Benjamin A, 2018
---
I love my little CB500F, it's a 2015 on a 16 plate and it's done 10.500 miles. When I went to buy a bike I was open to all brands and was favouring the Kawasaki but once I sat on the CB500F I knew that was the one, as I told my partner, the bike chose me.
I'm 5'4" and 52 kg. I won't tell you my age but I got my full bike license in 1992. I feel so comfortable with the weight and size manoeuvring the bike is effortless. I have lowered my CB500F with a lust link so I can get both feet flat on the ground.
I commute to work daily through county lanes and into town. My CB500F loves the twisted lanes, handles much better than larger / heavier bikes can and when in town traffic, it behaves impeccably. Yes The CB500F could race the cars off the lights if I wanted to but these days I just want to arrive safely at work. On bypasses and motorways you can easily achieve well over the national speed levels and with a passenger the bike still feels well balanced.
Being a naked bike you do feel the wind at faster speeds but if you want to constantly fly your not going to buy a naked bike. Okay, It's not the most powerful bike out there and if your still at the stage in life where you need to live on the edge, you may feel this bike lacks for you.
What you do get is Honda reliably, excellent fuel economy (I get 82+ mpg), excellent handling, and a grin on your face after every ride.
- Jenny W, 2018
Videos
Check out this useful review from CagerOnTwoWheels:
Availability
How many bikes like this are around, by year of production, including those licensed for use on the road and those off the road with a Statutory Off Road Notification (SORN).
| Year | On The Road | Off The Road | Total Around |
| --- | --- | --- | --- |
| 2013 | 358 | 18 | 376 |
| 2014 | 400 | 21 | 421 |
| 2015 | 398 | 15 | 413 |
Recalls
RM/2014/006, issued 14/03/2014, affected 1,729 bikes
When the engine becomes hot, residual torque of the rocker shaft arm sealing bolts can decrease gradually and the sealing bolt can become loose and fall out. This can result in engine oil leaking and the engine stalling.
Build Dates: 29/10/2012 to 

15/08/2013 

Vehicle Ids: 

MLHPC44B0D5000711 to MLHPC44B9D5003638 and 

MLHPC45B1D5000375 to MLHPC46B2D5003560
RM/2015/026, issued 16/09/2015, affected 2,867 bikes
The fuel level gauge arm holder at the fuel pump may swell during hot weather riding conditions and may become weakened. Under the riding condition of deceleration and immediate acceleration, the fuel wave created inside the fuel tank causes higher load on the float arm and it could become detached from its holder. If the fuel float arm becomes detached it could result in, fuel indicator error, abnormal noise from fuel tank, or in worst case engine stall should the arm contact the fuel pump terminals.
Build Dates: 17/12/2012 to 27/05/2015

Vehicle Ids: MLHPC44B3D5000783 to MLHPC45B3F5202332 and 

MLHPC44B3D5000783 to MLHPC45B3F5202332