BMW R 18 Review (2020)
"
The lines take you back in time, but the torque will propel you into the future.
"
What Is It?
The BMW R 18 is a premium cruiser style bike and is powered by a Euro 5 compliant air / oil cooled 1,802 cc Boxer engine, producing 89.9 bhp at 4,750 rpm and maximum torque at just 3,000 rpm. An impressive 95% of the torque is available from 2,000 rpm to 4,000 rpm.
Specs
Seat Height: Low (

690

 

mm / 27.2 inches)
Weight: Very heavy (345 kg / 761 lbs)
Economy: Average (50 mpg / 5.6 l/100km / 17.7 km/l)
Range: High (180 miles / 290 km)
Power to Weight: Average (0.261 bhp/kg / 0.195 kW/kg)
Top Speed: High (120 mph / 193 km/h)
Pros
Plenty of customisation options
Clever hidden rear suspension
Loads of low down torque
Visually perfect
Super low seat
Comfort
Brakes
Cons
Not particularly pillion friendly
Minimal electronics package
Ground clearance
No fuel gauge
Really heavy
Hard seat
What Is It Like?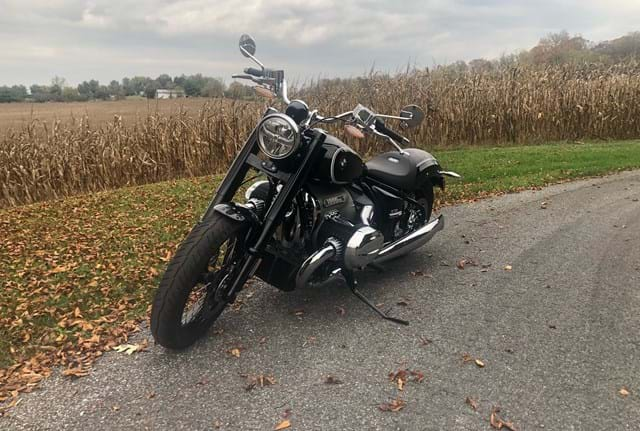 About me
I'm a 52 year old biker built like a bear, 6'3", 118 kg / 260 lbs and co-founder of www.R18Forums.com
I have been riding since I was 10 and over the years I've ridden Yamaha's, Kawasaki's, Harley-Davidson's and Buell's. I then found my true passion in motorcycles with BMW.
I currently own a 2001 R1200C Phoenix, 2012 K1600GTL, a 2021 R 18 First Edition and I'm in the middle of a museum quality restoration of a 1963 Honda Benley.
Why did you choose it?
It's a modern day take on a BMW classic. A cruiser that takes you back to the golden days of what motorcycling was, but with the modern safety features and the massive jugs that breath life into a magnificent bike.
What is good about it?
The lines take you back in time, but the torque will propel you into the future.
What could be improved?
While the tank looks large, an average fill-up is just over 11 litres / 3 US gallons when the light comes on.
A taller seat would make life easier for the long rides, but the bike is new and the taller seats are not yet available from BMW.
What is the economy like?
Through the first 550 miles I have averaged 50 mpg / 42 US mpg with a high of 54 mpg / 45 US mpg.
Any mods or upgrades?
The first thing I did was remove the original BMW roundels, replacing them with the First Edition retro copper BMW roundels.
How is the engine?
She is a beast! Torque like nothing else. From the time you first fire it up and she wants to lean over to the left you know that there is a copious amount of metal flying around between your legs.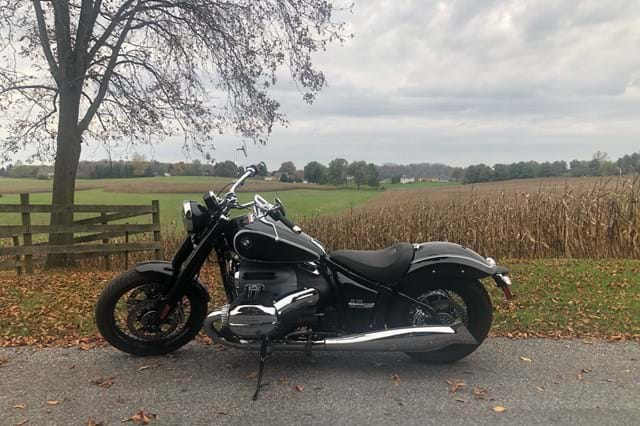 How does it handle?
This is a back-road cruiser that does well for a bike that weighs over 354 kg / 780 lbs. If you want to lean it way over, be prepared for a little bit of peg-drag.
The key to getting the best ride out of your R 18, is to ensure that you have correctly set the preload on the rear suspension. Too many people in the press who have reviewed the bike complained about how easy it was to drag the pegs, only to find out that the bike's rear suspension was still set in "Shipping" mode with no preload.
What are the brakes like?
You are not going to do a stoppie / endo on this bike unless you hit an immovable object. The brakes are firm, sure-footed and stop amazingly well given the heft of the bike.
Is it comfortable?
The R 18 rides very well. It's smooth on the road and settles nicely at 2,000 rpm for the majority of your cruising.
The smaller seat does require regular stops to stretch your legs and enjoy the scenery before motoring back out again.
How reliable have you found it?
To date the R 18 has been flawless. We've been out in the rain, the cold, the beautiful sunny days and have had zero problems.
What's the servicing frequency and cost like?
The R 18 is your typical BMW with the first service coming in at the 600 mile mark and then every 3,000 miles after that. Look at spending around £155 / $200 for minor services and £540 / $700 for majors.
To sum up
BMW has created an amazing 1,802 cc power plant wrapped in a steel frame and filled it with all the necessary electronic goodness that BMW is known for.
The best way to describe this bike is that it has a soul. As you ride you become part of the bike. You sense things that you haven't before and you feel as if you are back in a time when things were much simpler.
It won't be the bike for everyone, but it will be the special bike for those that are not looking to colour inside the lines.
- Eric W, 2020
Price Guide
Year
Dealer
Private
Part Ex
Mileage
2021
£18,300
£14,650
£12,800
2,100
2020
£13,550
£10,850
£9,500
3,700
How to use the price guide
The Second Opinion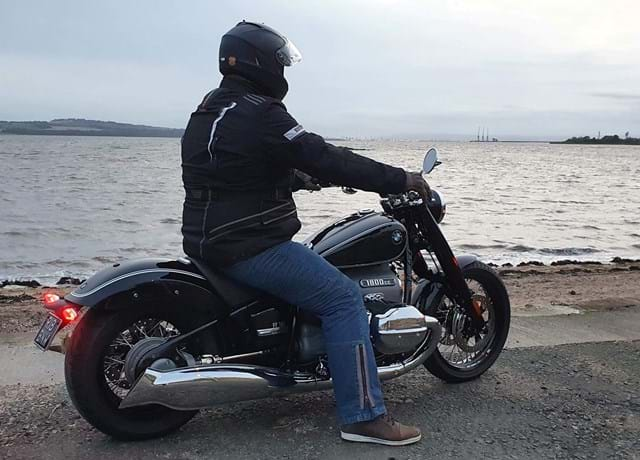 The R18, The Gentleman's Cruiser?
Well the Bavarian back room boys have gone and done it now, taking the fight right to Harley Davidson's doorstep. Whilst Harley are still printing copious amounts of tee shirts and embossing all things leather, not to mention messing around with E bikes and bicycles, BMW have pulled the R18 right into the centre ring gunning for a piece of the American market that was once dominated by the native HD Brand.
Even the name of BMW's newest bike takes its heritage rite back from the early years R27, R12, R2 and so on.
Equipment
The cruiser takes its styling cues right from the drawing board of the aforementioned predecessors, tear drop tank, hand painted coach lines and simple yet elegant frame. Although this one now sports fuel injection and is Euro 5 compliant, it's difficult to see where it has all been cleverly hidden, but it must be there.
A nice touch is the key mimics the shape and contours of the petrol tank, so there's no chance you'll mistake your key.
With keyless ignition all you need to do is chuck your leg over the saddle, haul the brute into the vertical position, pull the clutch in and press the start button. At that point you'll understand why you're holding it tightly as the initial thump of the motor kicking into life is enough to shake its head. Once ticking over it returns to a normal motorcycle.
Mods
The First Edition models are fairly standard across the board with minimum variants or "toys" to add. These are well spec'd to begin with but as most riders are hurtling towards middle age, heated grips are always a good shout and perhaps the novelty of the reverse gear which will help any arthritic brother reverse out the garage.
The chrome pack certainly makes a bold statement and there's plenty of it, it looks good, feels thick and well-engineered. Everything on the bike is meant to be there; this isn't a cheap quick build chucked together from the end of line parts bin.
BMW are about to launch more model variants and a series of listed factory custom parts, well it works for Triumph and Harley so why not. The formula clearly works, however the shape and design of the bike certainly lends itself to the custom builder who can take this bike into another league with hand crafted bling. I'm sure there'll be a full-scale race on to see who can pimp this the most and I've already got my list ready.
Handling
Once you've reversed this out the garage with the aid of the starter button in reverse mode we can begin. Once the bike begins to move faster than your gran with a full shopping bag it begins to lighten up and you don't feel the weight of the bike. Just don't blip the throttle or you're gently reminded that this is an 1,800 cc engine and it does tend to shake or sway back to stable vertical and forward propulsion.
Given the sheer size of the engine, which looks even more massive once you're on and riding the thing, it can pull away in top gear and probably plough a field with ease thanks to the abundance of torque it can produce.

Once moving and you give it a handful it does reward you with the unmistakable sound of an old school airhead. It's not vulgar or loud but confident enough to make you smile.
Give it some gas, a quick change through the gears and the open prop shaft will give you the sideways kick which again is reminiscent of the R series.
Looking over the bars to the round clock above the black headlight, it just looks like the clock and headlight from the R27 although that clock was inserted into the headlight. The blue backlight is a nice modern touch and gives you 3 rider modes: Rock, Roll and Rain. If you've got to use rain mode then I can only assume when you started your journey it was sunny!
Being a cruiser, it behaves well on sweeping A roads and motorways alike and will churn up mile after mile with ease.
Ride it like your Ducati Panigale and you'll struggle. You need a slightly different riding technique and you will be rewarded tenfold. Weighing in at nearly 350 kg and given its sheer size, it takes a confident rider 5 minutes to settle into it.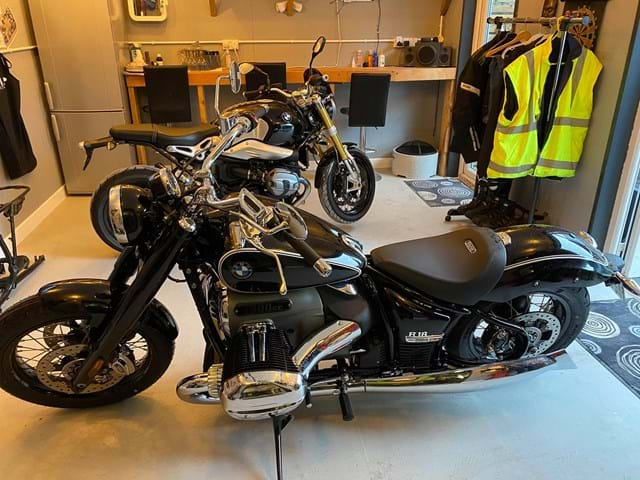 What could be improved?
Like everything in life, nothing is perfect and this cruiser is no exception, so where do we start?
The first and foremost item from modern motorcycles; a fuel gauge! Strange as it is there isn't one, so get counting on your trip meter. At around 115 miles the warning light comes on and you just hope there's a petrol station nearby because you ain't pushing this too far!
The ride position is next up. Given it's a boxer engine, it doesn't provide you with the feel and the feet forward option of other cruisers, but somehow you're actually sitting more upright than you think. It isn't that uncomfortable but the saddle is hard, so for the middle aged snow flakes then perhaps a medical gel insert would sort that one. Being a lanky 6'2" the petrol station was a welcome break to stop, stretch and refuel.
A factory option for a pillion seat? Er no thanks! Sitting on not much more than a leather cover postage stamp of foam and not much to grab on to, coupled with the sudden torque; it's a recipe for getting kicked in the head as your pillion checks out the rear tyre pattern from the tarmac upwards!
I would say the suspension is on the hard side. Hit a few pot holes and you'll be all over the shop, but on the other hand it doesn't wallow mid high speed corner so I suppose it's a trade off.
Since you lean a bike into corners I'm still trying to work out the benefit of an adaptive headlight? Maybe I'm missing something or perhaps I need to ride more at night to see the difference.
Like with most cruisers, ground clearance is an issue and this one doesn't get off the hook either! With some slow speed manoeuvres you'll ground the pegs, but then again you'll be grinding them on your favourite twisty B road.
The exhaust may give you a gentlemanly rumble but it's far from loud, almost silent and insipid. I'm sure the engineers could have stuck a sound valve in that massive exhaust system somewhere. While we're on about the exhaust it shields that stunning open prop from being fully seen, which I assume was the point of making it naked. An amazing piece of engineering covered by the silencer! C'mon BMW!
To capture the look of a real cruiser that rear tyre needs to double in width The front mudguard has missed the point altogether and is a bit bland.
When I saw the concept bike I got all excited and hoped the launch bike would have the reverse levers, the short fish tail exhaust ends and a proper old school saddle but with Euro 5 compliance and something that appeals to the masses I guess it was never going to be that cool.
To sum up
I've probably listed more negatives than positives, so the question is "do I regret buying one"? The answer will always be no I don't regret it, I love the bloody thing!
It's a well-engineered thing of absolute beauty and the few negatives are treated as quirks. Even non BMW fans have now seen it and commented that they didn't want to like it, but it grows on them and quickly too.
Will it draw the masses from Harley Davidson? Probably not, it's not as loud or in your face but it will bring current BMW riders to the cruiser market and perhaps that will be enough to make it a worthwhile investment from BMW to satisfy the shareholders.

- George Talbot and Scott Biddle, 2020
A Few More Thoughts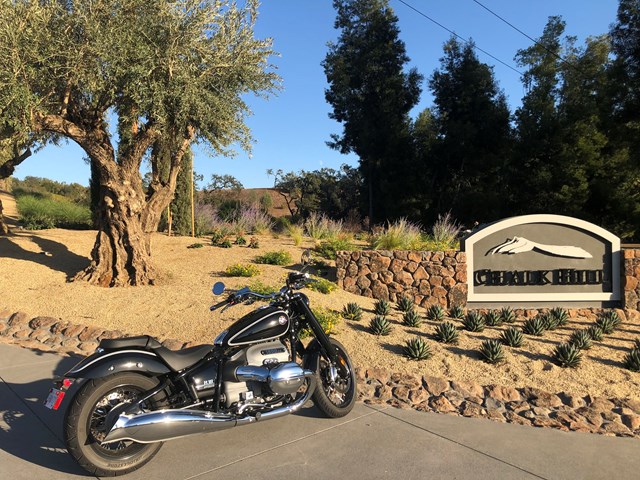 Tell us a bit about you
I'm a 46 year old male and 6ft. I've been riding since I was 14, but it has been a few years since I owned a bike.
Why did you choose it?
I knew the second I saw the R18 that I had to own it.
What is good about it?
The huge boxer engine with lots of power, while being smooth and balanced.
What could be improved?
Adding a fuel gauge.
Any mods or upgrades?
First edition standard package.
How is the engine?
It's a beast.
How does it handle?
Very nicely.
What are the brakes like?
Solid.
Is it comfortable?
Yes, I love the mid position and it's super comfortable.
How reliable have you found it?
Extremely.
What's the servicing frequency and cost like?
I've only had the initial 600 mile check.
How would you sum up the model?
Owning the R18 is a dream come true.
- Paul F, 2020