Ducati Panigale V4 Review (2018)
"
Every time I ride the bike I love it more and would recommend this to anyone who can afford one.
"
What Is It?
The Ducati Panigale V4 is a premium sports bike and is powered by a liquid cooled 1,103cc 90° V4 Desmosedici Stradale engine with MotoGP style counter-rotating crank, producing 211.2 bhp at 13,000 rpm and maximum torque at 10,000 rpm.
Specs
Seat Height: Average (

830

 

mm / 32.7 inches)
Weight: Average (198 kg / 437 lbs)
Economy: Poor (35 mpg / 8.1 l/100km / 12.4 km/l)
Range: Average (120 miles / 193 km)
Power to Weight: Very high (1.066 bhp/kg / 0.795 kW/kg)
Top Speed: Very high (200 mph / 322 km/h)
Pros
Quickshifter
Cornering
Torque
Brakes
Sound
Power
Looks
Tyres
Cons
Expensive to buy and run
Can get hot in traffic
Eats tyres
Mirrors
What Is It Like?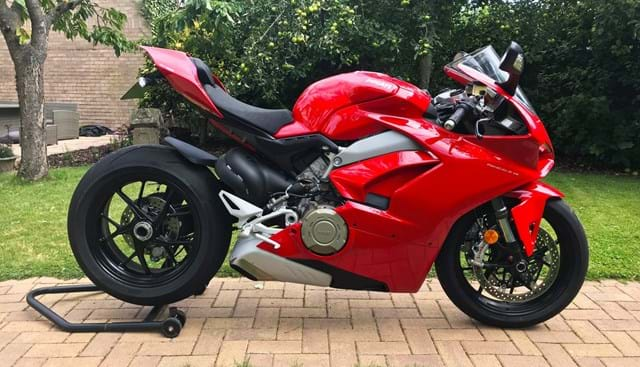 Choosing The V4
In 1994 I was 11 and I remember the very first time I heard the distinctive sound of a Ducati 916 dry clutch from the passenger seat of my Dad's car. I remember the sound of its Termignoni pipes shaking the whole car and thinking that one day I would own one.
Fast forward 25 years and I'm standing in the showroom of Ducati Manchester about to hand over the deposit for a brand new Panigale V4. Ironically, my new bike is displayed in the showroom next to a near mint condition 916 making it easy to see the evolution of the icon.
It has the signature single sided swingarm, twin pipes albeit now slung under the belly, twin headlights set low in the front fairing and of course deep red paintwork.
Despite the new bikes complexities I have no time for a handover and get it into my van as fast as is possible, then hit the road.
First Impressions
Back at home it's clear that my excitement has already gotten the better of me as I hang up the phone to my current bike insurer. With 5 years no claims on every new superbike to date, the latest of which was Kawasaki's ZX-10R I am unable to insure the bike (at 36!). It takes me a whole day to negotiate an annual fee that is double that of my previous machine, which is painful but necessary.
Minutes later I am leathered up, key in hand and standing over my stunning V4, the single most expensive toy I've purchased. The Panigale V4 is stunning, so much so that I have to take some time to absorb its looks – its extremely well put together on face value.
Comfort
As an ex superstock rider I feel immediately at home in the seat – it's high but so are the pegs giving you good ground clearance and a generous amount of leg room compared to Jap rivals. As you'd expect the bars are low but comfortable, the cockpit feels compact but the screen is surprisingly high giving ample wind protection.
As I pull up at the first set of traffic lights I realise that I haven't even adjusted the mirrors, which have fixed stalks and seem like they're cheap Halfords specials – not that it matters. Anything over 50 mph and you can't make anything out anyway.
Riding in town the riding position starts to take its toll, though no more than any other super sport machine. When sat in traffic the Panigale heats up fast and the underseat pipes do become somewhat uncomfortable with stifling levels of heat soaking into your thighs – this bike was not meant to sit still.
Handling
The Ducati Panigale V4 has an amazing electronics package – which is well beyond my interest at this point. I select the sport mode, which applies predetermined selections to ABS, engine braking, traction control, anti-wheelie and power delivery modes. It's all a lot to take in so I just decide to ride it and see!
I'm 50 miles in when my knee first touches the ground in first gear at 70mph. The V4 delivers its power in such a smooth way that you'll be fooled into thinking you're in a much higher gear. On a track this means you have power on tap, on the road it means copious amounts of banked wheelies out of roundabouts, which should terrify me – but it doesn't.
Quickshifter
The Panigale makes sheer insanity feel somewhat controlled and calculated – it's smarter, faster and better than me in every way. The Panigale V4 comes with an up and down quickshifter, which is new to me and takes some getting used to. On the approach to bends and roundabouts under heavy braking I repeatedly blip the throttle, which confuses the auto blipper. I have to force myself to use the clutch to pull away and then… Leave it alone! To my surprise the shifter works perfectly at slow speeds, there's no lurch forwards and the gears slip seamlessly into place.
Economy
Just 80 miles into my first fuel tank I have completely ignored the running in instructions and the fuel light is on – after 80 miles! Being unfamiliar with the bike I didn't chance trying to make it home and pull up for a stop. £16 later we're ready to rock.
Sound
As I turn the key and fire the bike up I'm suddenly aware that the whole forecourt is staring at me and not because the bike looks cool (well perhaps) but because it's so loud. I've already heard rumours that the standard exhaust struggles to make the noise limits on trackdays and this is a worry. Thankfully, it will be another 25 years before I can afford to take this on track anyway and I'm quite happy with the gorgeous sound of the GP inspired V4.
Rider Aids
Ok enough fairying about Ben, time to stretch its legs, gulp. As I reach familiar roads I start to wind on the Ducati's power running it up to the redline, clicking through the gears, front wheel hovering just above the tarmac. The Panigale's electronics are unbelievable allowing me to maximise forward thrust.
It doesn't interfere and feels like a recommendation if that's possible. Despite the obvious presence of electronic aids I still feel completely in control and one aggressive tug on the throttle allows me to lift the Panigale's nose towards the sky.
Chassis
Thankfully Ducati have invested as much time in the chassis as the engine and electronics. The Duke leans effortlessly into fast bends, the standard suspension set up is hard but very much biased on the front end, which suits me. The V4 allows you to run in hot almost deliberately on the giant Brembo's and the custom Pirelli Diablo Supercorsa SP's heat up in minutes despite it being quite mild outside.
Brakes
I'm just 10 miles front home and utterly content with my decision to purchase this bike when the brakes begin to shudder and bind on the front end, so much so that I have to roll off and plod home. This braking issue continues the next time I ride the bike even when the brakes are cold, could it be that I've cooked them? Perhaps a stone has gotten stuck in the caliper? I inspect the brakes several times and can see no scoring on the disc or damage to the pads – hmmm, answers on a postcard? After several rides the problem disappears, but I'm left wondering whether I need to review my pad choice.
Pillions
So we are in week four of ownership and she's finally gotten too much, yes my wife has forced me  to put the pillion seat on. This sounds like a simple task no? Think again!
A turn of the key removes a pointless cosmetic centrepiece on the rear seat and a further four Allen bolts and a rear fairing exchange later and the rear seat can be clipped on. The rear seat sits at least 7" higher than the rider but, I'm told is quite comfy (for a plank of wood) and allows the pillion to see clear over even the tallest riders head. Before you go riding you'll need to figure out how to access the right hand footrest bolt which is far too close to the exhaust making it impossible to use a standard Allen key.
When riding two up at any kind of speed you need to pay attention. The V4's electronics cannot keep up and and you will find yourself at 45 degrees at every opportunity, which is enough to put your pillion off bikes for life – we can only hope.
Mods
Next up its time to fit an Optimate charger – I've had experiences with Ducati batteries before (Diavel) which consumed 3 before its eventual demise. My first instinct is to go for the rider seat but realise that all you'll find under there is a whole bunch of exhaust. The battery is in fact just behind the headstock under what should be the airbox cover, this makes accessing the battery surprisingly easy and positions the charge lead rather neatly alongside the frame – WIN!
Next up I need to remove the unsightly number plate holder, I'm convinced its loosing me 20bhp and is entirely unnecessary. I head to eBay to find the usual raft of Chinese options before stumbling on a familiar brand called Powerbronze and purchase a tail tidy for £120 plus £20 for a smaller plate and assemble at home myself.
As with anything Italian you first need to remove 15,000 bolts to get the OEM parts off but it's well worth the effort. The Powerbronze kit is well made and fits easily with all bolts, fixings and attachments you need and it does transform the looks.
My moment of glory is short lived though. As I wheel the bike back to my shed I don't notice that the mirror, which doesn't fold has snagged on the door. I ham fistedly shove the bike in snapping the mirror stalk, leaving me with a chunk of saggy black plastic hanging from my fairing! No worries I'm sure they're only 20p on eBay? Oh hell no – if you can find one you'll be paying £160 for a genuine mirror despite the fact that they are clearly made out of recycled Coke bottles, very annoying.
To Sum Up
I've also had some time to look at the bike objectively and whilst I still find it to be the most beautiful thing I've seen or ridden there are some silly quirks, like the mirrors, that let it down.
The side stand is almost impossible to access with boots on, which makes you look like an amateur at a bike stop or petrol station as you scrabble about for the stand. Aftermarket parts are nearly 5 times that of any Jap bike (check out exhausts), the service / insurance costs are insane and it has a smaller bladder than my wife.
Despite all of this – I love it. Every time I ride the bike I love it more and would recommend this to anyone who can afford one, and that's the catch – affordability. You have to jump into Ducati ownership with both feet, your wallet and your credit cards. But do this and you'll be rewarded with the ride of your life – just like getting married then.
- Ben G, Lets Review It (check out the YouTube channel as well)
Price Guide
Year
Dealer
Private
Part Ex
Mileage
2022
£21,500
£17,250
£15,100
1,200
2021
£19,200
£15,400
£13,450
2,100
2020
£18,950
£15,150
£13,250
3,700
2019
£17,650
£14,100
£12,350
5,100
2018
£15,300
£12,250
£10,750
4,900
How to use the price guide
Related Bikes
Ducati V4 S - Mid-range model with a lightweight battery, forged wheels and Ohlins electronic suspension.
Ducati V4 Speciale - 1,500 unit limited edition V4 S with special paint scheme, full Akrapovic system, fancy seat, racing bits and Carbon bits.
The Second Opinion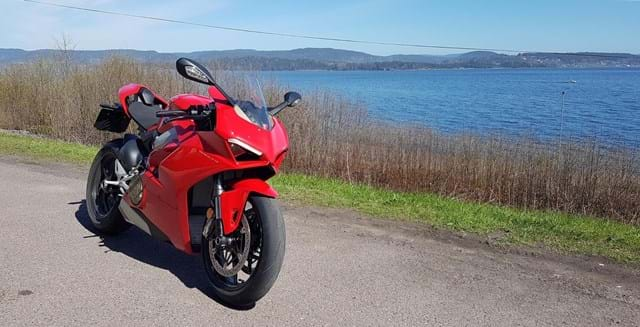 First Impressions
I picked up my Panigale V4 on April 28th, one day delayed due to problems getting it registered with the authorities. This model is new as of this year and it's a new start for Ducati making V4s in road bikes. It was a great feeling seeing the V4 waiting!
Starting the engine unveils a beautiful sound. Ducatisound! Driving away from the dealer made me smile. It's buttery smooth from 3,000rpm and up, which is very unlike the former Panigales.
The V4 comes in three different versions:
Base model (which I have bought)
V4S with the öhlins suspension and forged wheels
V4 Speciale which is a limited edition
Equipment
There are too many rider aids on this bike to cover here, but some have to be mentioned. I'm not an experienced biker and the quickshifter takes some getting used to, but after a while you learn to be very fond of it. I'm using it more and more.
In addition to the quickshifter the slipper clutch and the auto-blipper makes the V4 a winner on the track.
The traction control is adjustable in 8 steps and gives the rider ample opportunities to customise the setup of the electronics, while the cornering ABS also helps in stabilising the bike when braking leaned over.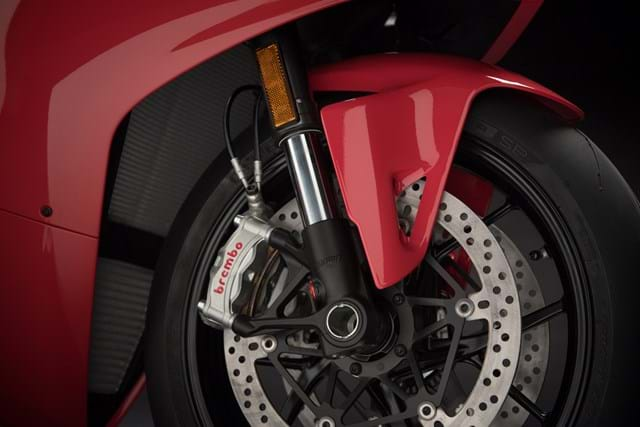 Handling
The V4 is a pure specialised sportsbike, but it is more comfortable than the former Panigale models. It's no problem riding this hyperbike 300 miles a day and I've covered 4,500 miles already!
Any Downsides?
Ducati's reputation took a few hits a while back, but in the time I've had the bike it has been nearly flawless. It was included in a recall regarding the fuel cap, but that was fixed at the first time service. The clutch seems to lose pressure, but a little adjustment and that is no issue.
To Sum Up
So is this bike all positive? Well, the V4 is a quite expensive new. Especially here in Norway, but it is SO worth it.
Another thing the former Panigales have been criticised for is the heat. With the V4 this is not a problem, unless you are riding a lot in city areas where going slow makes it heat up quite a bit. Other than that it is just like any other bike.
All in all I would buy the V4 over any other bike, any day of the week!
- Haavard H, 2018
Add Your Review
Do you own this bike? We would love to hear anything good, bad, unexpected or that you have changed plus anything that a prospective new owner might find interesting or useful.