Kawasaki Ninja ZX-10R Review (2011)
"
The handling is great and it's such an easy bike to just jump on and ride, whether it be a steady town commute or pushing it in the twisties, this bike can do it all.
"
What Is It?
The Kawasaki Ninja ZX-10R is a premium sports bike and is powered by a liquid cooled 998 cc inline four cylinder engine, producing 197.3 bhp at 13,000 rpm and maximum torque at 11,500 rpm.
Specs
Seat Height: Average (

835

 

mm / 32.9 inches)
Weight: Heavy (206 kg / 454 lbs)
Economy: Average (45 mpg / 6.3 l/100km / 15.9 km/l)
Range: High (170 miles / 274 km)
Power to Weight: Very high (0.956 bhp/kg / 0.713 kW/kg)
Top Speed: Very high (185 mph / 298 km/h)
Pros
Super smooth power
Traction control
Handling
Brakes
Cons
Reports of the screen wobbling
Electronic steering damper
What Is It Like?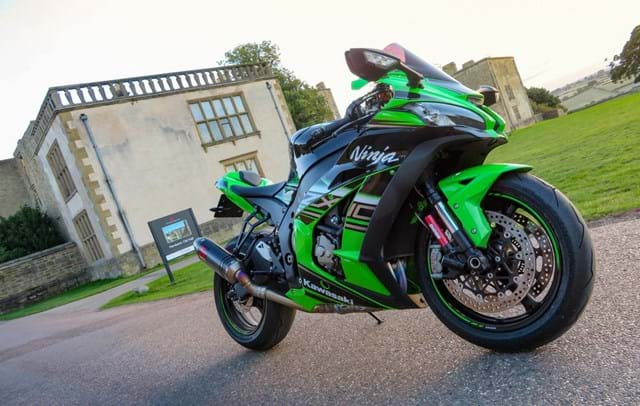 ZX-10R Number One
Stepping up from owning a much loved 2016 ZX6R (636) for 18 months, I wanted to stay in the family so purchased a gen 5, ZX10R.
The first was a lovely low mileage 2016, 'performance edition' ZX10R. On this generation, Kawasaki added the matching seat cowl, a dark smoke screen and a great sounding carbon Akrapovic end can. This bike had a decat pipe on too, but other than that, it was completely standard.
I had a fun filled seven weeks in the height of Summer with this bike before coming into contact with the tarmac due to needing to brake on a poor road surface – absolutely gutted!
ZX-10R Number Two
Once the insurance was sorted, I replaced the written off bike with the exact same year and model as I really did like it and hadn't had my fuss out of it yet. However, the replacement ZX-10R had a Power Commander fitted, had been tuned and also had the down blipper activated. This generation has the blipper hardware already installed, you just need to 'tell' the ECU to activate it.
Now we've got that unfortunate event out of the way, I'm able to share my views on a standard bike compared to a mapped one, for those interested in both. I'll start with the standard bike, as I know not everybody will have tuning work carried out.
Handling
I test rode one before I put my hand in my pocket, as I needed to be sure I liked it. Within five minutes of riding, it was like this had been my own bike all year. It felt just like my 636 on first impressions.
The ZX-10R is a heavy girl, at 206kg, but I couldn't tell this at all. It actually felt so much easier to ride, easier to turn in and surprisingly more comfortable. It may help if I mention that a I'm 5"9', 58kg female.
The handling is great and it was such an easy bike to just jump on and ride, whether it be a steady town commute or pushing it in the twisties, this bike can do it all. The Brembos are also phenomenal.
Power
What I immediately loved about the ZX-10R, and also what made me purchase one over the competition that I'd ridden (latest models of the R1, S1000RR and RSV4) was how smooth the power delivery was.
It was just the smoothest bike, almost a tame ride - if you wanted it to be. Don't get me wrong, over 9,000rpm it was the animal you'd expect it to be. Turn the traction control setting down to level 1 or off and you'd immediately notice that was the only thing keeping the front wheel on the floor.
I did approximately 3,000 miles in the short seven weeks of ownership, 750 miles in just the first week, all social miles. I don't often commute on my bike unless it's a beautiful day and I'm heading for a ride after work, but during town riding the bike is friendly and comfortable.
The clutch is light and the quickshifter and gearbox are smooth. The steering is light with the standard Ohlins electronic steering damper too.
Any Downsides?
That electronic steering damper. It's just... really not up to much. Like I said, the steering is very light which is nice, until you're pushing a bit harder and if the front end goes light over bumps in the road, you'd expect the damper to correct the wobbles you may get, and it just doesn't do it quick enough.
Now, I'm quite a light rider which may not help, but tank slappers galore on a couple of occasions! Luckily, I have a mechanical Ohlins steering damper on my ZX6R track bike, so I unplugged the electronic one and fitted the mechanical one.
What a WORLD of difference. It threw a light up on my dash as it knew it was unplugged, but it made no difference to the running of the bike. After a few rides of testing it out, I wish I'd done this sooner as it was just perfect now.
The steering was heavier at low speeds, but you'd have no problem with that added down side if it saved your bacon on a tank slapper. By all means, if you buy this bike, see how you get on at first but if you like a spirited ride or track this bike – take that damper off and swap for a mechanical one.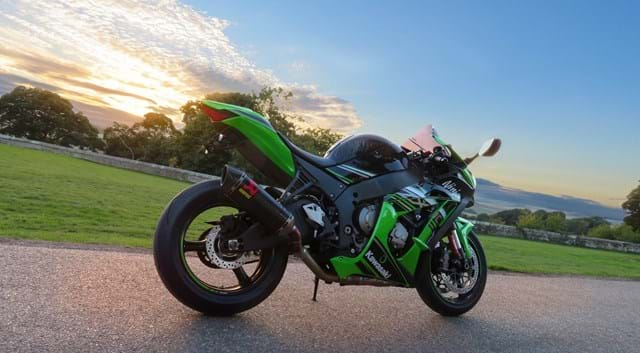 Tuning
Fast forward to buying the second ZX-10R that had been tuned - what a difference a PCV and map makes. Straight away the power is there upon twisting the throttle.
It's still smooth, but my god it's evil from the get-go, whereas the standard bike was nowhere near as responsive at low revs. The down blipper is now activated too for clutchless downshifts, which works brilliantly - pure laziness on the road and a novel addition, but it's fun and its one less thing to think about!
Economy
I've had no issues with either bikes so far, no niggly bits, nothing annoying. Fuel consumption will see the light come on at around 85 miles if you give it a fist full, and maybe 110 miles at a steadier pace.
I know this is down to personal preference, but this bike is a comfortable sports bike compared to the competition. I know people don't buy sports bikes for comfort, but the thing is, it can do both comfort and balls-out really well.
What I Like
Smooth power delivery
Brakes
Handling
Fast
Comfortable
- Zoe T, 2019
Price Guide
Year
Dealer
Private
Part Ex
Mileage
2020
£13,100
£10,500
£9,150
3,700
2019
£12,050
£9,650
£8,450
5,100
2018
£11,100
£8,850
£7,750
4,900
2017
£10,200
£8,150
£7,150
6,700
2016
£9,350
£7,500
£6,550
8,500
2015
£8,600
£6,850
£6,000
10,300
2014
£7,850
£6,300
£5,500
12,100
2013
£7,250
£5,800
£5,050
13,900
2012
£6,650
£5,350
£4,650
15,700
2011
£6,150
£4,950
£4,300
17,400
How to use the price guide
Related Bikes
Kawasaki ZX-10RR - Track focused version with Brembo M50 calipers, forged wheels and a quickshifter.
Kawasaki ZX-10R SE - Builds on the R with Showa super fast electronic suspension, quickshifter and forged wheels.
The Second Opinion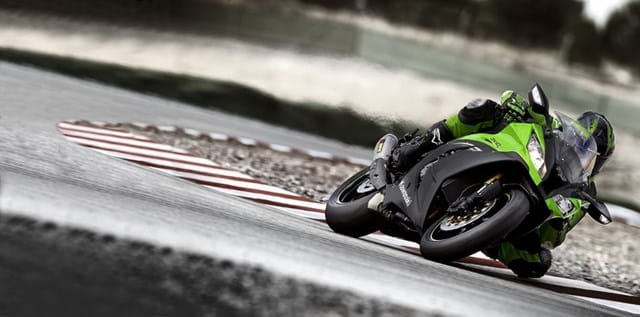 Looks
My particular bike is gloss black and from the moment I clasped eyes on it in the showroom, I knew I had to have it. And that was before I had even turned a wheel on it. It just looked mean!
Mods
During the two years that I owned my 2012 Kawasaki ZX-10R, for the most part it was a pleasure. I and its previous owner carried out a few tasteful mods that included an Akrapovic end can, shorty levers, tail tidy and a single seat cowl.
Any Issues?
Although for me the shine was quickly taken off of it due to my particular bike developing a couple of niggling electrical issues early on that resulted in multiple trips back and forth to the dealer. There was a pesky error message that kept being thrown up every now and then during start up which pointed to an issue with 'a' sensor.
During the early days, the bike had two replacement batteries, various sensors needing regular cleaning to cure a pesky misfire that it had developed which in the end led to the entire wiring loom being replaced.
All of these issues were rectified at no cost to myself, thanks to the fantastic lifetime warranty and guarantee that the dealer has on all new and second hand bikes for which they are a main dealer for! While all this was going on, Wheels really looked after me making sure that I was never without a bike and them absorbing all of the costs.
Now I don't want to tar this particular model of ZX-10R (the 4th generation) as being unreliable, but for me these issues did result in me not trusting the bike.
The final nail in this bikes coffin was that towards the end of my time with it, it also developed an overheating problem whenever I got stuck in traffic! That was due to the cooling fan packing up. All of this on a low mileage 5 year old bike. None of these issues are particularly common to the 4th gen Ninja, so I just put it down to me buying a lemon :(
Short Trips
With all that aside, when I did actually get to use the bike, I used it as my Sunday morning toy as well as my daily commuter. I only live a 5-10 minute ride away from work, but even during that short trip the bike never complained or felt like it was being asked to do something it wasn't happy doing.
On the rare occasion that I have taken my 1199 to work, it is like night and day. The 1199 at low speeds has to be in the right gear along with you taking huge handfuls of clutch to ensure that she doesn't get bogged down or try to stall.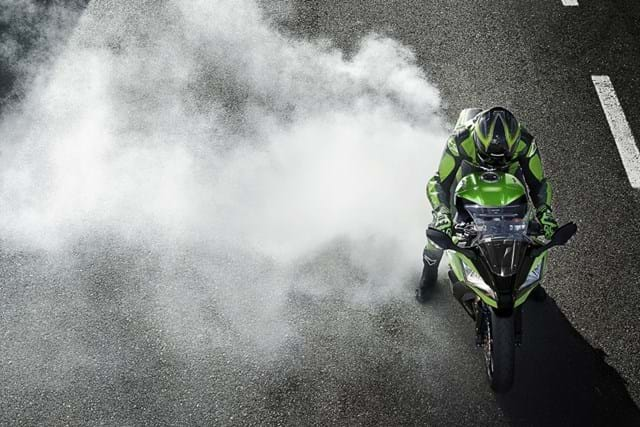 What's Good?
The ZX-10R at the time I bought it was in my eyes the best of both worlds. On one hand it was comfy and super friendly to ride around town, while on the other it was able to mix it with the big boys when the road and weather conditions allowed!
The reasons for this are that the Ninja makes most of its power above 10,000 revs and has long gearing. A few people have tried to remedy this by swapping the front sprocket for a smaller one, allowing the bike to drive out of slow corners harder instead of having to rely on knocking the bike back a gear or two in an effort to keep the revs up. I and many others actually see this 'issue' as a plus point for the bike, which has helped herald it as a real world 'usable' super bike.
Rider Aids
At the time of the bikes debut, it had what was deemed 'cutting edge electronics'. These included an excellent traction and anti-wheelie control system to keep everything under control when things got a bit mental!
When I was out clearing the cobwebs on a Sunday morning blast, I would regularly open her up in the low gears that resulted in the dash lighting up like a Christmas tree.
Normally I would find myself grabbing another gear just as the engines power really came on song, meaning I was never really able to get the most out of it in the real world if I wanted to keep my license.
Suspension
Second to the clever electronics, the bike has an awesome chassis with fully adjustable suspension. These help to keep it planted in the corners allowing for high cornering speeds and lean angles.
Tyres
However thanks to the Michelin Power tyres that were on my particular bike, when the roads were a bit cold or slippy I regularly found the front trying to wash out even at low speeds. These tyres actually contributed to me throwing it up the road once while on my way to work in the wet!
I was filtering my way through the heavy morning traffic as I usually do, when I touched a small patch of diesel. Before I knew it, I found myself on the deck with the rear brake lever trying its best to get through the side of my boot!
Luckily when I went down, instinct took over with me grabbing the clutch and not letting go for all I was worth. This along with some conveniently placed crash bobbins saved the bike from causing any further damage to itself or others!
Swapping To The 1199
In the end the reasons for me trading the Ninja in for the 1199 were that I had owned it for two years, I was sick of the niggling issues I had been experiencing with it pretty much since day one, I no longer needed to use it for commuting thanks to me replacing my ageing Pan European with a newer GS and of course me beginning to yearn for something a bit more special for my Sunday morning rides.
The whole point of a super bike is for it not to be easy to ride, not to be super friendly around town and not to make all of its power at the top end. A super bike is meant to make you feel alive, be rewarding to ride, to overload your senses and lastly make your heart skip a beat when you open the shed door on that perfect Sunday morning :)
- Andy J, 2018
Add Your Review
Do you own this bike? We would love to hear anything good, bad, unexpected or that you have changed plus anything that a prospective new owner might find interesting or useful.