Ducati 1199 Panigale Review (2012)
"
Every time I ride my 1199 there is a sense of occasion, I am left with a stupid big grin on my face and my hands trembling.
"
What Is It?
The Ducati 1199 Panigale is a premium dedicated sports bike and is powered by a liquid cooled 1,198 cc Superquadro V-Twin engine, producing 195 bhp at 10,750 rpm and maximum torque at 9,000 rpm.
Specs
Seat Height: Average (

825

 

mm / 32.5 inches)
Weight: Average (188 kg / 415 lbs)
Economy: Poor (30 mpg / 9.4 l/100km / 10.6 km/l)
Range: Average (110 miles / 177 km)
Power to Weight: Very high (1.037 bhp/kg / 0.773 kW/kg)
Top Speed: Very high (170 mph / 274 km/h)
Pros
A track bike for the road
Electronics package
Stylish
Fast
Cons
Can get hot in traffic
Fuel consumption
Slippery pegs
Range
What Is It Like?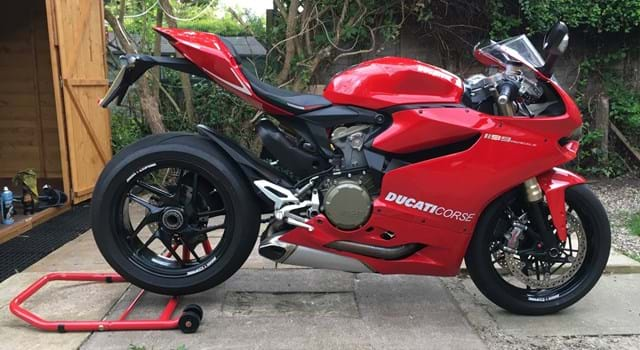 The Panigale
I have owned my 1199 for just over a year now, and touch wood it has been a fun filled year with just the one brief visit to my local Ducati dealer to fix an issue that came to light shortly after purchase which ended up costing me absolutely nothing to rectify!
I had originally only popped into to pick up a new spare key and to get it coded to the bike. One of the tasks that the dealer had to perform prior to being able to code the key was to check for any error codes the bike was throwing out or had done so in the past.
The results showed a couple of sensor errors which were put down to a dying battery that they changed for nothing! However they also found an issue with a valve in the exhaust system, which strangely didn't throw up an engine check light, error messages or affect the way the bike behaved.
What's Good?
Since then it has been pretty much plain sailing with me being able to just enjoy the bike in the way that it was intended. Sunday morning blasts and wow moments every time I open the shed door.
Every time I ride my 1199 there is a sense of occasion. I am lucky enough for it not to be my only bike meaning that I can use it as a toy and only when the weather and timing are right.
Each time I ride the bike, I am left with a stupid big grin on my face, and my hands trembling. What is more worrying though is that I find myself talking to my bike while riding, whom I affectionately refer to as Pandora!
The riding experience I get from riding her is like nothing else I have ever experienced. From the sheer noise that is generated by the mighty V-Twin engine, to the searing acceleration and awesome braking power she delivers by the bucket load, all serve to overload every single sense in my body.
Power
This bike is so much more capable than I could ever dream of being good enough to ever fully exploit, especially on public roads. The slightest twist of the throttle in the first 4 gears will see the front wheel pawing for the sky, speeds getting silly very quickly and it's these traits than have earned the model an unfair reputation of being too much of an animal.
Personally I don't buy into that reputation, as yes she keeps me on my toes, but as long as I treat her and my right wrist with the respect that they deserve then everything works out just fine.
Before owning the 1199, i was the proud owner of a 4th gen ZX-10R which prided itself on having cutting edge electronics at the time to save you when things got a bit lairy. Coupled to that the ZX-10R was geared higher than the 1199 meaning that it didn't have the bottom and mid range grunt to be even in the same league. So it actually felt very clinical and for a better word it had no soul!
The 1199 is the polar opposite to that bike, as I would readily crack the throttle open on the ZX-10R in 2nd gear and up, and I would get nothing but smooth predictable drive thanks to the high gearing, wheelie control and the way the bike makes all of its power at the top end. For those reasons it is deemed that the ZX-10R is a better everyday real world bike that you can use on the road.
Looks
To me though that is missing the point! For me the whole point of owning a superbike is to have those wow moments that you never get tired of. That you have to learn overtime how best to ride it and to accept that we are not all Valentino Rossi.
Once you get beyond that and just enjoy the bike for what it is, I can think of nothing else that I would rather have in my shed. She is truly stunning to look at and when riding she makes me feel alive :)
Servicing
It's not cheap and to be honest unless you have an amazing independent specialist in your area, you are at the mercy of paying dealer prices. My 1199 was due its 4 year / 15,000 mile service at the tail end of last year which with labour added came to just shy of £1,200!
Mods
I have only made two small mods to my 1199, as I think she is pretty near perfect as standard! The mods I have made are, ice blue bulbs for the headlights so that they match the daytime running lights' white light and swapping from the OEM fit Pirelli Diablo Rosso Corsa SP2's tyres for Metzeler Sportec M7-RR's. The tyre swap has made the bike much more sure footed to ride in more weather conditions.
On the rare occasion I have gotten caught out in a sudden down pour, or attempting to ride on cold roads the OEM tyres were an absolute nightmare with them struggling to keep the bike upright or hold its line in a bend. The M7-RR's have fixed that for me and I don't see myself going back anytime soon!
- Andy J, 2018
Price Guide
Year
Dealer
Private
Part Ex
Mileage
2014
£11,100
£8,850
£7,750
12,100
2013
£10,800
£8,650
£7,600
13,900
2012
£10,550
£8,450
£7,400
15,700
How to use the price guide
Add Your Review
Do you own this bike? We would love to hear anything good, bad, unexpected or that you have changed plus anything that a prospective new owner might find interesting or useful.