Kawasaki Ninja ZX-10RR Review (2017)
"
This is an expensive bike to run fast. You'll go through brakes fast, tyres fast, fuel fast and most importantly on track, energy fast.
"
What Is It?
The Kawasaki ZX-10RR is a premium track focused sports bike and is powered by a liquid cooled 998 cc inline four cylinder engine, producing 197.3 bhp at 13,000 rpm and maximum torque at 11,500 rpm.
Specs
Seat Height: Average (

835

 

mm / 32.9 inches)
Weight: Heavy (206 kg / 454 lbs)
Economy: Average (45 mpg / 6.3 l/100km / 15.9 km/l)
Range: High (170 miles / 274 km)
Power to Weight: Very high (0.956 bhp/kg / 0.713 kW/kg)
Top Speed: Very high (185 mph / 298 km/h)
Pros
Loads of top end power
Scope to tune
Brakes
Cons
Physically demanding to race
Expensive to run
Heavy
Dash
What Is It Like?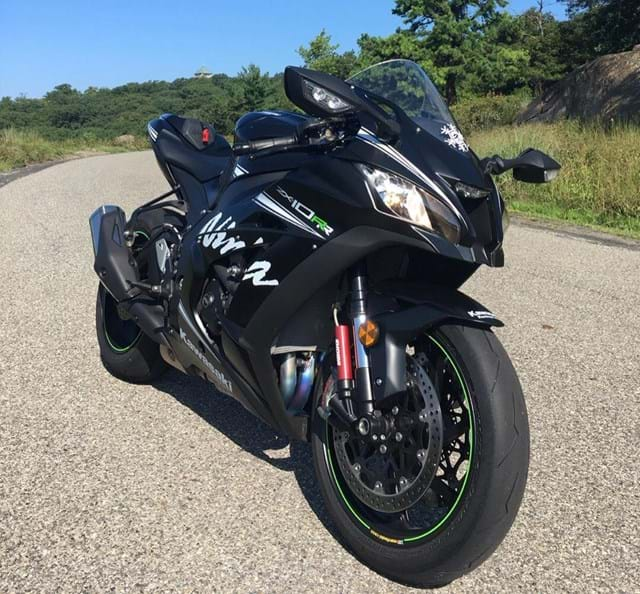 Moving Up To The RR
I'm upgrading from my 2009 ZX-6R track only bike, which I've had for a while and it will take a lot to get me to change bikes for good.
I bought the 2017 ZX-10RR with only 700 miles on it and the main purpose of this bike was for heavy track day usage. So far I have almost 2,000 expert pace track miles on it and I have a few thoughts to share.
Handling
The bike is heavy, although it feels planted mid corner and the brakes feel fantastic, regardless of what other write ups state. ABS comes into play regularly coming into turn one, on the original street tyres, but it is not intrusive at all and it has actually saved my ass once. I'm actually looking into deleting it entirely, just need to do more research first.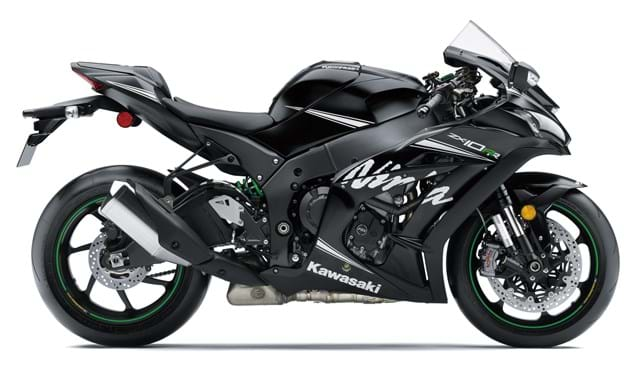 Engine
This bike is extremely powerful. A lot of fanboys of different makes will all stomp their feet and claim they have the fastest bike, but I'm telling you, I have walked past S1000RR's, R1M's and the new gen GSX-R1000R's on the straights of two tracks. A lot of this admittedly comes down to the tune, but even in stock form it is very fast.
The bottom end is down on power from the other 1000's but that is not a bad thing. It makes the bike less intimidating on corner exit, as it is less likely to spin the rear tyre up loosing grip.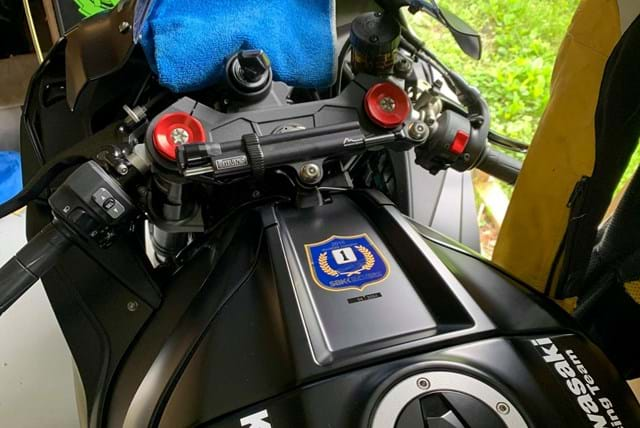 Behind The Dash
The stock handlebars are too narrow, but I widened them for free after removing the set screw under the triple tree. I should also mention the gauges are a bit dated compared to the latest models from the competition.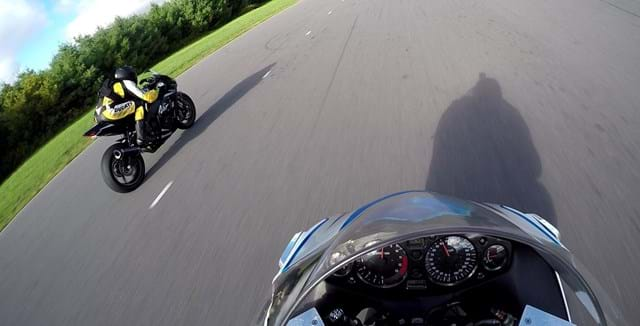 Running Costs
This is an expensive bike to run fast. You'll go through brakes fast, tyres fast, fuel fast and most importantly on track, energy fast.
This bike drains you to the point of making stupid errors near the end of your session because it is such a handful. The weight, with the crazy power and fantastic brakes just take a toll on your body. It's a huge wake up call to get back into the gym.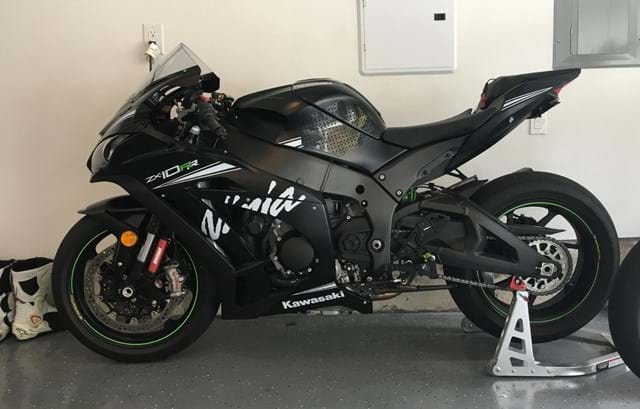 To Sum Up
Overall I'm happy with the bike. Part of me wishes I had waited for the 2019 RR for the new connecting rods, but part of me is happy because I got to experience this bike that much sooner. 10/10 would buy again.
- Sean M, 2019
Price Guide
Year
Dealer
Private
Part Ex
Mileage
2020
£19,450
£15,550
£13,600
3,700
2019
£15,900
£12,700
£11,100
5,100
2018
£13,200
£10,550
£9,250
4,900
2017
£11,400
£9,100
£8,000
6,700
How to use the price guide
Related Bikes
Kawasaki ZX-10R - Road focused base model with less powerful brakes, standard wheels and no quickshifter.
Kawasaki ZX-10R SE - Builds on the R with Showa super fast electronic suspension, quickshifter and forged wheels.
The Second Opinion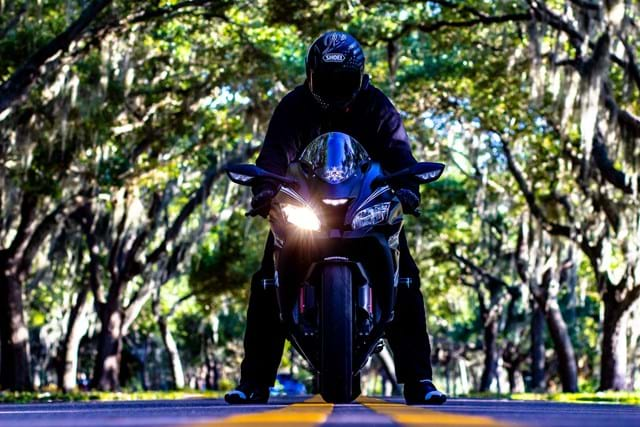 Choosing The RR
I purchased my RR towards the end of March of 2019 and before that I had two other Gen 4 ZX10s. Before this purchase I had been off a motorcycle for over two years and when it came time to look for another bike I knew I was going to get another Kawasaki.
I had my eyes on this 2017 for about six months and had viewed it many times while it was at the dealership. Originally I had planned to buy around April, but the need to ride and my excitement could not be contained. On March 20th I purchased this ZX-10RR from iMotorsports in Saint Petersburg Florida.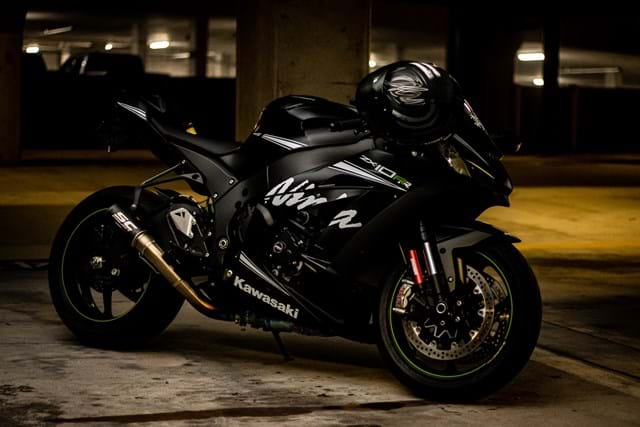 Any Mods?
Over the course of the next four months I completely enjoyed the bike. I have since removed the factory exhaust and went to an SC Project CRT exhaust which also deleted the cat converter. The sound from the exhaust is nothing short of amazing, when you couple that with the factory titanium headers, it's breathtaking.
Once the exhaust had been fitted I took the bike to a local tuner to have the ECU flashed and then the bike Dyno Tuned. I gained over 30 real world HP from redline to redline, and I can feel part of the increase. Even before the tuning the bike was amazingly strong and fast and agile.
I've also added a new windscreen, integrated tail light and recently I changed out the factory radiator hoses for Samco Sport hoses in green which really just sets off the matte black finish of the bike. I have more changes and ideas in mind as time goes on.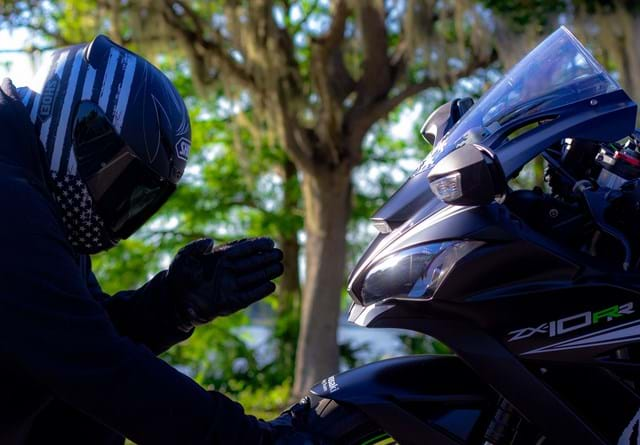 To Sum Up
All in all my ZX-10RR, which I have now given the name Aurora, is everything I wanted in a motorcycle. I couldn't imagine having another bike except this one.
- AJ S, 2019
Add Your Review
Do you own this bike? We would love to hear anything good, bad, unexpected or that you have changed plus anything that a prospective new owner might find interesting or useful.