Ducati Panigale V4 S (2018) Real World Review
" It creates a unique feeling every time you open the garage door, makes you feel special and instantly makes you forget the stupid price you've paid for a toy. Truly a bike worth owning. "
✓Looks, sound, torque, power, cornering, sheer acceleration, fantastic electronic suspension
×Destroys tyres too quickly, several recalls already, expensive new, can get hot in traffic, economy
What Is It?
The 2018 Ducati Panigale V4 S is a premium sports bike which builds on the base V4 with a lightweight Lithium battery, forged wheels and Ohlins electronic suspension.
Engine: 1,103 cc V4, 211 bhp
Economy: 35 mpg
Range: 120 miles
Seat Height: 830 mm
What Is It Like?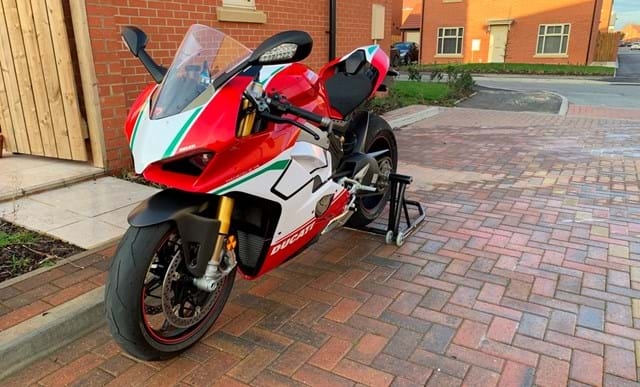 My Experience
This is my 6th Ducati over the years, along with many other Japanese superbikes, the previous being a 1199 Panigale. From reading the many reviews online, as most bikers do, the sensational ones led me to making a decision that this bike had to be next on my list.
I was originally going to go for the stock V4 however this particular V4S came up in the tricolour paint scheme and immediately screamed buy me.
Sound
As all Ducati's do, the instant you turn the key, it gives a feeling that no other bike can. What follows from a passionate and vast racing heritage is clearly shown in this latest generation of Superbikes.
On start up the noise heavily resembles the note of the old 1199 but on releasing the clutch the whole presence of the lumpy twin is gone making this bike far superior for everyday use.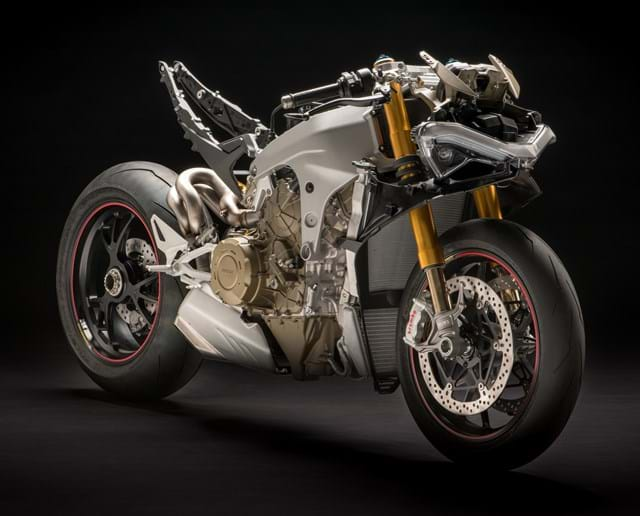 Power
Past Ducati superbikes have always been about raw untamed power in my opinion, however they've managed to combine the power and make it usable.
If you play with the electronics and lower the "safety factor" then this bike can be as brutal as the old Panigale. The power is phenomenal and trying to adjust your senses to suit is the biggest challenge.
Equipment
The quickshifter and auto blipper are the smoothest of any bike I've ridden. Control and ease of changing settings is very user friendly, even for the non I.T. savvy of us.
Running Costs
Fuel range can have its down side. Heavy handed is only returning around 70-80 miles a tank but lets me frank, who buys one of these to be concerned about MPG!
As amazing as this bike truly is, the concern that puts many people off is running costs……DON'T LET IT.
I use a Ducati main dealer and their prices are very reasonable. Around £250 a year for servicing costs isn't too bad when you consider it's a MotoGP bike with a number plate and lights.
Any Downsides?
The only negative is that there have been around five recalls on the bike but Ducati aftercare in my experience has been second to none.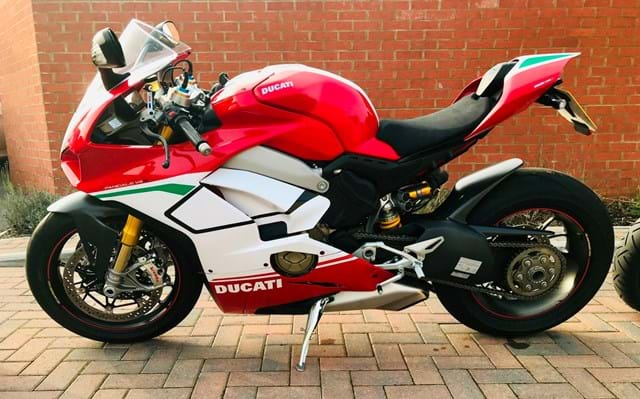 To Sum Up
If you want something that creates a unique feeling every time you open the garage door, makes you feel special and instantly makes you forget the stupid price you've paid for a toy then this truly is a bike worth owning and, in my eyes, the greatest superbike I've ever ridden.
- Chris W, 2019
Price Guide
Year
Dealer
Private
Part Ex
Mileage
2021
£25,000
£20,050
£17,550
1,650
2020
£23,450
£18,750
£16,400
2,100
2019
£20,300
£16,250
£14,250
3,700
2018
£17,200
£13,800
£12,050
5,100
Related Bikes
Ducati V4 - Base model without the lightweight battery, forged wheels or Ohlins electronic suspension
Ducati V4 Speciale - 1,500 unit limited edition V4 S with special paint scheme, full Akrapovic system, fancy seat, racing bits and Carbon bits.
Add Your Review
Do you own this bike? We would love to hear anything good, bad, unexpected or that you have changed plus anything that a prospective new owner might find interesting or useful.
More Info
Check out this video review from TheMissendenFlyer.