Ducati Panigale V4 Speciale Review (2018)
"
If you have a £35K budget and want a Ducati V4 for road use, forget the V4 S or the V4 R and get yourself the V4 Speciale.
"
What Is It?
The Ducati Panigale V4 Speciale is a premium sports bike and is powered by a liquid cooled 1,103 cc 90° V4 Desmosedici Stradale engine with MotoGP style counter-rotating crank, producing 225.9 bhp at 13,750 rpm and maximum torque at 11,000 rpm.
Specs
Seat Height: Average (

830

 

mm / 32.7 inches)
Weight: Average (195 kg / 430 lbs)
Economy: Poor (35 mpg / 8.1 l/100km / 12.4 km/l)
Range: Average (120 miles / 193 km)
Power to Weight: Very high (1.159 bhp/kg / 0.864 kW/kg)
Top Speed: Very high (200 mph / 322 km/h)
Pros
Fantastic electronic suspension
Cornering
Sound
Torque
Power
Brakes
Looks
Cons
Destroys tyres quickly
Can get hot in traffic
Expensive new
Economy
Mirrors
What Is It Like?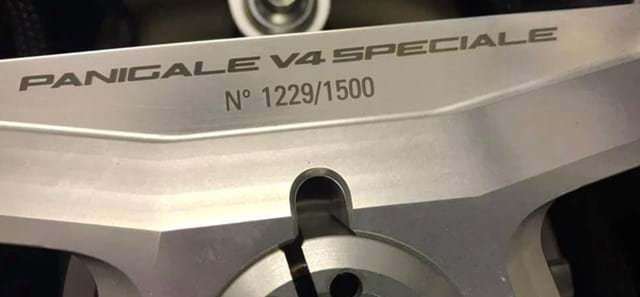 Why The Speciale?
If you have a £35K budget and want a Ducati V4 for road use, forget the V4 S or the V4 R versions and get yourself the V4 Speciale. Why, because you can! It's basically a V4 S that's had the Ducati Rizoma and carbon fibre accessory book thrown at it and it looks absolutely amazing in the tricolour paint scheme.
It's one of 1,500 limited edition models worldwide and comes supplied with the full Akrapovic titanium race exhaust system.
An option at order time is the additional cost of £4,000 for a set of magnesium wheels, just in case the standard black forged Marchesini set aren't enough; but beware, they don't come with tyres, discs or ABS ring at this price and if you thought about having a spare set of wheels ready to go, you better get a bigger wallet.
Versus The V4 R
I opted for the Speciale instead of the V4 R as I intended riding mine more on the road than track. The power curve on the Speciale is setup just for that.
With quicker torque and power delivery low down, almost 20 bhp more mid-range over the V4 R and with handling round corners that I can only compare to the flickable and nimble RSV4 Factory.
Suspension
It beats the V4 R round the twisties hands down and with the full electronic suspension, it just soaks up the lumps and bumps on British roads.
If you want top end speed only, then go for the V4 R but don't think you'll be able to use it on the road, because the V4 Speciale runs out of tarmac soon enough with only 226 bhp and a speedo showing triple digits within only a matter of seconds and under 7,000 rpm in 6th gear too.
Exhaust
The V4 growl from the Akrapovic exhausts on tickover sounds sweet and isn't too intrusive, but get the bike on song and it's an absolute banshee.
The bike red lines at 15,000 rpm, although I'm really not sure how many riders will ever achieve that on the open road. The pops and bangs on clutchless upshift and downblip are a pure delight and enough to make you change gear just for the sake of it.
Heat
Stop the bike in traffic though and it wont be long before the fans cut in and your legs, thighs and buttocks start to cook. The V4 motor runs very hot indeed and doesn't like to stand still for very long.
Mirrors
Once you're moving again, you wont be able to see much in the mirrors without impersonating a flapping chicken but even then they don't provide a clear image of whats behind you.
In Town
It's very easy to get carried away on this animal and in the wrong hands could get you into all sorts of trouble, including the law.
That said, it behaves very well around town depending on what settings you have as you can adjust engine braking, power and throttle response through the three available maps.
Economy
The only downside to this bike is the 16 litre tank and range. Ride it hard and you'll have the fuel light coming on as soon as 65 miles from a full tank. The reserve light does come on a bit early which isn't a bad thing as you have approximately 25 miles left in the tank before you find yourself pushing it to the closest forecourt to fill up with 95 RON.
Ducati do not recommend using 97 RON with this motor, even with the Akkies fitted, which is a big surprise but apparently they don't like the superplus stuff.
To Sum Up
Get home and think the excitement has finished? Think again! Get off the bike and you just cant stop looking at the attention to detail, exotic parts and the shear beauty of this machine.
What's even harder, is walking away from it trying to look forward.......but you just cant help yourself having just one more look. The Speciale really is that Special.
A typical insurance quote with tracker fitted for a 47 year old male with 4 years NCD can be found for around £1,000 fully comp, which isn't that bad in today's climate for a £40k bike.
Likes
Dislikes
Cost
Tank size
Range
Hot in traffic
Mirrors
- Clint F, 2019
Price Guide
Year
Dealer
Private
Part Ex
Mileage
2018
£27,850
£22,300
£19,500
4,900
How to use the price guide
Related Bikes
Ducati V4 - Base model without the lightweight battery, forged wheels or Ohlins electronic suspension.
Ducati V4 S - Mid-range model the Speciale is based on with a lightweight battery, forged wheels and Ohlins electronic suspension.
Add Your Review
Do you own this bike? We would love to hear anything good, bad, unexpected or that you have changed plus anything that a prospective new owner might find interesting or useful.