Triumph Speedmaster Review
" I can't wait to ride it and I'm always surprised at the smoothness and steadiness this bike offers as I ride down the road with the engine at 3,000 rpm, just humming along happily. "
✓Loads of low down power, looks
×Really heavy, limited range, seat
What Is It?
The 2018 Triumph Speedmaster is a cruiser style bike based on the solo Bobber.
Engine: 1,200 cc Parallel Twin, 76 bhp
Economy: 50 mpg
Range: 130 miles
Seat Height: 705 mm
What Is It Like?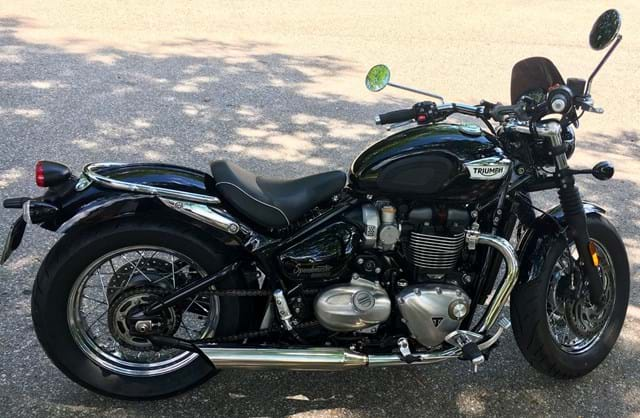 Old To New
I've had my 2018 Triumph Bonneville Speedmaster for about three months and 2,700 miles. My previous bike was a 2011 Triumph Speedmaster, which I absolutely loved the look of.
Someone once said if you don't look back at your bike every time you walk away from it, you've got the wrong bike. Clearly, I had the right bike, as I always looked back. However, two things detracted from it: one, lack of power and two, lack of agility.
These two issues led me to the 2018 Triumph Bonneville Speedmaster. I'm a massive fan of Triumph and really of British bikes. My older now late brother was a huge fan of Brit bikes, owning BSA, Norton, Triumph bikes over the years, so I followed suit.
New Features I Like
Cruise control. I never thought I'd use it, but couldn't live without it now.
1200 HT engine. I can't say enough about how good this engine is.
Ride by wire throttle. Still don't understand what it means technically, but I understand the impact it has on responsiveness of the engine.
Brembo brakes. Everyone raves about these because they really bind.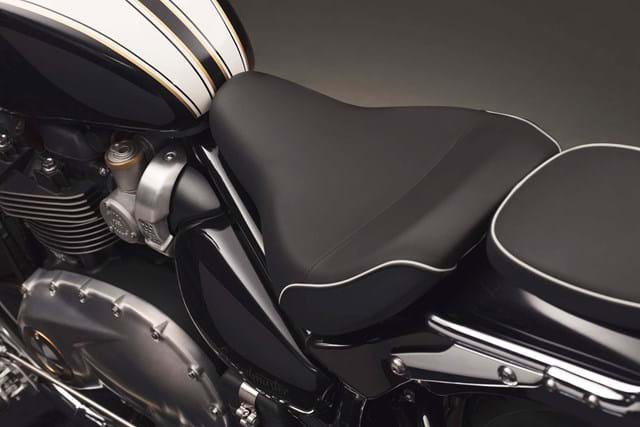 Handling
As a 90 kg, 6 ft rider, who mainly uses his bike as an alternative to his truck in Summer months, I can't imagine a bike better suited to my size, weight and riding style.
It used to be I needed to find a widening in the road before I'd do a U-turn, but the more vertical forks make this 2018 model so agile and predictable, I can turn around virtually anywhere with confidence.
This is a 250 kg bike, yes, but it's the lightest 250 kg bike you'll ride. My '07 Honda Shadow and '11 Triumph Speedmaster were both the same weight, but they rode much heavier than this bike.
Its balance belies its weight. And that's on low speed turn arounds; cornering on nice windy roads is so rewarding it's a little embarrassing If you arrive at a red light it's an effort not to smile and do a thumbs up to disinterested motorists.
Solo / Two Up
I chose the SM 18 because 99% of my riding is done solo but on rare occasions either my daughter or wife want to go for a ride. I took the rear seat and bar off to give the look I like and can return it in less than five minutes.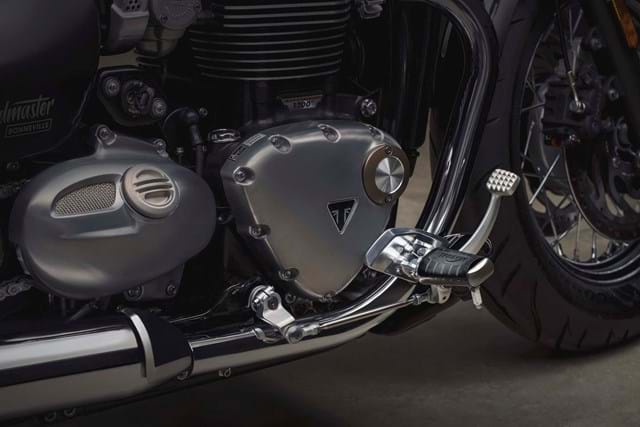 Mods
The Dart Flyscreen has a great look and decent functionality. It takes the wind off your chest but a full face helmet is required at motorway speeds.
The Trident pipes have a nice rough sound that counteracts the pleasant and well-behaved appearance of the SM 18. The stock pipes are nice but you need to crank it to achieve the notes of aggression I like, so I'm saving a little money by having that sound have a broader spectrum.
The kneepads are more important than one would think, as the tank indent allows for a knees-in riding position which is more comfortable with pads.
Pros
Riding position
Power and power band
Agility
Looks
Cons
Smallish fuel tank, especially before you discover the cruise control and you take every opportunity to run the engine
Limited Triumph choices when it comes to windscreens
Many people complain about the stock seat, but I don't have an issue
To Sum Up
It's easy to see why many owners of the original Speedmaster don't like the Bonneville Speedmaster. They're fans of the traditional styling, the rake of the forks and the bike finish.
At first look, if you haven't ridden the bike, some of the details seem a little under-impressive, such as the turn signals. What were once chrome are now black plastic. The Speedmaster covers on both sides are a thinner plastic than the originals. So the temptation may be to dismiss the bike as just not as well made.
Once you ride one that is broken in, the realisation will strike you that every decision on every detail on the Bonneville Speedmaster has been to reduce weight and provide as much riding essentials as possible. Anyone who has experienced this 1200 HT engine as it pulls like a lunatic is more than willing to exchange chrome turn signals for plastic ones or thinner plastic for what are aesthetic covers.
Or not. I agonised over changing the bike I had and loved for one that I hoped I'd like. As the bike broke in and slowly became the bike I wanted and I was so happy I took what is without a doubt a leap of faith.
Overall, I couldn't be happier with my SM 18 if it made me dinner. I can't wait to ride it and I'm always surprised at the smoothness and steadiness this bike offers as I wheel down the road with the engine at 3,000 rpm, just humming along happily.
The knowledge you can turn this stately, bring-home-to-mother bike into a hold-onto-the-handlebars lunatic with a turn of the throttle makes me very happy; the powerband between 3,000 and 5,000 is pure joy. I'm a massive fan of the riding wonder this 2018 Triumph Bonneville Speedmaster is.
- Peter W, 2018
Price Guide
Year
Dealer
Private
Part Ex
Mileage
2021
£11,550
£9,250
£8,100
1,200
2020
£10,750
£8,600
£7,550
2,100
2019
£9,850
£7,900
£6,900
3,700
2018
£9,000
£7,200
£6,300
5,100
Add Your Review
Do you own this bike? We would love to hear anything good, bad, unexpected or that you have changed plus anything that a prospective new owner might find interesting or useful.
More Info
Check out this video review from Captain Rambunctious.