Kawasaki Ninja 1000SX Review (2020)
"
It's without a doubt the best all around bike on the planet at the moment.
"
What Is It?
The Kawasaki Ninja 1000SX is a popular sports touring bike and is powered by a Euro 5 compliant liquid cooled 1,043 cc inline four engine, producing 140.1 bhp at 10,000 rpm and maximum torque at 8,000 rpm.
Specs
Seat Height: Average (

835

 

mm / 32.9 inches)
Weight: Heavy (235 kg / 518 lbs)
Economy: Average (45 mpg / 6.3 l/100km / 15.9 km/l)
Range: High (190 miles / 306 km)
Power to Weight: High (0.596 bhp/kg / 0.444 kW/kg)
Top Speed: Very high (150 mph / 241 km/h)
Pros
Comfortable riding position
All round ability
Pannier system
Smooth power
Quickshifter
Handling
Brakes
Cons
Massive exhaust
Seat comfort
No USB port
What Is It Like?
I'm a middle aged fat bloke with a beard who started riding at a young age. I lived in the countryside surrounded by fields and green lanes so inevitably I chose off-roading. My first bike was a Honda C90, which was a stolen recovered bike I purchased from the scrap yard for £20. Quick dry out, new spark plugs, fresh fuel and it ran like a dream.
I loved that bike and I used to go travelling all over on it. All around Yorkshire, taking it up and down the quarries, fields and green lanes. Best all around bike I ever owner that was a tank.
At 16 years old I moved onto scooters, took my test and moved up into 600cc and beyond. Way too many to name. I've had lots of off road bikes including:
Yamaha DTR125
Honda CR500
Yamaha YZ250
Yamaha WRF450
Armstrong 900
Why did you choose it?
I chose the Ninja 1000SX very easily after scouring the market. For me it was well balanced between brand new technology, riding position, looks and it being a sport tourer. It ticked all the boxes.
What is good about it?
That is a very long list and loaded question, but personally for me it is very easy to ride. The 2020 version of the SX was built balanced and lightweight to ride, the inline 4 engine is so smooth doing 15 mph through traffic all the way up to 150 mph on the track.
The SX has loads of new technology from the new TFT dash to the quickshifter and cruise control all built in. The all round LED lights are a must have on any new bike.
The sporty look combined with all this new tech had my name written all over it
What could be improved?
The exhaust could have had a better design. It sounds great but looks like a metal kitchen bin.
What is the economy like?
Economy on this bike is second to none for its class. My MPG is reading at 46 and I don't ride lightly.
Any mods or upgrades?
The only upgrades to the bike so far are Touring Pack I got from Kawasaki when I purchased the bike. It came with panniers, pannier inner bags, touring screen, heated grips, sat nav mount, tank pad and few other little bits.

I plan on doing a mini series on YouTube adding a full system exhaust and decat, tail tidy, tinted screen, ECU flash and few extras. Check my channel out at Turbo Tony.
How is the engine?
Kawasaki's 1,043 cc inline 4 engine runs like a dream, with 140 bhp (125 bhp at wheel) doing roughly 160 mph top speed.
It is easily flashed and de-restricted plus Kawasaki make these engines bullet proof.
How does it handle?
It's the most balanced bike I have ever ridden EVER, so easy and light around the corners giving confidence to any rider. This bike takes traffic purring like a pussy cat.
The new design on the 2020 model sees lower speeds a breeze with more throttle control and assisted clutch, the bike does not get bogged down unlike previous generations of the SX.
What are the brakes like?
The stock brakes are spot on for me and my riding style. I can't really say much about this subject as I just ride and don't care as long as they work.
I can confirm that Kawasaki traction control (KTCS) and be easily turned off and on using the TFT screen or a smartphone with a Bluetooth connection to the bike.
Is it comfortable?
Yes, it's a very comfy bike. I'm 5'10" height and the bike is tall, taller than previous models. If you are smaller than me you may need a lowering kit added to the bike or big heeled boots.
I've been on rides 5+ hours and not had any issues at all but some owners complain about the seat.
How reliable have you found it?
Very reliable but it's brand new so time will tell.
The key here is having a good friendly relationship with a local dealer or mechanic. Get regular services and look after the machine.
What's the servicing frequency and cost like?
Servicing from new is 600 miles at £180 then every 7,500 miles or 12 months at £180 ish.
How would you sum up the model?
It's without a doubt the best all around bike on the planet at the moment. I ride bikes for a living, film reviews and this for me is the best. Hands down.
- Tony G, 2020
Price Guide
Year
Dealer
Private
Part Ex
Mileage
2022
£11,600
£9,300
£8,150
1,200
2021
£11,250
£9,000
£7,900
2,100
2020
£10,200
£8,150
£7,150
3,700
How to use the price guide
The Second Opinion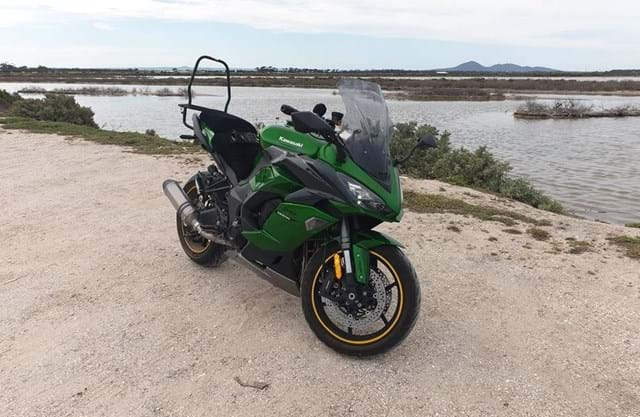 About me
I'm a 51 year old male, 6 foot / 186 cm with 10 years riding experience over 30 years of having a bike licence.
Why did you choose it?
Rider upright position
Smooth powerful engine
Cruise control
Traction control
4 power modes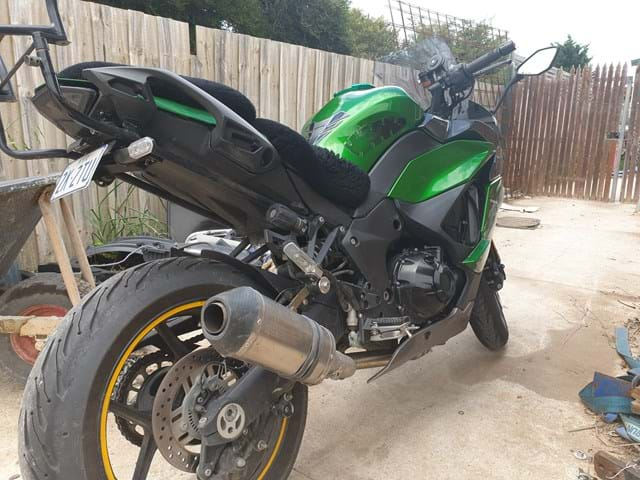 What is good about it?
Everything except the seat, which needs some improvement.
What is the economy like?
Good.
Any mods or upgrades?
Delkavic muffler / decat pipe
Ventura rack / bags
LED spotlights
OEM gel seats (not worth the money)
Sheepskin seat covers
Airhawk seat pad
Tail tidy
Alarm
Dashcam
Heated grips
Magnetic phone charger mount
Tank protectors
Rear spools / bobbins
Front axle protectors
USB outlet
Engine protectors
BoosterPlug
How is the engine?
It's fantastic, smooth and powerful with a great quickshifter.
How does it handle?
Good, but I needed to adjust the front suspension to stop high speed wobbles.
What are the brakes like?
Great.
How reliable have you found it?
The Ninja 1000SX is very reliable.
What's the servicing frequency and cost like?
Every 3,730 miles (6,000 km) and a reasonable £165 / $300 AUD for the first one.
How would you sum up the model?
It's great and better than other brands. Not not many sports tourers have a nice upright riding position.
- Jason S, 2020
A Few More Thoughts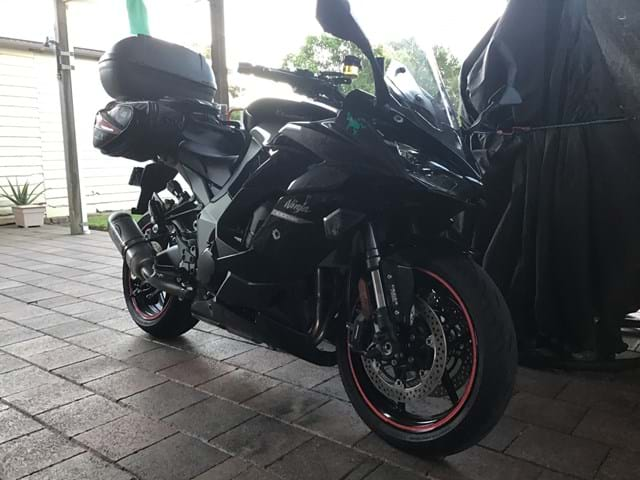 2021 Kawasaki Ninja Z1000SX
Tell us a bit about you
I'm a 59 year old male, just over 6' tall, average build. Young at heart and still love riding.
I have been riding bikes since I could walk. Everything from a Honda 70 step-through as a kid, to large road bikes. I'm not into dirt or adventure riding, I like the bitumen.
Why did you choose it?
I took a demo for a test ride.....I was hooked....had to get one....first impression was absolutely amazing!
What is good about it?
This is the most amazing bike I have ever ridden. The power is endless and it handles like a dream. It's essentially a nice looking sports bike, but with upright riding position.
The mod-cons fitted are good, such as cruise control and the new screen. Best value for money bike around and I have never heard or read a bad review on this model.
What could be improved?
Just a couple of things, but mainly the seat. I was worried about it when I bought the bike, and yep, it needs improving.
I will change the seat and have already fitted a Yoshi can. Will also look at a larger screen, but the original screen will do for now.
Any mods or upgrades?
Yoshi Alpha exhaust and Shad top box. I have no intention of changing any ECU settings, it has more than enough power for me.
What is the economy like?
Fuel economy seems fine.
How is the engine?
What else can I say other than "perfect".
How does it handle?
Again, perfect. The most responsive and predictable bike I have ever ridden.
What are the brakes like?
No issues with the brakes, they are fine.
Is it comfortable?
Yes, other than the seat. Saying that, if you were a shorter skinny person, you would not have a problem.
How reliable have you found it?
Perfect. No issues at all.
What's the servicing frequency and cost like?
I service my bikes myself.
To Sum Up
Kawasaki have done a great job with this model. My first Kawasaki and I am really impressed.
- Brad J, 2021