KTM 1290 Super Duke GT Review
| | | |
| --- | --- | --- |
| Overall | | ★★★★★ |
| | |
| --- | --- |
| ✓ | Loads of equipment, suspension, power, handling, well balanced |
| | |
| × | Seat comfort, flimsy panniers, no TFT dash |
KTM 1290 Super Duke GT For Sale →
What Is It?
The 2016 KTM 1290 Super Duke GT is a sports tourer style bike based on the naked Super Duke R.
Engine: 1,301 cc V-Twin, 170 bhp
Economy: 40 mpg, 200 miles
Seat Height: 835 mm
Wet Weight: 228 kg
RRP: £16,000
What Is It Like?
Having previously owned a Kawasaki Z1000SX (which I disliked intensely!) and a Triumph Explorer XR. I wanted a bike that would be fun on the Sunday blast but also capable of some long distance European Touring with reasonable comfort. Not being a huge fan of Japanese bikes the choices were fairly limited… until the Super Duke GT came along that is… I spent some time reading reviews and watching YouTube videos and then went to see the bike at the NEC Bike Show and fell in love.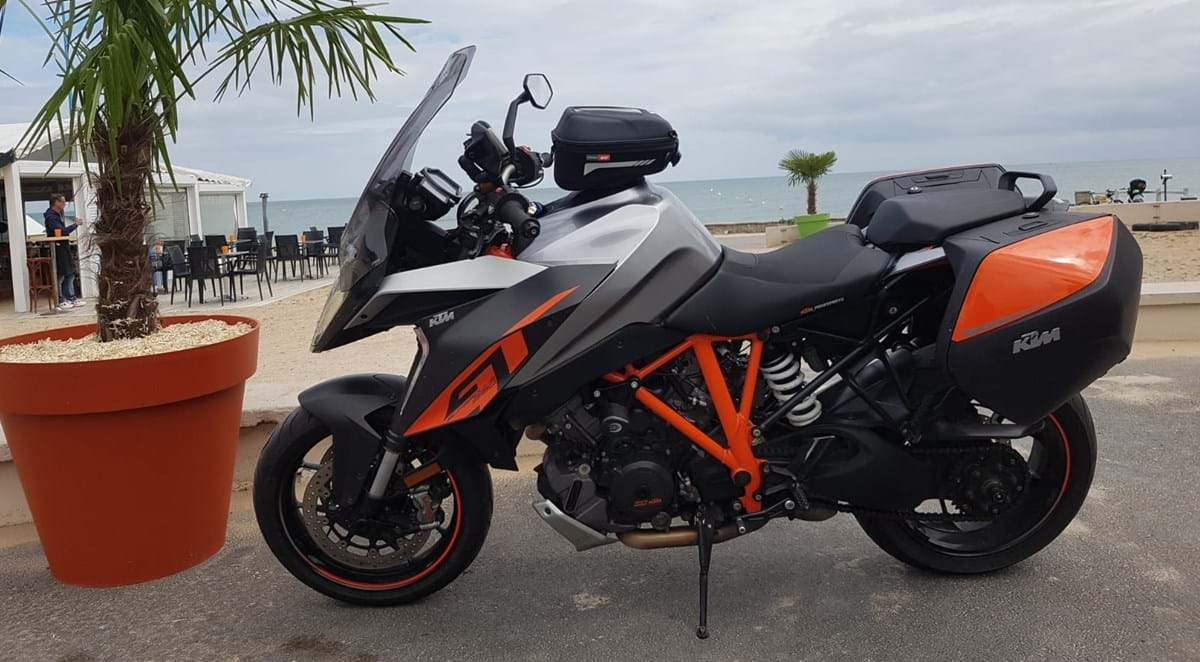 I bought a 66 plate bike in Jan 2018 with just under 4,000 miles on the clocks from a main KTM Dealer. The first thing I noticed when sitting on the bike for the first time was that the seat appears quite hard and it's an extremely tall bike for a "non-adventure bike". I'm 5'11" with a 32" inseam and can't flat foot, but it's a light bike to say it has a 1,300cc engine and a 23 litre tank, and feels perfectly balanced and stable when stationary and at low speeds.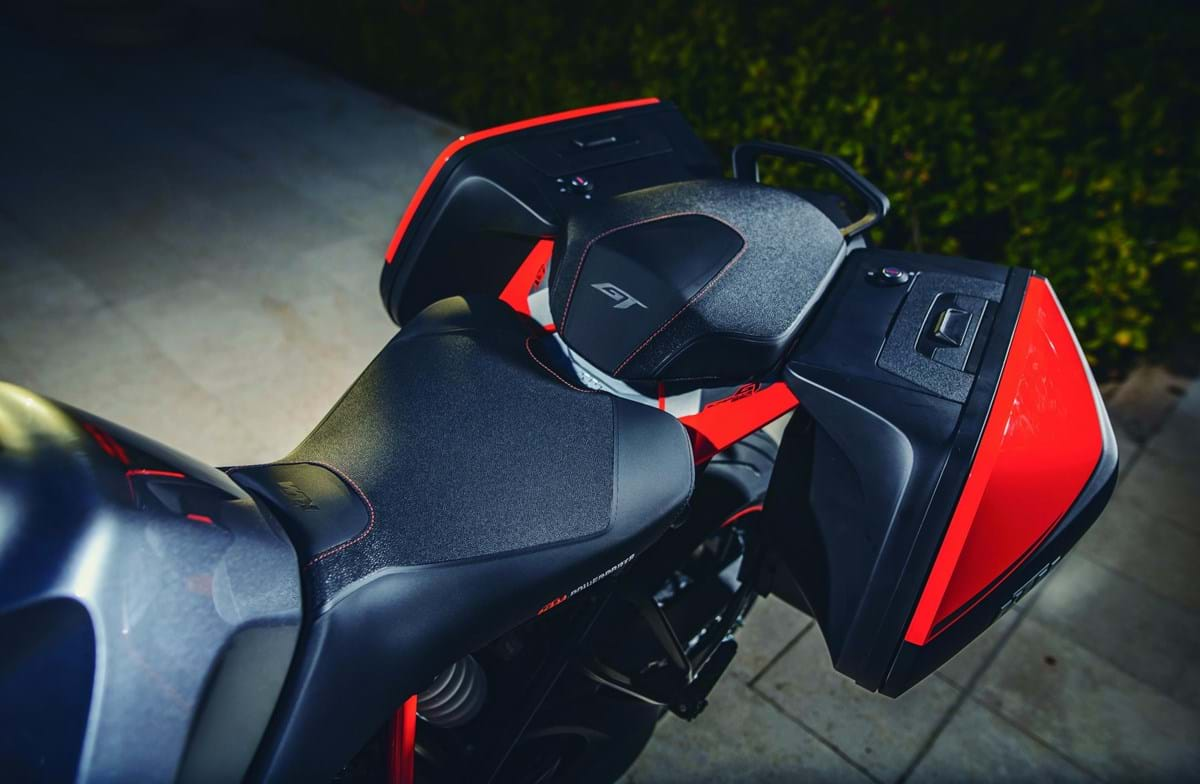 The bike I bought had a few extras on it such as the KTM Panniers and a Puig after-market screen which is taller than the stock screen and adjustable in height. Since buying the bike I've added paddock stand bobbins for ease of cleaning and maintenance, an R&G Tail tidy, a battery optimiser and wired my TomTom sat nav in. Whilst comfortable up to 100-150 miles the seat becomes a pain, literally, after that and I was fortunate enough to come across somebody selling a KTM comfort heated seat on a 1290 Facebook forum which has transformed the comfort levels of the bike on long journeys.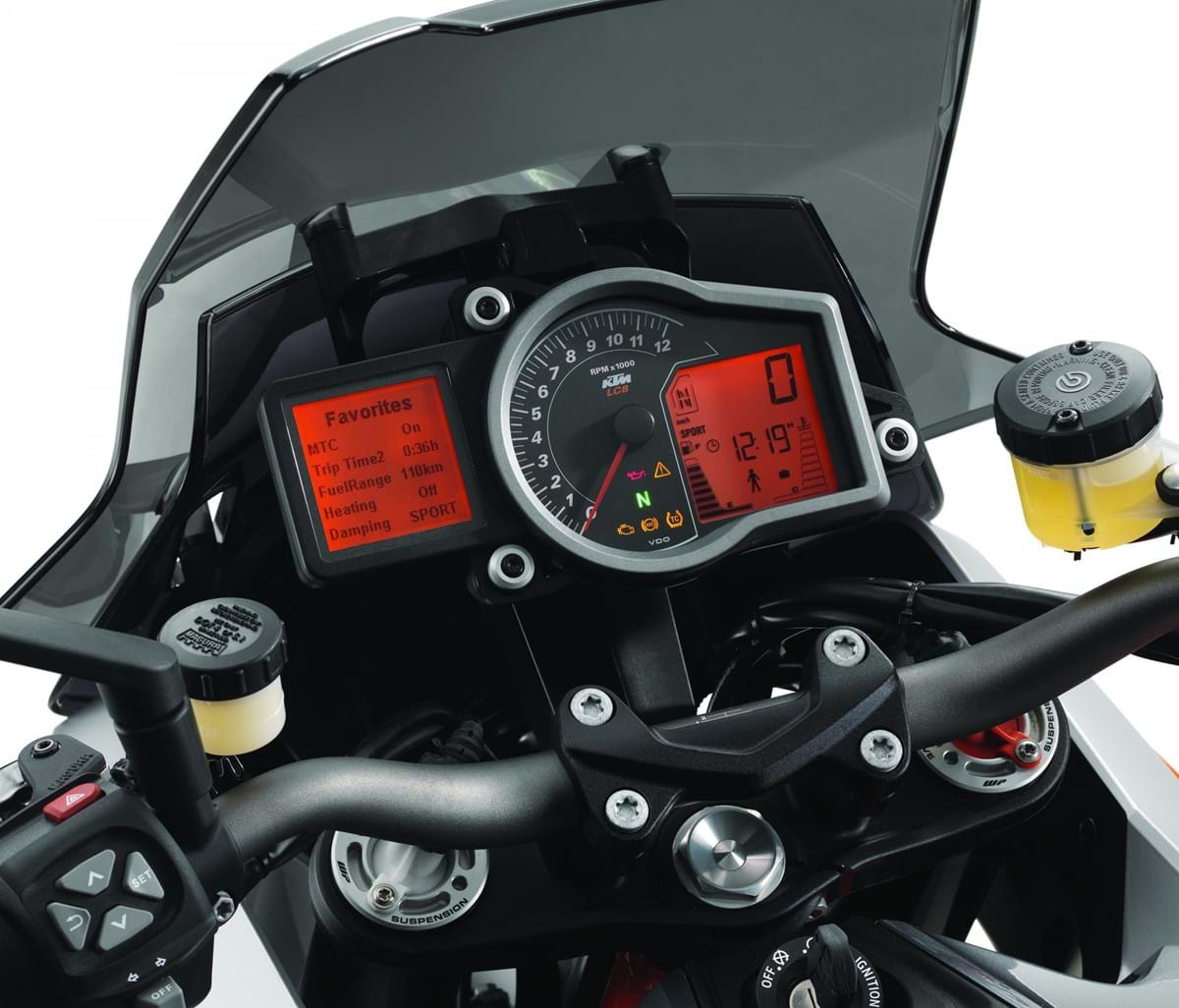 Reliability
On purchase I noticed the panniers were a not closing properly. To be honest they are a little flimsy for a "sports tourer" at this price point, but KTM changed them under warranty with no problems. There was also the obligatory Brembo brake recall, which is nothing to do with KTM themselves. Other niggles have been the side stand kicker shearing off (making it awkward to kick down the stand), and some paint peeling off the clutch casing. Again KTM agreed to change both under warranty without question. I've now done a further 6,500 miles on the bike in 5 months and have had no reliability issues whatsoever. It's run like a dream. I do elect to change the oil and filter every 3,000 miles which is not cheap as it takes fully synthetic high grade oil, but this is far more often than KTM suggest it's required. The bike has recently had it's 15k service without any problems identified.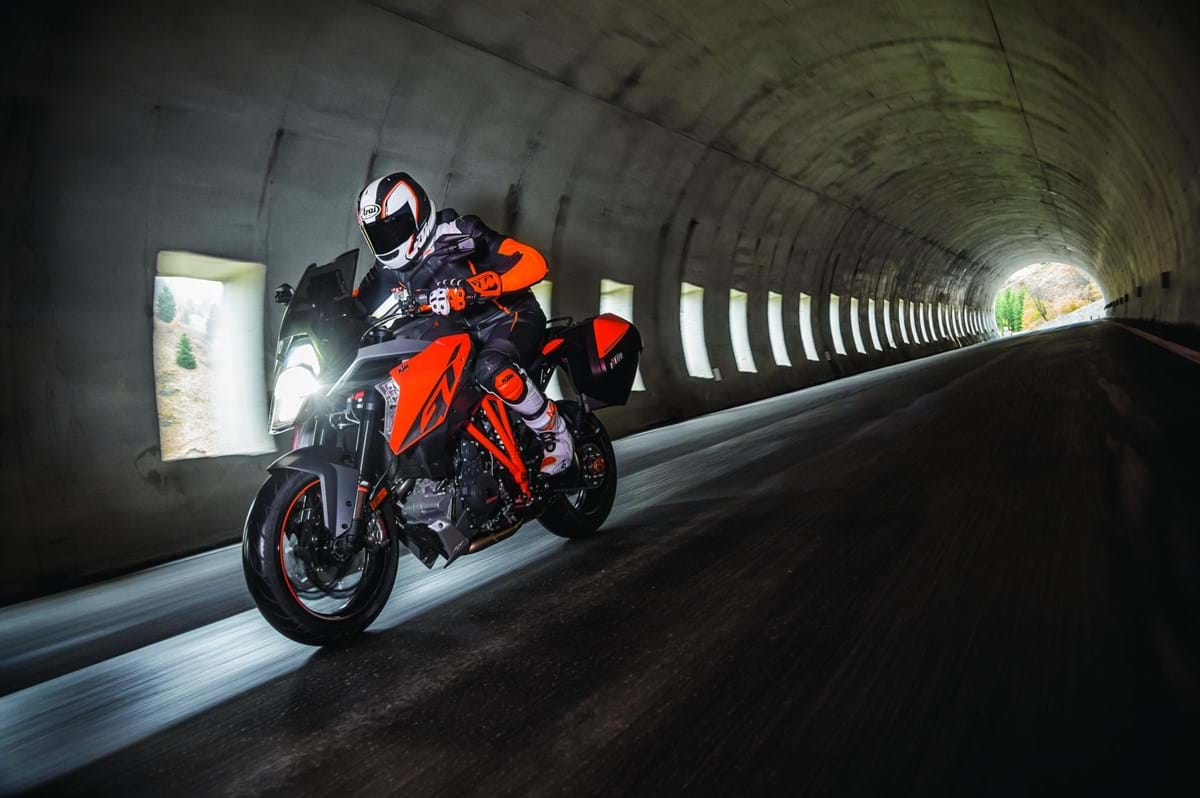 Ride
It's a tall bike, so probably better suited to riders of 5'10" or more. The power delivery is simply awesome, with 170+ bhp to play with, and the torque is beastly…. 144 Nm. It's a fairly hard ride compared to some bikes but not as harsh as a sports bike. 6th gear is very tall and hardly used in normal day to day riding. I only get into 6th at 70-80mph+ (in a controlled environment of course). Other than that the gearing is fine.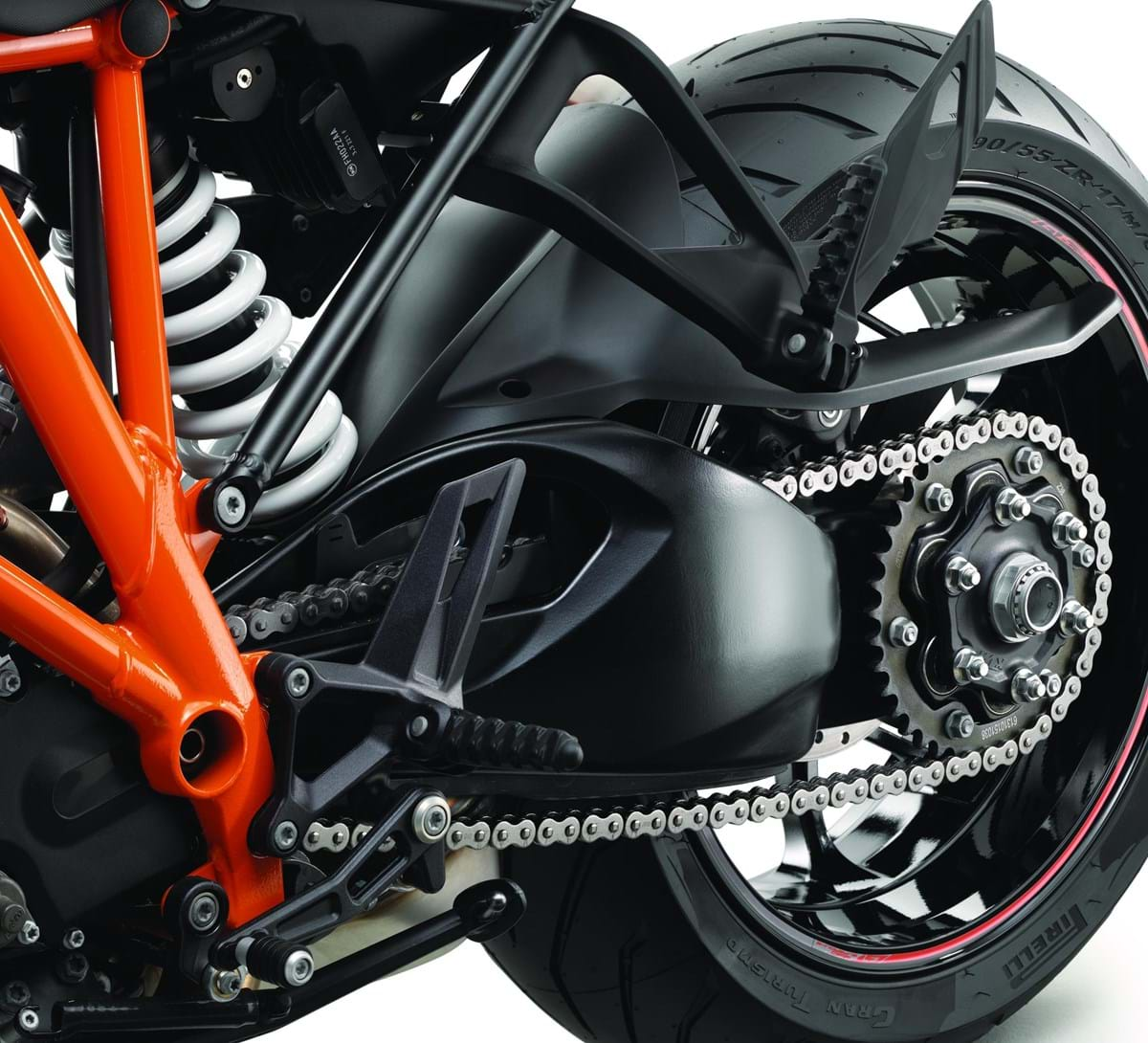 The handling is exceptional. You can really hang off the bike in the bends and it always feels stable and planted on the Pirelli road angel GT's, the rear with a 190 section. Just be careful throttling off to hard as the engine braking is immense. The bike benefits from semi active suspension and rider modes, plus has cruise control. I tend to only change the suspension settings on the odd occasion I carry a pillion or if loaded up for a tour. The settings are "rider only", "rider plus luggage", "rider plus pillion" and "rider plus pillion plus luggage". Although I'm only 12st I find the ride suits me if I leave the suspension setting on "rider plus luggage" rather than "rider only". It's just a little bit stiffer and in my view enhances the handling.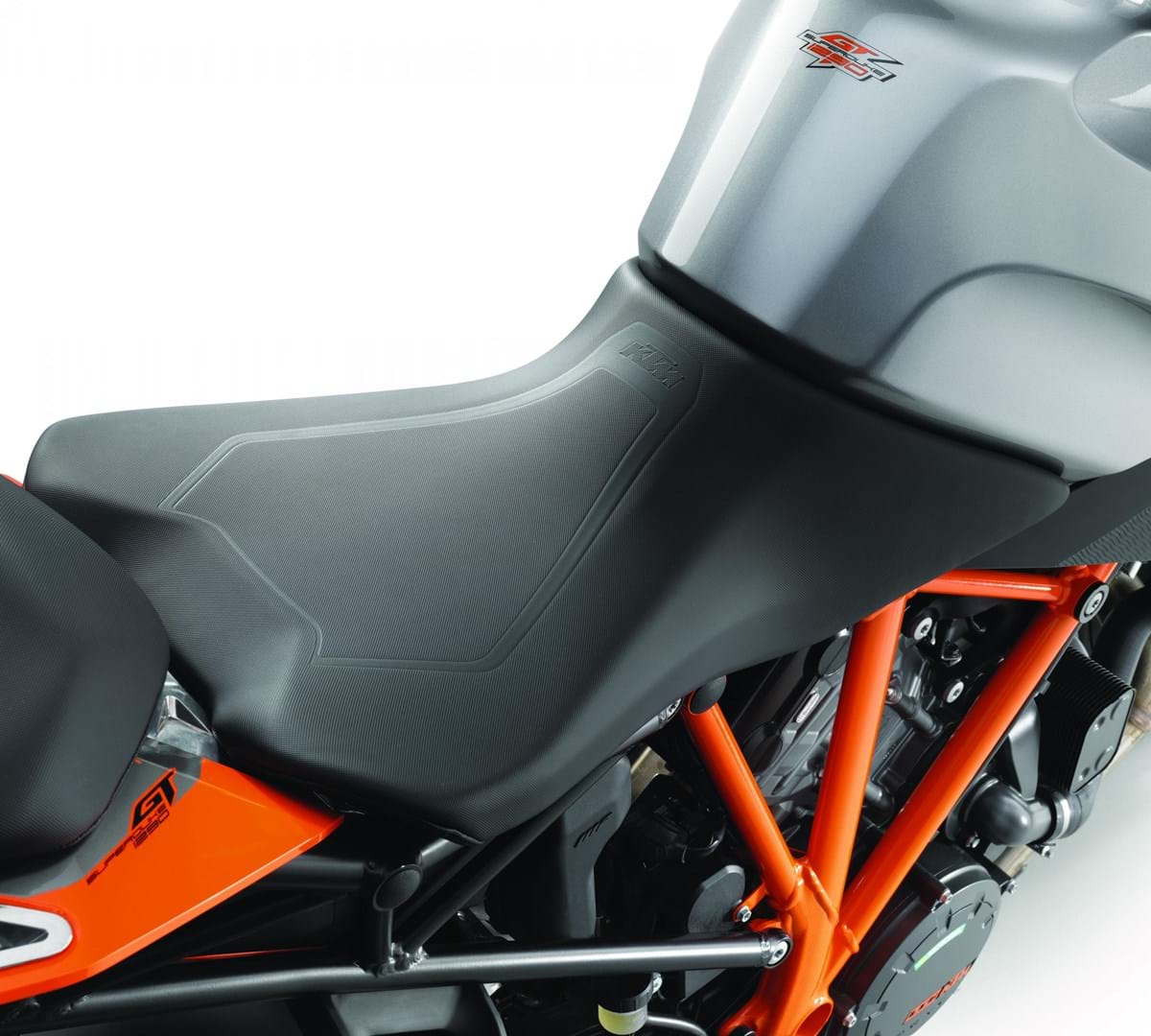 I've done some pretty long journeys of up to 500 miles in a day and I've not suffered with aches and pains (now I have the comfort seat). I do find the after market screen is best set on the lowest setting, as on the higher settings I get buffeting around my helmet. Can't comment on the stock screen.
Finally, as a large engine high performance V-Twin, it's obviously going to be a little "lumpy" compared to a smoother four cylinder bike. At low revs in a higher gear there's a little bit of "chain slap". It doesn't bother me…. I just ride in the right gear. I find the bike incredibly agile and flickable for a bike of this size and capacity, and no issues whatsoever with manoeuvres or slow riding – significantly easier on both counts than my Explorer was!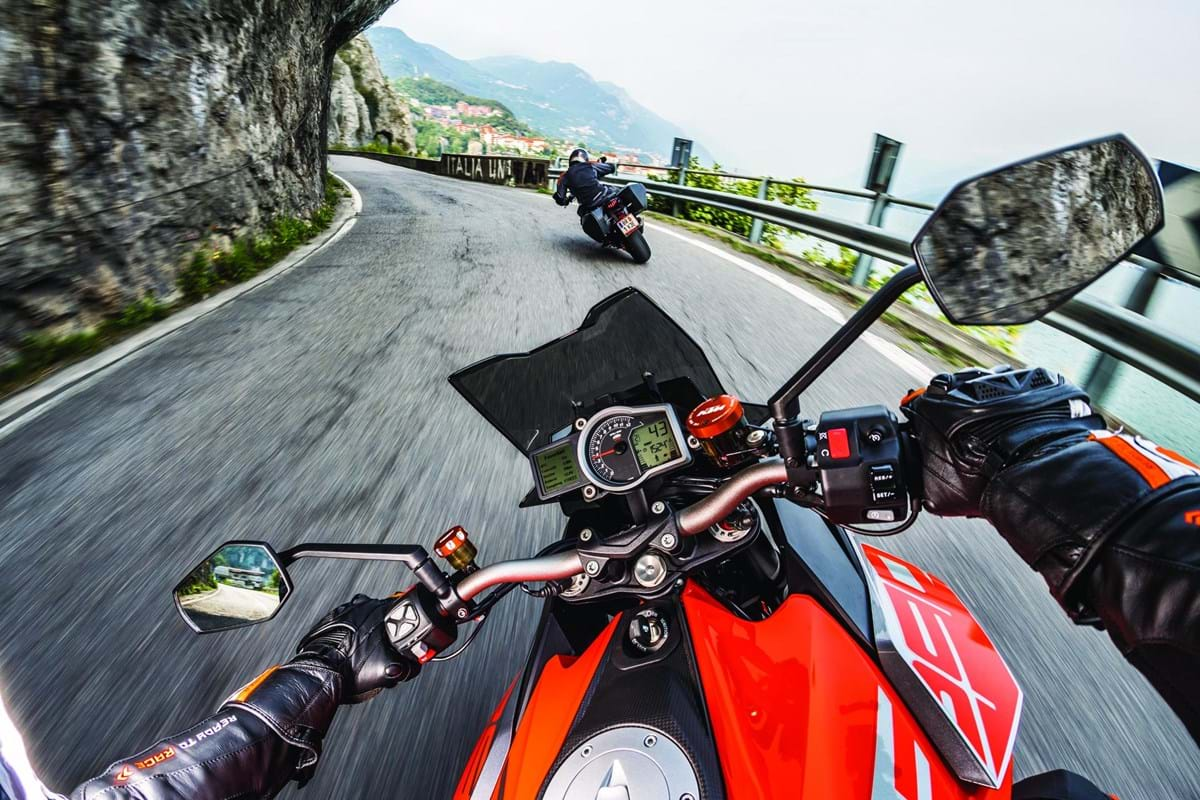 Technology
As already mentioned it has rider modes, semi active suspension, cruise, heated grips, heated comfort seat. A bike of this cost could do with a colour TFT screen in my view, but the screen is clear, displays all the info you need, and you can customise it. The bike also has tyre pressure monitoring which is a useful safety aid.
Costs
Fuel economy is ok for a 1,300cc 170bhp bike. I average around 47.5mpg. The torque shreds back tyres for fun…. 3,000 miles from my last Angel GT… thinking of changing to Metzelers next time to see if they're any better. Servicing isn't cheap, especially if you have "oil and filter OCD" like I do. And it's certainly not a cheap bike to buy at over £16k new, plus another £1000+ for extras. BUT, for the sublime power and handling I things it's worth it and represents reasonable value for money.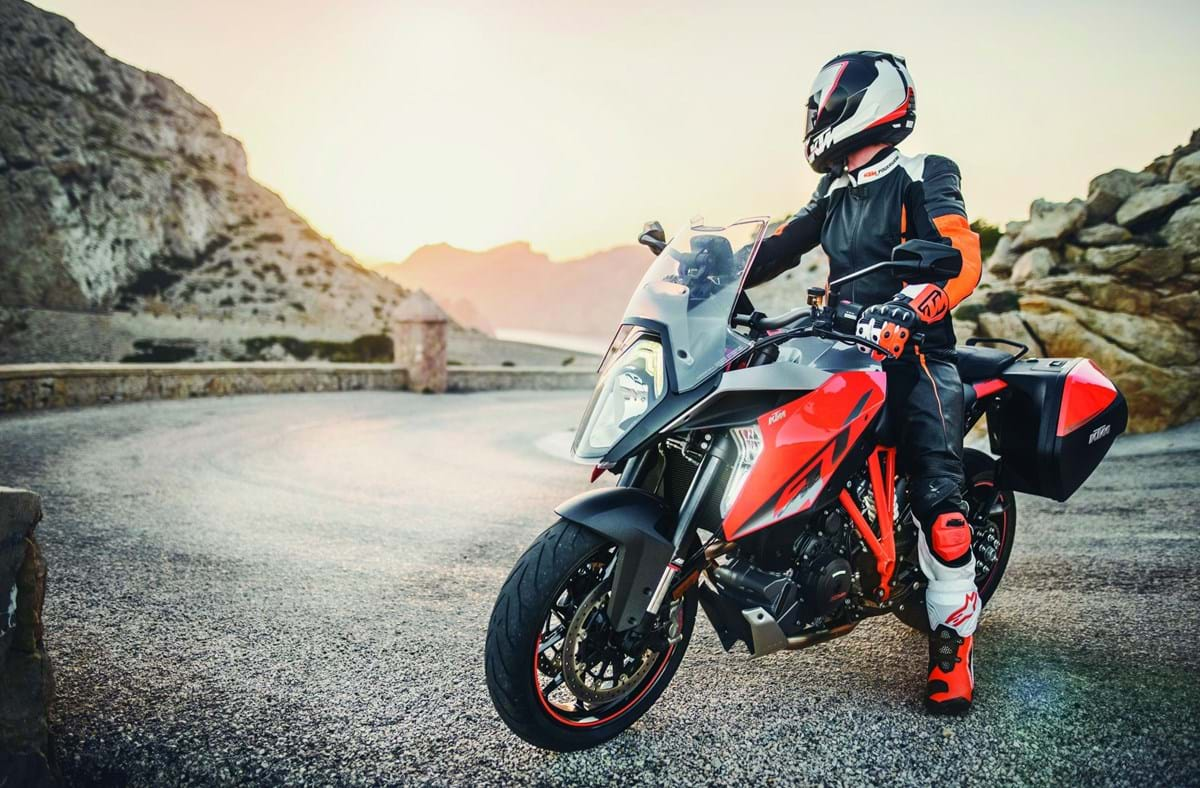 Summary
In summary, I love this bike. I would go as far as to say it's the best bike I've ever owned. When I come to change it I'm going to struggle to look any further than a 2019 model of the same machine unless another manufacturer pulls something out of the bag in the next year or so, and I NEVER buy the same bike twice, so that in itself tells a story. I guess it's main "competition" are the BMW S1000XR and the Ducati Multistrada. I've ridden both, and in my view there is no competition. Next time I'll buy a bike without the KTM panniers and buy some stronger aftermarket ones, and I'll also go for a full de-catted exhaust system (Akrapovic or similar)
- Duncan C, 2018
KTM 1290 Super Duke GT For Sale →
Price Guide
| Year | Dealer | Private | Part Ex | Mileage |
| --- | --- | --- | --- | --- |
| 2016 | £9,650 | £7,750 | £6,750 | 5,100 |
| 2017 | £11,200 | £8,950 | £7,850 | 3,700 |
| 2018 | £12,700 | £10,150 | £8,900 | 2,100 |
| 2019 | £16,800 | £13,450 | £11,800 | 1,100 |