Ducati Multistrada 1200 S Review (2010)
"
A gentle but consistent application of the throttle finds the bike catapulting forward like a stallion responding to a cracked whip.
"
What Is It?
The Ducati Multistrada 1200 S is a premium adventure bike and is powered by a Euro 3 compliant liquid cooled 1,198.4 cc V-Twin Testastretta engine, producing 147.9 bhp at 9,250 rpm and maximum torque at 7,500 rpm. The engine is a de-tuned version of the 1198 Superbike.
Specs
Seat Height: Average (

850

 

mm / 33.5 inches)
Weight: Heavy (220 kg / 485 lbs)
Economy: Average (40 mpg / 7.1 l/100km / 14.2 km/l)
Range: High (180 miles / 290 km)
Power to Weight: High (0.673 bhp/kg / 0.502 kW/kg)
Top Speed: Very high (155 mph / 249 km/h)
What Is It Like?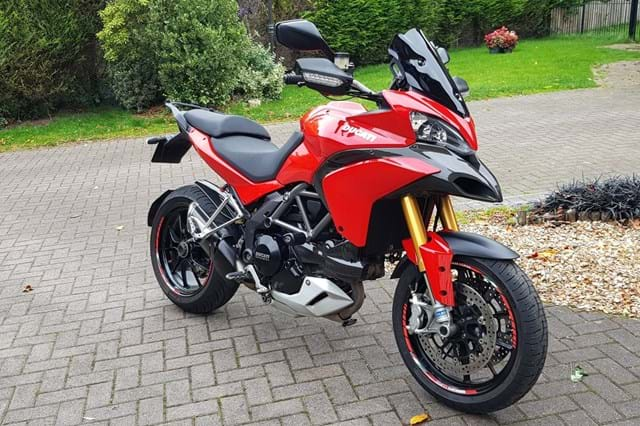 Choosing The Multistrada
My bike buying journey is short. It spans a few years now, but short all the same. I passed my test on a Honda CB100N in 1983 and used this for a couple of years.
I sold the Honda in 84 and didn't sit on a bike again for 12 years, until the Ducati 916. A year later I changed it for the SPS which I kept for a few years till it was destroyed in a fire. I needed something to keep in the garage as I just had kids and never really had the time to ride anymore so along came a Ducati Monster M900 in 2008.
Now as the kids were getting older I had a little more time and although the monster was a great town bike it wasn't ideal for longer journeys. Sports bike? Those days were long gone as I was quickly approaching 50.
The choice of the adventure bike with its upright riding position was appealing and a Multistrada seemed like a logical choice for me. They looked great and were in my opinion ideal for an ex sport bike rider like myself.
Fast forward to March 2016 and I was passing Rochdale Honda when I saw my 2012 Multi 1200S in the window and I thought wow, just like I did all those years earlier when I saw my 916. I was ready for that sinking feeling when I sat on it, from it being too high, but wait a minute the balls of my feet were touching the floor.
The previous owner had it lowered by Kais suspension in Atherton. The firm is no stranger to me as they had worked wonders on the handling of my 996 SPS years earlier when they had set the bike up properly for my weight and riding style. They had restricted the stroke front and back and although there was a little less ground clearance I could get touchdown! Maybe this was a little bit of destiny.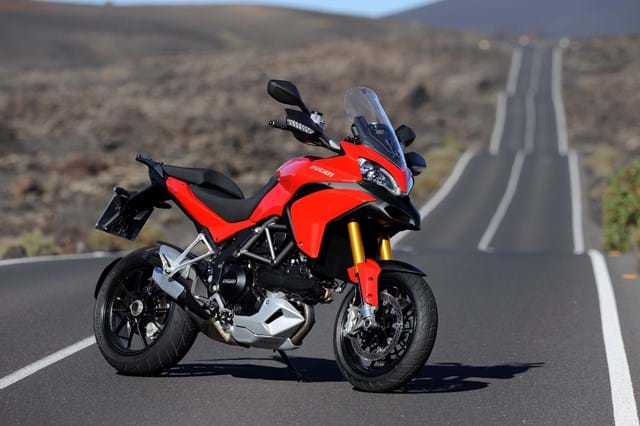 First Jobs
Buying a used 1200S the first job you should do is change the battery in the fob. It's only 2 quid but as it's not your bike and therefore you are unsure when it was last changed it's always going to say "low battery" mid ride.
My other recommendation is the gearing on this bike. It couldn't decide which gear around town it was happiest in. It was chugging low down in 3rd. Just on 30mph 2nd was a bit high and 3rd was a bit low. They cured this on the DVT but there is a fix.
It's not a cheap fix but compared to the extra cost of the DVT it suddenly becomes cheap. I imported a set of chain and sprockets from America with the rear sprocket up from 40t to 42t. It's a great improvement just raising the RPM for the bike to be happy at 30mph in 3rd.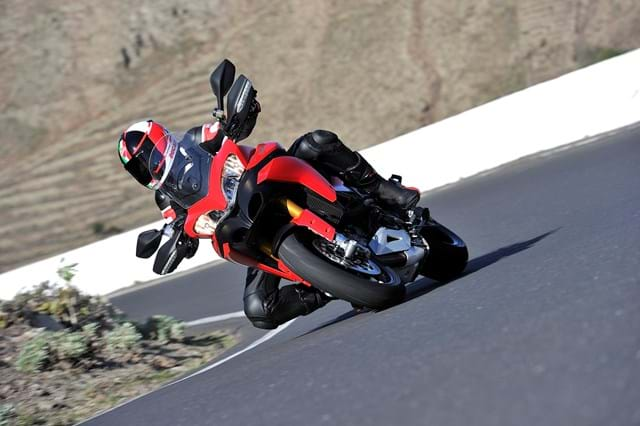 Power
The 1200S was never shy at accelerating. On the test ride I pulled into a layby on a twisty section from Rochdale over the A680 Owd Betts road and selected the Sport mode.
Short shifting up to around 5 or 6,000 revs and the multi takes on a different persona. At this rev range it passes anything out there rapidly. Worryingly or encouragingly there's still 4,000rpm to go! This is a fast bike should you choose it to be so.
If you are used to a smooth four cylinder bike it's going to take you some time to get used to this V-Twin. Downshifting needs to be smooth and blipping the throttle to match the speed of the wheels with the revs of the engine takes practice but benefits in a smoother ride.
Get it right and it's rewarding, but get it wrong and your passengers' lid will keep hitting the back of your lid. Practice makes perfect, but this is the compromise of all that grunt and torque that's on offer.
Comfort
Comfortable with it too. I've done several 300-mile trips on twisty roads. Motorway work should you really have to is a breeze you could sit there all day in comfort on that big saddle. I've never had a sore bum or back ache. I weigh just shy of 12st.
Brakes
A bike that potentially can accelerate like this needs to stop and the brakes are powerful with a good degree of feel. The brakes work well and they pull me up with just a slight skip of a heart beat.
Apply the brake pressure in degrees of least effort to more effort will give you the best results. Given time you can trail brake into corners without issue chasing that vanishing point that the multi insists you must do from time to time.
Other bikes I've ridden have too much initial bite and upset the balance of the bike but the Multistrada feels just right. For a big bike it's immensely playful and belies its 220kg weight.
It tips into bends with ease and is made for fast sweeping corners but also is at home on narrower country lanes ducking and diving as it goes.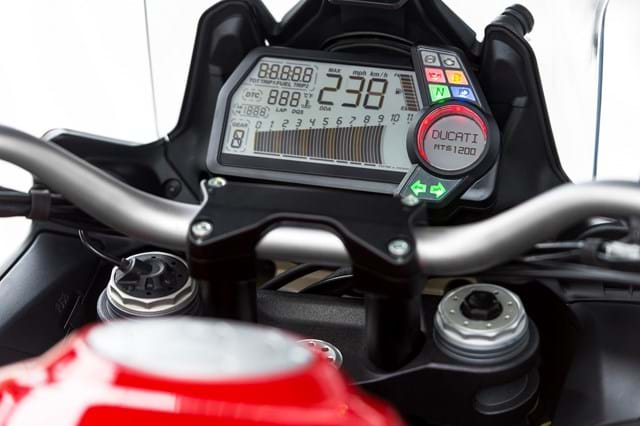 Handling
There is a lot of engine braking on offer with this twin. If you are a bit ham fisted with the throttle the bike will become unsettled pitching the weight forward, then aft as you open and close the gas.
Better results are found in a slightly higher gear riding that wave of torque as you go. This is where you will find the big smiles.
I have the Touring mode set on the comfy side just to get me home after a long day set in Sport. It's a neat feature to have.
Tyres
The Michelin PR 4s offer grip, grip and even more grip. They fire you out of corners like only a Ducati V twin can. It's intoxicating and a real wow factor of this bike.
I have never had the traction control light come on so maybe I'm not trying hard enough but it's nice to know it's there.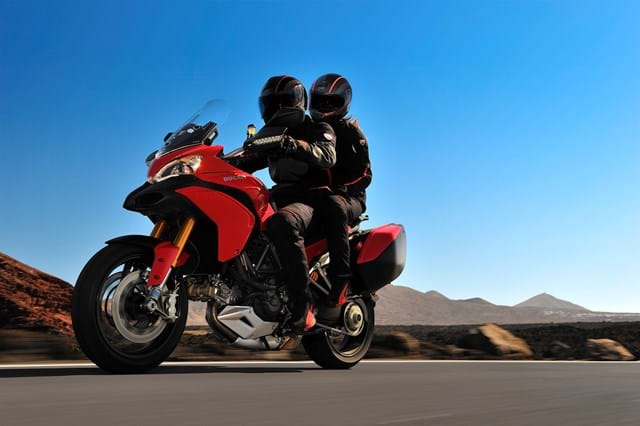 Rider Aids
Urban is the lowest setting and if I'm coming in for fuel I can set it to this mode as some garages can be a bit slippy under foot and it's good to have two feet flat on the ground.
Suspension
There is an Ohlin's SCU upgrade that turns the suspension into a semi active type which responds to the road surface and your inputs every millisecond. I've not gone for it yet as the main benefit seems to be riding with a pillion.
Ohlin's don't do upgrades just for the sake of it, so it must have a real benefit. There is some feedback online and if you do ride two up it's worth considering for around £350.
I took my pal out, who is appropriately an Italian lad and he weighs in at 10st. I set the riding mode to Sport with two riders and the suspension whirled away adjusting itself.
That's a cool trick by anyone's standards. He was impressed with the ride, the comfort and the way it gets up and goes. We were pushing on a bit and you have to allow for some extra braking time, but this bike is more than competent two up.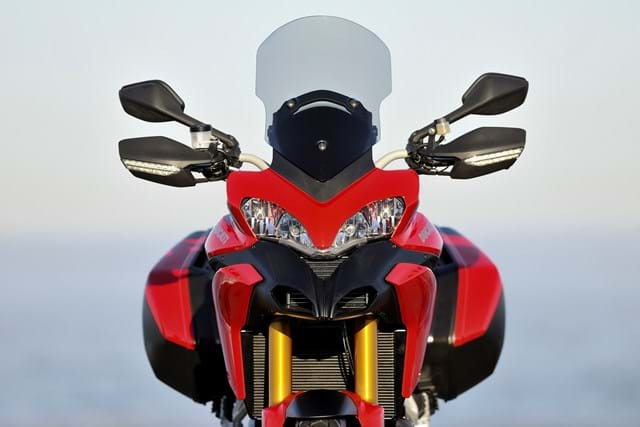 Mods
Not long into ownership I fitted a Leo Vince pipe kit and a Termi exhaust can. The cat was removed and saved around 6kg in weight. With a baffle in it's loud, you wouldn't really want it any louder and I wear ear plugs.
It sounds great with a little pop every now and again on a down shift and gives the bike a real character and presence. The upgrade is expensive at around £800 but well worth it to me.
I changed the high screen for a shorter sport model from Puig that really helped with the turbulent air creating a lot of wind noise and added buffeting.
For just £5 I also fitted a phone case to the handle bar and wired in a USB socket to the battery, so I can charge it on the go. Just little mods but useful, thanks eBay.
Servicing
Maintenance wise it has just had the big Desmo service at 15,000 miles. It's expensive at £850 through a main dealer but considering what's included its actually good value, weighing up the cost of the parts alone.
Any Issues?
The only reliability issue I had was a broken gear return spring, so it wouldn't shift down. It's a £250 fix and if it happens to you while you are out an elastic band can sort it or failing that massaging the gear lever at the end in a circular motion and you can find a lower gear.
The mirrors are good up to around 50mph when they suffer from a mild vibration and can blur a bit. Another trait of that V-Twin I'm afraid.
Economy
Ridden normally you can expect 220 miles out of a tank of fuel costing around £18 to £20 and around 47mpg. Maybe 190 miles if you're spirited.
Cleaning
Bizarrely it only seems to get dirty one third up from the floor! If you like cleaning your bike you wont like this one as it's a bit of a doddle.
Unless you've been in the mud, it's really easy and quick to clean. The large panels and engine casings help. There's no excuse not keeping your Multistrada clean.
To Sum Up
Today a 13,000-mile 1200 S can be bought for £8,000 and that's a lot of bike for the money. I'd say it's ideal for an ex sport bike rider who is between 5'10" and 6ft in the main but not exclusively.
It's a deeply diverse bike that wont suit all the people all the time. If you like to be involved with your bike I'd have to say that the 1200 S is a very involving machine and I love mine.
- Dave B, 2018
Price Guide
Year
Dealer
Private
Part Ex
Mileage
2014
£7,800
£6,250
£5,450
12,100
2013
£7,200
£5,800
£5,050
13,900
2012
£6,900
£5,500
£4,850
15,700
2011
£6,800
£5,450
£4,750
17,400
2010
£7,050
£5,650
£4,950
19,100
How to use the price guide
Add Your Review
Do you own this bike? We would love to hear anything good, bad, unexpected or that you have changed plus anything that a prospective new owner might find interesting or useful.
More Info
Check out this video review from TheMissendenFlyer.