BMW S1000XR Review (2015)
"
Be warned! It's an addictive machine and could easily lose your license, but I would not be without it. Go try one.
"
What Is It?
The BMW S1000XR is a premium adventure style bike with some very sporty credentials and is powered by a liquid cooled 999 cc inline four cylinder engine, putting out 160 bhp at 11,000 rpm and maximum torque at 9,250 rpm.
Specs
Seat Height: Average (

840

 

mm / 33.1 inches)
Weight: Heavy (228 kg / 503 lbs)
Economy: Average (40 mpg / 7.1 l/100km / 14.2 km/l)
Range: High (180 miles / 290 km)
Power to Weight: High (0.702 bhp/kg / 0.523 kW/kg)
Top Speed: Very high (160 mph / 257 km/h)
Pros
Perfect all rounder
Practicality
Comfort
Speed
Cons
Pretty expensive with all the options
Can be costly on tyres
What Is It Like?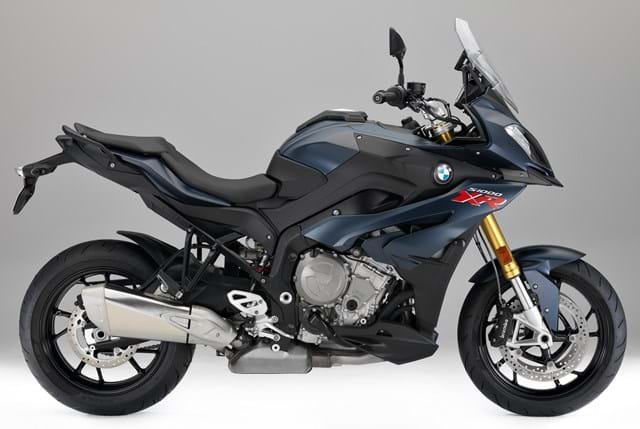 My Experience
I gave up riding sports bikes many years ago as I finally realised that they were not good for my health! I came back to bikes with a GS and then moved to a GSA LC but truth be told they were too big and cumbersome for me and although great bikes, actually superb bikes, I sort of missed the "hooligan" of a sports bike but at my age needed the comfort of the GS.
And behold BMW granted my wish with the XR. I was determined not to like it, that was the sensible bit of me, but when I succumbed to a test ride four miles down the road from the dealers I was smitten and knew I had to have one.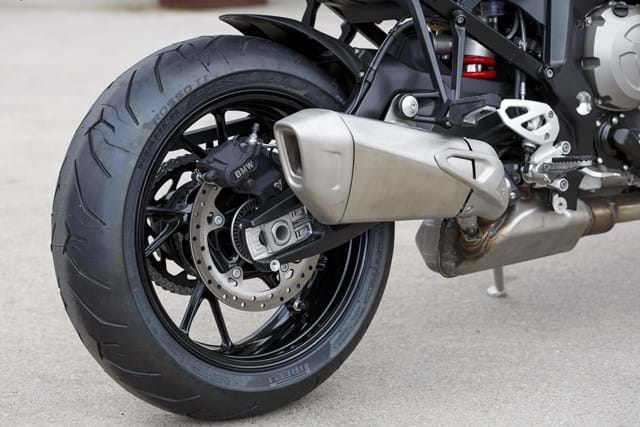 What Did You Go For?
It's in SE Sport spec, shod with Pirelli Diablo Rosso 2 tyres and no luggage as I wanted it slick and clean so the pannier rails were removed. Also HP levers and rear sets which although very expensive are just lovely. No Akrapovic end can though as I thought the standard sounded just as good and was not as ugly. I have since fitted a high level Mivv.
Build Quality
The build quality of this bike seems to be better than that of the departed GSA LC, the paint seems thicker and the metal of better quality. The rear rack as an example is metal on the XR and plastic on the GS.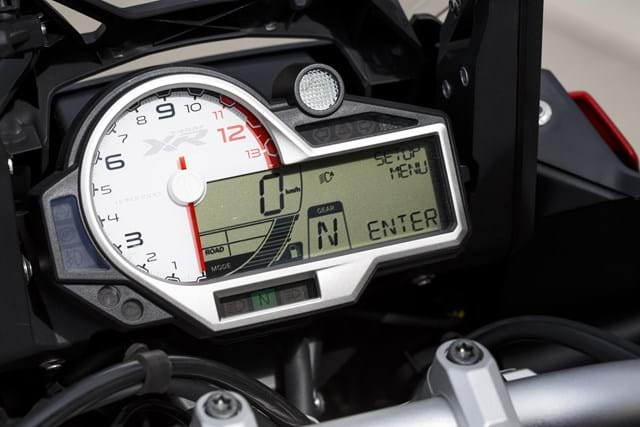 Power
Mechanically it is a tried and trusted engine derived from the S1000R and S1000RR and although somewhat de-tuned from the RR still gives 160bhp; boy don't you know it when you open the throttle. It pulls from low down in top gear like you would not believe but give it the frosties in low gears and hang on! Then change up with the superb Gear Assist Pro and hang on some more as the beastie puts its head down and continues its charge towards the horizon.
There seem to be some thresholds, nice and steady but grunts up to 5,000rpm, spinning faster and making you think a bit up to 7,000rpm and then pandemonium happens all the way to the red line. When I say pandemonium I mean it. On a track the bloody thing is still lifting the front at 120 plus and I ran out of bravery at 155.
Handling
It's all you could ask for. Chuck it in and just keep on leaning, the grip is fantastic and the feedback brilliant, change line, no problem, flick from right to left or left to right no problem just big grins as you let it rip after the apex!
Keeping the revs higher with the bike pulling hard just seems to hunker it down into the tarmac, boot edges scraping the road. I don't know how far it will lean before there is any drama and finding out is beyond my talent.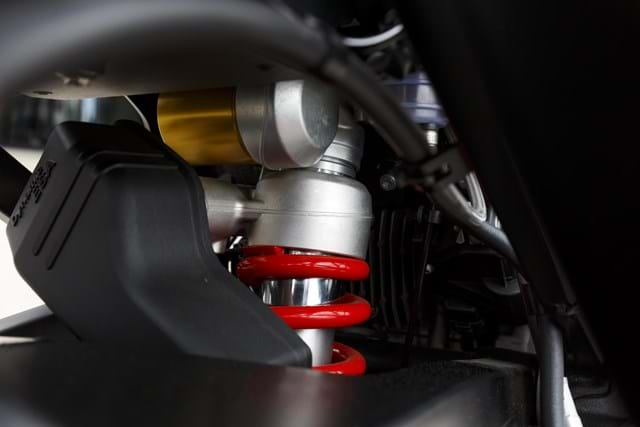 Ride Modes
Rain mode is nice when it's wet and in towns as the throttle dulls down and some of the madness is calmed. Road mode is good for touring and pottering on sensible Summer day rides. Dynamic is firmer and sharper, no faster than road mode but distinctly sportier and my usual choice.
Dynamic Pro is just barking mad and in my opinion a waste of money and time. You get it with the Sport SE regardless and I found myself having to actually be slower over a route due to having to shut off to bring the front back to earth or the rear back into line. Leave it in Dynamic and let the very good and unobtrusive electrickery sort it all out is my advice.
Motorways
For me it is the best bike BMW have ever made, 300 mile A & B road days are easy as it is very comfortable although motorways are made tedious by the need for this bike to rev higher than a big 1,200cc twin.
Many have commented on the vibes through the bars but on mine it is only noticeable in a very small rev band of 5,100rpm to 5,300rpm and more so in Road mode than Dynamic. Don't be put off by the negative comments on this, ride one and see as some seem to be worse than others.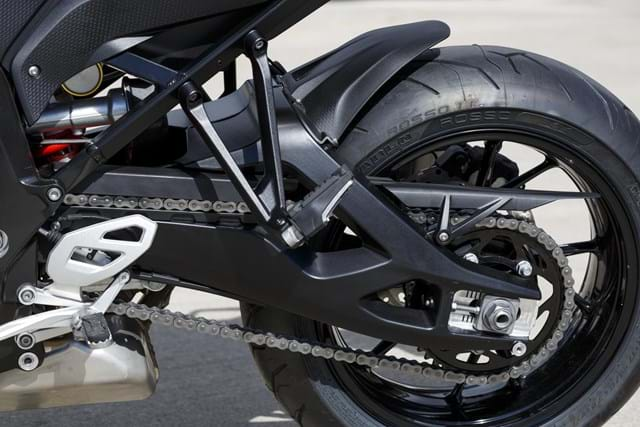 Any Downsides?
The thing eats rear tyres! 2,500 miles from a Rosso 2 and 3,000 from the latest Rosso 3 at 7,000 miles now I need another rear which will be its 4th. That could just be me as reports of 5,000 from the Bridgestone shod bikes are becoming common but I prize grip over longevity. Be warned it is an addictive machine and could easily lose your license but I would not be without it. Go try one.
2017 Update: I've now moved on to the Ducati Hypermotard 939 SP.
- Rick M, 2016
Price Guide
Year
Dealer
Private
Part Ex
Mileage
2019
£12,350
£9,900
£8,650
5,100
2018
£10,950
£8,750
£7,650
4,900
2017
£9,800
£7,850
£6,850
6,700
2016
£8,900
£7,100
£6,250
8,500
2015
£8,250
£6,600
£5,800
10,300
How to use the price guide
The Second Opinion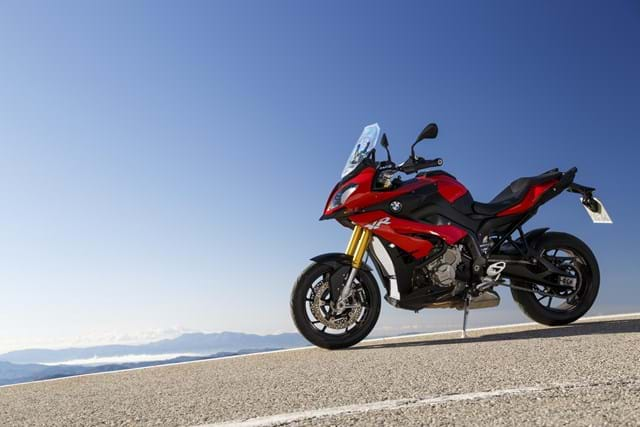 Why The XR?
The S1000XR was recommended to me by a friend who loved his XR to the point he was going to marry it! My friend, a very respectable advanced rider, was smitten and lavished it with compliments constantly so after a test ride at my local BMW Motorrad I took the plunge.
I PX'd my faithful 2015 R1200RT-LC and was off down the road laughing my ass off every time I rolled off the throttle at the accompanying 'POP POP GURGLE POP' from the Akrapovic end can. That combined with the quickshifter meant that it had me at 'hello'.
Looks
Despite the added panniers and top box I still think it looks brilliant from every angle, mean and business like! I felt we would get on well. The previous owner had loaded it with extras, as seems to be the norm with many BMW bikes.
Comfort
Straight away I was comfortable and the ergonomics worked well for my 5'9 frame. My only issue is short stocky legs which go with my stocky build. My inside leg measurement isn't the greatest but getting a leg over the standard XR wasn't a great issue.
I had to think a little before jumping on and off but no major problems here though I wasn't going to be talent-scouted for Swan Lake. My knees also don't cope well with anything resembling a sports bike position so I found the XR was perfect there as well. Not quite as squished up and a good compromise.
At The Helm
The handlebars being good and wide meant a positive feeling of control and also enabled me to sit more upright and get a good elevated view.
The standard BMW controls are of a high standard and once you get used to the control wheel around the left handlebar grip, I know the BMW-faithful will have the correct name for it, everything is easy to use.
Switching between riding modes changes things a little but most noticeably when you engage 'Dynamic' and the noise from the pipe becomes Viagra for the ears!
So, How Does It Ride?
It is quick. Very quick! It's the same 999cc lump from BMWs sports bike the S1000RR but with a few less horses squeezed out, 165 horses in total but being down a fraction in power doesn't hinder its progress as your riding position, upright with a great view make up for the 35-ish less horses.
As for that quickshifter, it's my first experience of having one. Pin the throttle, click up through the box and listen to the soundtrack but be sure to hang on. It works best if you trust it to do its job! Pin it and don't let off! Downshifting is equally as bonkers, try it and see. A clutch lever is so 'last year' Darling!
The only downside I found with the shifter is that sometimes you can find a neutral by 'accident' which isn't good! More commitment on the gear change then John!
Economy
I got around 47 mpg on a trip from the UK to Dubrovnik and back. That included some high Alpine roads, the Dolomites and some stunning Adriatic coastline. I didn't hang back but I didn't spend all my time ragging it either so I'd like to think 45-49 mpg is a good guide.
Radiator Covers
As I suggested earlier, the previous owner had placed a few extras on the XR which made it sweeeeet and the SP seat was a god-send, however the radiator cover was not!
The inline four BMWs are known to run a little hot but riding into Baden-Baden at the top of the Black Forest saw 124 degrees on the temp gauge and a big red warning triangle flashing at me. Queue the screwdriver and the alloy cover went straight into the German recycling bin, leaving a thick layer of mud outlining a perfect 'rad cover' imprint on the radiator, choking the fins completely.
Just removing the cover did little to sort the problem so in Imst, Austria after abandoning twisties for the cool air of the Autobahn, the hotel lent me their power-washer. A cheap toothbrush from the market combined with some careful blasting and scrubbing and the radiator was looking like new. The temperature issue immediately solved itself and I never saw it rise above 105, even in heavy traffic, for the rest of the trip and normal service was resumed.
Any Downsides?
The panniers are small but standard fit. Having been spoilt by my RT I was acclimatised to having lots of space to pack but that, the radiator issue and the urge to ride like Valentino Fogarty everywhere meant we were not destined to be together, so we parted on amicable terms.
My love affair with the XR, or as I like to call it the ASBO, lasting only 6 months, but boy, what a ride, what a 6 months! It's an excellent bike, but for long trips it isn't for me and for two up riding, same issue.
It's for a single rider with a touch of hooligan, or with a pillion who is used to sports bikes already, who have a love of dirty weekends away…
…Go for it!"
- John W, 2018
A Few More Thoughts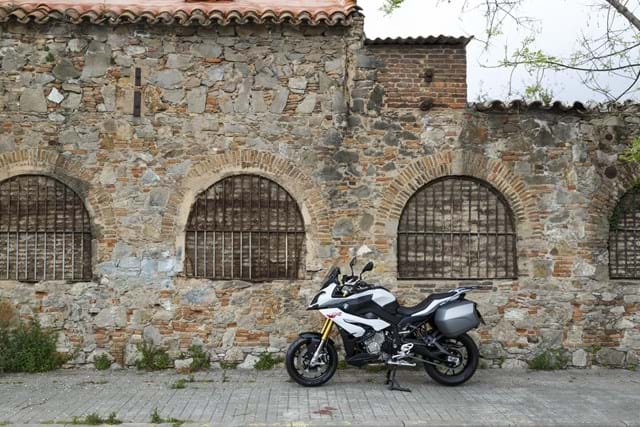 Choosing The XR
My last bike was a Honda Firestorm in 2003 but 12 years later and it's time for the new investment. I test rode everything and then the bullet was bit after the XR test.
I purchased new my white S1000XR SE in 2015, collected it from Essex and travelled by train with all my gear from the Midlands. 195 miles later and was smiling from ear to ear on the return journey.
Any Issues?
My first service was at a BMW main dealer. They did the usual but I told them my horn was only working intermittently and could not change the time on the clock. They said they couldn't find a problem so I returned a few weeks later with the same problem and they reset something. Again, no better so on a further visit they fitted a new left handlebar side switchgear and it has been perfect ever since.
Mods
I've put the plug in so I get the full Ultra Dynamic rider mode, added autocom communications, a sat nav in the factory sat nav mount, fitted a universal plate on rear carrier to accommodate my Givi E46 box, then went to SHAD to get pannier rails and panniers as the BMW luggage is far too expensive.
Where Have You Been?
Countries visited two up with luggage include England, Wales, Scotland, France, Belgium, Luxembourg, Germany, Netherlands, Switzerland, Austria, Hungary, Italy, Slovakia, Slovenia, the Scottish North Coast 500 and all the passes in the Lake District. It never misses a beat with up to 450 miles in a day plus it's comfortable for both my pillion and I.
Costs
It returns 47-51 mpg and is capable of hitting 155 mph in my hands. More if you are braver than me. I'm running Bridgestone T30 tyres and get 6,000 miles on the rear plus 8,000 miles on the front.
It's been ACF50 protected from new and has been re-done every six months by www.allyearbiker.com and aerosol ACF50 in between by myself. Still looks great.
To Sum Up
Well 2.5 years later I still own it, but more importantly still love the XR. The clock is now reading over 28,000 miles. It's been fault free and I'm still using it as a weekend play thing, tourer and last year lapping Donington Park a LOT quicker than most in the intermediate group. Truly a wolf in sheep's clothing.
What do you buy when you have a motorcycle that fits your needs perfectly. Mmmmmmmm, you stay with what you have and vinyl wrap it 👌
Whats planned for more rides this year? Well my wife and I are doing the romantic tour of Germany following the Rhine and visiting a few castles, a track day again at Donington in August along with British Superbikes at Assen in September. Loads more rides before, in between and after as work schedule permits.
If I was to score the XR out of 10 for my needs and requirements, it would be an 11. It is that good. Thanks, Wayne aged 50 and 1/4.
- Wayne R, 2018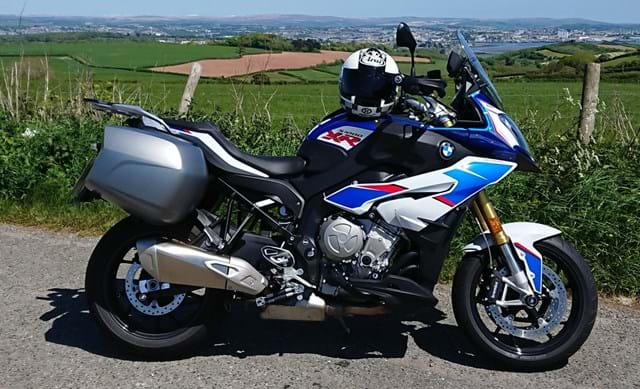 My Experience
Well where to start? At the beginning I guess! I've had many motorcycles over the last 18 years and even more since I started riding in 1983. Every genre, Harleys, big japs, Italian exotica and only in the last few years I have chosen to spend my coin on German engineering. Namely the big GSA LC which is a pretty remarkable bit of kit but after 3 years of it I started wanting something more.
Why The XR?
MORE I hear you cry! "WHY YES"! I retort the S1000XR! As I live in Cornwall I decided to visit Ocean BMW in Falmouth, walked into the showroom and it was lust at first sight 😍
Having ridden one as a courtesy bike in 2016 I knew it would be good so I bought it, then went on holiday leaving it in my garage for a week. But 4 weeks and 1,000 miles later I'm now in love.
What's Good?
It's a sports bike for 6 footers, light, responsive, turns on a sixpence and offers good mpg with 48 best and 38 worst. You get a little red "plug" from BMW when you get the bike which turns it into a barking mad pit bull!!!
I'm 6ft5 tall and it's all day comfy. I've yet to take a pillion so can't comment on the two up handling.
The brakes are as much fun as the throttle and the exhaust note is nothing short of fantastic! The up / down quickshifter is a triumph of German engineering, especially when exiting a decent corner or getting up to speed on a slip road. Silky-smooth would be a good description.
To Sum Up
This big dog can play with any other that's for sure. It's civilised in town and in the country but in the right place wind it open and it's warp speed Mr Sulu! If you're thinking of trying one then please do. It's a fabulous bit of kit, but don't take my word for it, go ride one, and no I don't work for BMW.
- Dan F, 2018