BMW R1200GS Adventure Review (2014)
"
Overall I really like my GSA and if I'm honest I'm not sure what I would replace it with as it does everything so well.
"
What Is It?
The BMW R1200GSA is a popular premium adventure style bike and is powered by a liquid cooled 1,170 cc Boxer engine producing 125 bhp at 7,750 rpm and maximum torque at 6,500 rpm.
Specs
Seat Height: High (

890

 

mm / 35.0 inches)
Weight: Very heavy (260 kg / 573 lbs)
Economy: Average (45 mpg / 6.3 l/100km / 15.9 km/l)
Range: Very high (300 miles / 483 km)
Power to Weight: Average (0.481 bhp/kg / 0.359 kW/kg)
Top Speed: High (135 mph / 217 km/h)
Pros
Electronics package
Protection
Handling
Range
Ride
Cons
Large and heavy
High seat
Gearbox
What Is It Like?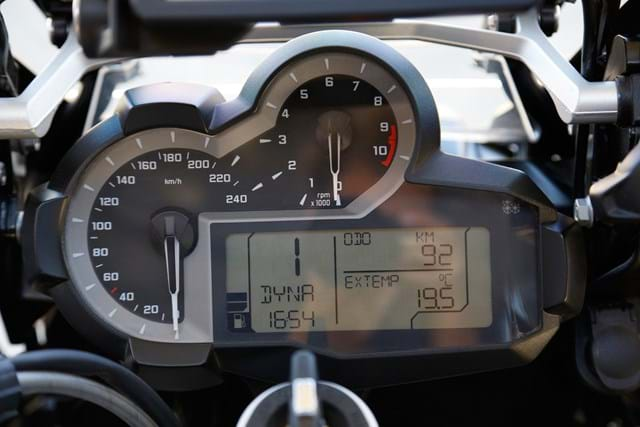 I currently own a 2016 R1200GSA which I have owned from new since May 2016. Mine is the Iconic version, 1 of only 100 made but ultimately is a TE with different colours here and there. The GS Adventure is right on the money in terms of performance and handling and is a regular winner when tested against other Adventure bikes in its class.
Reliability
At the time of writing this review, my bike is 23 months old with 23,700 miles on the clock. I ride most days throughout the year except for snow and ice as I am an independent advanced motorcycle trainer and also a bike examiner for both RoSPA and the IAM, but riding daily means it will often go several weeks and hundreds of miles between washes other than a quick jet wash.
Despite this, I'm pleased to say that my bike has been totally reliable except for one warranty claim on peeling powder coating on the pannier rails, only the Iconic model is powder coated there so this wouldn't be a problem on other models. It also had the fork recall that all GS model's had worldwide. I will add that despite the lack of regular cleaning, it is always serviced on time at the supplying dealer.
Ride
There's no getting away from the fact that it's a big bike and by the time you've added the luggage there's some serious weight to lug about.
Add a seriously high seat height and it is a recipe for dropping the bike. You soon become aware of road camber when parking and road surfaces when stopping! However once rolling, that weight 'disappears' and the bike is a dream to ride.
The high up riding position gives a commanding view of the road ahead and wide bars give great leverage when hustling along through bends.
It has taken me all over the UK and Europe in extreme comfort. The ESA suspension is switchable at the touch of a button so if the road surface changes from smooth to rough, there's no need to stop and get the spanners out or start twiddling adjusters.
Wind and rain protection are excellent, the screen protects your upper body and the wide petrol tank protects the lower half.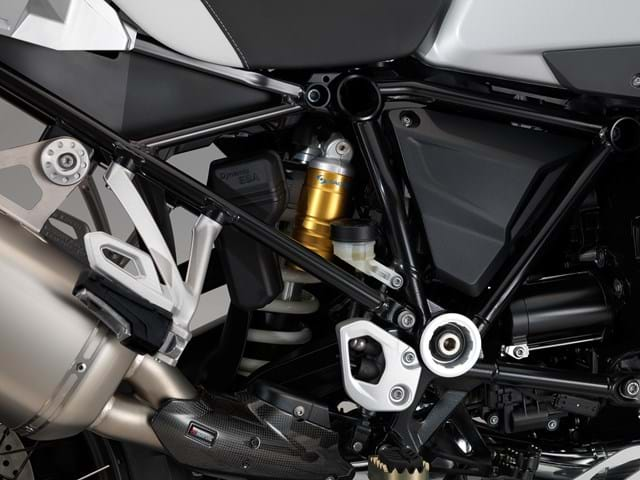 Technology
As mentioned there's the ESA, but there's also numerous rider modes which alter throttle response, then there's the sat nav that's controlled by a wheel on the left handle bar, cruise control, heated grips, extra spot lights and the latest models have the new TFT dash.
Cost
Now the bad news, all this technology comes at a price, by the time I had finished ticking options boxes for my bike, it was nearly £19,000.
Then of course you are teased by companies such as Touratech and Wunderlich who will sell you every add on you never knew you needed! Service costs aren't too bad, expect £150-£350 for a service dependent on mileage.
Any Downsides?
I suppose the weight will put some people off, as will the seat height and the cost of a new bike. It's also not the best commuter in the world as it is very wide and definitely not good for filtering in heavy traffic.
To Sum Up
Overall I really like my GSA, it's not my first BMW, but it is my first GSA and if I'm honest I'm not sure what I would replace it with as it does everything so well.
- Ian S from ianspeight-training.co.uk, 2018
Price Guide
Year
Dealer
Private
Part Ex
Mileage
2018
£13,350
£10,650
£9,350
4,900
2017
£12,450
£9,950
£8,700
6,700
2016
£11,600
£9,250
£8,100
8,500
2015
£10,600
£8,450
£7,400
10,300
2014
£9,700
£7,750
£6,800
12,100
How to use the price guide
The Second Opinion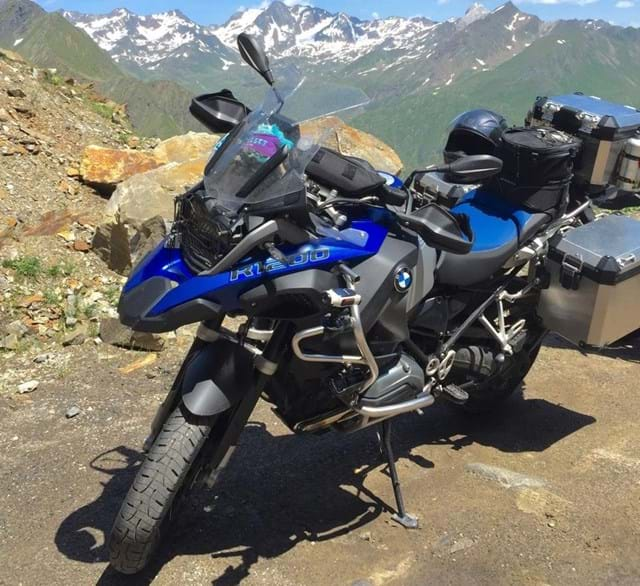 I have been an avid rider of the BMW R1200GS and Adventure since 2006 and have owned three. The current GS Adventure is right up there in terms of performance, handling, functionality and reliability with all of the other Adventure bikes in the class.
Reliability
In the 60,000 or so miles ridding the bike I have never had a breakdown. I have had niggles and warranty work but if these bikes are regularly serviced they seem to stay very reliable.
If you check forums you may read of historic issues such as failing fuel pumps or ring antennas but these are long gone on newer models. Like any bike you may get a "Friday afternoon" model so give it a good check over on purchase for lazy things such as loose bolts and over-greased joints.
That said, I am not a huge off-roader so the bike gets mostly A-Road and motorway work in my hands, if it is regularly beaten up off-road it will take it way better than most but the servicing and maintenance becomes even more important.
Ride
The bike is a beast at very low speed. It is high and heavy and actually carries its weight very high as well. This will catch you out easily and I know of very few owners who have not dropped it at least once. This doesn't normally cause a huge issue other than scuffs as they are built to fall over!
Once over 5mph however the bike is a dream and all the reviews you read will give you the same feedback that the bike handles exceptionally well, feels extremely planted and can make significant progress when pushed - I saw one ragged up the Stella Alpina with a good rider leaving absolutely everything in its wake.
The final positive is a quick shifter option which sounds daft but really does add to the liveliness and pace of the bike.
Brakes
The only thing for new riders is the Paralever suspension on the front which detaches the brake forces from the steering and removes dive. To a rider coming from a sporty bike this can feel like the front is very 'disconnected' but in reality it allows for much better braking, you can trail the brake later into corners without sacrificing stability.
Suspension
The bike also has the very accomplished ESA for suspension tweaking which genuinely works and this can be combined with all the traction control modes which again are very well programmed.
Protection
Wind and rain protection are absolutely excellent, so good in fact that when it was 35 degrees centigrade in the middle of France it was a bit of a negative - I could have done with wind in my face!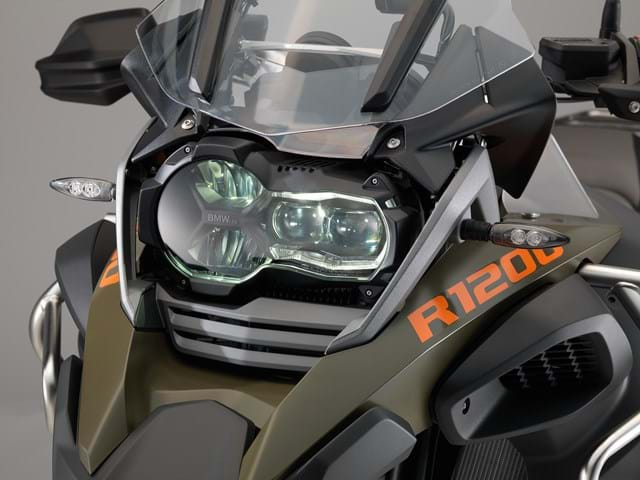 Technology
Depending on the spec you go for the sky is almost the limit. The SatNav is ridiculously expensive at around £700 but it integrates directly with the bike via the shuttle controller on the handlebar which when in motion makes life a breeze and safer to use.
Pair this with a Bluetooth headset and you have music on the move, connection to your phonebook and data from the bike such as tyre pressure warnings, number of gear shifts and other useless but interesting stuff!
The LED Headlight is pretty but not much more effective than a normal one to be honest. The spotlights are great and give you great road presence, the heated grips are marvellous and the cruise control is something I thought I would never use but actually it's great on the motorway and also for keeping to 50/60 limits in roadworks etc.
Costs
It's expensive, it's a BMW, what else did you expect? By the time I had added all the bits to my bike it was around £19,000. Then of course you end up raiding the Touratech and Wunderlich catalogues to 'farkle' and you end up with a machine that is definitely uniquely yours but it is not a bike for the budget conscious biker.
Other costs are not too bad, expect £150-£350 for a service dependent on mileage, my insurance (45 years old, no claims in Solihull was around £250 fully comp).
Summary
It's a great bike, but it is a heavy, big beast. This gives it a great road presence but also makes it pretty poor for filtering.
The ride is great for an adventure bike, the tech is awesome fun and doesn't detract from the ride, reliability is good but you pay for it in the price. Test ride it and you will either love it or just get off it wondering what all the fuss is about because it's not the right type of bike for you.
Interestingly I have just switched to a BMW R1200R that has all the same tech, chassis and engine but in a smaller package, which is much more lively with the wind in my face and it's £6,000 cheaper.  That's not because the GSA is bad but because I wanted a bike that was more 'hot hatch' than 'Range Rover Sport'.
- Andy C, Feb 2016
Add Your Review
Do you own this bike? We would love to hear anything good, bad, unexpected or that you have changed plus anything that a prospective new owner might find interesting or useful.
More Info
Check out this video review from TheMissendenFlyer.