BMW R1200R Review
| | | |
| --- | --- | --- |
| Overall | | ★★★★★ |
| | |
| --- | --- |
| ✓ | Plenty of power, extremely flexible engine, comfort, weight is low down, quite a following |
| | |
| × | Heavy steering at slow speeds, dash, satnav is good but overly expensive |
What Is It?
The 2015 BMW R1200R is a naked style bike and which was first launched in 2006. It's closely related to the retro styled R nineT.
Engine: 1,170 cc Boxer, 125 bhp
Economy: 45 mpg, 180 miles
Seat Height: 790 mm
Wet Weight: 231 kg
RRP: £10,350
What Is It Like?
I have owned a 2015 BMW R1200R Exclusive for over four months now and have put over 2,000 miles on the bike in that time. This review needs to be taken in the context of having come across from an R1200GS Adventure and wanting more of a biking experience with the wind in my face and the liveliness that is somewhat dulled down on the big brute of a GS.
In that context the R1200R is exactly on par with what I expected and wanted. The bike has all the technology of the R1200 range including the extras such as SatNav integration, ABS, ESA, DTC (that's brakes, suspension and traction for the non-geeky) but in a good-looking, supremely handling roadster that just begs to be ridden.
Engine
The engine is lifted straight out of the rest of the R1200 liquid-cooled range and doesn't disappoint. The gearing feels very different to the GSA which has an enduro first gear so you can easily hit 60mph in first on this bike. It has more power to weight than a Bugatti Veyron and with the quick shifter fitted (and I would recommend it wholeheartedly) an open throttle will leave you hanging on to the bars as it propels you forward at a surprising rate. The torque and rideability of this bike is awesome and can leave a huge smile on your face and a small pickle in your pants! The other beauty of this engine is the sheer flexibility of it, you will regularly find yourself being exceptionally lazy with the gears as it will pull in most of them at any speed.
Ride
The bike uses the forks from the S1000RR super bike and feels extremely lively as most of the weight of the boxer engine is carried very low. It is not a sports bike but it comes pretty close on English roads and with all the electronic support feels extremely planted and tips in beautifully.
The 'against' mentions heavy steering at slow speeds, that's all relative, coming from an Adventure bike it is about as heavy as difficult to turn as a pushbike and you can get both feet flat on the floor easily (and it comes with three different seat heights from the factory at no cost).
With the ESA as part of the spec the ride can be tuned very effectively for different riding scenarios (two-up, luggage etc) and the DTC (Dynamic Traction Control) takes it even further with the engine mappings giving you plenty of options to dial up the fun and still leave the bike feeling controllable. The difference these two options make is not to be underestimated in general riding as they soak up the bumps and uneven grip.
The bike is not good over 80mph unless you are a bit of an athlete as the upright riding position tries to pull you off the back of the bike and you would tire of this after an hour or so. Interestingly one of the reasons for switching to this bike was becoming bored of motorway miles to get to anywhere so I decided that all trips would not feature motorways and this has generated much more fun from my day to day riding.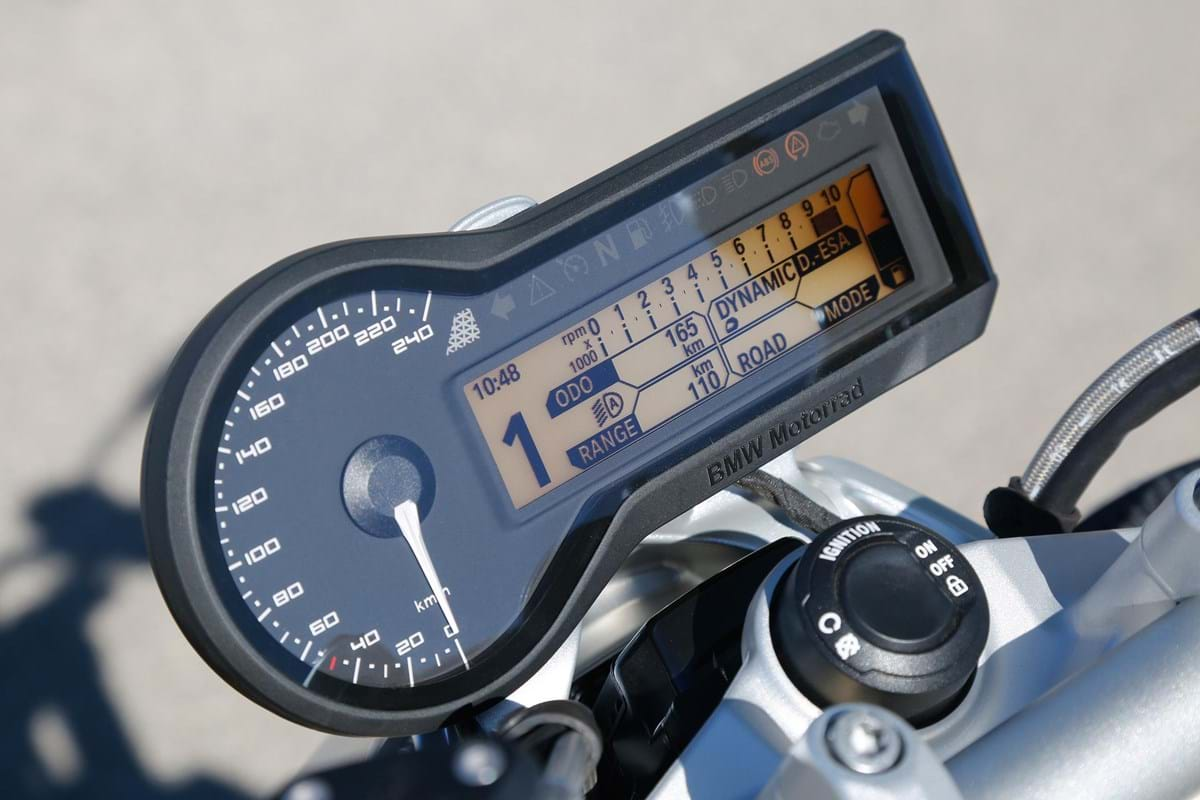 Tech
The bike has a huge range of tech options you can throw at it and having come from a GS I threw most of them at it. The riding stuff is great with ESA, ABS and DTC as previously mentioned. The dashboard can be configured three different ways (I just wish they had made the analogue dial for revs and not speed) from track mode which focuses on the red line through to standard mode which offers a huge amount of info on the dash.
The buttons on the handlebars also get adapted to very quickly to get you whizzing through the controls. The SatNav integrates very well using the shuttle wheel on the left handlebar and is quite discrete on the bike (although does sit a little too close to you and needs a glance down to see).
Other 'essentials' are the heated grips which are very good, the quick shifter which is an amazing piece of tech (it blips the throttle beautifully on the downshift) and finally cruise control which I surprisingly use all the time.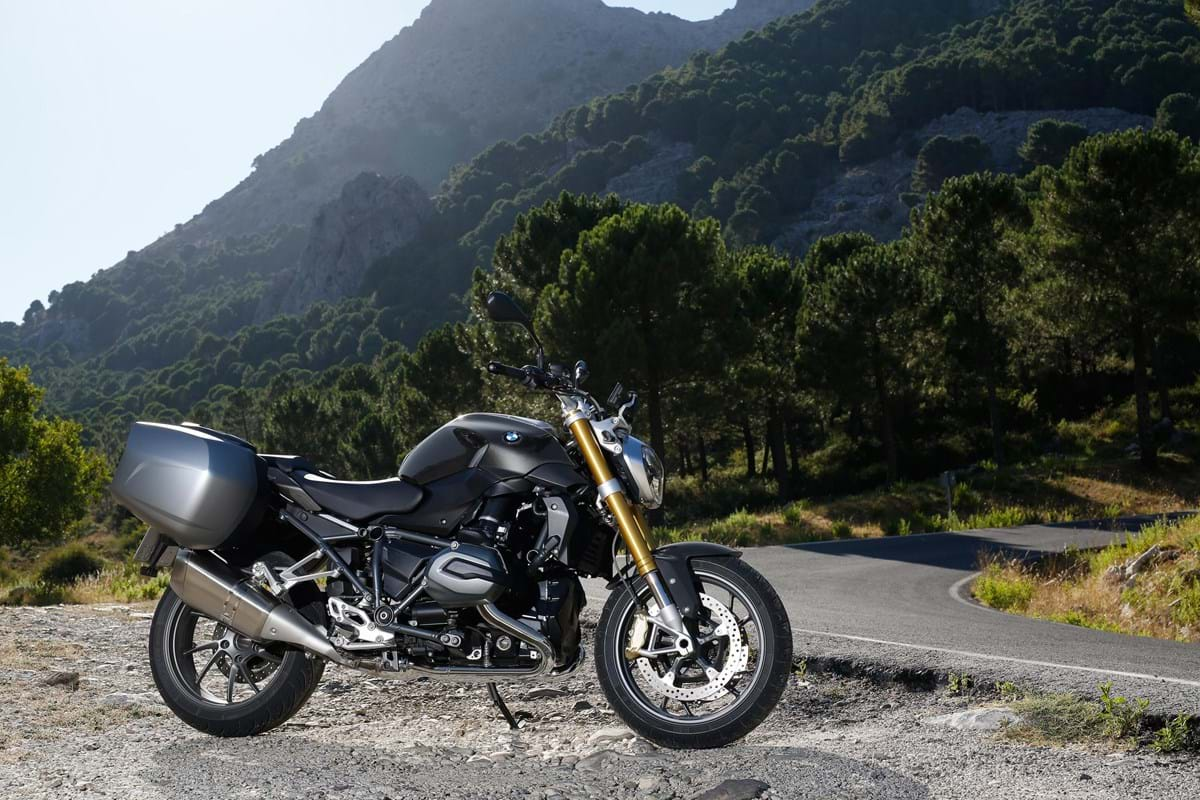 Costs
The bike is very cheap when compared to other BMWs in the range but still expensive compared to other brands but this is, after all, a BMW and you do get what you pay for. The finish on the bike is excellent and the quality of the materials is good. Insurance is slightly more expensive for me than the GS Adventure was but still a reasonable £230 a year fully comprehensive (but I do have a Road Angel tracker fitted which brings down the cost). Servicing is in line with all the other R1200 bikes in the range so you could pay anything from £150 to £400 for a service dependent on mileage.
Summary
For me the R1200R is a vastly overlooked bike as it really puts the 1200cc liquid cooled engine to great use, can tour with ease as it can be fitted up with official luggage, but also looks cool scratching to the local cafe for a sandwich. The bike is great fun to ride, easy to maintain, handles beautifully, can growl like a beast when angry and inspires me to get back out for another hour. Maybe I'm getting old but my 2014 R1200GS Adventure got cleaned once in two years of ownership - the new R1200R has been cleaned every time I've ridden it - for me it has put the joy back into biking and northern Spain beckons in the summer without a single motorway in sight…
- Andy C, 2016
Price Guide
| Year | Dealer | Private | Part Ex | Mileage |
| --- | --- | --- | --- | --- |
| 2015 | £7,650 | £6,150 | £5,350 | 3,600 |
| 2016 | £8,400 | £6,700 | £5,850 | 2,700 |
| 2017 | £9,200 | £7,350 | £6,450 | 2,000 |
| 2018 | £10,050 | £8,050 | £7,050 | 1,100 |
How Does It Compare?
Ducati Monster 1200

(2014 On)

Engine

1198

cc

Power

133

bhp

Seat

785

mm

Insurance

9 / 10

Cost

Similar

Kawasaki Z1000

(2014 On)

Engine

1043

cc

Power

140

bhp

Seat

815

mm

Insurance

10 / 10

Cost

Similar

Yamaha MT-10

(2016 On)

Engine

998

cc

Power

158

bhp

Seat

825

mm

Insurance

10 / 10

Cost

Similar
Related Bikes
R1200R 2006-2014 - Previous generation with Telelever front suspension
R1250R - New replacement with larger VVT engine and TFT dash
The Second Opinion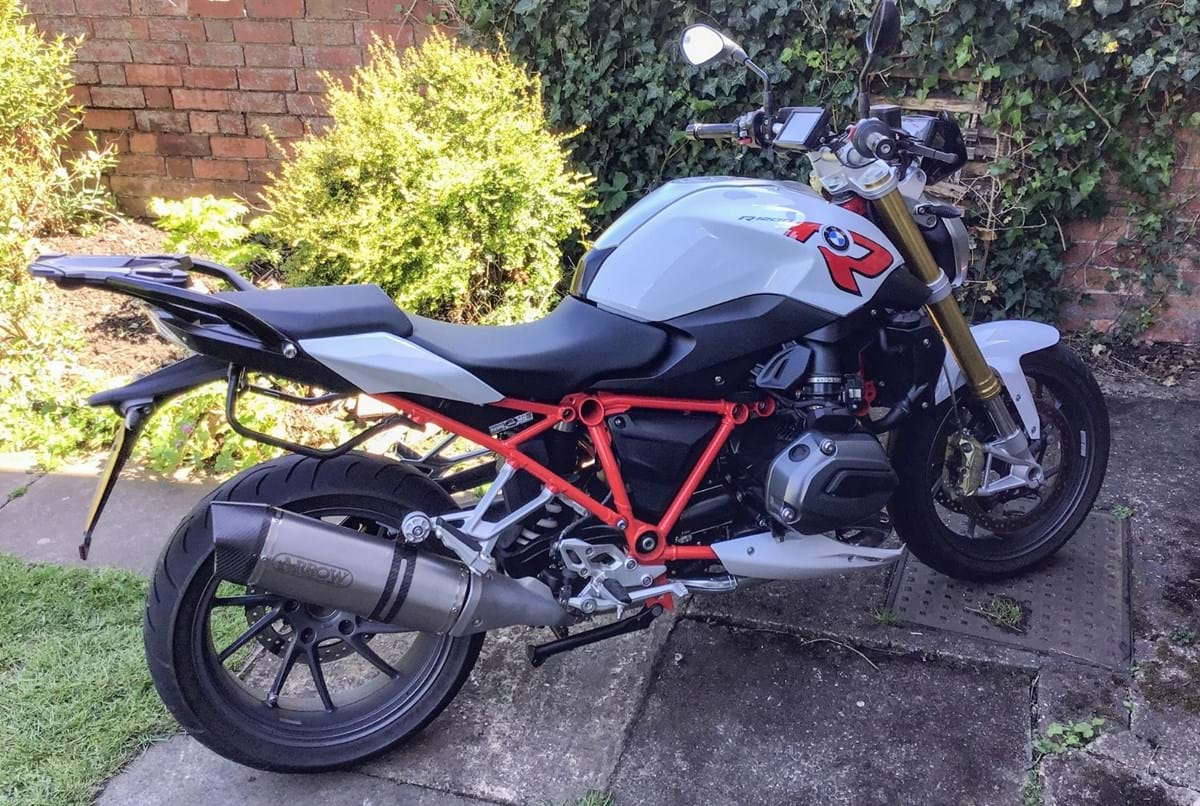 First Impressions
I decided I wanted an R1200R in 2017 after sitting on one and comparing the riding position with an R9T, a bike I was also considering at the time. I found the riding position really natural and loved all the technical features. In April 2019, I purchased one in my favourite white with red frame from a used bike dealer in Darlington. It had all the features that I wanted such as, cruise control, gearshift assist, active suspension and luggage rack. Until the point of purchase, I hadn't ridden one and based my decision on written reviews and YouTube videos.
First Ride
I headed away from the dealer, in town, into the Yorkshire dales on a damp Sunday morning in April. The first thing that I had to get used to was the clutch. The bite point was further out than I was used to on previous bikes and found initial pulling away had to be given a little more thought. I found the engine smooth and eager with plenty of power and not as jerky around town as some reviewers had mentioned. Putting the gearbox into first and accompanied by a heavy clunk but, after that, gear changes are smooth and precise.
When using the gearshift assist, a firm foot is required but, it's quite slick. Again, downshifts need a positive stamp on the lever. Once on the open road, I found the ride plush. I was in road mode for the suspension and dynamic for the engine. On a drying road, it gave me great confidence and the low centre of gravity made direction changes effortless.
Engine
I hadn't ridden a boxer twin, or a shaft drive bike before so had no expectations. Due to the configuration, the weight is low which helps the bike to feel lighter than it actually is. It revs very freely and has lots of low down power. I have not found any reason to rev it out as there is plenty of power all through the rev range. I fitted an Arrow exhaust can shortly after purchasing the bike and found it really enhanced the character of the engine. It has enough noise on the throttle but, goes quiet at steady throttle due to the exhaust valve.
Ergonomics
The riding poison is comfortable but I found the pegs a little high and the seat low. A compromise for shorter riders I'm sure but, not an issue. Bars are the perfect position and mirrors give a good view. Seat is very comfortable and gave no issues even after riding a full day. I purchased a Navigator 5 to fit in the supplied mount and really like the interface with the bike controls. Weather protection is good for a naked bike as the cylinders seem to deflect the weather away from your legs.
Handling
As previously mentioned the suspension gives a very reassuring ride and when pushed a little harder it gives great confidence. The bike lacks a little initial bite but power is strong and progressive. I have not played with the settings that much as I have not really felt the need but, nice to know you can.
Living With It
With the low weight and excellent steering lock, I find manoeuvring the bike around my back garden really easy. The large seat and luggage rack allow easy carrying of my soft luggage. The side stand sits the bike quite vertical so needs a little thought when parking.
Enjoyment
This bike does most things really well. If ridden smoothly, it's very plush. Pushed hard, it shows its sporting ability and would give sportier bikes a run for their money in the right hands. I like the look of the bike and find it more attractive than a GS but with almost the same ability.
Summary
The R1200R is a massively capable all rounder which fulfils a lot of my needs and does so without a lot of effort from me. It has great economy for such a quick bike and the usual BMW build quality. Moving up from an F800R, it's everything that bike was but in greater quantities.
- Andy L, 2019
More BMW R1200R Reviews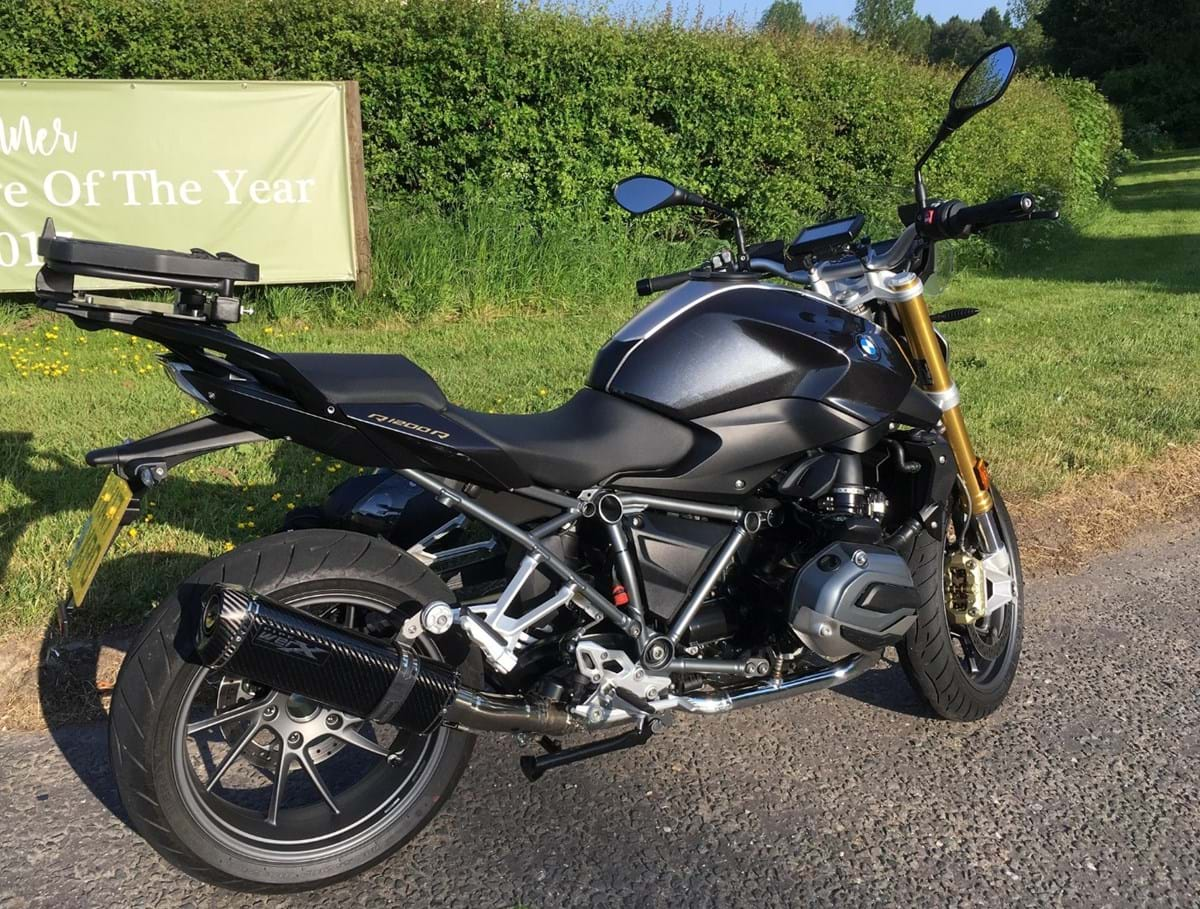 BMW R1200R Exclusive 2017
Coming from sports bikes and wanting something a bit different I first chose the BMW S1000XR; this was a very tall bike even on factory low suspension option! The bars were wide and I found this uncomfortable but liked the power.
After reading reports on the BMW R1200R I decided to take a test ride and loved it. I am a short leg 30" and found it fit me well. I went for the exclusive model with all the options, including the quick shifter (and even downshift) with the popping on the race mode.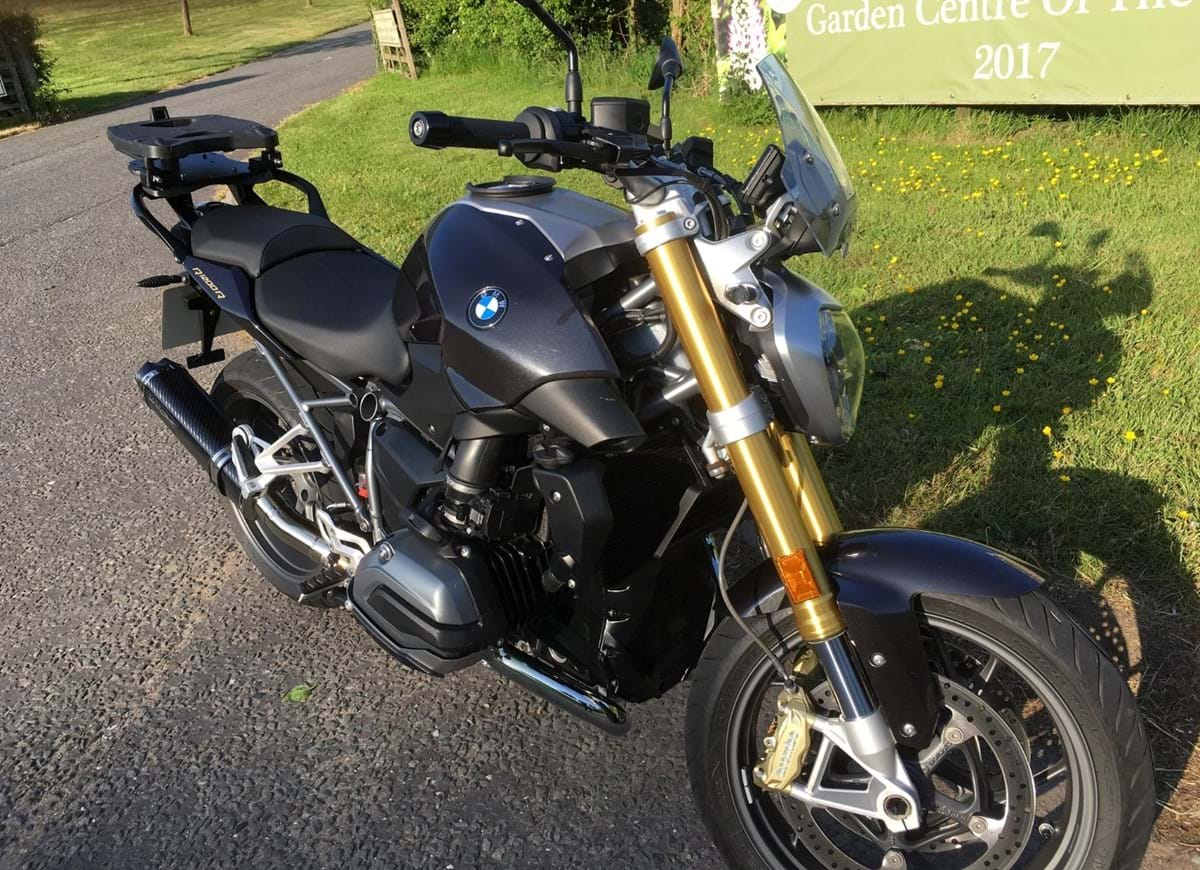 The bike is underestimated in my opinion and if you think you will be left behind with the big boys you will always be in their mirrors. Trust me they won't loose you. I thought it would be under powered as the claimed 125bhp seems a tad down compared with others.
I took mine all the way to Italy and can say, apart from the tiny front screen, it's one of the most comfortable bikes I have toured on and great on fuel. As the engine is low to the ground it feels like a 600cc and the low gravity makes handling a dream. I can't wait for the summer to start.
- Steve G, 2019