BMW R nineT Review (2017)
"
The Thruxton was a hipster with a man bun, drinking craft beers. Brunhilde works in Munich, will fetch several 1 Litre beer Steins in each hand and looks stunning as she does it.
"
What Is It?
The BMW R nineT is a premium retro style bike and is powered by a Euro 4 compliant air / oil cooled 1,170 cc Boxer engine, producing 110 bhp at 7,750 rpm and maximum torque at 6,000 rpm.
Specs
Seat Height: Average (

805

 

mm / 31.7 inches)
Weight: Heavy (222 kg / 490 lbs)
Economy: Average (45 mpg / 6.3 l/100km / 15.9 km/l)
Range: High (170 miles / 274 km)
Power to Weight: Average (0.495 bhp/kg / 0.369 kW/kg)
Top Speed: High (130 mph / 209 km/h)
Pros
Carries the weight low down
It's a work of art
Build quality
Handling
Brakes
Cons
Seat is better suited to short rides
Quite expensive new
What Is It Like?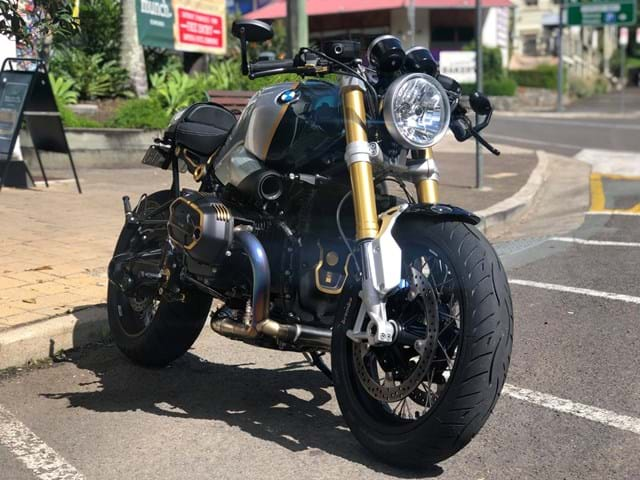 How a Bravarian Named Brunhilde Caused My Breakup
I wasn't looking for a motorbike. I didn't need one, I had one. I had a bike I was perfectly happy with and that ticked the boxes I need to have ticked. Barely two years old, my Triumph Thruxton R did everything I wanted and looked fantastic while it was doing it. I was content.
Then one day while dropping my car in for a service, I decided to wander through the showroom. I looked. I found myself taking a great deal of pleasure walking among them. I heard myself talking to the Salesman and booking a test ride..wait! What?
"Relax" I told myself, "it won't measure up to the Thruxton R. You've seen all the comparisons, chill."
And I was right it didn't. The R nineT Racer that I took for a ride was sadly lacking in so many ways. So confidently I thought "well there's no harm in having a lash with the lot of 'em is there? Where's that R nine T then?"
Choosing The R9T
The range topping R nine T model that I selected was simply beautiful to look at; the Option 719 Pollux Metallic / Aluminium paint scheme is stunning.
From the moment I sat on the 2018 R nineT, I was starting to realise I had made a terrible mistake. Sitting with booth feet flat on the ground, I'm 178cm on a warm day, I noticed that the bike has a very planted feel. The impression of heaviness caused by the airheads taking centre stage isn't real. The bike is easy to move around and in fact due to the low centre of gravity, caused by the airhead boxer engine, feels amazingly light.
Despite the aesthetics this is still a bike designed with a heritage brief. The options on this bike take it up from the remainder of the family as it has both a tacho and speedo, a gear position readout and heated grips.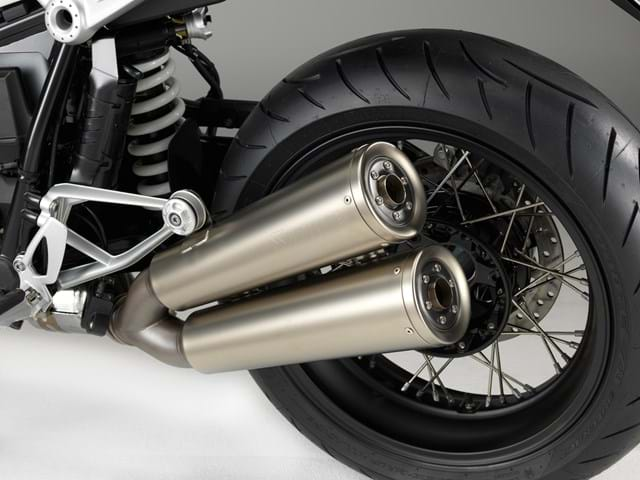 Exhaust
Initially I found the bike surprising and disappointingly quiet but the Euro 4 requirements drive that outcome. The usual post delivery modifications can unleash the beautiful and unique boxer noise.
Handling
The ride is a mixture of sublime handling with the bike tipping in and rolling out of every corner effortlessly. This is offset by suspension that requires tweaking to work effectively.
The upside down forks are adjustable in compression and rebound and can be tuned. However the rear mono shock whilst adjustable, is stiff and overly harsh. Again, this can be overcome and depending on the rider weight some may find it okay in stock form. At 85 kg it is too stiff for me solo.
I found myself laughing as I rode this bike, it is fun. Great gobs of torque and silky handling make it so enjoyable to ride. As I rode back to the dealers, I looked at my Thruxton sitting there eagerly awaiting my return. I found myself looking away so as not to telegraph the betrayal that was about to unfold. I had drunk from the BMW Motorrad cup and I liked it.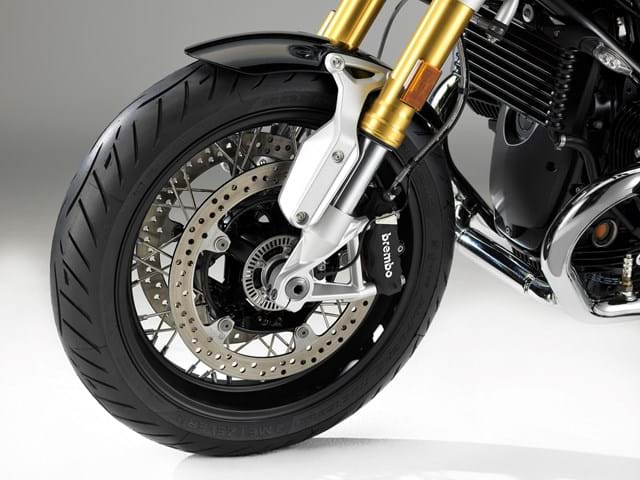 Brakes
ABS is standard and the Brembo stoppers do exactly as you expect them to. In stark contrast to the Thruxton R that requires an initial pull, followed by a second. This was certainly my experience and from what I have read, that of many other owners based on various online forums.
This bike also had the ASC traction control option and both it and the ABS are independently switchable, meaning you can have both on, none on ore either on singularly.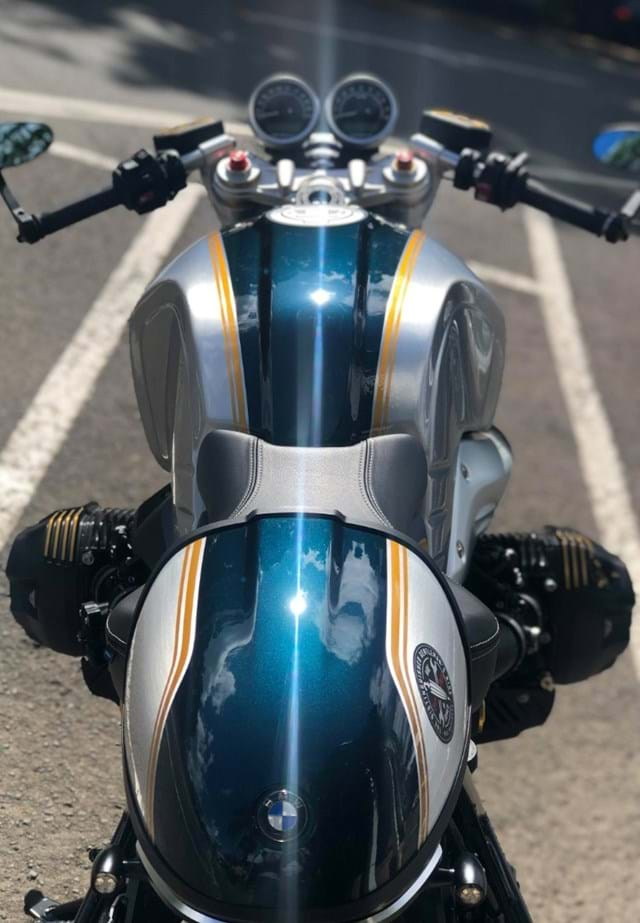 To Sum Up
Brunhilde as the bike became known, now sits where the Thruxton once had and I don't regret it for a moment. The Thruxton was a hipster with a man bun, drinking craft beers.
Brunhilde works in Munich, will fetch several 1 Litre beer Steins in each hand and looks stunning as she does it. The R nine T has unique qualities, some serious capabilities and an aesthetic that sets it apart from the the field.
Likes
Big, brutal aesthetics balanced with stunning paint finishes and optional fittings
Steering and complete handling once tuned
The brilliant quirkiness of the airhead boxer - I am unable to explain it
Gobs of torque
Brembo's!
Akrapovic Titanium - Just add the full header system to the standard titanium slip on and the listen to the music (with ear plugs you will need them)
Dislikes
Seat - It breaks in but initially and for long distance it's hard work
- Doug T, 2019
Price Guide
Year
Dealer
Private
Part Ex
Mileage
2020
£11,600
£9,300
£8,150
3,700
2019
£10,300
£8,250
£7,250
5,100
2018
£9,350
£7,450
£6,550
4,900
2017
£8,650
£6,900
£6,050
6,700
How to use the price guide
Related Bikes
RnineT (2014-2016): The original version which this one builds on.
RnineT Pure: Budget version of the RnineT.
RnineT Racer: Pure with lower bars, seat hump, fairing and more aggressive riding position.
RnineT Urban GS: Scrambler variant of the Pure with taller suspension, headlight fairing and beak.
Add Your Review
Do you own this bike? We would love to hear anything good, bad, unexpected or that you have changed plus anything that a prospective new owner might find interesting or useful.
More Info
Check out this video review from TheMissendenFlyer.