BMW R nineT Racer Review (2017)
"
Just look at it, the look of the thing grabbed me and said buy me. I did! Without even test riding it.
"
What Is It?
The BMW R nineT Racer is a cafe racer version of the retro R nineT Pure. It's powered by a Euro 4 compliant air-cooled 1,170 cc Boxer engine which develops 110 bhp at 7,750 rpm and maximum torque at 6,000 rpm.
Specs
Seat Height: Average (

805

 

mm / 31.7 inches)
Weight: Heavy (220 kg / 485 lbs)
Economy: Average (45 mpg / 6.3 l/100km / 15.9 km/l)
Range: High (170 miles / 274 km)
Power to Weight: Average (0.500 bhp/kg / 0.373 kW/kg)
Top Speed: High (125 mph / 201 km/h)
Pros
Easy to customise
Build quality
Handling
Engine
Looks
Cons
Quite aggressive riding position
No fuel gauge
Suspension
What Is It Like?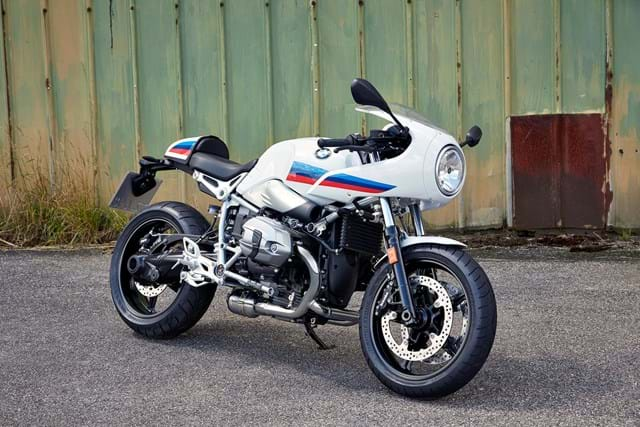 Choosing The Racer
I am now in the second month of owning my R nine T Racer S and I absolutely love it!! I admit that despite not always being a huge BMW fan I have always liked the boxer engine and grew up listening to that familiar and distinctive rumble of the twin with my dad owning a R60/6 which he bought new and which still sits in his garage.
Over the past 18 years I've owned many sports bikes but until now BMW has never really been an option until they brought out the R nine T range. I have to say I like the look of the various models but the Racer for me stands out from the rest.
Looks
Its design takes you back to the classic cafe racer era whilst boasting a modern sleek look with the classic BMW boxer heads sticking out of each side leaving you in no doubt of its German origin.
First Impressions
This BMW is a year old and stood with 4,000 miles on the clock but you would think from the condition and quality that she was new.
On the test ride I pressed the starter button and she fired into life. Giving the throttle a twist the torque from the 1,200cc engine made the bike gently move to the right which is something I still find a little strange on blipping the throttle down the gears, but never the less even with a standard exhaust sounds lovely.
Ergonomics
Putting it into first gear there was hardly any sound as the gear engaged. I slipped the clutch and found myself having to lift my legs quite high to get my feet on the pegs as I was stretched out reaching the handlebars. The riding position took me by surprise as its very aggressive but feels good at the same time.
I set off down the road changing through the gears which was as smooth as silk with the shaft drive causing me no issues at all and I was surprised at how easy it was to ride.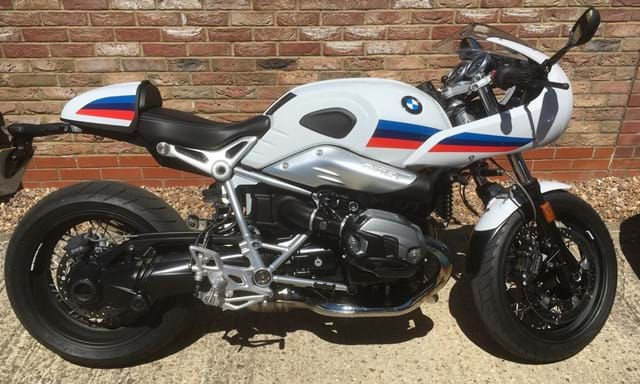 Handling
The best and biggest surprise for me was the handling. Having owned several sports bikes I found the handling fantastic! The first roundabout I went round was just effortless and the bike does nearly everything for you. It feels so solid on the road.
I'm by no means a quick rider and I'm sure that a fast track day rider would probably want to mess about with the suspension, which is quite soft, but as a road rider more concerned with missing pot holes and enjoying my ride. I find it fantastic!
Any Downsides?
The only thing I would say is that the riding position for slow riding through town is a killer on the wrists and my hands go numb pretty quickly, but that being said the good outweighs the bad and I don't spend long enough crawling along to be too concerned about this!
To Sum Up
The power delivery is superb, smooth and comfortable. The 110 bhp is plenty for me, the 1,200 engine pulls like a train and the torque means opening up in any gear and she's off with ease!
I have been blessed with the great weather for picking up a new bike and have done a few hundred miles already. I'm finding it a treat to not have to oil and adjust any chain or clean off chain lube for the back wheel every time I go out!
All in all the Racer is great! I certainly don't intend parting with it any time soon!
Good Bits
Build quality
Handling
Shaft drive gives easy maintenance
Solid engine
Mirrors are pretty good for a bike
Extras (on the Racer S: heated grips, spoked wheels, LED indicators)
Bad Bits
Riding position for slow riding
You'll need a specific paddock stand
No pillion seat on the Racer
Luggage options (none of mine fit)
- Mark P, 2018
Price Guide
Year
Dealer
Private
Part Ex
Mileage
2019
£8,800
£7,050
£6,150
5,100
2018
£8,350
£6,700
£5,850
4,900
2017
£7,950
£6,350
£5,550
6,700
How to use the price guide
The Second Opinion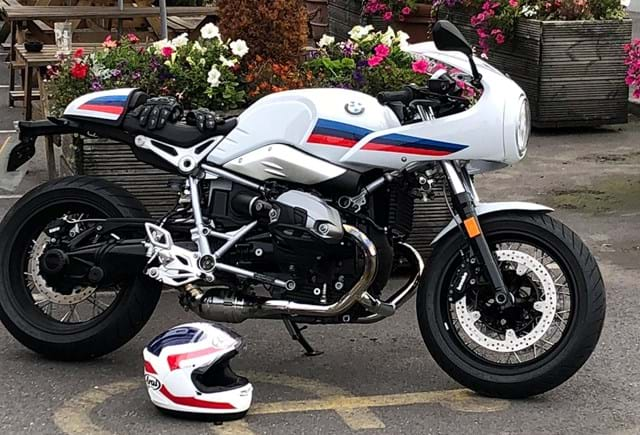 Choosing The R9T Racer
So I'm a month into owning my R9T racer, swapping from a good few years on naked Z1000's. So why the change from upright comfort to the low down stance of the racer?
Just look at it, the look of the thing grabbed me and said buy me. I did! Without even test riding it. So what do I think now I've had a chance to put 1500 miles on it both pleasure and commuting?
Ergonomics
Comfort wise I find it's really okay, I mean it's not like a naked sit upright bike comfort, but at 6'2" and 50 years old with a bad back and enough aches to put a horse on its back the stretch to the bars is okay for me.
Even in traffic at slow speed it's not bad at all. I have to say that this was a relief as I only read reviews once I bought it.
Engine
The engine is a peach, really punchy. The gearbox slick without a sound when selecting gears and the whole bike's finish is lovely quality.
It doesn't have a superbike top speed, though it has enough to see you in serious trouble if you get caught using what it's got. It's plenty fast enough for me.
Exhaust
I felt the bike was a little too quite in standard trim but I liked the look of the original silencer so didn't want to change the look just to add a few decibels. Therefore I opted to delete the exhaust valve as a first step.
What a difference, lovely sound at tick over but not overly loud. On the move it sounds great too with a little popping when you roll off the throttle. Well worth a try at £35 before going to the expense of changing the system.
Equipment
I like bikes without all the electrical shenanigans so this bike suits me even with the ABS. The clocks are great with some good functions.
I especially like the gear indicator as the gearing is so long and relaxed it's a complete contrast to the low gearing of my old Kawasaki's.
Any Downsides?
So what doesn't rock my boat and niggles at my wallet for funding improvements? Firstly the rear number plate holder really is ugly. This I'm sure will be my next purchase.
Secondly, the rear suspension and the suspension overall is quite soft. The front is probably just about right for road use but the rear for me is too soft. With 15 stone straddled across it, it struggles to recover quickly enough over uneven surfaces.
It's great on smooth roads through fast bends but can get out of shape if made to work hard. I'm going to give it a few more months to see if it's just me needing to adjust to a new bike but at the moment I feel I may change the rear shock.
To Sum Up
Am I happy with my new ride? Definitely, I think this could be with me for a long time.
- Lee B, 2018
A Few More Thoughts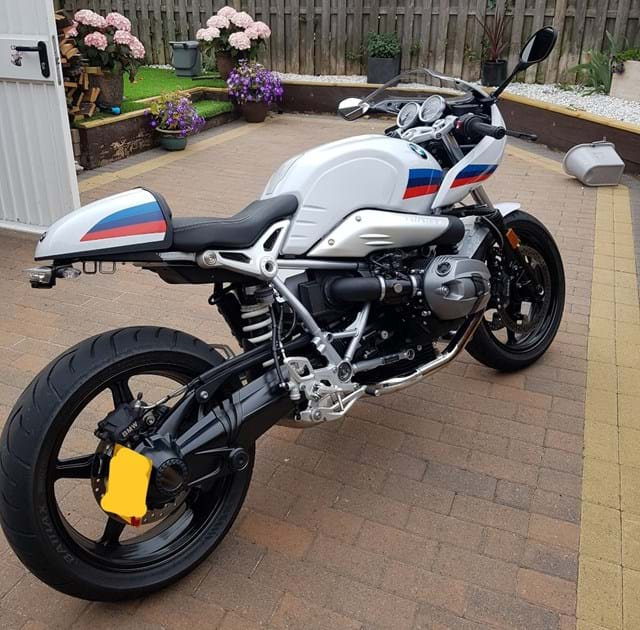 Looks
The first time I saw it WOW! My second bike was a Victory Highball and I really liked it, but when I saw the beamer I loved it. I had seen pictures of it and never thought nothing of it.
In the flesh however it's awesome looking and 50s is my style. So after a few begging "can I have it" type talks with the wife I went for a test ride. I bought it after half an hour.
Ergonomics
So going from riding like a sail to riding in the fetal position was a bit painful. Having lived with it for a fortnight into the garage for new clip-ons, can and tail tidy.
The bike brings out the worst in me, it wants to be ridden hard, no good poodling around town. I recently rode 400 miles on it, the second 200 miles were painful. I've never had pain like it.
To Sum Up
I still love the bike though and am glad it's my second bike. I honestly couldn't have it for a first bike even though I love the styling, sound and posing value. I do a lot of big rides. There is nothing on the market I would change it for.
I never thought I would buy a BMW 
I never thought I would buy a white bike
I never thought I would buy a sports bike
I love it!
- Mark Y, 2018
More Info
Check out this video review from TheMissendenFlyer.