BMW R nineT Urban GS Review (2017)
"
Sometimes you just need to be 800 miles away without any hiccups and handle some swamp riding on the way. T
he Urban GS
can do all that.
"
What Is It?
The BMW R nineT Urban GS is a premium retro scrambler style bike based on the R nineT Pure, with a headlight fairing, flat seat and front beak. It's powered by a Euro 4 compliant air / oil-cooled 1,170 cc Boxer engine, producing 110 bhp at 7,750 rpm and maximum torque at 6,000 rpm.
Specs
Seat Height: Average (

850

 

mm / 33.5 inches)
Weight: Heavy (221 kg / 487 lbs)
Economy: Average (45 mpg / 6.3 l/100km / 15.9 km/l)
Range: High (170 miles / 274 km)
Power to Weight: Average (0.498 bhp/kg / 0.371 kW/kg)
Top Speed: High (130 mph / 209 km/h)
Pros
Looks great with the spokes
Customisation potential
Handling
Comfort
Power
Cons
Stock suspension
Traction control
No fuel gauge
What Is It Like?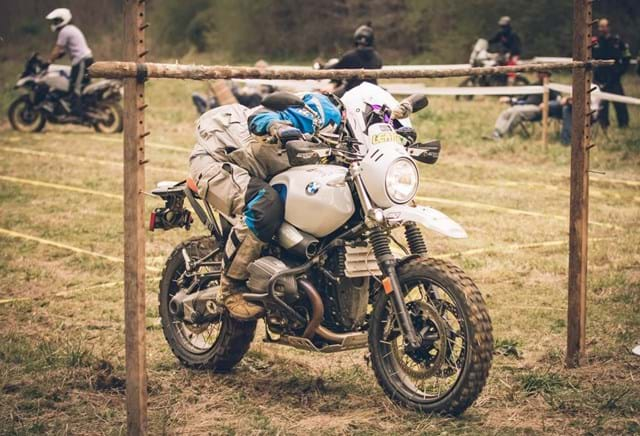 My Experience
My BMW Urban GS (UGS for short) was chosen on comfort first and capabilities second. Needing a narrow seated and slim waistline bike for comfort I wanted a motorcycle I could modify for travel cross country and which could take on some single tracks.
I'm a motorcyclist who loves the sound, feel, smells and sensations of motorcycles. I've been riding a street legal motorcycle for 22 years, enjoying some xc racing and vintage trials, riding, working on and enjoying motorcycles the whole time. I like riding in dirt, broken pavement, even super slabs and whatever else is in my path to finding a new adventure.
Traditionally a Honda guy, I'm 5'8" with a 32 inch inseam, 165 lbs and I know Honda makes bikes that fit me.
While not a spec sheet shopper, I enjoy details as much as anyone else. I don't study weights, power vs torque numbers or curves. I do read them, but wanted a bike that is comfortable and makes me smile accelerating and stopping. It needs to be able to do 80mph for 800 miles in a day.
Remember the super slab comment above? Sometimes you just need to be 800 miles away without hiccup and handle some swamp riding on the way if you want. Luckily the Urban GS can do all that, can wheelie, carve curves, go camping in the woods or handle a service in a parking lot to boot. So does the Urban GS deliver on the goods?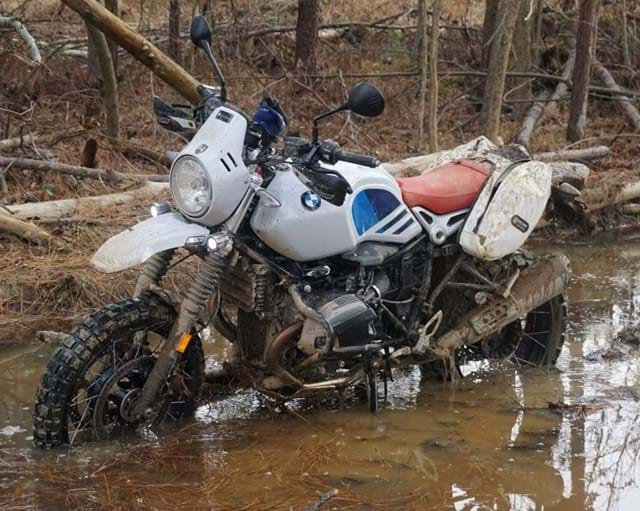 Why The Urban GS?
I went motorcycle shopping based on my needs, comfort and smile factor. I compared, sat on and rode the Ducati Hypermotard, Desert Sled, a Yamaha XSR900, BMW F850GS, KTM 690, KTM 1290 and a couple of those bikes were boring.
ABS, traction control and great suspension were a must when making my decision. My urban was missing all three at delivery, but here comes the joy of buying a bike and making it completely mine. I had the dealer add the TC program and button, while Ted Porter took care of the Suspension. The traction control system lets you slide this thing around pretty well before reeling you back in, while the ABS system is very intuitive and lets you know when you reach the limits of your traction very calmly with no surprise bumps or loud noises.
The 1200GS motor trans combo placed into a smaller, lighter package really makes that combination shine. Build quality seems on par with other BMW motorcycles I've owned and ridden. Brakes and hard parts are shared from other BMW models so parts availability will not be an issue for the future.
Seat
The seat is more comfortable than you would imagine for an uninviting red slab. I usually change the seats on my touring bikes but have not felt the need on the Urban GS.
Suspension
The stock suspension lasted for almost 2,000 miles before changing it out, intended for urban riding, a little street, a little dirt and some rocks thrown in. As stock the front suspension is harsh!
You will feel road imperfections, bumps and potholes sent through the shocks and into the handlebars. The rear does a better job and the stock seating position is very relaxed for me, allowing lots of room for adjustments and movement while riding.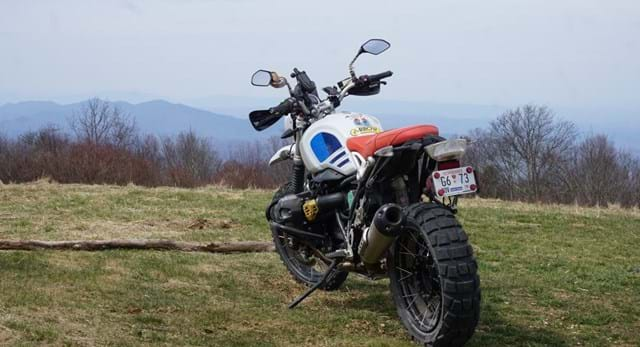 Pros
1200GS engine transmission
Hooligan chassis: steering damper is needed for hard 4th and 5th shifts, the front tyre "floats a lot" as standard
Enough electric power to handle heated gear, GPS, phone, aux lights
Maintenance schedule, ease of working on the bike
Parts availability, BMW community
Brakes: grab a fistful and you will stop about as fast as your brain will allow you to stop
BMW build quality, ergonomics
When it falls it usually props itself up on the cylinder
Cons
Stock suspension
No fuel gauge or tachometer
Wheel recall
Cruise control
Modifications
Wilburs suspension +70mm
Touratech skid plate for a 1200GS
Rapid bike auto tuner
K&N air filter
Arrow headers
Denali D2 lights
Garmin 64 GPS
Giant loop coyote bags
Bridgestone AX41 tires
Yamaha XMAX scooter mirrors
Yellow bulb in parking light
To Sum Up
Having owned my Urban GS for 10 months she has almost 8,000 hard miles and I am on the 4th set of tyres. So does the Urban GS make a great all round bike? Yes, BMW has made a winner.
Would I buy it again? 100% yes. Would I buy again if I had to keep the stock suspension and setup? 80% yes.
- Elad O, 2019
Price Guide
Year
Dealer
Private
Part Ex
Mileage
2020
£10,600
£8,500
£7,400
3,700
2019
£9,700
£7,800
£6,800
5,100
2018
£9,150
£7,300
£6,400
4,900
2017
£8,900
£7,100
£6,200
6,700
How to use the price guide
The Second Opinion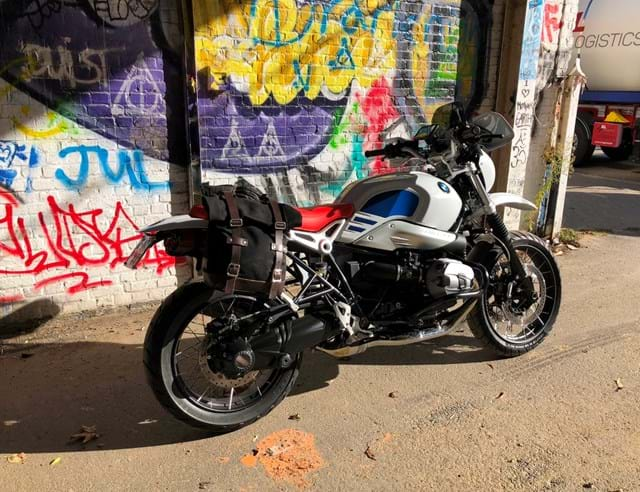 Why The Urban GS?
Here's my view of the BMW Urban GS. When I was younger, I never was a huge fan of the "big" boxer motor. I always rode Ducati and always have been a big twin lover…
I'd always had a slightly negative view of BMWs, thinking they are old man bikes… But when my sports bike career was over, I went for a classic bike look that I could customise myself…
I bought a Bonnie, loved it, but missed the power… After riding that bike for 3 years, it was time for something new and after 20 years of riding suddenly the "big" boxer was my kind of bike! In the meantime my local bike community were all riding Bonnies and Thruxtons. I wanted something else, went for a test ride on the GS, was sold and in love!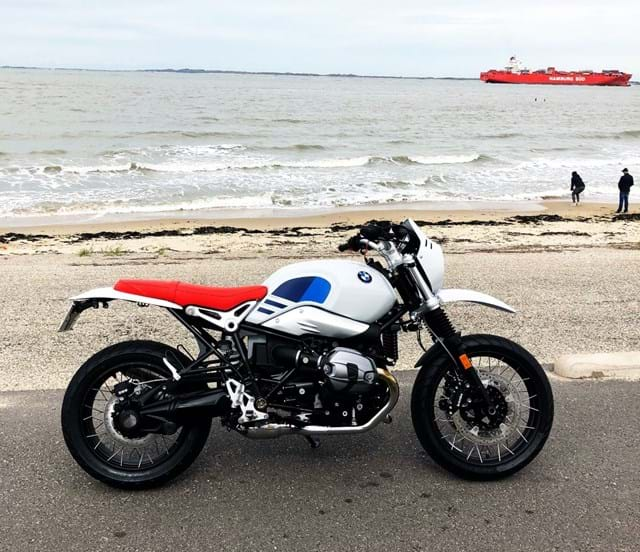 Is It Any Good?
The Urban GS offers better build quality, more power and it just handles better then my previous bike. You can customise it any way you want, parts are unlimited and it looks awesome. That big boxer air-cooled engine has a charm and sounds amazing, even with the standard exhaust!
I went for the full options list but if there's one thing I hate it's the traction control, it's way to nervous. I always rode sports bikes, so I have an aggressive riding style and the TC is just not there… It's the first thing I deactivate when I start the bike!
- Kenny DW, 2019
Add Your Review
Do you own this bike? We would love to hear anything good, bad, unexpected or that you have changed plus anything that a prospective new owner might find interesting or useful.
More Info
Check out this video review from TheMissendenFlyer.