Ducati Scrambler Desert Sled Review (2017)
"
Would I recommend a Sled? Absolutely. Go buy a Sled, it's the nuts.
"
What Is It?
The Ducati Scrambler Desert Sled is an A2 licence friendly retro off-road style bike and is powered by a Euro 4 compliant air-cooled 803 cc V-Twin engine, producing 72 bhp at 8,250 rpm and maximum torque at 5,750 rpm.
Specs
Seat Height: Average (

860

 

mm / 33.9 inches)
Weight: Heavy (207 kg / 456 lbs)
Economy: Average (45 mpg / 6.3 l/100km / 15.9 km/l)
Range: Average (130 miles / 209 km)
Power to Weight: Average (0.362 bhp/kg / 0.270 kW/kg)
Top Speed: High (120 mph / 193 km/h)
Pros
Loads or torque
Looks great
Cons
Can get hot
Mirrors
Range
What Is It Like?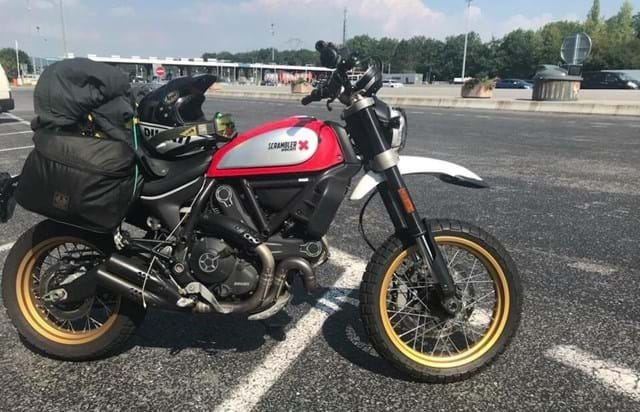 Choosing The Sled
I took my wife for a coffee at the new Ducati dealership in Glasgow a year ago this week and on leaving the dealership I had purchased a brand new Desert Sled. I got a great deal and asked for a new Arai helmet to be thrown into the deal worth £500 so new bike, lid and coffee.
As a 46 year old this was my first bike in 10 years and my last bike had been an Aprilia RSV Factory so I was more used to the pocket rocket bikes. The sled in my eyes just ticked so many boxes aesthetically so it was a no brainer for me although I still had worries about Italian build quality and electrics.
I now have done 4,500 miles, which I didn't expect to do, but the thing is so much fun it's difficult not to take it out.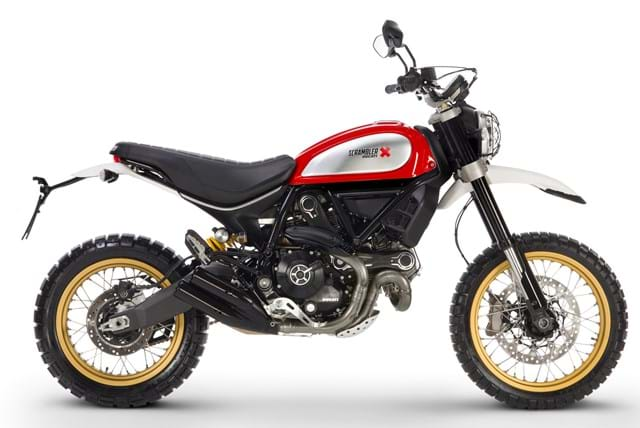 Mods
Since owning the sled I have kept it stock other than removing the ugly antler mirrors.
Any Issues?
I've had two problems. Before the first 600 mile service the paint rubbed off the exhaust shield and the instrument panel sporadically stopped displaying any info. I googled the paint issue and couldn't find anyone who had the same problem so I was just unlucky and the dealer replaced it within a week.
With the instrument panel being temperamental the dealer stated they couldn't find a problem however it got worse and resulted in me getting a speeding ticket having gone through road works and getting caught going through an average speed camera. On return from my trip the dealer immediately replaced the faulty instrument panel so to be fair minor issues that were quickly sorted.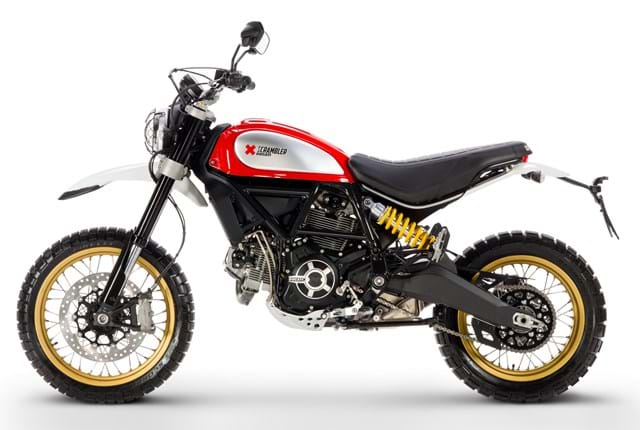 What's Good?
My initial worries with the sled was the fact that it was a naked bike and would be uncomfortable. I took the Sled for a local blast around Loch Lomond but decided to continue North, Glencoe, Mallaig Skye, Applecross, Inverness through the Cairngorm mountain range Perth then home. The thing was so much fun on windy empty Scottish Roads that I kept going.
I instantly had an understanding of the bike and loved it, the journey through the Cairngorm's was at 3am and I seriously thought I was going to come down with Hypothermia. A 132 mile fast blast took me to the Balhaldie services between Perth and Glasgow so the fuel range was adequate.
Comfort
I found that if I stayed loose on the handle bars the buffering wasn't too bad and the seat, although pretty hard, was absolutely fine for 110 miles or so. Refuelling allowed me to have a stretch and continue on, so a 700 mile nonstop trip was a blast and it gave me the desire to do more.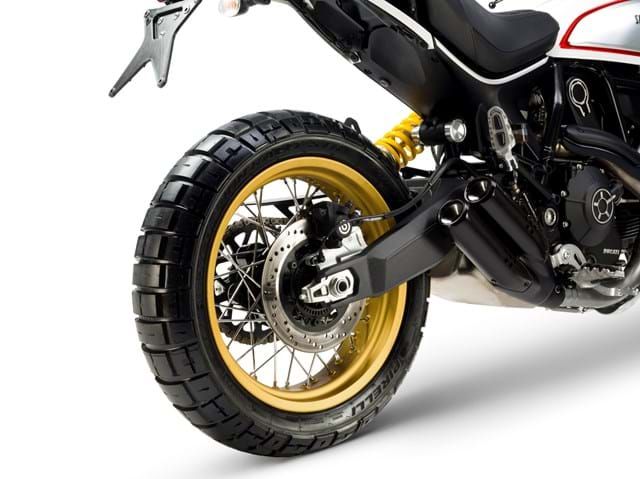 The Big Trip
After my blast around Scotland I wanted to do more big mileage riding, just me and the bike, no route, no hotels and no pre-planned destinations.
The first 100 miles to Carlisle on the English border was the worst wettest weather I had ever driven in. On crossing over to England the rain stopped and it was a non-stop other than fuel down to Dover. I had no route, nothing booked and no plans other than to ride the sled.
380 miles later I arrived at Dover, Calais in some glorious sunshine, then had a blast tearing through Paris. I must have done 10 laps of the Champs-Elysees. The riding position and torque from the engine was invaluable in these kind of riding situations.
Luxembourg arrived 280 miles later, on mostly back roads. The Sled seems to attract admirers with many amazed that it is not an older classic bike due to the styling.
I hit the Alps and I can't describe how good the Sled is on these billboard perfect twisty empty roads. The bike now felt part of me. What an amazing machine and an amazing way to travel.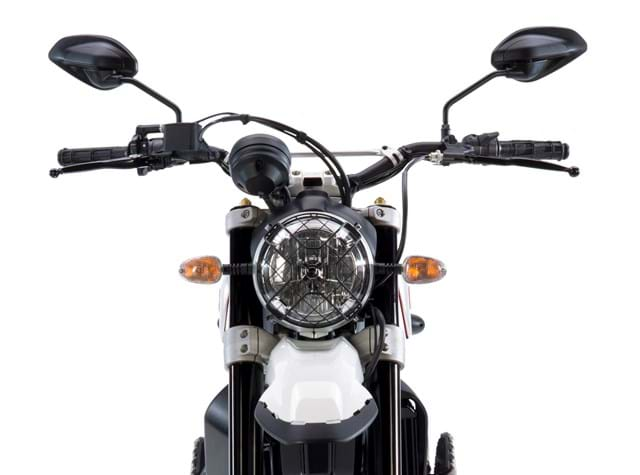 To Sum Up
So my initial fears were overcome. To me the bike was comfortable enough for me to do big miles and I think to be fair these were pretty big numbers for someone who had never really done that sort of mileage. I also ride hard so the bike was more often than not being pinned and it never missed a beat.
I thought the range of the tank would bother me but 100 to 140 miles is enough on any bike before needing a stretch and a coffee. I was worried about the lack of fairing or a screen but by staying loose I found this to be pleasant rather than uncomfortable.
Would I recommend a Sled? Absolutely and I have. Would I change it? I heard a rumour, sadly not true yet that they were going to do a version with the 1100 engine. I would have been waiting for the dealership to open with a bag of change to buy it as I think it would be a brilliant mix.
Go and buy a Sled. It's the nuts!
- Mark H, 2018
Price Guide
Year
Dealer
Private
Part Ex
Mileage
2018
£8,000
£6,400
£5,600
4,900
2017
£7,150
£5,750
£5,000
6,700
How to use the price guide
Add Your Review
Do you own this bike? We would love to hear anything good, bad, unexpected or that you have changed plus anything that a prospective new owner might find interesting or useful.