BMW F850GS Review (2018)
"
A great mid-sized adventure bike with better on-road handling, sound, seat comfort, standard equipment and less high rev vibration.
"
What Is It?
The BMW F850GS is a mid-range adventure bike and is powered by a Euro 4 compliant liquid cooled 853 cc parallel twin engine, producing 93.9 bhp at 8,250 rpm and maximum torque at 6,250 rpm.
Specs
Seat Height: Average (

860

 

mm / 33.9 inches)
Weight: Heavy (229 kg / 505 lbs)
Economy: Average (50 mpg / 5.6 l/100km / 17.7 km/l)
Range: High (160 miles / 257 km)
Power to Weight: Average (0.410 bhp/kg / 0.306 kW/kg)
Top Speed: High (140 mph / 225 km/h)
Pros
All round capability
Handling
What Is It Like?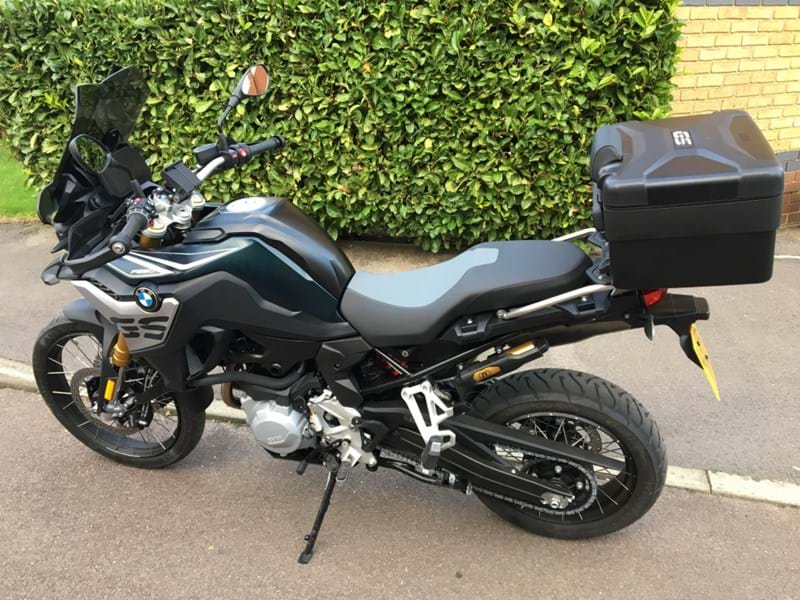 BMW F850 GS Sport (2018)
After riding in all weathers on my Honda XL125 from age 17-22, in nothing but a helmet and bomber jacket, I have returned to motorcycling later in life. My son getting a 125cc and having more disposable income and leisure time to spend rekindled my interest.
So, probably typical for an adventure bike owner, aged 47 I did a one week intensive course, passed my test and bought a white F800GS Trophy. Two and a bit years on I have replaced it with a F850GS Sport in green livery (described as Pollux in the brochure!).
Most of my riding experience is on-road but I have done the level 1 off-road courses with both Honda in Exmoor (on the 2018 Africa Twin) and with BMW in South Wales (on a 2 week old F850GS). The latter being the reason I 'upgraded' from the 800GS. I have also done a day of green laning on a Honda CRF250L across Salisbury plain. At the time of writing I have owned my 850GS for 3 weeks, 780 miles, and have just had the first service done.
First Impressions
It's more eager to get going and meaner sounding than the 800 it replaces while requiring more finesse with the clutch at low speed. The stock screen is just as hopeless as before and is number one on the upgrade list. Seat height and riding position are good plus the seat seems more comfortable / less numbing than before.
After 650 miles, I still think that the 800 was smoother from standstill. My clutch control re-tuned to the 850GS but I still found more throttle and clutch slip required than I had previously been used to. The throaty 'parp' from the exhaust is satisfying but not too noisy.
Handling
I have read that the gearbox is shorter 1st-3rd and taller 4th-6th. As the whole character of the bike has changed, when riding on-road I can't notice the difference. What I can notice is how much more planted the ride feels making me more confident in corners where I was previously more timid.
Also, at speed it is as 'happy as Larry' with plenty in reserve and great pick up for overtakes. It sits around 4,000 revs at motorway speeds. Whilst it has riding modes that alter setup and response (road/rain/dynamic/enduro), apart from experimenting, I have spent most of my time in dynamic mode as it adapts to the riding style, softer on straights and tightening up in the bends. Seems to work.
Softer front suspension is more noticeable under braking. It doesn't wallow but it is more noticeably diving under firm braking and extending back on stopping. One to get used to rather than worry about.
Pillions
My daughter has given a 'thumbs up' to the rear seat. She thinks her feet are in a better position and that it is roomier – which makes sense as the 'wings' from the under seat tank on the 800 are no longer there.
Post run-in service (£183) it feels much tighter and looser in all the right places. I am now at 780 miles and notice the difference pre-post service. Post service it immediately felt smoother on pull away and the clutch / throttle balance much more refined.
Economy
My fuel economy has crept up to around 59 mpg and a tank is nearer the 200-mile mark. The 800 averaged 64mpg over two years. I am not sure it will get much better – it is 50 more 'cubes' and 10 more 'horses' after all.
Off-Road
As outlined above I do not have much off-road experience but I have a couple of things that I noticed. Compared with the Africa Twin the 850GS is less intimidating in the dirt. I cannot honestly say which was better, only that they were both very capable - just different. Its balance and width make it easy to manoeuvre and the hand controls benefit from having neat little dials to change the reach distance of the levers easily and without tools.
Whilst the bars are perfect for sit on riding, after two days in the standing position I noticed that the slight over-reach to the controls was manifesting itself as lower backache. I am 6'1'' and I reckon that another 2cm bar height would fix it. Funnily enough, 2cm risers are available to buy.
My nemesis is the gear lever. With motocross / Frankenstein style boots on I just could not change up without pointing my toes to the floor first. The advice given was to use the rim of my sole on the end of the gear lever. However, without any feeling or being able to look it was hit and miss. Probably just me not the bike.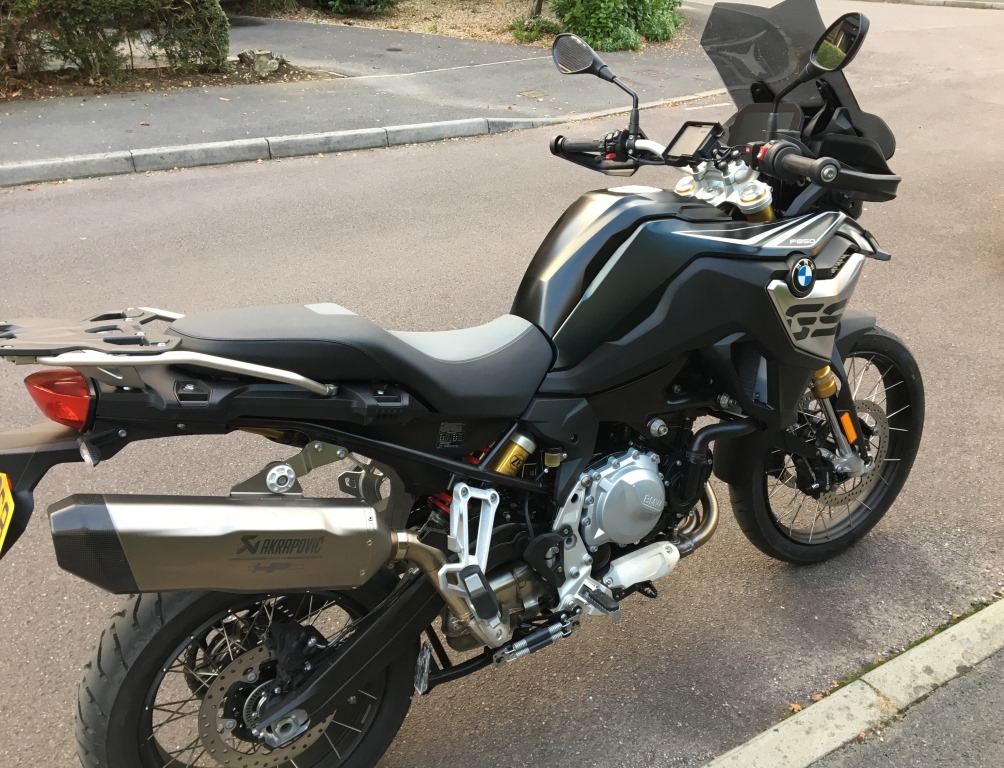 The Bike's Bits and Bobs
Fitted to my 850 is pretty much every add-on option in the catalogue bar those that make it shorter. From here on, rather than write an essay, I will revert to a bullet point tour of the parts of the bike that I have something to comment on – in no particular order.
Exhaust - The Akrapovic HP exhaust is more rectangular and slimmer than the standard and IMHO looks better – but I have no idea if it improves performance.
Wheels - Unlike the 800 the wheels are now cross-spoked, connecting to the outside of the wheel rims, which means that it can now have tyre pressure sensors. The readout on the TFT screen seems a little inaccurate compared with my tyre inflator reading (~2psi less) but gives me comfort that a slow leak will be detected.
TFT - Screen is clear, very informative and easy to use once you get used to it. One word of warning is not to be sucked in to exploring the menus whilst riding. Now I am more familiar with it I try not to pay much attention to it.
TFT connectivity – Works well but as you will find on forums, after a couple of days unused it forgets that my SENA and iPhone are friends and I have to re-pair them. It only takes a minute but is annoying if you do not realise before riding.
Thumbwheel - For selecting options on the screen it's good. Rotate to scroll, and left and right click to select / deselect. The only temporary negative is it positions your hand further away from the indicator switch, which found me struggling to use my indicators for the first week.
Seat – The standard seat on the 850GS is 20 mm shorter than on the 800GS. However, the comfort seat is only 5mm shorter than the same seat on the 800GS. With the comfort seat on the 800, I was beginning to go numb after an hour. I have ridden for nearly 2 hours on the 850's comfort seat 'comfortably'.
Steering damper – it has one. The 800 didn't.
Pegs - They are a little narrower than the 800 but not noticeable under foot and positioned well.
Side stand – Seems to hold the bike more upright than I am used to.
Centre stand – Works okay but takes more effort to use than on the 800. Fully loaded with panniers – no chance.
Hand guards – More sculpted and larger then on the 800 offering noticeably more wind protection. The downside is that they are now plastic not metal so not so robust for on/off-road spills.
Headlights – Brighter and better. Also, daytime running lights seem to be effective – people at junctions seem to see me more often.
Heated grips – It has 3 levels now instead of 2.
Cruise control – Useful in roadwork speed limit areas and for longer distance motorway travel. It is a little abrupt when it disengages (via clutch or brake use) causing a sudden but short deceleration. Planned disengagement is smooth – activated by twisting the throttle forward slightly.
Gear shift assist pro - The auto blipper as I call it, is mostly great. Mostly because it depends on what you are doing. At slow speed, it is clunky. Also going down the gears takes a bit of practice to not change down too early causing stuttering engine braking decelerations – a quick flick of the wrist required before you change. Where it is great is joining from a slip road where you need to accelerate whilst paying attention to other lanes. It takes some brain retraining to not use the clutch – but not for long.
Windscreen – The stock screen is slightly better than that on the 800 but is still short (300mm) and doesn't offer much weather protection. The fitting arrangement is different to the 800GS so you cannot use your old screen on your new bike. The fitting bracket now similar to, but not the same as, the 1200GS. Four bolts connect the screen at the 'hands and feet' of an 'H' bracket. Due to the 'newness' there are few aftermarket replacements.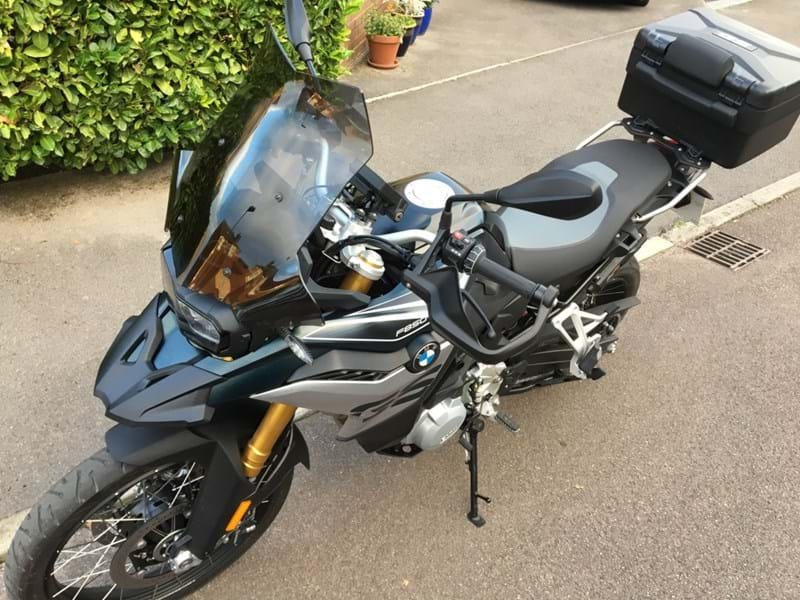 Mods
Windscreen - Wunderlich Marathon – (h 460mm x w 460mm) I had this on my 800 and was very happy with it. I bought the same, except tinted, for my 850. Given the seat height is similar it doesn't seem to be as good (maybe the angle when fitted?). Another point to note is that when ordering Wunderlich gives you a choice of long or short carrier (relating to the height of the 'H'). No other supplier offers this choice. Mine was long (160mm). Other after-market screens that I am aware of are:
Wunderlich Extreme – h 460mm x w 600mm and 5mm thick
Wunderlich Ergo screen extender - don't bother, you can buy a taller screen for the same or less that doesn't have metal brackets in your eye line.
Powerbronze - taller at 510mm but narrower at 370mm and 2mm thinner.
Givi (S, ST and Airflow) – S is 545mm x 490mm; ST is 440 x 470 mm; Airflow is 470mm (extending to 590mm) x 490mm
Sun glare screen hood – also from Wunderlich – A decent (if expensive) bit of plastic that fits over the TFT screen. It clips on easily and snuggly however, within one minute of fitting it, I found its Achilles heel requiring instant Stanley knife modification. When turning the bars to the left the front brake fluid reservoir hits the shield just before full lock. Not an issue for normal riding but would definitely be an issue when slow speed manoeuvring.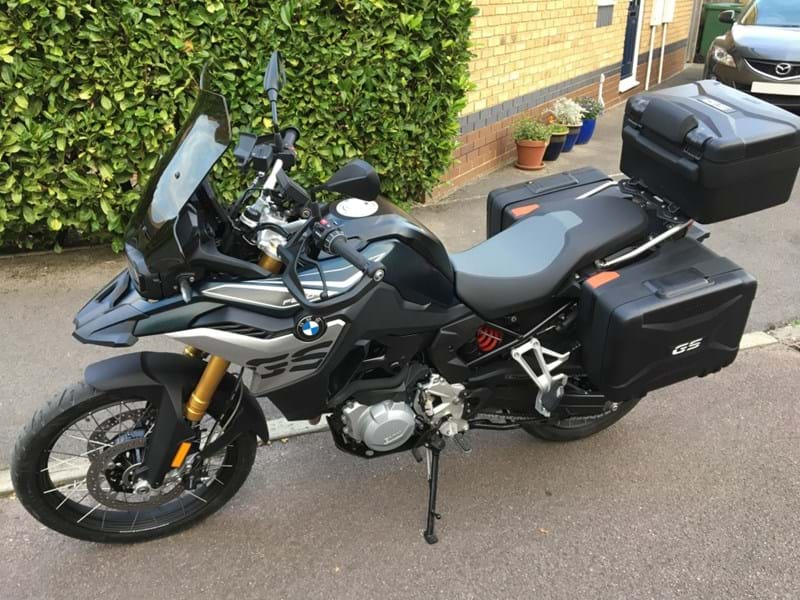 To Sum Up
The F850GS is a great mid-sized adventure bike. Compared to the F800GS it has better on-road handling, sound, seat comfort, standard equipment and less high rev vibration than its predecessor. Slightly worse but okay centre stand and mpg – but that is it.
- Tim S, 2018
Price Guide
Year
Dealer
Private
Part Ex
Mileage
2021
£11,450
£9,150
£8,050
2,100
2020
£9,950
£7,950
£7,000
3,700
2019
£9,050
£7,250
£6,350
5,100
2018
£8,700
£6,950
£6,100
4,900
How to use the price guide
Add Your Review
Do you own this bike? We would love to hear anything good, bad, unexpected or that you have changed plus anything that a prospective new owner might find interesting or useful.
More Info
Check out this video review from TheMissendenFlyer.