Honda Africa Twin Review (2016)
"
If you are in the market for an adventure bike you will have the new Africa Twin on the test-ride list and to be honest you will not be disappointed.
"
What Is It?
The Honda Africa Twin is a premium adventure bike with an optional automatic gearbox and is powered by a Euro 4 compliant liquid cooled 998 cc parallel twin engine, producing 93.9 bhp at 7,500 rpm and maximum torque at 6,000 rpm.
Specs
Seat Height: Average (

850

 

mm / 33.5 inches)
Weight: Heavy (232 kg / 512 lbs)
Economy: Average (45 mpg / 6.3 l/100km / 15.9 km/l)
Range: High (190 miles / 306 km)
Power to Weight: Average (0.405 bhp/kg / 0.302 kW/kg)
Top Speed: High (130 mph / 209 km/h)
Pros
All day comfort
Off road ability
Build quality
Handling
Balance
Power
Sound
Looks
Cons
No centre stand or 12V socket as standard
Limited rear tyre choices
Clunky manual box
Poor screen
Weight
What Is It Like?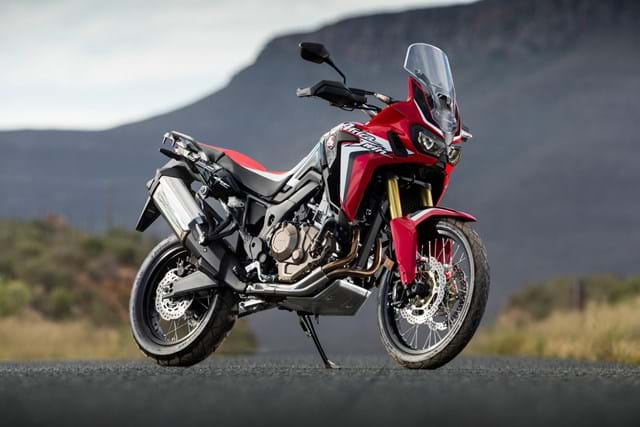 What's Good?
Without doubt the new Africa Twin (AT) is a superb motorcycle. The 94 bhp is enough to get an indicated 125mph+ on the LCD dash and in all gears except 6th she takes off well, giving you confidence to overtake and maintain good motorway speeds without stressing the engine or components. 6th gear is more of a fuel saving overdrive, perfect for the long distance across France back to the ferry.
Honda has worked hard on the CRF1000L and they've scored high on looks, sound and performance. How they managed to get that deep sound from a stock can, with the occasional 'pop' on the overrun, is beyond me.
The Dakar-esk LCD dash is informative and intuitive, and the headlights would give any car driver reason for the two fingers in the rear mirror. The switches are high quality and well above what you'll find on other machines.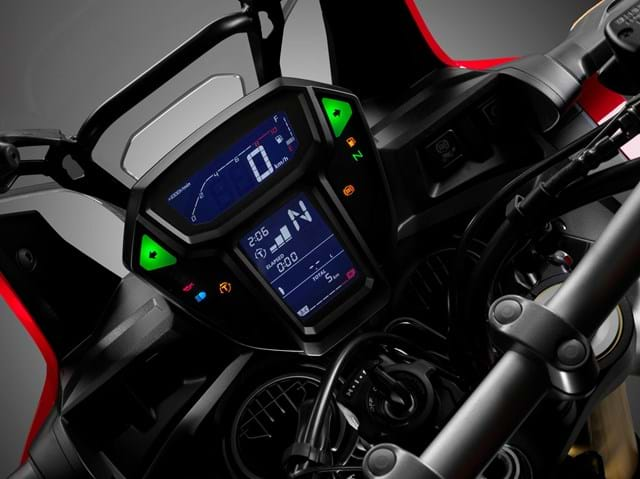 Comfort
It's top of the class with all-day-in-the-saddle journeys a breeze. The suspension is slightly soft, but that's easily sorted via the adjustable shock and forks.
There's plenty of room to move your body position to accommodate a 12 hour ride, it's only the slightly small 18.8 litre fuel tank that'll break up your ride with fuel stops every 140 – 160 miles. Talk of 200 miles out of a tank might be possible in 6th gear all day, but I'm not one for hanging around nor riding on motorways at optimum speeds.
Handling
Those brakes are stunning. The twin wavy discs stop you well and the ABS is good insurance. The rear brake is powerful and perfect for skidding on the loose stuff, with traction control turned down and ABS off.
It has an excellent turning circle, wide bars and the combination of 21" front and 18" rear are begging you for some off-road fun.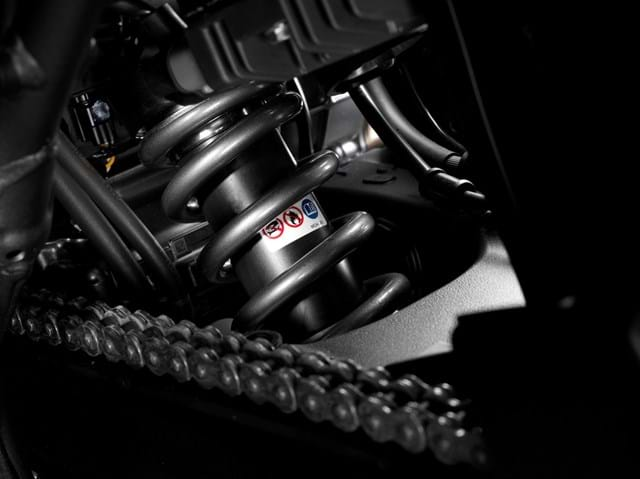 Any Downsides?
At 5ft 11" the standard screen 'buffers' me beyond belief over 60mph. A lower 'sports' screen from Rugged Roads sorted this, but the trade off is no real weather protection.
The 'clunky' gearbox is a little irritating and the 150 cross section rear tyre is unconventional, giving restricted tyre choice. The standard Dunlops are not actually Dunlops at all (long story), but despite poor reviews, I can say the stock tyres are actually fine on tarmac and offer good lean; combined with the AT's balance, getting to the edge of tyre is remarkably easy.
I rode for 4 hours straight in angry rain from the ferry terminal in west Scotland to the far east of England, neither the tyres nor the AT missed a beat. Just make sure you've scrubbed them in well.
Like it or not, UK bikes must have ABS. This doesn't help the girl's weight – at a Mars Bar over 230kgs, this isn't a CRF250. The weight is only really noticed when manually moving her around, parking and occasionally off-road. She hides it well with a slim frame and sculpted seat, but you'll still need a hand to pick her up if you get too carried away. However, she's one of the lightest in this class.
There are reports of poor performing heated grips and wheel spokes corroding, but mine are fine.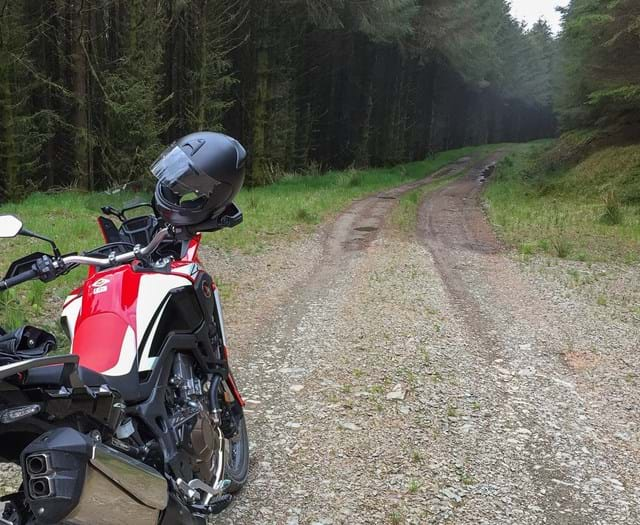 Tyres
She's an Adventure Bike at home on gravel, green lanes and riding fire trails in the Dolomites. Forget any ideas of rock-hopping or serious off road mud-plugging in Cambodia.
The stock tyres let themselves down off road; light gravel is fine, but anything remotely wet, deep loose stuff or ford crossing will have you questioning your mental health. I've done 3,500 miles on them and there's still life in them but I changed to the Mitas E07's 50/50 tyres and went for a spin off-road.
Off-Road
Move to the centre of the trail where the deepest gravel is, stand up, lean forward, open the throttle and just watch massive blooms of dust in your wake. The traction control has a near stroke when I spin the back end causing apocalyptic dust-clouds.
With a little practice and confidence I am amazed at how the Africa Twin copes with such abuse. Off the gravel on the dry mud it's the same story, twigs, stones, chunks of dirt go flying. Traction Control down to 1 and ABS off, the AT is a joy to ride off road and inspires confidence. It's the bike that's good, not me.
At slower speeds and on tricky terrain that weight comes back to haunt you, but after a 12 mile off-road stretch you couldn't wipe the smile off my face.
I grab my bucket and sponge for a mammoth cleaning detail, with dust and mud all over the place and thousands of dead bugs but I put the Turtlewax back on the shelf. The Africa Twin is supposed to look like this, that's what she's for.
To Sum Up
The new Africa Twin is excellent if you can ignore the niggles. £11,000 isn't cheap in the same way £14,000 isn't cheap for an R1200GS or KTM 1190. If you are going to stick to the tarmac the Triumph XC series is an obvious comparison.

The AT is one of the more affordable and capable adventure bikes out there and in my opinion, a serious contender for your round the world journey or round the corner to Tesco. Preferably, get yourself to the Alps and ride the trails to join up the passes.
So far, so good. Is it time you coughed-up around £11,000 and took off to Morocco? Probably.
- Dave H from Motoeuro, 2016
Price Guide
Year
Dealer
Private
Part Ex
Mileage
2019
£9,300
£7,450
£6,550
5,100
2018
£8,950
£7,200
£6,300
4,900
2017
£8,400
£6,700
£5,900
6,700
2016
£7,600
£6,100
£5,350
8,500
How to use the price guide
The Second Opinion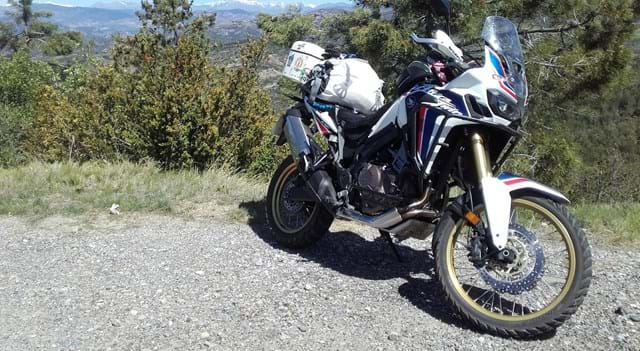 Why The Africa Twin?
I purchased it on a 3 year PCP deal in April 2017 as the repayments were low and as a "mature" rider, 60 years old at the time, I wasn't totally sure whether I would still be riding in a few years time. After two years owning the bike I know the answer to that question is a "Yes"!
First Impressions
Stability and poise in a very wind and rain affected test ride. As time has gone on I am even happier with the way the bike sits and steers, even with my original 40 year old top box fully loaded up on the back! The tri-colour was my favourite finish.
Mods
The first purchase was a Baglux leather tank cover which perfectly matched the colours on the tank. This was to both protect the tank as well as enabling me to buy a Baglux tank bag for my first trip abroad.
Second mod was to remove the nearside passenger foot peg. The blasted thing kept catching on my boots as I swung my leg over the bike.
One obvious weakness in accessories was the lack of a power socket so I bought an original off of a well known internet site. After watching a number of videos I took the whole of the front fairings, screen, lights and indicators off to fit it – managing as most owners do, to lose the rubber grommets on the back of the screen down inside the fairing when putting it back together!
Really cold hands led to the installation of Oxford Adventure Heated grips. An easy install apart from poor access to the positive battery terminal and the same applies to connecting the live terminal of my wired in Garmin Powered Mount.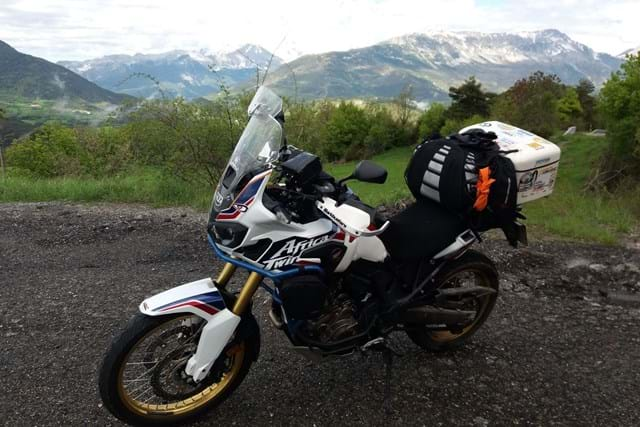 Tyres
Off came the OEM tyres. They were okay but I wanted to try some gentle off roading so on went some Metzler Karoo 3 tyres. I found them good on the hard packed green lanes I ride locally on my Enduro bike and they were fine all through the Winter on the increasingly greasy and cold roads whilst taking my IAM qualification.
In May 2017 I went with some friends on my first ever European ride around the Pyrenees. It was all on road and the Karoo's were fine. I'm going back this year with Continental Trail Attack 2's because they showed me how much more fun the bike is on road orientated tyres!
With the Conti's on there was a cleaner and smoother turn in, better all round grip and I just loved accelerating out of the endless number of switch backs in 3rd gear giving the bike some beans!
Any Issues?
One issue I had was wind pressure on my shoulders. Suffering from a moderate joint illness I find this a struggle at times, but I bought a generic motorcycle screen extender which sorted out the pressure and helped increase the length of time I can spend on the bike. Looking at various forums there seems to be a lot of debate over the height of the standard screen and whether taller versions are any better.
I'm waiting for my third set of wheels from Honda as they just hadn't spent the time and money sorting out spokes that discolour almost as soon as they leave the factory. Also under warranty the whole left hand indicators / signalling unit was replaced due to a common issue with the Mode selector push button sticking.
After a service my dealer also replaced the right hand on / off switch unit as when you pressed the on switch it would flick back into off mode – thus making you think there was an issue with starting the bike.
To Sum Up
So, is the bike a keeper? YES. Although not for off road as I've realised that although I can throw my 350cc enduro bike around off road I'm not confident enough to do this with the Africa Twin.
On road however I think this is the perfect bike for me. Enough power to excite on the back roads where I live with enough carrying capacity for me to enjoy my new found love of road based adventure trips, at the same time as looking really great in the tri colour livery.
- Steve C, 2018
A Few More Thoughts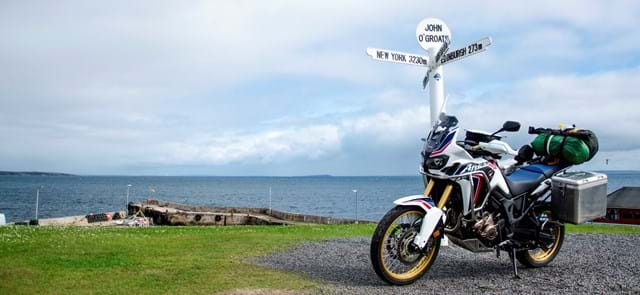 Moving From The GSA
My 2016 Africa Twin is now in its third year. So far it's taken me around Europe, Scandinavia and to the far north of Russia, not to mention countless trips here in Scotland. So, how has it been and what have I changed?
My first trip on the Africa Twin was around the Ardnamurchan peninsula and around the Isle of Mull. This was going to be the proper test to see if the CRF could measure up to my previous bike, a BMW R1200 GS Adventure. The Honda didn't have half the bells and whistles the Beemer had, but for me this was part of my reason to change.
The Africa Twin has a regular chain drive and manually adjustable suspension as opposed to expensive, electronically tweaked units. The stock suspension setting definitely need some fettling, especially if you're going to carry luggage and / or a pillion. It's easy to do, and with the preload and damping improved the Africa Twin carried me and my kit around with ease.
Power
The 94 horses the engine produces raised some concerns, but I've found it to be more than adequate. The horses do need working a bit if you're going mental, but the mid range punch makes twisty roads a joy. I've never found myself desperately seeking more power.
Brakes
The bike handles well, remaining planted in the turns, even on bumpier roads. The brakes are adequate, but I would like them to be a bit stronger. Don't get me wrong, they stop the bike fine, you just need to give the lever a bit of a squeeze.
Any Issues?
There have been a few niggles reported by different owners on various forums, of which I did encounter some. The finish went on my spokes, the chrome finish going all black and tarnished.
My "SET" button on the left hand switchgear stopped working and my Honda heated grips were less than ideal. While these were a bit annoying, it's not unusual for first generation bikes to have some niggles and I'm happy to say everything was sorted under warranty without any hassle.
Suspension
While I was pretty happy with the stock suspension, everything can be improved, right? By far, the best "bang for your buck" upgrade I've put on the bike was the Hyperpro front and rear spring kit.
At £230 this really did transform the bike, the adjustable range is increased, the bike handles much better, feeling even tighter and more controlled than before. With the Hyperpro kit the bike is far more usable when loaded up with a pillion and luggage.
I've also fitted a full Black Widow exhaust system. As well as looking and sounding great, it's done away with the big, black plastic heat shield which covered the cat. I've got quite large feet and my heel caught on the plastic cover which was a pain.
Tyres
I don't think anyone will ever stop the debate on what tyres are best, but I've found Continental Trail Attack 2s to be the best for road work and Mitas E07 (E07+ rear) to work really well if you're venturing onto dirt or gravel roads while still wanting decent performance on wet and dry tarmac.
Mods
Even before my bike was ready to be collected, I had ordered luggage and some crash bars for it. I primarily use my bike for travel and I wasn't impressed with the flimsy, plastic panniers Honda offer.
After some looking around I went for Touratech's Zega Mundo panniers which were surprisingly cheaper than the competition. I also opted for their upper crash bars and their tank bag. Despite the disappointingly long delivery time and poor customer service I was impressed by the kit, which really complimented the bike and transformed it into a usable travel bike.
To keep my fuel mixture rich enough I've also added a booster plug, which was a faff to fit, but really helps the bike pull strongly and smoothly from lower down the rev range.
The one accessory that I would not be without is my Scottoiler. My chain is always clean and rarely needs adjusting, something that many riders coming from a shaft drive bike seem to worry about.
I also changed the crash bars again, swapping the Touratechs for a set of Heed Bunker bars. These give loads of protection, especially around the crank cases, and have been proven to work by loads of different riders.
To Sum Up
So my Africa Twin now has 23,000 miles on it and I'm enjoying it more every day. There's no plans to swap it any time soon either.
- Mike T from Passing Places Tours, 2018