Honda Africa Twin Adventure Sports Review (2018)
"
Look at it! It's beautiful! The colour scheme, road presence, exhaust sound, riding position, everything about the bike is right.
"
What Is It?
The Africa Twin Adventure Sports is a range topping adventure bike and is powered by a Euro 4 compliant liquid cooled 998 cc parallel twin engine, producing 93.9 bhp at just 7,500 rpm and maximum torque at 6,000 rpm.
Specs
Seat Height: High (

900

 

mm / 35.4 inches)
Weight: Heavy (243 kg / 536 lbs)
Economy: Average (45 mpg / 6.3 l/100km / 15.9 km/l)
Range: High (240 miles / 386 km)
Power to Weight: Average (0.387 bhp/kg / 0.288 kW/kg)
Top Speed: High (130 mph / 209 km/h)
Pros
Optional DCT automatic gearbox
Sounds great
Looks great
Huge range
Comfort
Brakes
Cons
Centre stand isn't included
Non-adjustable screen
Super high seat
LCD dash
Weight
What Is It Like?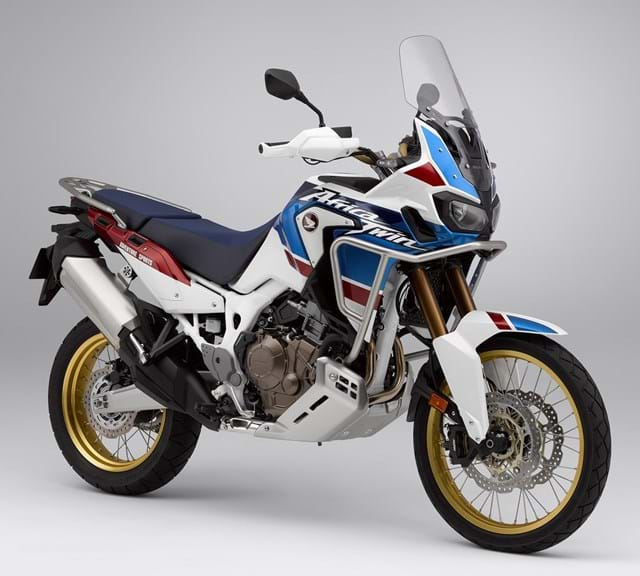 The ATAS
Let me start by saying I'm one of those who true adventure riders will hate! I recently purchased a 2018 manual ATAS and this will be my first brand new bike as I usually get pre-owned models of a few years vintage.
The offer was right and I loved the bike after a test ride although this was on the DCT model which I had no intention of buying as I prefer to change gears myself.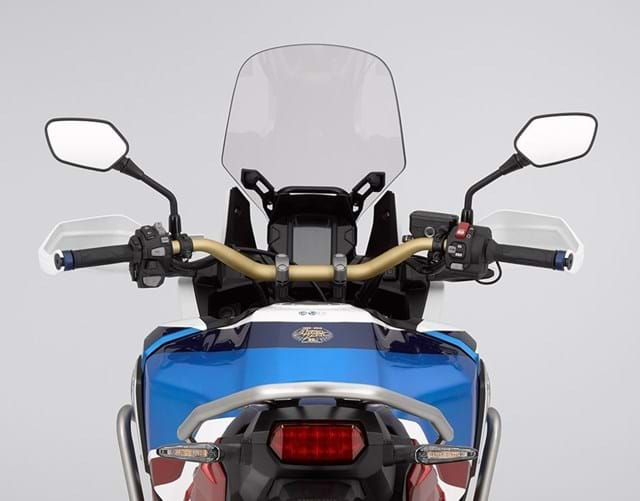 Height
It's a very tall bike, I'm 6ft and on the low seat height I can comfortably sit with both feet on the ground, not fully flat footed but not far off, I imagine for anyone vertically challenged this may be an issue.
Weight
It's a heavy bike to manually handle, be sure to rest it against your leg or keep that side stand down as when she gets over a bit she's a bit of a handful to get upright again.
Equipment
Heated grips are good but not great, they are plenty warm enough at the moment but I can see them struggling when the mercury reaches 0 or below.
Buffeting
I'm 6ft and the turbulence I feel from around the fork section is akin to someone banging my lid on both sides constantly when over 50mph. A cheap aftermarket deflector was fitted and problem solved but do bear this is mind and see if you are affected during the test ride phase.
Centre Stand
The lack of a factory fitted centre stand. This should be as essential as fitting wheels on a bike like this and is a massive oversight by Honda in my opinion, but you can get a genuine one as an extra.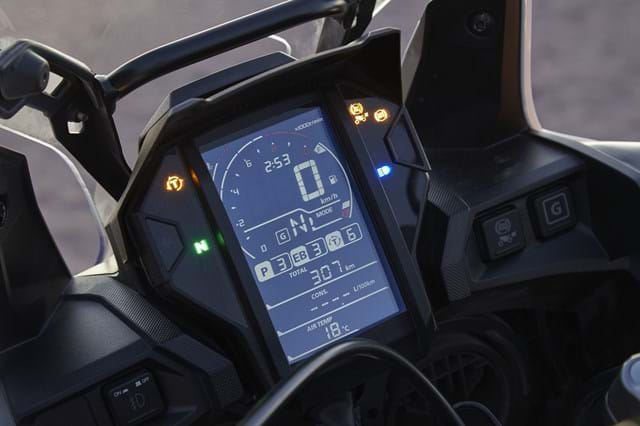 Looks
It's beautiful! The colour scheme, road presence, exhaust sound, riding position, everything about the bike is "right". Honda really have hit the sweet spot on the looks for this bike, I had been looking at these since release and always said I'd treat myself when the time was right, which it was and I'm so glad I did!
Riding position
I find this the most comfortable bike I've ever ridden. I come from a mainly sports bike background so that's not saying a lot I know but the ATAS has all day comfort with one exception, the seat.
It is very comfortable for the first 250 miles of the day then it starts to make your arse a bit numb, however at this point I'm usually standing on the pegs pretending I'm back on a Mick Extance off road experience day. It's well worth doing if you live in the UK.
Range
Fill up and go, then worry about fuel when you get home. I'm averaging around 60 mpg on mainly B roads and I'm also finding she likes to drink premium fuel better than the general unleaded stuff.
Exhaust
Now she's got 1,600 miles on her and the exhaust is nicely settled in the bark she gives when you give it the beans is a joy to behold, someone pi**ing you off in traffic? Quick blip and it wakes them up enough to get the hell out of the way.
On every bike I've owned I have always felt the need to upgrade the pipe to something a bit more vocal but not on this, it's perfectly balanced, great when tootling along but shows her devil side when you open the tap.
- Stephen H, 2019
Price Guide
Year
Dealer
Private
Part Ex
Mileage
2019
£9,600
£7,650
£6,700
5,100
2018
£9,600
£7,700
£6,750
4,900
How to use the price guide
Related Bikes
Honda Africa Twin - The original 2016 road focused version with shorter suspension, a smaller tank and less protection
The Second Opinion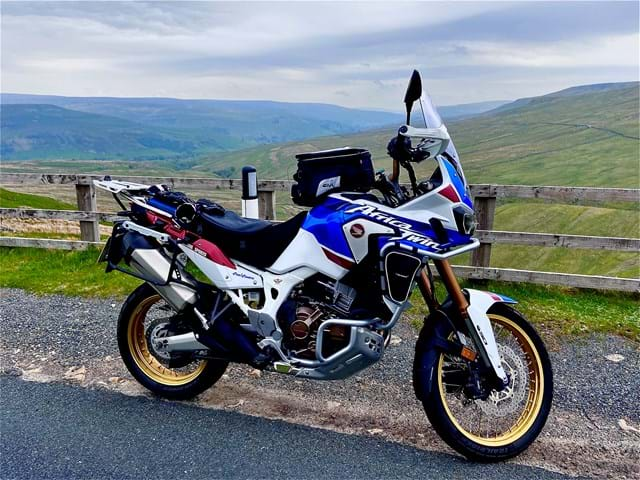 Honda Africa Twin Adventure Sports 2018
Tell us a bit about you
I'm a 56 year old male and 6' 4" tall. I've been riding over 35 years at one point never owned a car. In total I've had around 10 ish bikes.
Why did you choose it?
Mainly when I was younger the original Africa Twin was a bike I wanted but couldn't afford. Also, having test driven a number of bikes the ATAS DCT stood out from the rest.
What is good about it?
I love the looks and it's comfortable is all day long. The hip, knee, ankle triangle suits me perfectly on this bike.
I don't have any issues with the original seat comfort either. I've added a Cool Cover and an AirRider but normally opt for just the Cool Cover. Tank range is excellent too, as is original exhaust note.
What could be improved?
Obviously it's a 2018 bike, having the first MOT this week, so the newer model is out and the only thing I would say that isn't brilliant is the monochrome LCD display. It's often difficult to read when in direct sunlight but that's being really pedantic.
Any mods or upgrades?
What haven't I done!
Centre stand
Luggage
Racks
Engine protection bars
Sat nav
Tool kit
Tank bag
What is the economy like?
I haven't really checked it out for economy but I get around 250 miles out of a full tank, which I'm very happy with.
How is the engine?
It's a superb engine, however there is a but coming. I can't help feel it lacks a bit at the top end. That said, getting up there regularly and using it, is probably out of my skill set. So the only time I regret not having more power is when I'm not riding it, if that makes sense.
How does it handle?
The 21 inch front wheel can labour a bit turning in, but I find it nimble and light once on the move.
Pulling up at lights / junctions etc I can almost stop fully and balance easily for a few seconds without deploying feet to floor. It's easy enough pushing in and out of garage as my drive is flat.
What are the brakes like?
Brakes are good and I have never had any issues with them leaving me thinking I wish I had more stopping power.
Is it comfortable?
Very for me, as I said above perfect hip, knee ankle triangle.
How reliable have you found it?
It's been perfect. The only recent issue was a fuel leak after a recent recall. I'm not 100% certain what caused that but the dealer put it right straight away.
What's the servicing frequency and cost like?
I don't do enough miles a year so have it serviced annually. I've just had the third service and I think it was reasonable at around £140 by main dealer. All servicing has been through the main dealer.
To Sum Up
Brilliant, I still make excuses to go into the garage just to look at it. It's been great to own and I've done some great trips on it, with more planned in next few weeks. It has enough tech on it for my needs and to make it interesting.
- Stephen P, 2021
Add Your Review
Do you own this bike? We would love to hear anything good, bad, unexpected or that you have changed plus anything that a prospective new owner might find interesting or useful.
More Info
Check out this video review from TheMissendenFlyer.