BMW R nineT Review (2014)
"
Superb handling, decent all day comfort, decent tank range, superb power delivery and the crisp bark of the twin Akro's on the downshift all add up to making this bike an involving utter joy to ride.
"
What Is It?
The BMW R nineT is a premium retro style bike and is powered by an air-cooled 1,170cc Boxer engine which develops 110bhp at 7,750rpm and maximum torque at 6,000rpm.
Specs
Seat Height: Low (

785

 

mm / 30.9 inches)
Weight: Heavy (222 kg / 490 lbs)
Economy: Average (45 mpg / 6.3 l/100km / 15.9 km/l)
Range: High (180 miles / 290 km)
Power to Weight: Average (0.495 bhp/kg / 0.369 kW/kg)
Top Speed: High (130 mph / 209 km/h)
Pros
Comfy riding position
Easy to customise
Build quality
Looks great
Cons
On the expensive side
Cash readability
Quite heavy
Suspension
What Is It Like?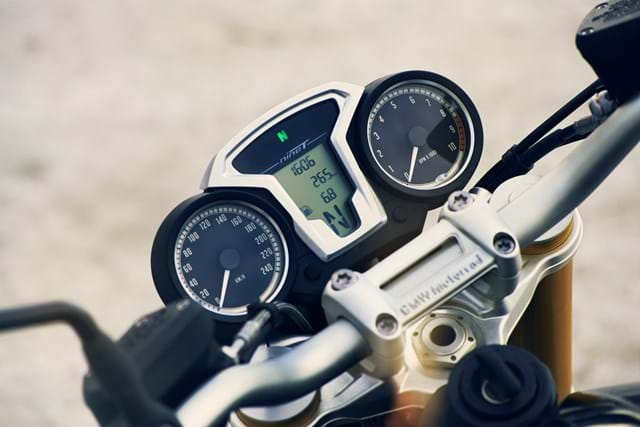 My Experience
I've had plenty of bikes over the years: Honda's, Suzuki's, Kawasaki's, Moto Guzzi's and so on – but until I bought the RnineT almost a year ago I had never owned a BMW.
There is no single reason for that – I've been biking for around 40 years or so and it's certainly not down to any aversion of the German marque, it's just the way things worked out. I changed to the RnineT because I was looking for a change from Japanese inline fours.
Looks
From an aesthetic point of view I think the RnineT certainly ticks the boxes as a stand out from the crowd sort of bike, and there are few occasions when I'm out on it that it doesn't draw comments in a way that most other bikes I have had haven't done.
The overall finish on the bike is very very good, and it's just full l of neat touches and attention to detail from top to toe.
Comfort
The bike itself is a joy to ride, the relatively low seat height and the distance to the bars make it pretty much ideal for me and my 5' 7" height. The seat looks like it might be uncomfortable but in fact I haven't had any problems with it and have done a 400 mile daily ride with no problems.
Engine
In essence I suppose it's sort of old fashioned. With its 1,170cc air cooled Boxer Twin, it's not going to float your boat if your main concern is all about the horses – it puts out about 110bhp.
Equipment
It doesn't have any switchable ride modes, traction control or fancy lean angle sensors. Even the info that you can flick through on the dash is about as basic as you can get but this stripped down approach is really what it's all about.
In my opinion the bike is all the better for it, in fact I would go as far as to say it's probably the best bike I've ever had.
Brakes
A decent Brembo set up makes braking easy, the clutch is light and the gear change sure. It's a beautifully balanced bike that's as easy to ride as it is easy on the eye.
Practicality
Of course one person's best bike may well be another person's bag of nails – but in my opinion, this is simply the best bike that I have had when it comes down to making a judgement based simply on the riding experience.
Sure I've had other bikes that offer more protection from the elements, four GSX-Rs and a Fireblade kept me out of the wind more and shifted a decent amount of water away from my legs and body.
The Kawasaki Z1000SX that I had for three years and that took me on four or five trips across western and eastern Europe would win hands down if it came to a judgement about ease of packing luggage but if it's a judgement about the overall sensation and feel of just simply enjoying the ride, then frankly this one makes it not even a close call.
Mods
Not much really – in fact other than a Powerbronze Hugger, a Puig Screen and a custom made bracket for my Garmin Sat Nav, the bike is as it was when I got it from Williams BMW in Manchester, who have proved to be a superb dealership.
It's probably worth adding that I have the OEM heated grips, they are superb and much better than any aftermarket grips I have added to previous bikes.
The only other thing I have added, as a temporary item, is a Givi tank lock adaptor for my small Givi tank bag. I'm off to Spain and Portugal soon for a few weeks and I have no doubt at all that the BMW will give me one of the best European riding experiences I have ever had.
With a tank range that easily makes 160 miles between fills then I should be able to avoid any drama about finding petrol when out in the sticks.
Choosing luggage was interesting – there's plenty of options out there, I suppose it just comes down to your own personal choice of practicality, style, price etc. I opted for the Motorrad rear bag that has a moulded base and that fits well to the pillion seat.
Any Downsides?
I don't think I have ever owned any bike ever, that throws up as much water and road grime as this bike does on damp roads. 
To Sum Up
It's not the quickest, it's not the easiest to clean, it's not the best for luggage options, and being a BMW then it's fair to say it's not the cheapest.
But as an all-round machine with a soundtrack provided by its stock twin Akrapovics then it's as good to listen to as it is to look at.
- Tony B, 2018
Price Guide
Year
Dealer
Private
Part Ex
Mileage
2016
£8,250
£6,600
£5,800
8,500
2015
£8,150
£6,550
£5,700
10,300
2014
£8,350
£6,700
£5,850
12,100
How to use the price guide
The Second Opinion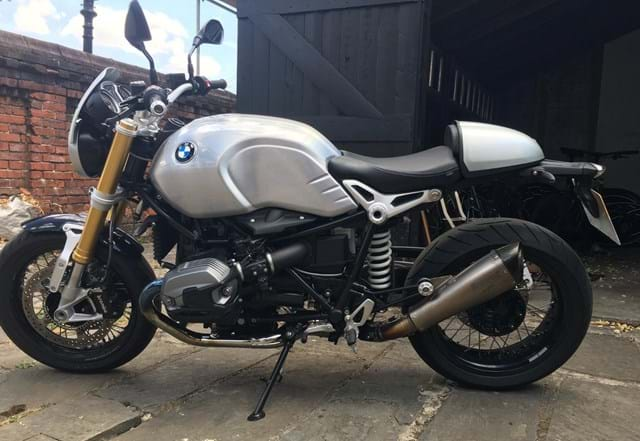 Choosing The R9T
I'm a recent buyer of the R Nine T. It follows the purchase of other BMW bikes, a 2001 R1100S, 2017 R1200RS and 2017 S1000R Sport.
I have always loved the looks of the 9T, but dismissed it as being 'old tech' with that air / oil-cooled boxer and no luggage capacity, weather protection or modern rider aids such as traction control / rider modes etc. I didn't even bother with a test-ride.
While the S1000R was in for service, the garage offered me a R Nine T Scrambler as a courtesy bike and I accepted, expecting nothing more than something to get me from A to B in the meantime.
My earlier prejudices were confirmed: the bike was objectively primitive, especially in comparison with the sublime S1000R, engine shaking all over the place, the bike bouncing around on its soft suspension and the basic instrumentation leaving me with no idea of what revs I was using or even which gear I was in!
After a while, however, none of these things seemed to matter and I spent the rest of the morning tearing around every type of road I could find and having a whale of a time. Subsequent tests of a standard 9T and a Pure at first found me thinking I should just go back to the garage at the first roundabout, but the more miles I went on them, the more I wanted one. The Nine T is just a great ride!
Looks
I traded the S1000R for a low-mileage 2016 Sport from the excellent Reitten Motorrad in Glemsford, Suffolk and I still can't help ogling it every chance I get.
My bike has the lacquered alloy tank, rear seat hump, low-level Akrapovic exhaust, Rizoma alloy fly screen and looks stunning. Reaction from other people is consistently positive too.
Engine
I've acknowledged its dynamic inferiority to many more modern bikes, but I remain unconcerned, because the engine is still a gem.
It's not actually that old technology-wise, having twin overhead cams and a modern combustion chamber design, giving brawny performance that is more than adequate for road riding yet doesn't leave me with the feeling that I'm only scratching the surface of its capabilities.
While it vibrates, it is never annoying, unlike the tingly vibes that are somehow more noticeable on the water-cooled twin and inline four when they appear.
Brakes
The brakes are good and ABS is welcome but I don't miss traction control, rider modes or anything that requires multiple button presses or menu choices. You just twist the throttle and squeeze those levers, which is all you need really!
Handling
Cutting through traffic in town or on the open road is a breeze and range works out at 110 miles before the fuel light comes on. Shaft drive is a great thing to have: who could possibly miss chain maintenance?
Suspension
The suspension is a serious shortcoming, however. It manages to beat me up with its limited suspension travel on ruts and bumps, which is just about all the time, given the state of UK roads, and it is easy to get bounced off-line on the entry to bends, necessitating constant attention to body position when cornering.
The limited adjustment of preload & rebound on the rear is not really acceptable, which is a pity as the handling is really good on a smooth road.
I have the bike booked in with MCT Suspension in Stowmarket for an Ohlins fork and shock replacement and I'll report on the effect of these modifications.
I'll bet the inner tubes don't help either: it's a pity that the tubeless spoked wheels for the Scrambler aren't available in 17" front wheel size, so I guess that a set of Kineo tubeless wheels will be a future purchase.
Exhaust
The Akrapovic can makes a nice sound, although I've refitted the removable baffle as it only produces volume and not sound quality without it. The headers and cat look a little on the heavy side, so a set of Akra Ti headers aren't out of the question as a future mod.
Mods
The bike has had the footpegs lowered by the previous owner: a good move, as I don't get any knee pain, yet still don't scrape the pegs either.
The saddle is very uncomfortable for me, the front edge digging into my thighs and the padding being pretty thin. I'll seriously consider replacing it with a Sergent or the like.
To Sum Up
It is a beautiful bike that somehow manages to transcend its dynamic limitations and stands as a thoroughly satisfying and characterful machine. It's not perfect but this bike is definitely a keeper!
- Julian G, 2018
A Few More Thoughts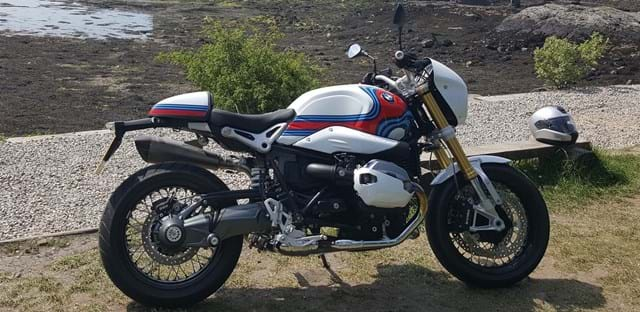 Choosing The R9T
I've had BMW's for the past 5 years, R1200RT's including the new LC model which is a fabulous tourer, but wanted a Sunday bike so bought the R Nine T.
Looks
I love the looks. Mine is a Sport model with high level Akrapovic exhaust, it has been prepared by 8Ball Customs, and is unique.
It gets admiring looks when I'm out on it, and quite often asked what it is, we don't see many R Nine's up here in the Highlands.
I bought this bike because I wanted something old style without all the electronic gizmos modern bikes have these days.
What's Good?
There's a super smooth gearbox, comfy seat / position / bars / pegs. The mirrors aren't bad. The engine is very torquey and quite powerful enough for an un-faired bike, brakes are good, but the best is the addictive exhaust sound which pops on the over run!
Any Downsides?
The suspension is poor, crashes over bumps and pot holes, there's no adjustment on the front and very little on the rear that makes any difference. I'm planning on a new rear shock and possibly re-spring at the front. No fuel gauge.
To Sum Up
I love the bike, the riding experience, the looks and sound, pity about the poor suspension though.
- Andrew B, 2018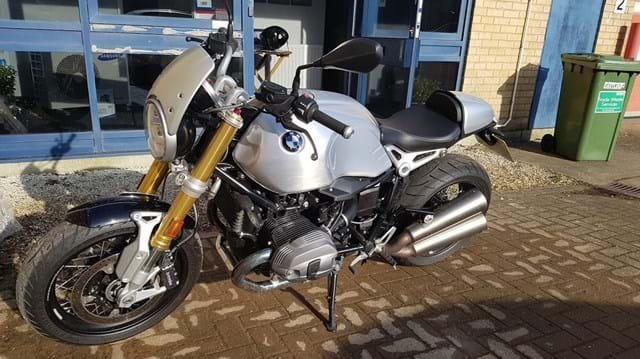 Choosing The R9T
I bought My R nineT racer a month ago today, so far I've covered just over 1,000 miles.
I chose it for one main reason. My previous bike was a Ducati monster 821, it was perfect in every way except the suspension was too hard and non-adjustable and I want to ride further this year. 200 miles on the monster was about it in one day. I live in the southern UK, home of the pot hole.
What's It Like?
The R nineT is very different to the Ducati. It's hard to put into words but it's just gentler, safer, less scary etc. It's like the difference between a glass of Shiraz and a glass of Tequila.
Handling
Riding the R nine is amazing, the suspension is fully adjustable to suit, all you need is a screwdriver. It carries its weight really low to the ground so its easy to chuck around and get rid of your chicken strips, it feels nimble and very reassuring in the bends, it's like riding a big scooter.
Power
The lack of riding modes is not an issue at all. If you want it too it's happy to pootle around like a bike with 75 horse power, you have to really give it some throttle to wake it up.
The first half of the throttle is calm, the second is much wilder. It won't bite you in any way, you know it's going to crack on because you have to beat it to get it going.
Brakes
The brakes are soft and not scary but they work really well. Again they won't scare you.
Any Downsides?
The speedo is unreadable, its tiny digits are rubbish, why isn't it digital for the old fellas with bad eyesight who will buy it? Same with the rev counter.
You won't get better than 45 to the gallon out of it so it does 130 miles between fill ups. It sounds like a bit of a winge but for a bike that you want to ride and ride 130 miles doesn't take long.
To Sum Up
It's not too noisy on the stock pipe so it won't upset the neighbours, it doesn't smell horrible or scare the kids, it's exactly what a mid-forties man returning to biking wants.
It's pretty cool, looks nice, is well engineered and won't break down. It's a bit expensive but the money is in the suspension so it's worth it.
There are loads of bits you can screw on it or take off with minimal tools so you can act like a custom bike builder with nothing but a Torx set from Halfords.
So overall I really like it, it's nice and big, safe, makes me look and feel good and people come and talk to me about it. It's a pretty perfect bike if you only want one.
In an ideal world buy a Ducati as well but go for the suspension upgrade then you can scare yourself to death if you feel like it or be sensible on the Beemer.
- Graham H, 2018