BMW R1200RT Review (2014)
"
It's a great bike and fulfils almost all of my requirements for touring, commuting and year round transport but I would definitely add EAS and cruise control for lots of two up touring.
"
What Is It?
The BMW R1200RT is a premium touring bike which can be spec'd up with all the toys and is powered by an air / liquid cooled 1,170 cc Boxer engine, producing 125 bhp at 7,750 rpm and maximum torque at 6,500 rpm.
Specs
Seat Height: Average (

825

 

mm / 32.5 inches)
Weight: Very heavy (274 kg / 604 lbs)
Economy: Average (45 mpg / 6.3 l/100km / 15.9 km/l)
Range: High (250 miles / 402 km)
Power to Weight: Average (0.456 bhp/kg / 0.340 kW/kg)
Top Speed: High (135 mph / 217 km/h)
Pros
Protection
Handling
Comfort
Storage
Engine
Mirrors
Brakes
Cons
Audio system compatibility
Small front pocket

Switch gear

Gearbox

Finish

Price
What Is It Like?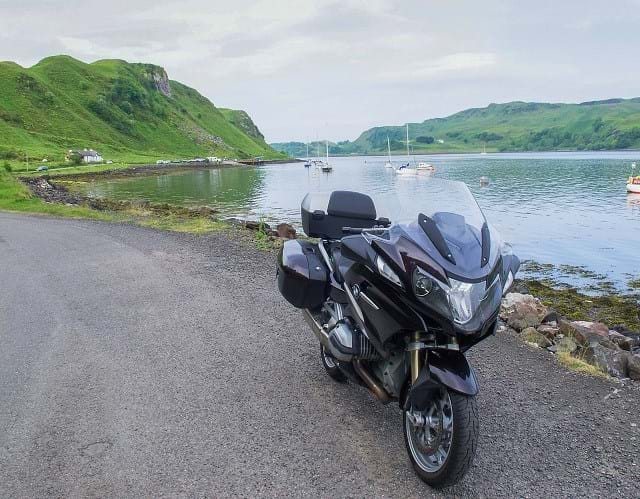 Choosing The RT
I committed the cardinal sin of buying the 1200RT LC without even test riding it.  I was going for a GS then saw the new RT and was hooked.
Riding away from the dealers a couple of months later I was hoping I had made the correct decision but 10,000 miles and a few hiccups later I couldn't be happier.
Size
It is a big bike and filtering through the Glasgow traffic on day one I had serious doubts about what I had just bought. However once on the move the bike hides it size and weight well.
It took until 500 miles until we really started to bond. For a bike of it's size it handles remarkably well. Once moving it handles sweeping curves well and the big Brembo brakes provide impressive stopping power.
Just remember it is a big heavy bike and it will reward you with lots of grins! Get the engine spinning above 5,000 rpm and unleash the full 125hp / 125Nm of torque and the performance is nothing short of amazing.
Engine
I have absolutely no complaints about the LC boxer engine. Some people have complained about vibration but I have never found this to be an issue, either through the bars or pegs.
It will happily burble around town, tour down twisty back roads or sit at triple digit speeds. It does have vibration at idle that wobbles the screen and the bike rocks slightly when you blip the throttle at standstill, but it is an opposed twin and is inherently viby.
I think BMW have done a good job minimising the vibration though. The engine also has road and rain mapping as standard for the engine and traction control. I use road mode unless it is icy then rain mode softens the throttle response.
The reason I tend not to change modes much is because I do not like the change in throttle response between modes, but like I said it sometimes has a place during freezing Scottish winters.
Suspension
I have the non-ESA model and the suspension is fine, nothing amazing but it gives good all round performance. It is worth playing around with the rebound and compression setting to get settings for one up, two up, loaded luggage etc. It has paid dividends for me in the long run to the point where I even soften up the suspension in heavy rain.
Comfort
Comfort on the bike is very good, I am 6 foot tall with a 32" inside leg and with the seat in the higher position the bike is a perfect fit for me.
The only changes I have made are to turn the brake and clutch levers down slightly and raise the gear change to make them fit me.
I have put in a 500-mile day on the bike and the comfort holds out fine, but I do tend to stop roughly every 100 miles or 90 minutes for a quick 5-minute leg stretch. I am dictating this though not the bike; I have given my body a rough life!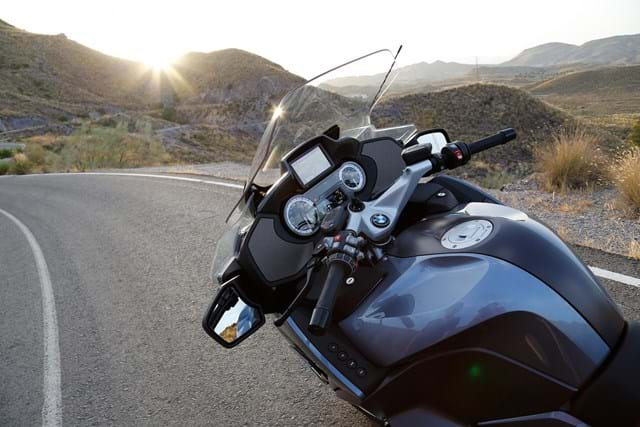 Any Downsides?
The gearbox is rough as well. Not loud rough when moving but the bottom half of the box sounds like a bag of spanners being dropped when you change gear, this is really weird as 4th, 5th and 6th are silky smooth!?
You just have to work round it and rev matching stops you scaring the horses. I have just read that BMW have updated or replaced several parts in the transmission for the 2017 boxer LC model range, so maybe there is an underlying issue with the box.
The panniers, while cavernous, are a really weird shape inside. This is fine if you are just going from hotel to hotel or B&Bs but packing camping gear is a pain. I have got it worked out now, but it took a few goes to get it right.
Any Issues?
It hasn't all been sweetness and light though; I am on my third swingarm and bevel box. These replacements were not due to mechanical failure but paint falling off and the alloy underneath starting to corrode. BMW have been great with this and have never questioned the two warranty claims I have made for the swingarm.
To Sum Up
All in all I would go for the RT LC again. It is a great bike for my needs and fulfils almost all of my requirements for touring, commuting and year round transport.
I would add ESA and cruise control as my wife has also decided that she likes touring with me and is on the bike a lot more than I thought she would be.
- John C, 2016
Price Guide
Year
Dealer
Private
Part Ex
Mileage
2018
£11,700
£9,400
£8,200
4,900
2017
£10,550
£8,450
£7,400
6,700
2016
£9,500
£7,600
£6,650
8,500
2015
£8,500
£6,800
£5,950
10,300
2014
£7,650
£6,100
£5,350
12,100
How to use the price guide
The Second Opinion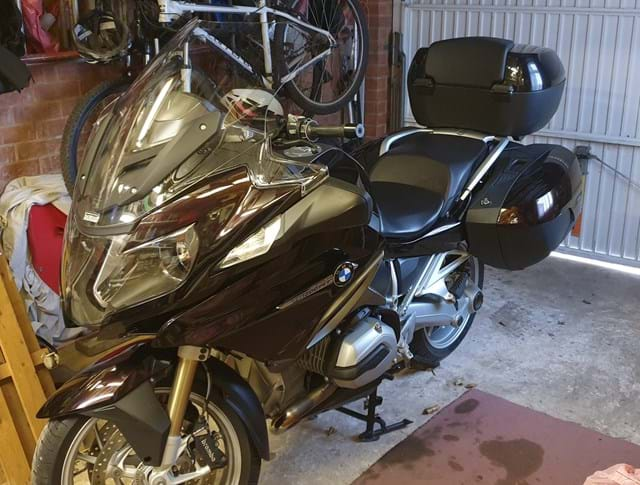 2015 BMW R1200RT LC
Tell us a bit about you
I am 67, and have been riding since I was 16 years old, and cannot imagine life with out a bike. I have ridden my R1200RT for a thousand miles now, so I know enough about her to do this review.
Your biking experience to date?
Yamaha 90
Yamaha XS750
Honda CD175
Honda CB360T
Honda CB750
Triumph T140V Bonneville
Triumph T150 Trident
BMW R100/7, 80/7
BMW K100LT x2
BMW R1200RT
Why did you choose it?
Having ridden a 1989 BMW K100LT for the past twelve years over 80 thousand miles, it was time for a change, and something modern. I liked the feel of the BMW boxer motor, and as I like weather protection, the R1200RT was an easy choice.
What is good about it?
The engine torque at low revs is great. The ability to alter the suspension is useful, although you do find yourself setting the systems before you set off each time.
The handling is very well balanced, really light and very flickable for such a big bike.
It has a big presence on the road, and is the perfect upgrade for me from the K100LT.
The Hill start assist was laughable at first, but I now use it all the time. The angel headlights are more effective during normal day light hours. Cruise control works great, even around town.
Gear shift pro, it works, but with a lovely light clutch I rarely use it.
I love the twin dial console, especially having the road speed indicator in the middle. Am not a fan of the TFT screens. The central locking is useful, and the side cases are removed very easily, unlike my K100LT cases... The electric screen is great, turbulence is minimal, and riding at speed is relaxed.
What could be improved?
The gearbox is clunky going into first, almost embarrassing, but apart from that the changes are smooth and quiet. The clutch engagement action is short, but you soon get used to it.
The low speed fuel delivery is poor, with snatching from the gear train.
There is only one lockable front pocket, the later models have two, and they are too short to take my Samsung S9 phone, with a charger cable attached. Make them bigger please. We all like cubby holes, just make them usable.
The horn is crap, and there is limited space under the forks to fit a better one. My K100LT had two Fiamm car horns, and they were really loud. Not good enough BMW.
These are minor niggles, but with some inputs from riders, not pen pushers or bean counters, these would have improved. This not a gripe, but riding around roundabouts with a bike with tall gearing, you are either in first gear using a lot of revs, or in second gear, just feathering the throttle to maintain speed.
Generally the throttle action is lovely and light, but the engine response is fast which can catch you out. Maybe using rain mode around town would be better, but you have to be stationary to change the engine mode.
Any mods or upgrades?
Being only 5ft 9, I had to fit a foot peg lowering kit from Motorworks UK. This fitted perfectly and as both gear shift and rear brake pedal height can be lowered, it made my leg position lower.
The forks are slightly too high, maybe half an inch, but I cannot change that.
The low speed fuelling is poor, you need to work hard to match your speed to the revs to stop the driveline snatching. I fitted a Power booster plug, and this has improved the low speed riding dramatically. It is still there very slightly, but you are riding a very big twin.
I have a Data tag kit fitted, and will fit a tracker soon.
I fitted a battery charger pig tail to keep the battery topped up, due to the alarm system fitted.
How is the engine?
The motor is amazing. At tick over she is quiet, unlike a R1250RS I recently sat on, that engine sounded like a bag of nails The gently sway of the electric screen at tick over gives away the action of the apposed twin.
The low down grunt is both useful. Fast overtaking is done quickly and safely with the power available, no matter which riding mode is set.
She is quiet on the motorway, and gives off a nice growl when you open her up.
Maintenance access is good with the boxer motor, something I like to do myself.
How does it handle?
The bike is amazing light to flick around the bends. It is cool to feel the ride height change when you alter the suspension setting.
It is important to set the system to suit your load, and riding style for the journey, you can feel the difference.
What are the brakes like?
Modern Brembo brakes are astonishing if you have never had them before. Two finger front braking is all you need. The rear brakes are great too. No complaints.
Is it comfortable?
Although the longest ride is only 150 miles at one go, she is very comfortable. The gearing on the RT is tall, and relaxing. Not sure about the low seat, but time will tell. My wife loves the 49 litre top box, and of course the heated rear seat.
The low down weight makes moving her around the garage / driveway easier.
The switch gear is well made, easy to use and laid out. Not backlit though BMW...
How reliable have you found it?
Of course only having covered one thousand miles I cannot comment. But the motor has not used any oil, which is a good indicator.
I hope things like the exhaust flap, the rear final drive and the rear suspension is reliable, as they are expensive to fix. Time will tell, but I knew this before I bought her.
She is a 2015 water cooled, so the expensive clutch change is easy now it has been moved to the front of the engine. The water pump site above in the front cover too.
What's the servicing frequency and cost like?
I will service my bike myself. The GS911 scan tool was £350, and I will also purchased the cam alignment tools for around £300. After that, then yearly servicing will be around £150.
To Sum Up
A improvement on the earlier model with the clutch being moved to the front, and more power. The front styling is somewhat bulbous due to the cooling radiators and fan, but I am getting used to it.
For me, this bike does it all. The only gripe was the low speed snatching, although it has greatly reduced after fitting the booster plug. It is soooo much fun to ride.
- Robert K, 2022
Add Your Review
Do you own this bike? We would love to hear anything good, bad, unexpected or that you have changed plus anything that a prospective new owner might find interesting or useful.