BMW R1250RS Review (2019)
"
I use the RS for advanced training, two up riding and small UK tours. It performs excellently no matter what scenario it is faced with.
"
What Is It?
The BMW R1250RS is a premium sports touring bike and is powered by a liquid cooled 1,254 cc Boxer engine with VVT, producing 134.1 bhp at 7,750 rpm and maximum torque at 6,250 rpm.
Specs
Seat Height: Average (

820

 

mm / 32.3 inches)
Weight: Heavy (243 kg / 536 lbs)
Economy: Average (50 mpg / 5.6 l/100km / 17.7 km/l)
Range: High (200 miles / 322 km)
Power to Weight: High (0.551 bhp/kg / 0.411 kW/kg)
Top Speed: High (145 mph / 233 km/h)
Pros
Rider and pillion comfort
Loads of torque
Build quality
Suspension
Brakes
Range
Looks
Dash
Cons
Switchgear isn't backlit
On the heavy side
No USB sockets
Huge exhaust
Stock tyres
Gearbox
Screen
What Is It Like?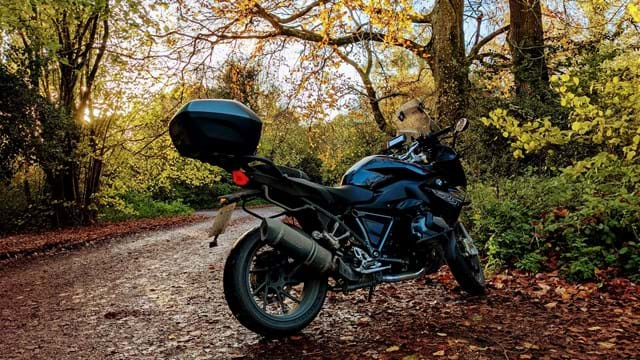 Tell us a bit about you
I'm a 44 year old male 5'9" / 176 cm and 74 kg. I have been riding on the road since passing my CBT at 16. Prior to that I was fortunate enough to be able to ride on local famer's fields on a Honda C90 and a Suzuki GS125.
I started off on a Suzuki TS50X and at 17 I switched to a Kawasaki AR125, then after a bump on that a Honda CB125T. After passing my full test at 17 I had a Suzuki SB200 and then a GS450.
In 2000 I tried a small cruiser in the form of a Honda VT600 Shadow. It was a Canadian import, with a four speed gearbox. It didn't take long to realise that cruisers were not for me. I part exchanged this for a Yamaha Thunderace.
On a visit to a Harley dealer I became interested in Buells. I test rode all of their range, but was fortunate enough to be around when the fuel in the frame models were released. I bought a Buell XB12R in 2005. After 42,000 miles and a damaged gearbox on a track day this was replaced by a KTM RC8. An awesome machine, but not suitable for my needs at the time.
This led me into the BMW camp in 2013 with a K1300R. I bought a further two 1300R's after this and then went on to the R1200RS. I had three of those before switching up to the R1250RS. During the R1200RS ownership I also had a Yamaha R3 to run as a commuter.
That's 17 bikes in total and and since 2013 I have run up 127,000 miles on BMWs.
Why did you choose it?
It seemed a natural upgrade from the R1200RS. The 1200 had reached 24,000 miles, it coincided with a job change that gave me some spare cash and the dealer had a good deal on the R1250RS Exclusive.
What is good about it?
I bought it without a test ride, as I was already very familiar with the 1200's.
On the first ride I was impressed with the TFT and its functionality. Turn by turn sat nav directions on the dash (from the associated mobile phone app) are really good. The minor chassis changes haven't done much to alter the ride and the ShiftCam engine upgrade isn't as noticeable as I thought it might be.
I use the bike for advanced training and it remains useable at slow speeds. I also use it for two up riding and small UK tours. It performs excellently no matter what scenario it is faced with.
I will use it for track days too, as I did on the 1200's, but as I can only afford one bike it needs to be a jack of all trades. My wife is comfortable on the back and the shaft drive takes away all the worry around chain maintenance.
The sports tourer market is reducing since the advent of the adventure tourers and I prefer the sports tourer style. I test rode the new Ninja 1000SX, which I liked, but my wife was not comfortable on the back.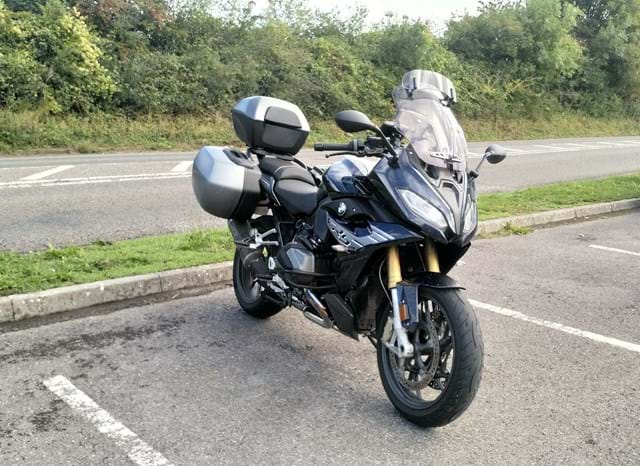 What could be improved?
One of the 'improvements' over the 1200 is the ESA, which is now tied into the engine modes. I used to have the 1200 set on Dynamic throttle with road suspension settings, which is now not possible. Even in the user setting, the suspension setting will still revert to the selected one for that engine mode.
I also find the new automatic suspension setting less suitable than the old manual selection. Whereas there used to be rider only, rider and luggage, rider pillion and luggage, there are now:
Automatic based on load
Minimum / rider only
Maximum / fully loaded
I find the automatic setting never finds a balance and seems to offer a less than optimal ride.
Although it comes with one DIN socket, it could really do with USB sockets for the rider and pillion.
The standard screen has never been ideal for me. Although two way manually adjustable and a further adjustment by moving the screen on its mounting bolts, I can never find a position where it doesn't create turbulence. More adjustability like the R1250GS or even R1250RT would be great on this bike.
The Metzeler Z8 OEM tyres it came with are less than ideal. They offer little in the way of feedback and have little confidence in the wet.
The rear shock protector offers nothing in the way of protection for the rear shock. The bike also has a massive ability to cover the pillion and rider's legs in road muck from the spray off the rear wheel.
Any mods or upgrades?
The screen has been replaced with an MRA Vario touring screen
Standard end can replaced with an Arrow silencer
MachineART mudsling undertray
Front mudguard fender extenda
What is the economy like?
I'm seeing 50 mpg on average.
How is the engine?
I was expecting more of a difference with the ShiftCam VVT tech and I feel it isn't as well fuelled as the 1200, maybe due to Euro 5 or changing between cam profiles.
However it has plenty of torque which is ideal for the type of riding I do. During its refinement the engine is smoother than an opposed twin should be.
The gearbox is still BMW clunky, and never feels smooth during changes, unless under a little load using the clutch or heavy load with the quickshifter. Anywhere in between the clutch and quickshifter is a clunky event.
How does it handle?
Mainly sure footed. However, with the auto suspension, sometimes the back feels vague on bumpy corners. It feels as if the preload needs upping and this is where the old model benefitted from having the rider plus luggage setting.
To counteract this the dynamic suspension setting firms it up, but then it's too stiff for most other road circumstances.
What are the brakes like?
Very efficient, firm and progressive.
Is it comfortable?
Yes. My wife finds the pillion position more comfortable than the old bike. Whether this is due to a different seat foam, or slightly different ergonomics we are unsure. However, she is able to do longer stints than before.
Rider comfort is good and the peg to bar position suits me fine. The protection from the fairing is good in most weathers but the standard screen gives me buffeting no matter what position I'm in and I needed an aftermarket part to make it usable.
How reliable have you found it?
Mechanically it has been fine and has covered 9,000 miles in four months, trouble free.
There was an issue with the TFT dash, where the average mph was reading 2 mph on the long term trip. It had a software update on the 6,000 mile service which resolved the issue and which added the Sport dash mode.
What's the servicing frequency and cost like?
The servicing is every 6,000 miles and due to the exposed nature of the engine costs are low. The 6,000 mile service was £234 from my local dealer.
It's worth noting that the R and RS models require a fork service every 18,000 miles and valve checks every 12,000 miles. These two coincide at the 36,000 mile service so this is likely to be your most expensive one.
How would you sum up the model?
The R1250RS is a good sports tourer, that is nearly in a market of one now with the demise of the Honda VFR1200F, BMW K1300S and Triumph Sprint ST.
- Kevin C, 2020
Price Guide
Year
Dealer
Private
Part Ex
Mileage
2021
£13,900
£11,150
£9,750
2,100
2020
£12,600
£10,100
£8,800
3,700
2019
£11,300
£9,050
£7,900
5,100
How to use the price guide
The Second Opinion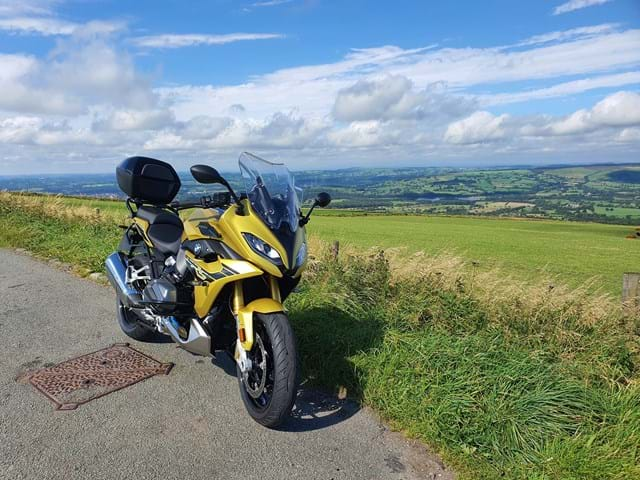 BMW R1250RS 2019
Tell us a bit about you
I'm a 54 year old male, 5' 4". I have been riding since 1982 (38 years) and have owned approximately 30 bikes.
Why did you choose it?
I was looking for something that would comfortably eat up the miles when touring and commuting, but it had to have a low seat option. I was initially interested in the new Triumph Tiger 900 but when I contacted the dealer, the price they offered me in part ex on my 800 was a joke!
I booked a test ride on a R1250RS but the demo bike didn't have the optional low seat. However, the dealer said I would be ok without it. They were right! After my test ride, I knew I wanted one. We did the deal there and then.
What is good about it?
The 760 mm low seat height option for me is great. I can almost flat foot it (I'm a proper short-arse) which gives me loads more confidence when manoeuvring it at low speed.
The build quality is way ahead of anything else I've had previously. You've got to hand it to BMW, they're not cheap but they are value for money.
What could be improved?
I think that they could have backlit the switchgear, and a hugger as standard to protect the rear shock from all the road muck.
Any mods or upgrades?
Full luggage.
What is the economy like?
I'm getting 200+ miles from a full tank. I'm not sure what MPG that works out at but I'm having too much fun to care!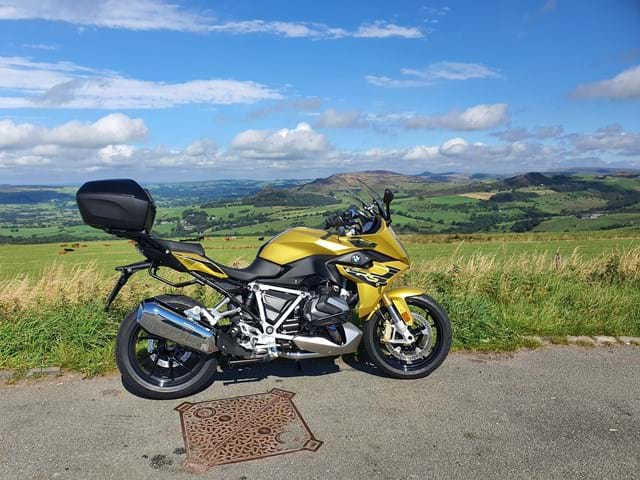 How is the engine?
The engine is fantastic. It pulls like a train and the 136 bhp is plenty. The torque is addictive and whatever gear you are in, overtaking without changing is easy.
That said the gear assist pro allows clutchless changing so dropping down to overtake is seamless.
How does it handle?
It's a big heavy bike. But, it carries its weight well and the handling is sure footed and predictable. It can wallow a bit with the suspension in "Road" but switch to "Dynamic" and the twisties become entertaining without being scary.
I haven't had the full luggage on yet, but with the top box on, it is affected by the wind quite a bit. The top box sits up high and out the back. With no pillion there is a big gap and it feels like an air brake.
What are the brakes like?
Stonking!
Is it comfortable?
Yes. Even with the low seat, which has a lot of the foam removed, it's all day comfortable. I'm really looking forward to some serious touring in 2021.
How reliable have you found it?
Fine! I've had the Bluetooth connectivity drop out a couple of times and then I got an error message on screen telling me there was a fault in the engine control. However, it was just requiring a software update. The dealer had for a few hours and it was all sorted, including the Bluetooth connectivity issues.
What's the servicing frequency and cost like?
It has only had its initial 600 mile service to date at £170.
How would you sum up the model?
It's a fantastic bike. If you never go off road, then I think it's a great alternative to a GS and cheaper! And actually if you're short in the leg department, the GS isn't necessarily an option. Go and test ride one and see for yourself.
- Ian B, 2020
A Few More Thoughts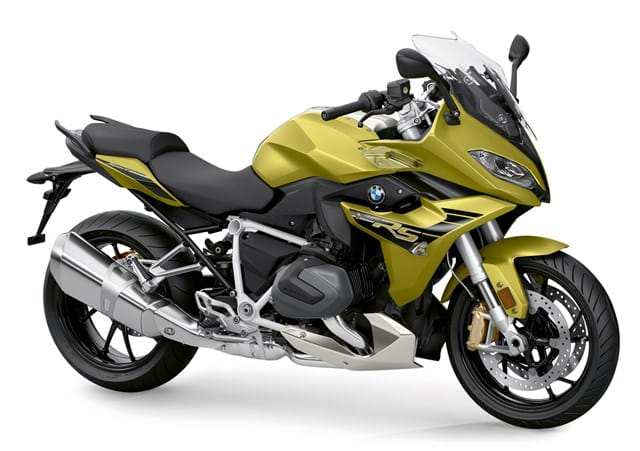 Tell us a bit about you
I'm an IT professional, male, average height. Love being outside on two wheels, powered or not powered.
My experience spans 40 years of riding all types of bikes in the UK and abroad.
Why did you choose it?
I have always liked sports tourers of any kind. The RS now has the performance to match its looks, and it has a certain cachet that the GS does not.
What is good about it?
Looks aside, the RS is super smooth, rapid and the semi active suspension takes it to another level. It corners like it is on rails and is very fuel efficient.
It is a very classy ride which makes you want to just keep going.
What could be improved?
I am not a great fan of the amount of torque drag when dropping down the gear box in the last gears however the next model allows you to adjust it.
The stretch to the bars is long, with many owners choosing to add bar risers, and the seat is hard but softens after a couple of thousand miles to provide a plush place to sit.
Some owners complain of a poor headlight, but I have not found this to be the case.
Any mods or upgrades?
Givi EA123 tank bag
Puig hugger
Fender Extender but had to remove it as it rubbed on the tyre
Navigator cradle adaptor for smart phone
What is the economy like?
60 mpg
How is the engine?
Hugely strong, although if you like bouncing the engine off of the limiter, you should probably look elsewhere.
How does it handle?
It is remarkable considering its weight and you only feel the weight a little below 10 mph. It is far from being a handful and high speed cornering is very stable.
What are the brakes like?
The Brembo brakes are awesome.
Is it comfortable?
Very. All day comfort, only compromised by the sports screen but that is easy to fix.
How reliable have you found it?
No issues.
How would you sum up the model?
The R1250RS is an amazing piece of technology, but it comes at a price.
- Roger B, 2021