Honda VFR1200F Review (2012)
"
The VFR1200F is indeed the definitive sports tourer and if it's a sports tourer you're after, it should be on your shortlist.
"
What Is It?
The Honda VFR1200F is a premium sports tourer and is powered by a liquid cooled 1,237 cc V4 engine, producing 170.3 bhp at 10,000 rpm and maximum torque at 8,750 rpm.
Specs
Seat Height: Average (

815

 

mm / 32.1 inches)
Weight: Very heavy (267 kg / 589 lbs)
Economy: Average (40 mpg / 7.1 l/100km / 14.2 km/l)
Range: High (170 miles / 274 km)
Power to Weight: High (0.637 bhp/kg / 0.475 kW/kg)
Top Speed: Very high (165 mph / 265 km/h)
Pros
Smooth power
Build quality
Practicality
Handling
Comfort
Cons
Small panniers
Running costs
Fuel capacity
Really heavy
What Is It Like?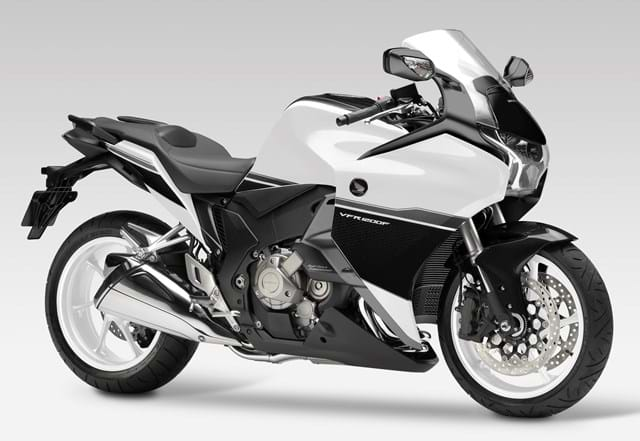 Six Years and 50,000 miles
The VFR1200F suffered one serious issue; poor marketing. Prior to 2010 the biking world were preparing for a bike that was to change motorcycling as we knew it, or so Honda were suggesting. Rumours ranged from a V5 superbike to a V4 tourer to replace the Pan European.
When Honda revealed a very good, but not goalpost moving, sports tourer with an odd looking front end and a below average sized fuel tank, the UK press took to criticising the bike in a big way. Interestingly, European and American press loved the bike from day one with phrases like 'the definitive sports tourer' being used.
As such sales figures suffered. In an attempt to recover sales numbers, Honda released a revised model in 2012 with free full luggage and slightly nervously, I bought one. Now, six years and fifty thousand miles later, what has the bike been like?
Handling
Despite its size and weight, it handles very well, is beautifully balanced at low speed and has far more power and speed than I will ever need.
It's comfortable(ish), easy to ride, has luggage and a shaft drive. The length of the bike means that a bit of effort is required to turn the bike at higher speeds but once turned tracks perfectly. The benefits of this long wheelbase however is total stability at speed.
Storage
The luggage locks and detaches with the ignition key and is all very strong and robust. Indeed, although with some understandable scuffs and scrapes, strong enough for the top box to handle bouncing down the motorway after some nugget (me) failed to fix it to the bike properly.
The 29 litre panniers could do with being a little bigger as could the 31 litre top box; Honda offer a 46 litre option, standard on the GT model.
Protection
The fairing is a wonder. Using the same layered technology as the Moto GP bike, the fairing channels wind, weather and heat from the engine away from the rider.
And it works better the faster you go, eventually creating a slightly eerie pocket of quiet air around the rider. Taller riders do report some buffeting, apparently cured by the screen extender, again, standard on the GT.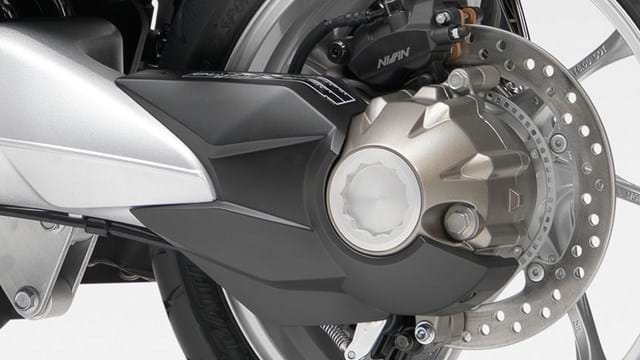 Brakes
Obviously, it doesn't quite turn like a 1,000cc sports bike, but it does have a pretty good go at stopping like one! Up front a pair of 320mm discs gripped by two six pot calipers offer huge stopping power, enough to sometimes skip the rear wheel. These are combined with a two pot caliper and a 280mm disc at the back to steady the bike.
Speaking of brakes, the linked brakes work far better than older Hondas but necessitate the need for four separate pads per front caliper. That makes front pad changes expensive at around £100 a pop. Exacerbating this of course, the lack of engine braking means you'd be changing the pads more often than normal, say every fifteen to twenty thousand miles.
Heat
With the rear two cylinders out of the wind, the bike does run hot with the gauge regularly showing three bars out of a possible five.
However, a huge radiator and twin fans do an excellent job of regulating this and in six years I have never seen four blocks showing even whilst travelling in Europe in 35+ degree heat.
Comfort
What is very clever is that the rear cylinders sit inside the front cylinders. This means that the 'waist' of the bike is very slim, so despite a medium seat height shorter legs, like mine, can easily reach the ground.
Engine
This leads us to the obvious star of the entire package, that wonderful engine. Soichiro Honda himself, who knew a thing or two about engines, once said that the best engine configuration for a motorcycle was the V4 and this one is a belter.
As with all Honda V4s, the bike makes around 90% of its peak torque at just 4,000rpm. This makes gentle acceleration feel slightly flat and can be very deceptive up until 7,000rpm when the main exhaust opens, the bike starts to wail like a banshee and then takes off for the 11,500rpm redline. Three figure speeds can be very easily reached if you're not paying attention; this isn't a bike for inexperienced riders.
But this huge torque curve also means a large usable range. Third gear for example offers strong drive from 30mph up to twice the national limit for those who care little for their licence! On a twisty B-road, select second or third and treat as an automatic. And 40mph to 60mph in less than two seconds makes for easy overtakes.
Honda are rightly proud of the slipper clutch and the 'perfect primary balance' of the V4 configuration, negating the need for the usual balancer shafts. And these do make for a smooth, free revving engine, but it also means that there is very little engine braking. A VFR1200F rider can expect to use their brakes far more than on say a Hayabusa.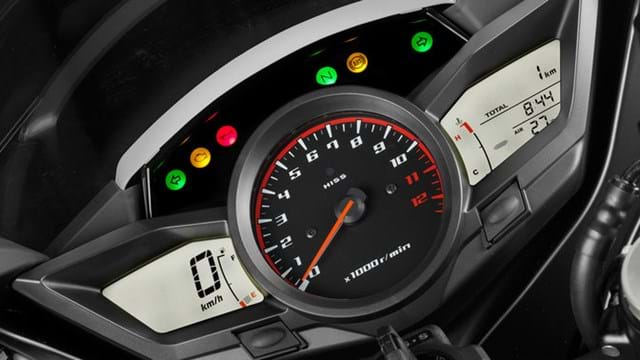 Economy
Fuel consumption varies a lot offering 50mpg+ under gentle touring down to less than half that on track. Typical average is around the 40-45mpg area equating to around only 150 miles before the LCD display starts counting down the number of miles left, usually starting at around 30.
Tyres
A bike of this weight, power and torque can make very short work of tyres. Michelin PR4s last me around 6,000 miles when other types of bikes seem to manage over 10,000 miles. And as a RoSPA Diploma holder, I like to think my riding style looks after tyres.
Servicing
8,000 mile service intervals are welcome but be aware that every second service requires access to the valves, which takes a lot of time and therefore cost. Expect costs of around £350 for these major services, £150 for minor ones.
Any Issues?
Not many. A warranty claim for the rear brake light switch and a recall for the shaft drive have been the only real issues.
After three years, the suspension was starting to feel decidedly tired, but Maxton front and rear made it better than new. Just this week I have replaced the seat with one from Elsemade as the original Honda version was starting to hurt.
The slightly long reach make U-turns a struggle for shorties like me but I've never been great at U-turns anyway!
To Sum Up
Could it do with more range? Yes, but how often do you do more than 150 miles between breaks? I have seen 200 miles once whilst coming back from Oban, having found two closed petrol stations, but I was nervous!
Could it be lighter? Again, yes. But it's so well balanced that the only time you notice that weight is when you push the bike back into the garage.
The slightly sporty riding position may not suit a lot of riders of larger touring machines or naked upright bikes but being a sports bike rider at heart, I like it. Try it out before buying.
Is it a cheap bike to run? No, not at all. But then again, how many 150+ bhp bikes are?
Is it reliable? Oh yes. The bike has taken me around Scotland numerous times, into Europe several times and has never missed a beat when others with me have overheated, failed to start, suffered from failed electrics, used oil and so forth.
The only issue I have had was the bike missing slightly over some of the higher passes in Switzerland whilst using 95 octane fuel. Honda recommend 98 octane, a switch to that and all was well, again. I like to fill up with 97/98 every other tank now.
And so to finalise. Only my opinion of course, but for me the VFR1200F is indeed the 'definitive sports tourer' and if it's a sports tourer you're after, it should be on your shortlist.
- Geoff B, 2018
Price Guide
Year
Dealer
Private
Part Ex
Mileage
2017
£7,550
£6,050
£5,300
6,700
2016
£7,250
£5,800
£5,050
8,500
2015
£6,900
£5,500
£4,850
10,300
2014
£6,550
£5,250
£4,600
12,100
2013
£6,200
£4,950
£4,350
13,900
2012
£5,850
£4,650
£4,100
15,700
How to use the price guide
Related Bikes
Honda VFR1200X Crosstourer - Adventure version with a de-tuned engine, tall screen, wire-spoked wheels and more protection.
The Second Opinion
Honda VFR1200F 2012
Tell us a bit about you
I'm a 60 year old male, 6 foot, 15 stone and I've owned 50 bikes since 1978.
Why did you choose it?
Honda build and reliability
Shaft drive
Price
What is good about it?
Almost everything.
What could be improved?
The panniers are quite small.
Any mods or upgrades?
Akrapovic exhaust
Full luggage
Heli bars
What is the economy like?
The fuel consumption is directly related to your right hand.
How is the engine?
Smooth, torquey and as much power as you need.
How does it handle?
It's very stable and sure footed but not flighty and overly nimble.
What are the brakes like?
Perfect power and feel.
Is it comfortable?
Yes with bar raisers.
How reliable have you found it?
I have found it 100% reliable.
What's the servicing frequency and cost like?
Very reasonable for what it is.
To Sum Up
The best of everything at half the price at least of a new comparable bike.
- Gary T, 2021
Add Your Review
Do you own this bike? We would love to hear anything good, bad, unexpected or that you have changed plus anything that a prospective new owner might find interesting or useful.
More Info
Check out this 21,000 mile video review from anthony hoskin.