Triumph Thruxton 1200 R Review (2016)
"
First impression, 'It's so small'. Second impression, 'Oh, it's quite comfortable'. 4,000 miles over 3 weeks on the Thruxton showed it to be anything but un-ridable.
"
What Is It?
The Triumph Thruxton R is a retro cafe racer style bike and is powered by a Euro 4 compliant liquid cooled 1,200 cc parallel twin engine, producing 96.6 bhp at 6,750 rpm and maximum torque at 4,950 rpm.
Specs
Seat Height: Average (

810

 

mm / 31.9 inches)
Dry Weight: Heavy (203 kg / 448 lbs)
Economy: Average (45 mpg / 6.3 l/100km / 15.9 km/l)
Range: Average (140 miles / 225 km)
Top Speed: High (130 mph / 209 km/h)
Pros
Suspension
Torque
Brakes
Looks
What Is It Like?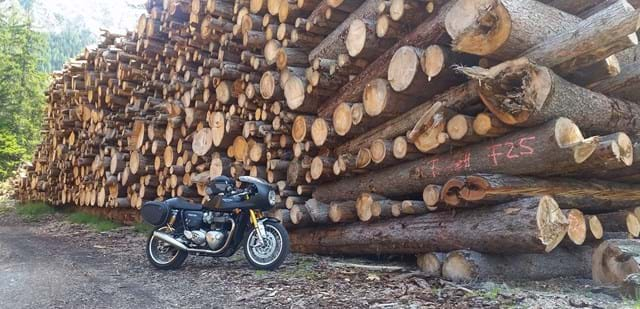 Choosing The Thruxton R
I don't like new bikes, I've think I've conditioned myself not to. It takes about 10 years for a bike to appeal to me and by then it's in my price range.
Somehow Triumph managed to bypass this conditioning; sometimes you just know you are meant to own something and you are meant to own it now. So followed an impulsive ebay purchase.
No I hadn't had a test ride and hadn't knowingly seen one before. The purchase was a combination of several things, not least the celebration of a full recovery from a broken back 18 months ago. I didn't know I'd be able to walk again let alone ride a hunch-back café racer 4,000 miles to Bulgaria via the Isle of Man but that's what I did.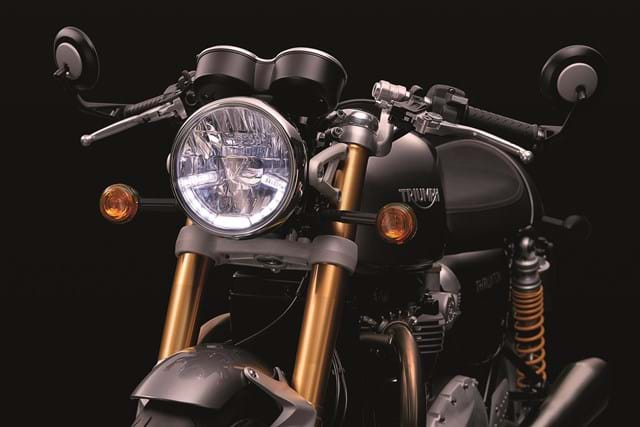 Controls
Then I turned the key, it's two years old, up came the mileage reading, 752. I've never owned such a new vehicle.
Press the starter, and the hazard lights came on. Oh no they haven't messed with the now almost universally recognised location of switch gear have they? Yes, a little bit. The kill switch rocks forward to stop the engine and back to start it. It's not difficult to remember and the hazards light switch is not pressed again until I get a puncture at the Serbian border.
I've never been one to use the kill switch much, always preferring the key to avoid leaving lights on for a prolonged period. But the Thruxton never wants to stop moving and has a tendency to creep forward on the side stand, so I soon get into the habit of leaving it in gear to reassure myself it will remain upright and unscathed.
When I hear that rumble for the first time from the Vance and Hines stainless steel pipes I get a shudder, and it's not from a vibrating engine. I do my first run with the lights on high beam because the 'pass' switch is actually the dip switch too but again, once discovered never forgotten.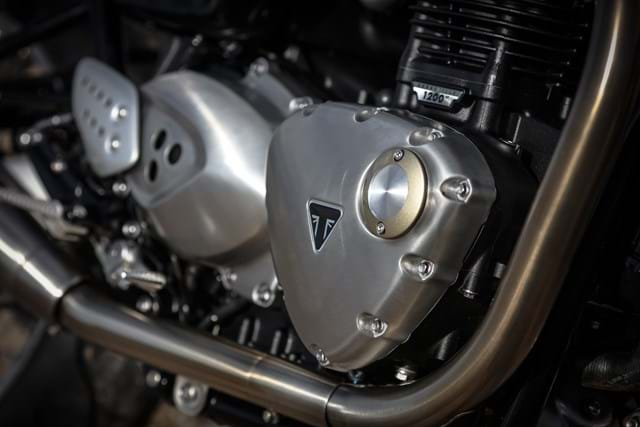 Engine
Its power delivery produced a tingle so low in the bottom of the stomach that if I pointed to the actual area you'd turn away.
After a few days I head to the south coast. It rained so I press 'Rain' on the mode button and braced myself in anticipation of the all encompassing cover to engulf me, but it just reduces the throttle response a little. Well, that's disappointing.
A few weeks later on the Croatian Adriatic Costal Highway I press 'Sport' mode and although knee sliders don't suddenly appear from a hidden compartment I do notice the quicker throttle response.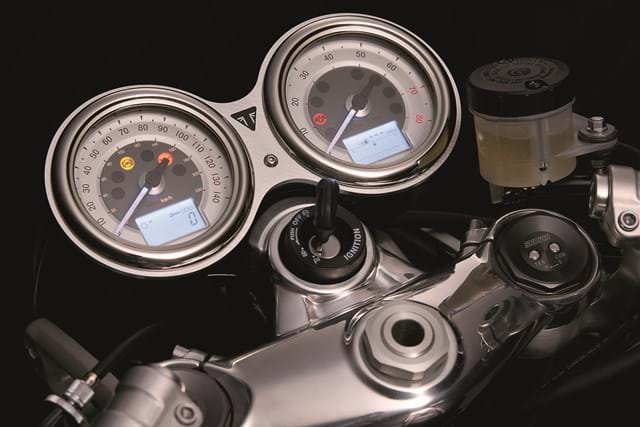 Fairing
So having now ridden it into a four figure mileage I arrive at my friend's house where another eBay purchase awaits, the factory faring.
We spend the day fitting it. Oh great, I've just taken a very comfortable bike and in the name if aesthetics, with lower clip-ons, reduced the height of the riding position to a place that will have me willing every light to turn red so I can sit up and stretch.
However, for me the fairing hides nothing and shows even more, the bike is now pure sex on two wheels. I'm like a mother with a new born, I can't stop photographing it.
Next morning before dawn we head for the Isle of Man, on fast empty roads the comfort is back, 85 and the wind lifts the weight off my writs at 105 it buffers my head and I feel vibration through the foot pegs. So I have a 15mph window of pleasure.
The displeasure is trying to filter at 15mph through the stagnant M6 rush hour traffic. I have the Triumph soft panniers; they are in keeping with the style of the bike, hold little more than a pair of trainers and a change of clothes which is all I need.
However with the increased width it gives me and decreased lane size around Spaghetti Junction, crawling in drizzle is a wholly miserable practice on such a bike.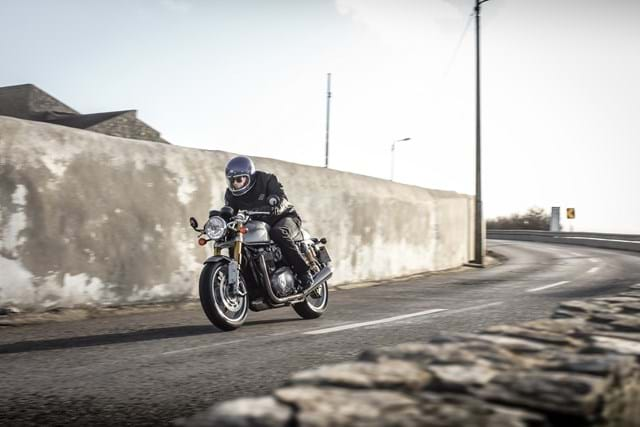 Range
I did my first and only lap on the TT track, experiencing weather for every riding mode. I am now fully convinced the bikes capabilities far exceed mind.
In the pits is an identical one, I'm told last year Steve Parish took it round the track averaging 109mph and asked for a fairing to be put on for this year. I didn't hear what the result was, it didn't stop raining and I headed to Holland.
Speeding off the evening ferry to make a dinner date in Germany was the first time I became aware how quick the digital estimated mileage drops. I have to pull off the Autobahn to find fuel with a predicted doom of 3 miles left on my range.
On the plus side I've exceeded the 80mph and 3kg recommended limitations of my panniers, continued to for an other two weeks and there were no ill effects in handling or their construction.
A flat fast day down to Zurich, I will never be the fastest thing on the autobahn but I do have the ability to accelerate past the crawling traffic before being tailgated by the Audis and Mercs.
Handling
And now it's Alpine time, the Ohlins rear and Showa front get to show off their abilities and oh do they handle. Solid, sure yet still forgiving of my misjudgements and corrections.
Slowly I gain the confidence, thin my chicken strips and the exhilaration increases exponentially. Like walking a pedigree puppy everyone I see has to comment on its beauty, the difference being, this time next year this won't be a dog.
However the magnetic tank bag has scratched my matt black tank, OK that's the first scratch, can I relax now? No, I don't want it to look used, the fake carbs tarnish, the pipes blue as we bond with the miles.
This riding position is just fine; my arse gives up before my wrists do. 8-10 hours days. When I do my dawn sprint along the Adriatic coast line with no distraction, no traffic, and pure concentration I know for sure there is nothing on this bike I would change. I thought I'd want a tail tidy but the bike being black, the rear mudguard doesn't look unsightly.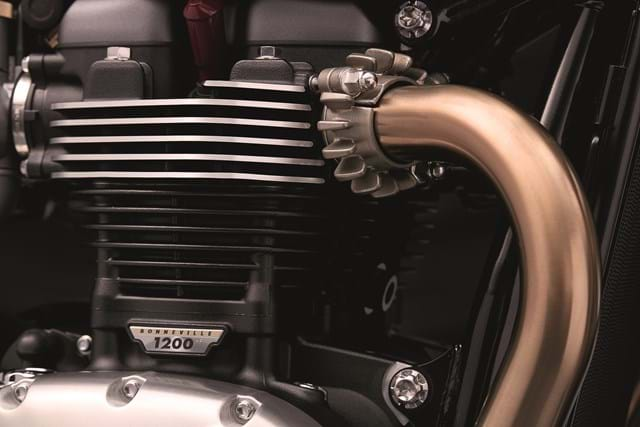 Engine
It wasn't built or designed to be ridden sedately and on a plateau above the busy bay of Kotor, Montenegro I find a road that was built to be raced on. While chasing a Dutch registered convertible who cuts corners the bike took me to a higher level of appreciation.
Now in 'Sport' mode I can ride like a demon, the gearbox has to be used though, not the smooth uncharacteristic rev-and-go of my three cylinder Tiger. This is a big twin and although it pulls right through the rev range, at 6,500 rpm the vibration through the pegs asks you to change up or slow down.
The redline is 7,000 rpm and with a light clutch and smooth gearbox there is no excuse not to shift gears. Even in hot traffic I could always find neutral although due to lack of indication I wasn't exactly sure how hot the bike was.
Serbia presented me with a fabulous winding road that went on longer then my concentration could be kept. Then with sporadic new motorway towards the Bulgaria border the urge to accelerate hard onto the pristine new surface was irresistible; after all it was the home straight.
Finish
But this style of riding took its toll, with only 4,500 miles on the rear tyre it was wearing thin and with a puncture I pushed it into my tenth and last country. I like my bikes to look pretty and the road worn look cleaned away effortlessly.
It looks as good as new standing in my shed, but that matt black is a fickle colour, it oozes cool but it's high maintenance to keep it that way, the list of products you shouldn't use is like cooking for a vegan.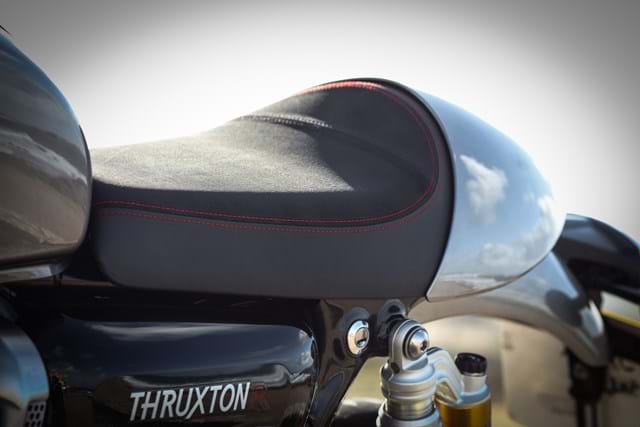 Economy
A total average of 65mpg. The tank holds enough fuel not to be an inconvenience and after 140 miles I'm ready for a stretch.
Comfort
I saw so many of these bikes on eBay with little more than a thousand miles on them and I worried that, barely used and with a £10,000 price tag they were bought by men who thought they were still boys and couldn't handle the riding position.
At 52 years old, 68kg and with a spine that's bolted together I did 4,000 miles over 3 weeks and with sleeping on cheap uncomfortable guest house beds, the bike is anything but unridable. Strangely, now without luggage it feels unstable, so time to get out the handbook and play with the multiple suspension settings again.
As an appendix, I'd just like to add that I decided to put the original higher clip-ons back on and they still fit with the fairing. I took it for a 600 mile test ride round the Romanian Carpathians and now I have the best of both worlds, aesthetics and comfort. I'm a little higher but I could never fully get behind that screen anyway.
- Graham F, 2018 (check out www.grahamfield.co.uk for the full story)
Price Guide
Year
Dealer
Private
Part Ex
Mileage
2019
£9,750
£7,800
£6,850
5,100
2018
£9,200
£7,350
£6,450
4,900
2017
£8,800
£7,050
£6,150
6,700
2016
£8,600
£6,900
£6,050
8,500
How to use the price guide
Add Your Review
Do you own this bike? We would love to hear anything good, bad, unexpected or that you have changed plus anything that a prospective new owner might find interesting or useful.
More Info
Check out this video review from TheMissendenFlyer.